Apple Displays Final Cut Pro X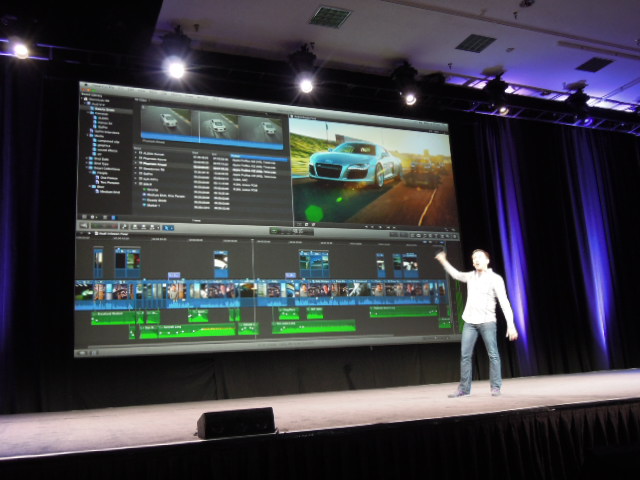 Last night at the Final Cut User Group Super Meetup in Las Vegas, Apple announced their latest pro editing software Final Cut Pro X.
The new 64 bit editor has a lot of great features. Rendering and importing has become much easier with background rendering and the ability to edit while importing. They've included options to clean up your audio (removing hum etc.) and image stabilization while ingesting. Also the new FCP can use more than just 4gigs of ram and can take advantage of the 8 processors.
They've added some features from Apple Color and Soundtrack like non destructive color balancing and easier to see audio. They alert you when audio is clipping. No more keyframing for audio adjustment as well.
Some of the interesting tools from iMovie also appear in the new Final Cut like facial and group recognition as well as shot style recognition. It can figure out if a shot is CU, MS, etc. The look of iMovie has also been adopted. They've also included a better way to index your footage with range based keywords.
They also had the DSLR user in mind. They announced native editing. Finally no more converting from H.264! They also added an automatic audio sync. Gathering separate audio instead of using the on board mic of DSLR? Now FCPX should be able to match the audio to the video using a feature similar to Plural Eyes.
One of the biggest bits of news to come out of the meetup is the price. FCPX is shipping in June for $299.
No word yet on Motion and or any of the other tools in the suite. Hopefully some news will come soon.
Either way, it looks like they made a major step forward. Using the iMovie look is a little weird to me. I never really liked that step up. I'm also worried that they added a lot of tools that assume what you want (fixing audio, stabilization, etc.) It's still too earlier to say any of those features are bad things. I'll reserve my judgement until it's released in June.
Thanks to Photography Bay for having a fantastic live blog from the event last night. To see more pictures and see how everything went down check out their post.
---