Best GarageBand Alternatives for Windows: Versatile, Capable, and Free!
---
GarageBand is an extremely capable and versatile digital audio workstation (DAW) and it's absolutely free! But you can only use GarageBand on Apple platforms (i.e., Mac or iOS).
So, what should you do if you're a Windows user?
Fortunately, there are great GarageBand alternatives for Windows users that give you as much, if not more, functionality as GarageBand. And best of all, they're also absolutely free!
In this post, we'll take you through the best free GarageBand alternatives for Windows and highlight their features, their pros and cons, and the things to consider before using them.
Can You Get GarageBand on Windows?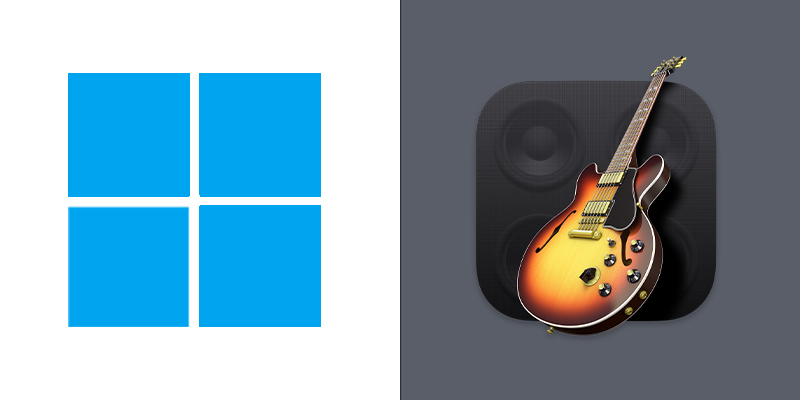 Simply put, you can't use GarageBand on Windows.
That said, there are ways to get around this and use GarageBand on Windows PCs. They usually involve using virtual machines (or other workarounds) and can be technically challenging. They won't match the full experience of native Apple operating systems, however, and may not always be stable.
Virtual machines allow you to install a virtual copy of the Mac operating system on your PC. You can run Mac software packages, including GarageBand, once you've installed a virtual machine.
If you'd like to try a virtual machine, here's a guide on how to install MacOS (Big Sur) in VirtualBox on Windows. Although this is a viable way to run GarageBand on your PC, it does come with some challenges and uses a lot of computing resources—make sure you have plenty of RAM (memory) and CPU power if you want to try this!
A better approach—and what we recommend—is to use one of the following free GarageBand alternatives on your Windows PC.
What to Look For in (Free) Digital Audio Workstations
If you're using free digital audio workstations (DAWs), be aware of what they're missing compared with their paid counterparts. They may have track count limits, for instance, or other restrictions.
Features to look for when choosing a DAW include:
User interface: A graphical user interface (GUI) that's intuitive and easy to navigate.
Tracks and channels: Support for multiple tracks (both audio files and MIDI tracks) with multi-track recording and editing.
Plug-ins: Compatibility with popular formats (e.g., VST, AU, and AAX) for third-party plug-ins for instruments, effects, or improving your audio, such as with CrumplePop's excellent suite of noise reduction plug-ins.
Recording and editing: Including punching in and punching out, time-stretching, pitch correction, and comping.
MIDI: Support for MIDI instruments and controllers, as well as MIDI editing.
Mixing and mastering: Equalizers, compressors, and audio effects.
File formats: Exportable to a variety of formats, e.g., WAV, MP3, FLAC.
Stability and performance: Stable with large or complex projects.
Tutorials and support: Active user community and online resources.
Free DAWs tend to have fewer features than paid DAWs, so check what's available to cover your needs.
The Best Free GarageBand Alternatives for Windows: At A Glance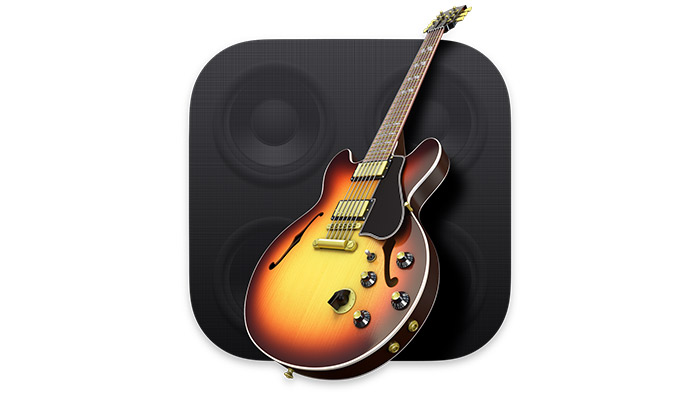 The following free DAWs may not have all the features of paid DAWs but they're the best GarageBand alternatives for Windows users:
Free GarageBand Alternative | Key Features
Ableton Live Lite | Designed for live performances, 16 tracks, range of soft instruments and effects, unique Session View for intuitive music production
Pro Tools Intro | Familiar user interface, 8 tracks each for audio/instruments/MIDI, 32-bit processing and up to 192 kHz sample rates, support for third-party AAX plug-ins
CakeWalk | Unlimited tracks, full plug-in support, sophisticated effects modules (ProChannel), highly customizable user interface
Waveform Free | Full-featured with few restrictions, easy composition through pattern generation, intuitive GUI, good selection of built-in plug-ins
Magix Music Maker | 8 tracks for audio/instruments/MIDI, simple drag-and-drop functionality, 64-bit audio engine, access to professional sample library (free and paid)
Audacity | Simple to use, full-featured editing, multi-file formats, large effects library
MPC Beats | Popular MPC workflow, large range of samples and effects, full-featured editing, can be used as a plug-in itself
FL Studio (free trial) | Unlimited tracks, well-suited for electronic music, large choice of effects and soft instruments, excellent MIDI editing
Ableton Live Lite
Ableton Live Lite is the free version of the popular Ableton Live suite of DAWs. Its approach to music production is different from most other DAWs as it favors live performance and production, but it offers many traditional features as well.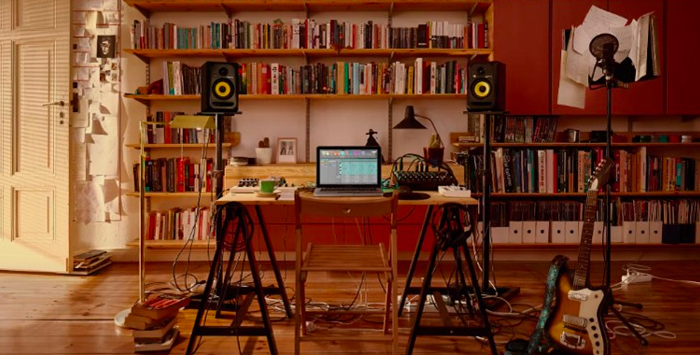 Ableton's interface offers two views: Session View and Arrangement View. These allow users to approach music production in different ways, using a variety of software instruments and effects and a full suite of audio and MIDI editing tools. There's also support for VST and AU plug-ins.
Session View gives you a non-linear approach to music production, i.e., you can experiment with musical ideas regardless of where your song starts or finishes. Arrangement View, on the other hand, gives you a more traditional linear production approach.
Ableton offers up to 8 audio and MIDI tracks—a base level for many audio production tasks but limiting for larger projects.
Since Live Lite's version 11, there's also support for MIDI Polyphonic Expression. This gives you control over pitch bends, slides, and pressures for individual notes in a chord, allowing more subtle variations of expression.
Key Features
Well suited for live performances and can lock to an audio or MIDI stream in real time
Up to 8 audio and MIDI tracks and 16 Scenes per Session View
A broad range of virtual instruments and effects
Support for MIDI Polyphonic Expression
Pros
Best-in-class real-time editing capabilities
Intuitive user interface and Session View workflow
Good choice of virtual instruments, samples, and effects
Cons
Limited number of tracks
Unfamiliar workflow for those used to traditional DAWs
Pro Tools Intro
Pro Tools Intro is the latest edition to the Avid suite of DAWs and was introduced after Avid discontinued their previous free entry-level DAW—Pro Tools First—in late 2021.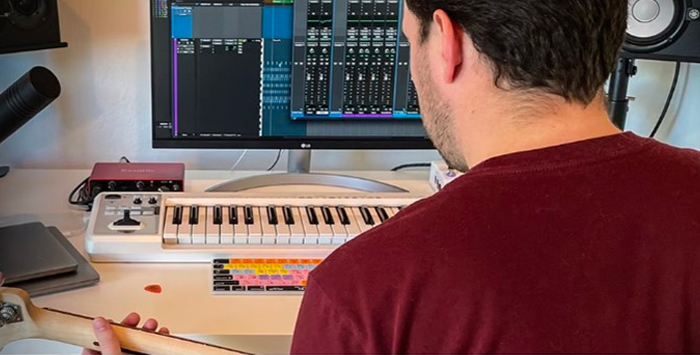 Intro gives you an entry into the Pro Tool's suite of DAWs, considered an industry standard and acclaimed for their reliability and scalability. Intro also offers several improvements over First, including:
Better compatibility with paid versions of Pro Tools DAWs, including future updates, since Intro is built on the same codebase as the paid DAWs.
Uses the .ptx session file format (the same as paid versions) and works with locally stored sessions rather than online projects.
Works with all third-party AAX plug-ins, unlike First which only allowed plug-ins from the Avid marketplace.
While Intro is a free standalone application, after its 2022.9 update it's automatically installed with any Pro Tools installation. This gives you continued use of Intro even if your Pro Tools subscription or trial expires.
You can also send sessions created in Intro to others using paid versions of Pro Tools and it will work seamlessly.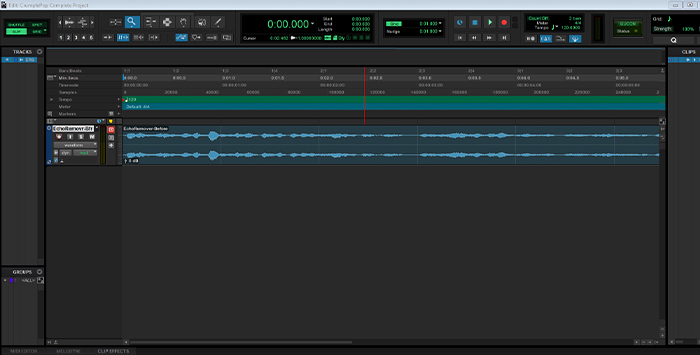 Key Features
8 tracks each for audio (mono or stereo), soft instruments, and MIDI
32-bit processing and up to 192 kHz sample rates
Numerous soft instruments and loops
Ships with 35 Avid plug-ins, including a compressor, EQ, filters, reverb, and delay
Pros
Great introduction (for beginners) to music making with professional-grade DAWs
Familiar user interface based on paid versions of Pro Tools
Plenty of tutorials and support videos
Physical iLok not required (as for paid versions)
Cons
Limited track count with a maximum of four simultaneous inputs
No video or VCA tracks
Melodyne not included (as for paid versions)
CakeWalk
CakeWalk by BandLab (previously as known as SONAR) is a full-featured DAW that's been free since BandLab took over in 2018. With a history of over three decades in various forms, CakeWalk offers many of the features you'd expect in paid DAWs, including:
Advanced editing, mixing, and mastering covering both audio and MIDI.
A comprehensive GUI with a clear layout that's customizable.
Large collection of instruments and effects, including bass, drums, pianos, equalizers, compressors, and reverbs.
Support for VST3 and ARA plug-ins with multi-touch capability.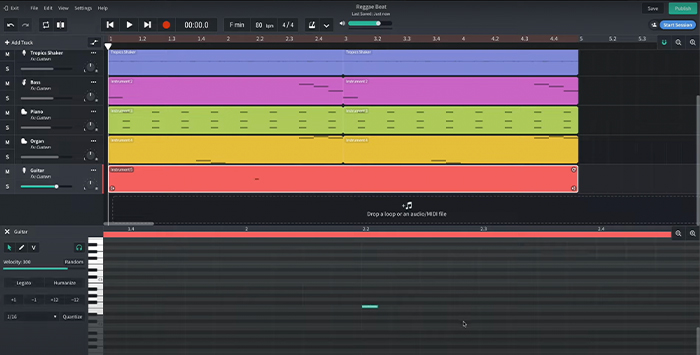 CakeWalk offers an expandable library of effects modules called ProChannel giving you a highly capable selection, including:
EQ, featuring the QuadCurve module with four distinct curves (including two SSL emulations) to help you find the right EQ for your job
Console and tape emulation
Sonitus Effects Suite, with versatile multiband processing, delay, modulation, and vibrato effects
Reverb, filtering, and compression
A unique feature of CakeWalk is its Quick Grouping facility—by holding down the CTRL key and moving a control, other instances of the control will move as well. This helps you adjust settings across two or more channels more consistently and easily.
Key Features
Unlimited tracks (i.e., audio, MIDI, loop, and auxiliary tracks)
Full plug-in support
ProChannel module for sophisticated effects and mastering
SkyLight user interface for highly customizable, efficient workflows
Pros
Extensive feature set with a convenient Quick Grouping facility
Unlimited tracks—typically only available with paid DAWs
Versatile ProChannel effects modules and full VST3 support
High-resolution 64-bit audio engine
Cons
Steep learning curve
GUI is a bit cluttered
Occasional stability issues (can be laggy at times)
Waveform Free
Waveform Free by Tracktion is a stripped-down version of Waveform's flagship paid DAW (Waveform Pro) with no time limits or restrictions on:
Track count
Exporting or rendering
Third-party plug-ins
Project saving
Copyrights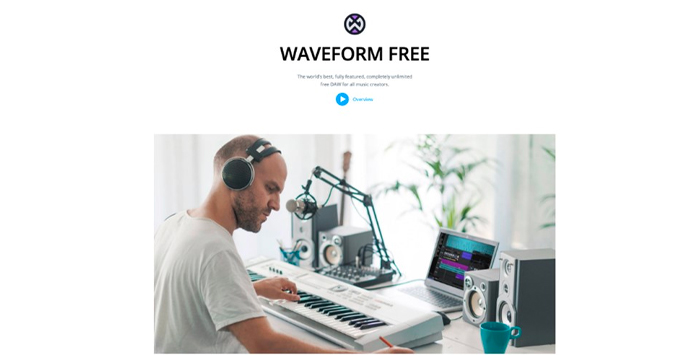 Waveform Free is a powerful free DAW that offers a range of professional-grade features and provides an all-in-one solution for recording, mixing, editing, and MIDI sequencing.
The GUI features a browser that lets you set tags, favorites, and smart lists.
There are several audio effects plug-ins including a compressor, limiter, delay, distortion, reverb, phaser, and choices of EQ. There are also utility plug-ins such as a spectrum analyzer and a mono conversion tool. Plug-in racks are available for complex effects processing and sound design.
Waveform Free ships with a sampler, a (micro) drum sampler, a digital synth (4OSC), and a loop rompler. An included pattern generator lets you easily generate chords, baselines, arpeggios, and melodies with a few clicks.
It's also easy to add pro-level expansion packs to Waveform Free by purchasing the modules that you need, e.g., the Recording Engineer Expansion pack for pro-grade recording and mixing tools or the MIDI Producer Expansion pack for additional instruments and a pro-level full MIDI editing suite.
Key Features
Intuitive GUI with plug-in racks
Pattern generator for quick and easy composition
Full-featured DAW without restrictions on track count, exports, or plug-ins
21 in-built effects and utility plug-ins
Pros
Unlimited tracks (audio and MIDI)
Highly customizable and streamlined interface
Compatible with VST, VST3, and AU third-party plug-ins
Cons
Streamlined GUI may not appeal to some
Steep learning curve given its rich feature set
Magix Music Maker
Magix Music Maker is a DAW aimed at beginners to music production and has a simple and easy-to-use design. It comes in three versions: free, Plus, and Premium. Music Maker (free) contains a limited set of the features you'll find in the Plus or Premium versions.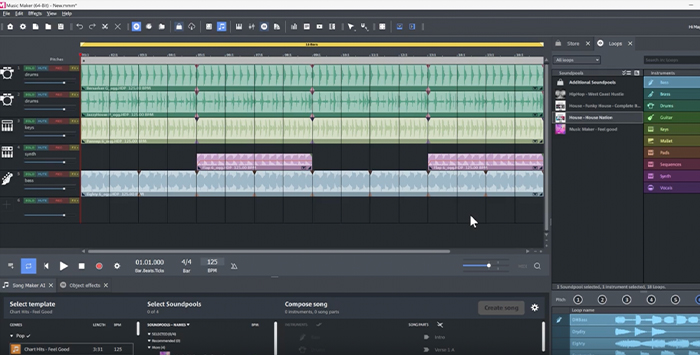 Music Maker uses a drag-and-drop interface for easy, fast, and flexible music making. Magix claims that you can get great results faster than any other DAW due to its simplicity.
Music Maker includes:
Beat Box: Limited version of Beat Box Pro that's available with Magix's paid DAWs, allowing easy beat making for beginners.
Song Maker: For easy creation of songs or sections of songs, albeit lacking the AI functionality found in the Premium version.
Up to 8 tracks for recording MIDI, virtual, or physical instruments and voice.
A basic MIDI editor.
Rendering of completed projects.
Music Maker is a relatively simple DAW, but its ease of use means that it's versatile as a creative tool even for experienced music producers—you can quickly translate musical ideas into simple arrangements.
Key Features
8 Tracks (MIDI, physical, or virtual)
Simple, drag-and-drop functionality
3 Instruments and 6 effects
64-bit audio engine with multi-core support
Access to professional samples through Soundpools (free and paid)
Pros

Simple and easy to use
Intuitive drag-and-drop interface
Cons
Limited usability compared to other free DAWs (a tradeoff for its simplicity)
Lacking VST effects compatibility
Limited editing capabilities
Audacity
Audacity is a versatile, open-source, cross-platform DAW. Being open source, it undergoes constant development by a community of volunteers and users.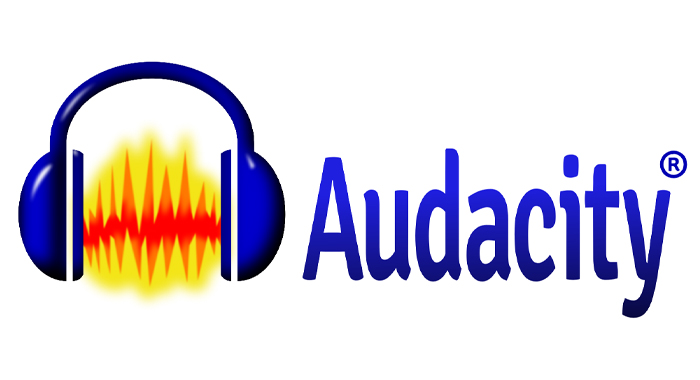 Audacity offers a range of features that you'd normally find in commercial DAWs. It works with audio data of up to 32-bit/384 kHz and has capabilities for audio recording, editing, mixing, and mastering.
Audacity's other capabilities include:
16-bit or 24-bit recording.
Large library of effects, e.g., EQ (with preset curves), filters (high and low pass), compressor, phaser, reverb.
Ability to convert audio from a variety of file formats, with support for WAV, AIFF, AU, FLAC, MP3, and Ogg Vorbis.
Versatile plug-in support, including VST, VST3, AU, LV2, and LADSPA.
Batch-processing facility.
Despite its rich feature set, Audacity is fairly easy to use and enjoys a long-standing community support group. Audacity was first introduced in 1999.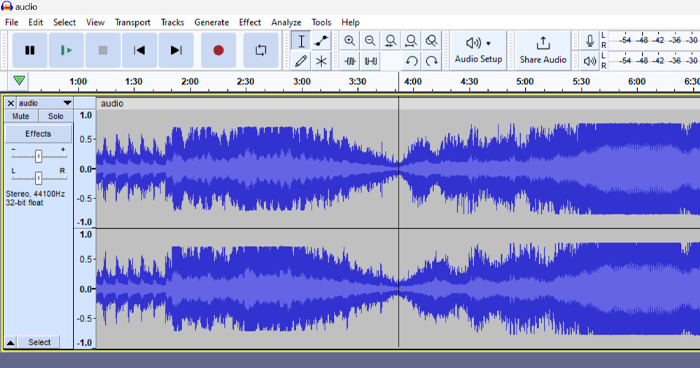 Key features
Full-featured audio editor
Support for several file formats
Support for various plugin formats
Pros
Simple and easy to use
Minimum system requirements (works with many older PCs)
Comprehensive range of recording and editing tools
Strong online community for learning (tutorials and guides) and support
Cons
Limited feature set for more complex audio editing tasks
No MIDI tracks or MIDI editing capabilities
Destructive editing (i.e., you can't undo individual edits without losing the sequence of edits)
No built-in soft instruments
Dated GUI
MPC Beats
MPC Beats by Akai is a beginner-friendly DAW that's primarily designed for beat making but also has a full range of editing tools. Beats uses the Akai workflow that's been a feature of the MPC series of products since the 1980s.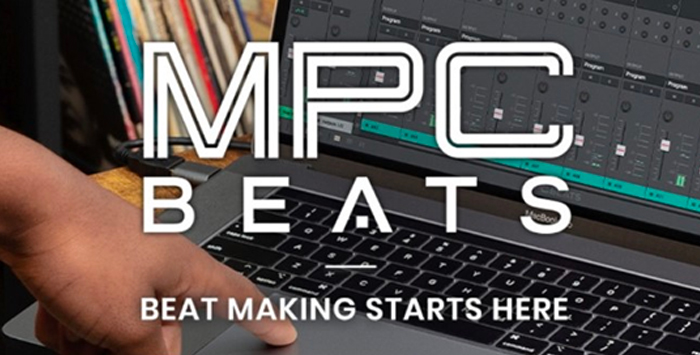 The interface has a 4×4 grid for triggering drum samples (i.e., 16 pads), a piano roll, and an edit window. There's also a sample library browser giving you access to over 2 GB of samples from the popular MPC Expansion Pack.
There are three plug-in instruments—Bassline, Tubesynth, and Electric—each with an array of sound-shaping options. There's also support for external VST or AU instruments and effects plug-ins. Beats pairs well with a range of MIDI controllers and in particular with Akai's MIDI or pad controllers.
A unique feature of Beats is that you can use it as a plug-in itself—plug it into your favorite DAW and access all of MPC's functionality at your fingertips.
Key Features
8 MIDI and audio tracks
A large range of drum samples and effects, with additional built-in instruments and VST/AU plug-in support
Full-featured editing suite
Interface design based on popular MPC hardware
Can be used as a VST plug-in with other DAWs
Pros
Compatible with a wide range of MIDI controllers
Versatile VST plugin feature allowing use with other DAWs
Cons
Specialized for beat making and may not suit other forms of audio production
Interface layout and workflow may be confusing for those not familiar with MPC hardware
Limited number of MIDI and audio tracks
FL Studio (Free Trial of Paid DAW)
Image Line's FL Studio isn't a free DAW—it's a full-featured paid DAW—but you can access it on a free trial without any time limits, so it's worth a mention. There are some important restrictions, however, that you should be aware of when you use FL Studio in this way:
You can't open saved projects, i.e., once you save your project you can't open it again and you can't open projects created by others.
There's limited technical support.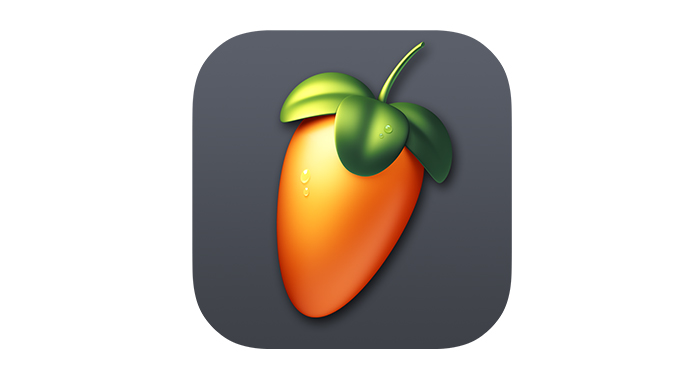 Being a paid DAW, FL Studio has a comprehensive feature set and extensive capabilities, including:
Unlimited audio, instrument, and MIDI tracks.
60 effects, 40 soft instruments, and 1 GB of bundled content.
Separate user interfaces for creating, mixing, and arranging music.
Access to several pro-quality synths.
Excellent for loop and pattern-based MIDI composition.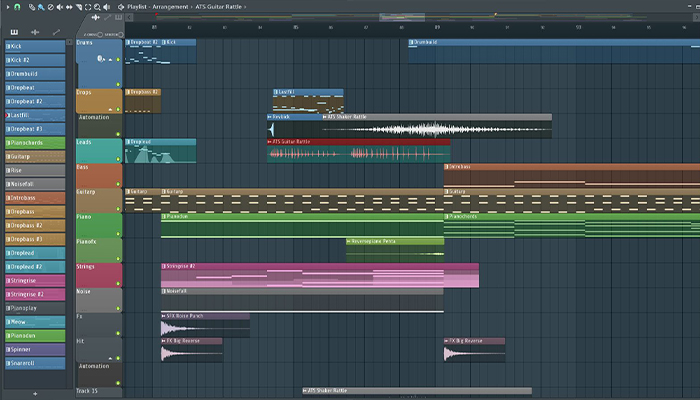 FL Studio is well-suited for producing electronic music, such as BDM or beats. Its origins go back to 1998 when it was first introduced as a MIDI step-sequencer.
While not directly comparable to the other free DAWs we've discussed, FL Studio is worth considering if you can work within the restrictions applying to the (free) trial version.
Things to Consider Before Using Free Music Production Software
With the list of capable free DAWs that we've considered, you may be ready to jump straight into one of these amazing music creation tools.
But although they're free, each DAW takes time and effort to learn and to integrate into your workflow, i.e., it's a significant investment in non-monetary terms. So, it's worth thinking through the following considerations before you get started:
Your skill level—if you're a novice, consider starting with a DAW that's more intuitive to learn and use (such as Ableton Live Lite, with its non-linear Session View), otherwise you may need to invest significant time into learning the DAW's ecosystem
System requirements—check that your computer setup is compatible with the DAW's requirements, keeping in mind the paid versions of the DAW as well should you choose to upgrade in future
Feature set—as mentioned, don't expect the same features as paid versions of the DAW, so prioritize the features included in the free versions that are most relevant for you
Future growth—think about your long-term goals so that you can start with a DAW that has paid versions with the features and capabilities you want in future
Support—check out the support that's available for the DAW and the strength of the user community, as all else equal, the more support the better, especially if you're a novice
Conclusion
GarageBand is a versatile and extremely capable DAW that's absolutely free, but it only works with Mac or iOS platforms. If you're a Windows user, you'll need to deploy a virtual machine or find alternative DAWs.
In this post, we've listed the best free GarageBand alternatives for you to create music on Windows.
Although free, the DAWs we've considered are extremely capable and make it easy to produce studio-quality audio, whether you're a seasoned professional or just starting out in the music industry.