How to Reduce Background Noise on Mic Windows 10: Methods and Tools for Removing Noise
---
There's nothing more frustrating than finding unwanted noise in your recordings. If you're like me, the idea of having to go through the whole recording session to ensure there's no background noise is almost intolerable.
While there are moments when it's unavoidable, there are ways to mitigate microphone background noise on Windows without applying expensive plug-ins or undertaking time-consuming tasks.
And while you save money to buy one of the best budget podcast microphones, this article will show you how to reduce background noise on mic Windows 10 quickly and efficiently.
Step 1. Open System Preferences
To access your sound settings to reduce background noise, you need to go to the traditional control panel, not the settings app. Use the search bar, type "Control Panel," and click on Hardware and Sound. Choose Sound to access more sound options.
Step 2. The Recording Tab
In the pop-up window, click on the recording tab to access a list of all your devices installed. Search for your microphone device and click on it to select it. When you choose it, the button "Properties" will appear; click on it to go to its properties. You can also right-click your device and select properties from the dropdown menu or double-click on the device to open the mic's properties window.
Step 3. Navigating Your Microphone Boost Properties
In your microphone properties, move to the levels tab to adjust your microphone volume; changing the input level can help reduce background noise coming from your room.
Depending on your audio hardware and drivers, you may find the boost settings under volume in this tab. You can set the microphone boost to make your microphone more or less sensitive. The boost gain will allow you to increase your mic level beyond the volume gain, but it will also make it more prone to pick up unwanted noises. Find a balance between the volume and microphone boost to remove background noise as much as possible.
Step 4. Enhancements Tab
The enhancements tab could also be available depending on your manufacturer's audio drivers. If you have it, it will be next to the levels tab. The enhancements tab feature effects to help you reduce background noise and other options to achieve the perfect sound for your microphone.
Now, check the noise suppression and acoustic echo cancellation microphone settings.
Using noise suppression will minimize the static background noise on your audio recordings.
Acoustic echo cancellation is a great tool when you're not using headphones for your sound recordings or if your room has little acoustic treatment because it helps cut down echo reflections from the speakers to your microphone, which causes background noise.
The Acoustic echo cancellation option can help with background noise in untreated environments. Check the option you prefer and click apply and OK to close the window.
Step 5. Test Your New Settings
To verify your new settings will improve your audio, do a test recording using the Windows Voice Recorder app or your recording software. Record yourself speaking in a quiet environment to hear if the background noise has been reduced. If you need to tweak more settings, go back to the traditional control panel and adjust the input level and boost settings.
Noise Canceling Software for Windows
If you're looking for background noise suppression Windows 10 software, I have made a list of the software that can be helpful to get the best audio quality in your conferences and clear audio recordings. You'll find apps for online calls, apps, and software for audio post-production that will reduce microphone background noise.
CrumplePop Noise Cancelling software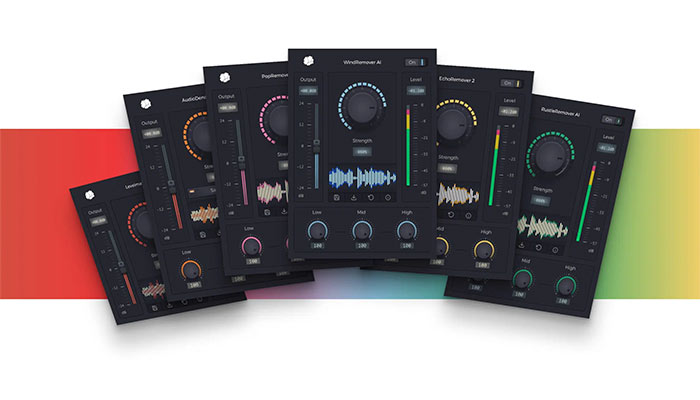 Last but not least, our iconic noise-canceling software can reduce background noise and unwanted sounds in seconds, thanks to a powerful AI denoiser that can identify and mitigate all background sounds without compromising the audio quality of your sound recording.
By subscribing to CrumplePop Pro for Windows, you'll get access to all the tools necessary to reduce microphone background noise, regardless of its source: from wind noise to rustle and plosive sounds. Everything you'll ever need to enhance your microphone properties is right here!

Hear it for yourself
CrumplePop removes noise and boosts your vocal quality. Toggle it on/off to hear the difference.
Try CrumplePop Free
Zoom
Zoom is a popular video conferencing software with noise suppression options you can adjust to your needs. Going into Zoom's Settings > Audio > Advance settings, you'll find the option "Suppress intermittent background noise" with different levels for background noises. It also features an echo cancellation option you can set to reduce echo.
Google Meet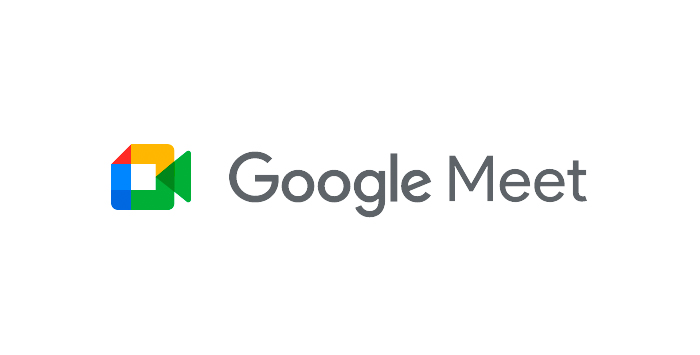 Google Meet is another video conferencing app that features a background noise-cancellation filter for audio quality. However, you cannot tweak the options as much as other apps allow. You can activate the noise canceling feature on Settings > Audio.
Discord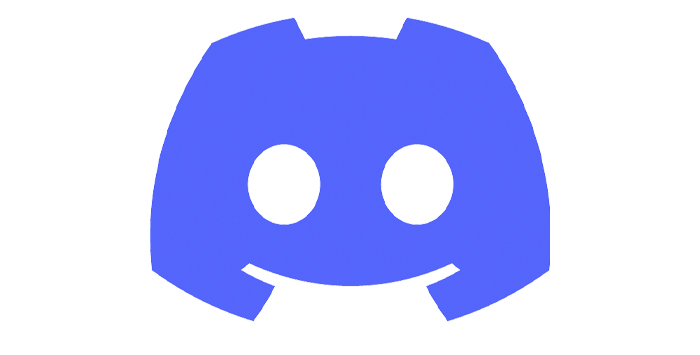 Another favorite app that includes background noise suppression is Discord. To activate it, go to Settings > Voice & Video, scroll to the Advanced section, and enable Noise Suppression. You can select between Krisp, Standard, and None.
Krips.ai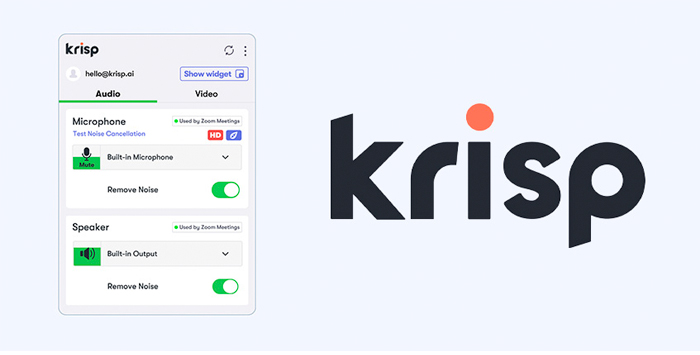 Krisp is the technology behind Discord's noise suppression, but you can also use the AI for other apps like Zoom or Skype. With the free plan, you can get 60 min of the following features or upgrade for unlimited time.
· Noise Cancellation will help with ambient noise reduction.
· Background Voice Cancellation to remove background noise from other speakers.
· Echo Cancellation to prevent the sound of your speaker from being captured by the microphone and filter reverb from your room.
NVIDIA RTX Voice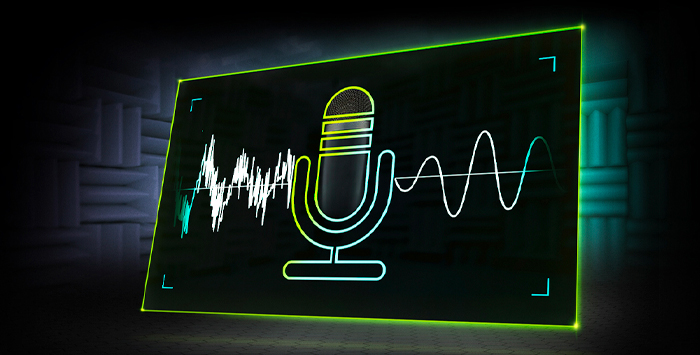 The people at NVIDIA have developed this plug-in to remove background noise from streams, voice chats, audio recordings, and video call apps. It works on any app on your computer, removing unwanted noises from loud typing and ambient noise. You need an NVIDIA GTX or RTX graphics card and Windows 10 to use the RTX Voice app for noise cancellation.
Audacity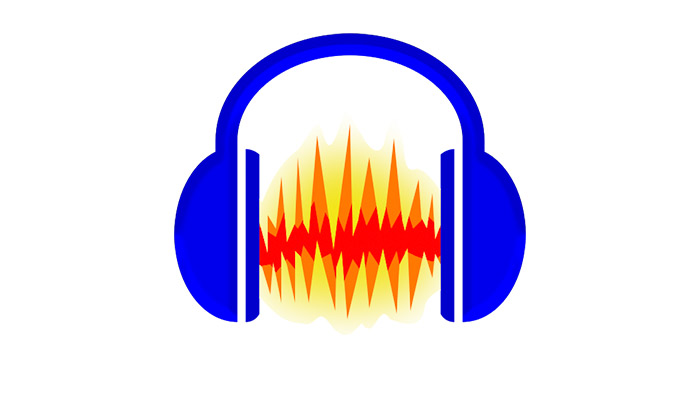 Here's one of the most popular audio editor software for Windows 10. Audacity allows you to record audio for podcasts and videos, edit audio and add effects to your tracks like Noise Reduction, Change Pitch, Speed, Tempo, Amplify, and many more. Removing background noise from recorded audio is very straightforward with Audacity.
Additional Methods On How to Reduce Background Noise On Mic Windows 10
Use Noise-Canceling Microphones
If you've tried adjusting your built-in microphone settings and installing multiple noise-canceling software, the problem might be in the microphone itself. Try plugging in a dedicated external microphone instead of using your computer's built-in microphone. Some microphones come with noise cancellation, designed to filter sounds that are not speech.
Wear Headphones
To reduce echo and feedback from your speakers, try wearing headphones while recording. It will not only help you reduce background noise, but you will hear other speakers more clearly. You can get a headset with a dedicated mic for your recordings and online meetings. Using a dedicated microphone will reduce the microphone noise from the built-in microphone.
Remove Noise Sources
If you have self-noise devices, try removing or turning them off before a meeting and recording. Some home appliances like fridges and AC produce low noises that we could get used to, but the microphone will pick up those noises. Also, close the door and windows to reduce ambient noise from the outside.
Room Treatment
Finally, if you are recording regularly or having frequent meetings, think about applying some acoustic treatment to your room. Optimizing a room's sound reflections will significantly improve your recordings and reduce background noise.
Final Thoughts
Learning how to reduce background noise on mic Windows 10 is not difficult at all. We have so many tools available, and even if you don't like downloading additional software, you can open your audio settings on the control panel and adjust them until you have achieved a decent sound quality. For recordings, you can always turn to an audio editor like Audacity to mitigate any microphone background noise left.
Good luck!