How to remove background noise from video
Room noise, microphone hiss, noise from a fan in the background – these are all distracting, annoying, and can make your videos seem amateurish. Unfortunately, recording background noise is inescapable for the most part. So now you're looking to find out how to remove background noise from video. The answer is CrumplePop's AudioDenoise AI plugin.
Learn more about CrumplePop AudioDenoise AI.
AudioDenoise AI is a plugin that helps remove background noise for Final Cut Pro, Premiere Pro, Audition, DaVinci Resolve, Logic Pro, and GarageBand. This noise removal tool automatically identifies and removes many common types of unwanted background noise from your video clips and audio files.
The battle against background noise
Background noise is difficult to avoid. For the most part, we don't get to control the environment that we record video in. While soundproofing and audio treatments can help, those are rarely found outside of recording studios. Instead, you can easily find yourself in a situation where a truck is running outside, a computer near your microphone, or a fan that turns on mid-interview. These unavoidable situations can turn your videos from engaging to distracting quickly.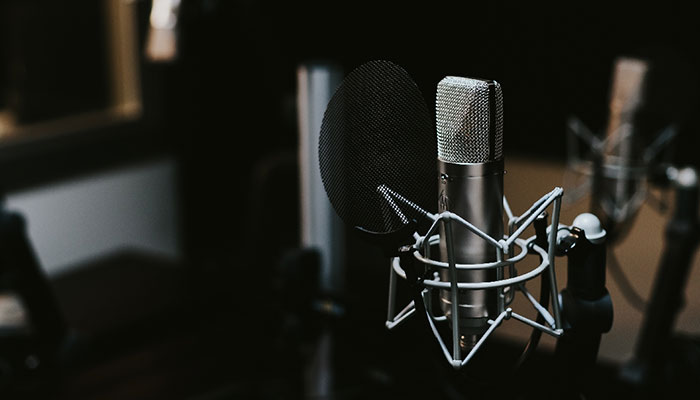 There are ways to work around recording in a noisy environment. Picking a suitable space is especially important. You should listen to how the room sounds first whenever you're recording. Do you hear a heating or cooling system? Then make sure to turn them off. Are there people making noise outside? Ask them to be quiet. Can you pick up a computer fan or motor hum in your headphones? Try to figure out what's making the sound and then unplug it.
Although, You could try all of those methods while recording and still find background noise in your audio.
In post-production, there are a bunch of quick fixes. For example, some add background music or create a sound track with sound effects to cover up the noise. While others rarely use audio recorded in the field at all.
Yet both methods lose the character of your environment. The space you record in has its own qualities that you may want to include in your video, after all. Using a plugin with an audio denoise function like AudioDenoise AI helps you reduce noise and adjust how much of the environment you want to include.
While you don't want to make ambient noise or room tone the focus, keeping some characteristics of the space can help the viewer better conceptualize where they were recorded.
Why should I use AudioDenoise AI for noise reduction
Quick and easy professional audio Not a professional audio engineer or video editor? Not a problem. Quickly get professional-sounding clean audio with a few simple steps.
Works with your favorite editing software AudioDenoise AI helps remove background noise in Final Cut Pro, Premiere Pro, Audition, Logic Pro and GarageBand.
Saves you time for editing With editing, time is everything. When working with a tight timeline, there are so many other things to worry about than background noise. AudioDenoise AI saves you time and lets you get back to what really matters.
More than simply a noise gate AudioDenoise AI removes background noise much better than using a graphic EQ or noise gate plugin. AudioDenoise AI analyzes your audio files and removes background noise while keeping the voice crystal clear and easy to understand.
Used by professionals Over the last 12 years, CrumplePop has been a trusted name in the world of post-production plugins. Editors at the BBC, Dreamworks, Fox, CNN, CBS, and MTV have used CrumplePop plugins.
Easily sharable presets Whether you're working in Premiere or Logic, you can share EchoRemover AI presets between the two. Are you editing in Final Cut Pro and finishing audio in Audition? No problem. You can easily share presets between the two.
How does AudioDenoise AI remove unwanted background noise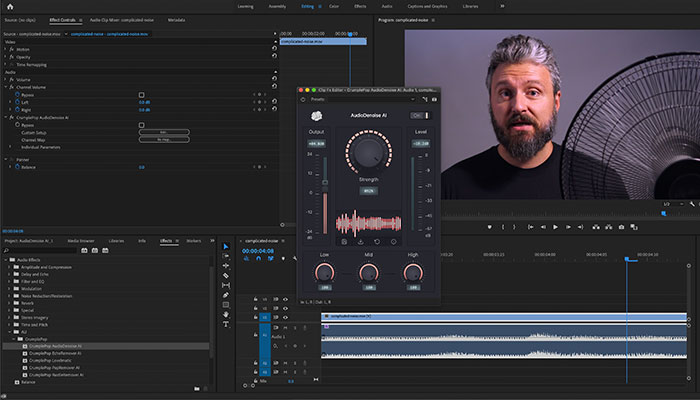 Background noise is a complicated issue both in video and audio production. Are you wrestling with background noise from an air conditioner fan mixed with a mechanical hum? Noise that gradually changes over time? These types of background noise and many others are easy to reduce with AudioDenoise AI.
Many noise reduction tools only identify specific frequency ranges and cut them off, leaving you with an audio clip that sounds thin and of low quality.
AudioDenoise AI uses artificial intelligence to identify and remove background noise from your audio. AudioDenoise's AI automatically removes more noise while keeping the voice sounding clear and natural, giving you production-ready audio that sounds pristine and easy to understand.
AudioDenoise AI automatically adjusts the levels of removal. As a result, you won't need to worry about unwanted sounds that come and go or background sounds that change over time. AudioDenoise AI can adjust to remove whatever background noise appears throughout your audio clips.
How to improve my audio quality with AudioDenoise AI
With only a few steps, AudioDenoise AI can help you remove unwanted background noise from your audio or video clip.
First, you'll need to turn on the AudioDenoise AI plugin. Click the On/Off switch in the upper right corner. Then you'll see the entire plugin light up. Now you're ready to remove background noise in your video clips.
You'll notice the big knob in the center of the plugin – that's the Strength Control. You'll likely only need this control to reduce background noise. The Strength Control defaults to 80%, which is great to start. Next, listen to your processed audio clip. How do you like the sound? Did it remove background noise? If not, keep increasing the Strength Control until you're happy with the results.
Under the Strength Control, there are three Advanced Strength Control knobs that will help you fine-tune how much noise you want to remove from the low, mid, and high frequencies. For example, say you're next to a large air conditioner, and you want to remove some of the 60-cycle hum, but you also want to keep some of the fan noise. In that case, you will want to adjust the high knob until you find the sound you are looking for.
After you've dialed in your noise removal, you can save it as a preset to use later or to send to collaborators. Click the save button, then choose a name and location for your preset, and that's it.
Likewise, importing a preset is easy as well. Again, you'll only need to click on the downward arrow button to the right of the save button. Finally, select the preset from the window, and AudioDenoise AI will automatically load your saved settings.
Where Do I Find AudioDenoise AI?
You've downloaded AudioDenoise AI, so now what? Well, the first thing you'll want to do is find AudioDenoise AI inside the video editing software of your choice.
Adobe Premiere Pro
In Premiere Pro, you can find AudioDenoise AI in the Effect Menu > Audio Effects > AU > CrumplePop.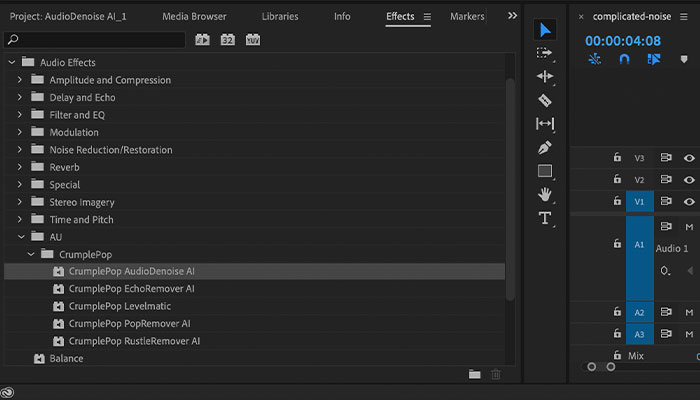 After selecting the video or audio file you'd like to add the effect to, double click on AudioDenoise AI or grab the plugin and drop it onto your audio clip.
Video: Using AudioDenoise AI in Premiere Pro
Go to the Effects tab in the top left corner. There you'll find fx CrumplePop AudioDenoise AI. Click on the big Edit button. Then the AudioDenoise AI UI will appear. With that, you're ready to remove noise in Premiere Pro.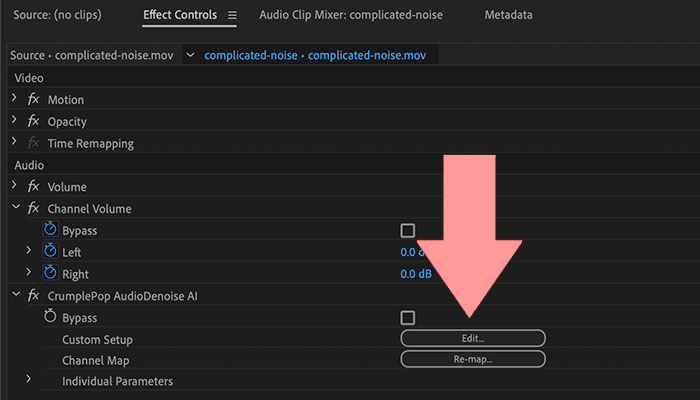 Note: If AudioDenoise AI doesn't appear right after installation. Don't worry. You've installed AudioDenoise AI, but if you're using Adobe Premiere or Audition, there is one small extra step before you can use it.
Video: Scanning for Audio Plugins in Premiere Pro and Audition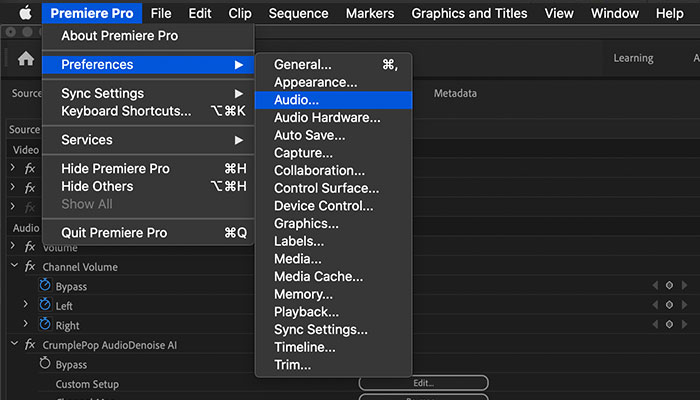 Go to Premiere Pro > Preferences > Audio. Then open Premiere's Audio Plug-in Manager.
Once the Audio Plug-in Manager opens, you'll see a list of all of the audio plugins installed on your computer. Click Scan for Plug-ins. Then scroll down to CrumplePop AudioDenoise AI. Make sure it's enabled. Click ok, and you're ready to go.
You can also find the Audio Plug-in Manager in the Project Panel. Click on the three bars next to the Effects Panel. Then select the Audio Plug-in Manager from the drop-down menu.
Final Cut Pro
In Final Cut Pro, you'll find AudioDenoise AI in the Effects Browser under Audio > CrumplePop.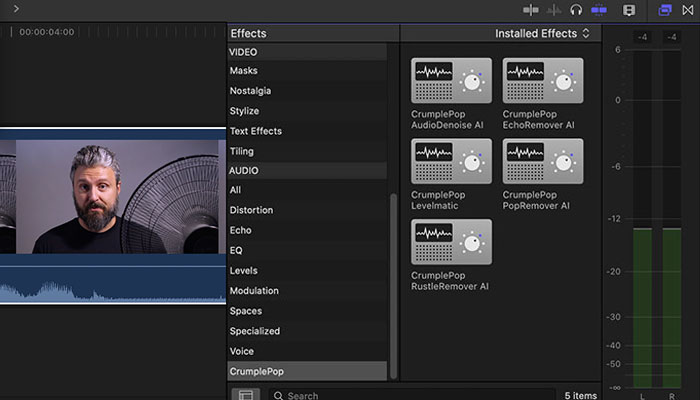 Video: Remove background noise with AudioDenoise AI
Grab AudioDenoise AI and drag it onto the audio or video file. You can also select the clip from which you want to remove background noise and double-click on AudioDenoise AI.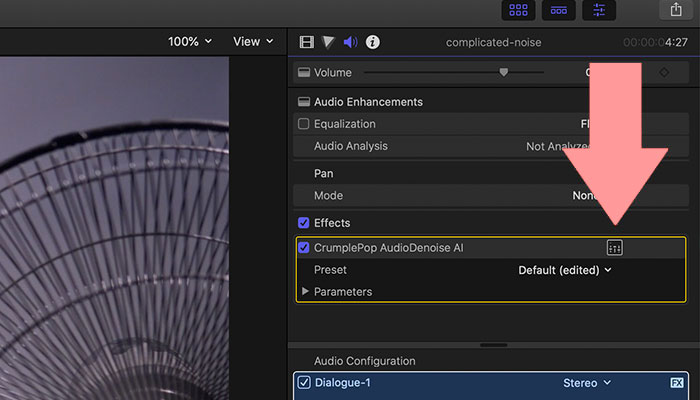 Go to the Inspector Window in the upper right corner. Click on the sound icon to bring up the Audio Inspector window. There you'll see AudioDenoise AI with a box to the right of it. Click on the box to show the Advanced Effects Editor UI. Now you're ready for noise reduction in FCP.
Adobe Audition
In Audition, you'll find AudioDenoise AI in the Effect Menu > AU > CrumplePop. You can apply AudioDenoise AI to your audio file from the Effects menu and the Effects Rack. After applying, you're all set to remove background noise in Audition.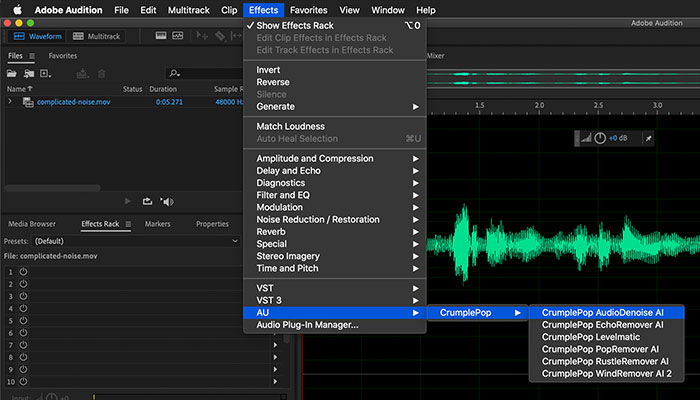 Note: If you don't see AudioDenoise AI in your Effects Menu, then you'll need to complete a few extra steps in Adobe Audition.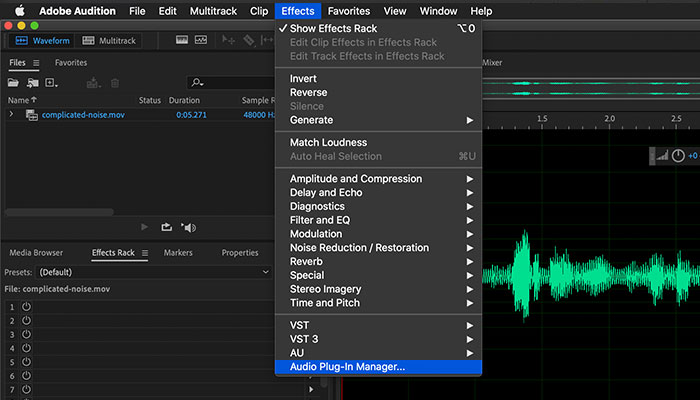 You'll need to use Audition's Audio Plug-in Manager. You can find the plugin manager by going to the Effects menu and selecting the Audio Plug-in Manager. Then a window will open with a list of audio plugins you have installed on your computer. Click on the Scan for Plug-ins. Then look for Crumplepop AudioDenoise AI. Double-check that it's enabled and click ok.
Logic Pro
In Logic, you'll apply AudioDenoise AI to your audio track by going to the Audio FX menu > Audio Units > CrumplePop. After selecting the effect, you are ready to remove background noise in Logic.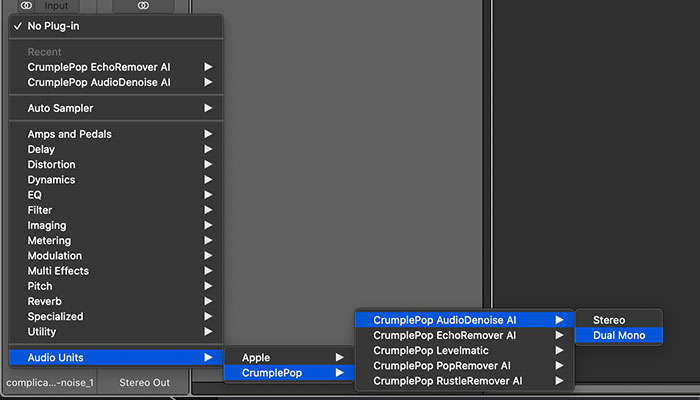 GarageBand
In GarageBand, you'll apply AudioDenoise AI to your audio track by going to the Plug-ins menu > Audio Units > CrumplePop. Select the effect, and you can remove noise in GarageBand.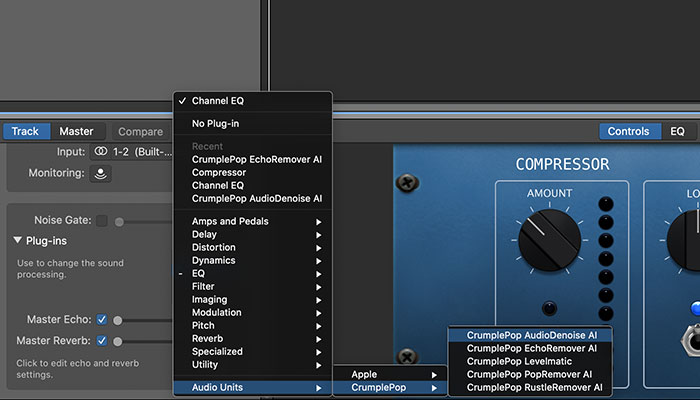 DaVinci Resolve
In DaVinci Resolve, AudioDenoise AI is in the Effects Library > Audio FX > AU.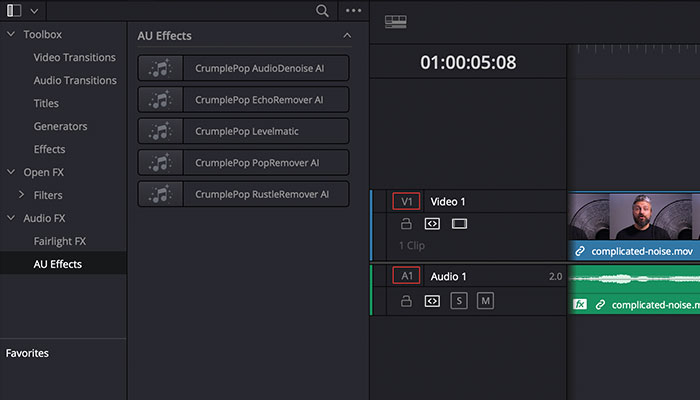 Click on the fader button to reveal the AudioDenoise AI UI. After the UI is displayed, you're all systems go to remove background noise in Resolve.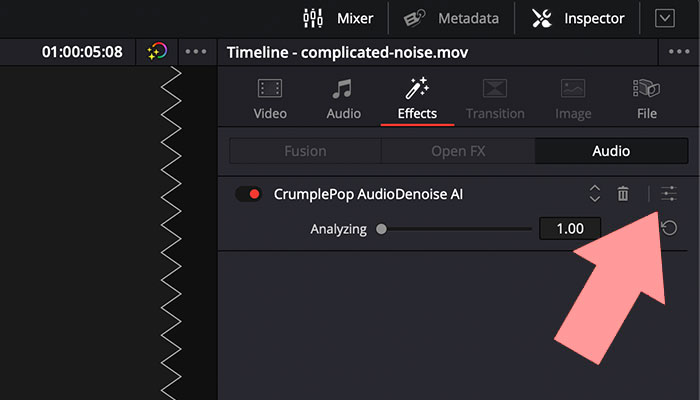 Note: If you can't find AudioDenoise AI after those steps, you'll need to do a couple of additional steps. Open the DaVinci Resolve menu and select Preferences. Then open Audio Plugins. Scroll through Available Plugins, find AudioDenoise AI, and ensure it's enabled. Then hit save.
Note: AudioDenoise AI doesn't work with the Fairlight Page.
AudioDenoise AI removes noise and improves your audio quality
Background noise can make a must-see youtube video into an easy skip. AudioDenoise AI can take your audio to the next level. With only a few simple steps, unwanted noises are removed automatically. Giving you audio worth being proud of.
Additional reading: