Off Road Biking with Lumineux
Whiskey Off-Road Teaser
from
Litteer Films
on
Vimeo
.
If you follow our blog and watch our product videos, one thing my become very clear: here at CrumplePop we like biking. After seeing Lumineux in Scot Litteer's teaser for an off road bike race (Whiskey Off Road,) we knew we wanted to do an interview. Lucky for us Scot took some time to answer a few of our questions on his video.
Could you explain the project for us?
I was approached by Todd Sadow of Epic Rides in Tucson, AZ to produce a promo piece for a mountain bike race held in Prescott, AZ called the Whiskey Off Road. It is a three day event featuring a Pro fat tire criterium in downtown Prescott, a day of armature racing and a final day of pro racing (men and women). It is a 50 mile course and most of it, as the name implies is off road. His goal going in to the project was to promote next year's (2012) event for riders and to get more and larger sponsors. My job was to show that this is a major cycling event and if you are in the mountain bike world and you are not here, you are missing out.
The first piece is the 2:00 promo currently running. The second component is a 5-6 minute piece featuring more in depth interviews with pro racers, armatures, sponsors and vendors plus Prescott businesses and how they all really get behind this event. That piece is in post right now and hope to be finished by end of July.
What camera (or cameras) did you use to shoot this? What was your workflow like?
The shooting budget was microscopic. I could only afford to bring one other shooter (the brilliant Ashley Maddox). Between the two of us, we had two 7D's, a 5D and a 60D…plus a bunch of lenses…some super speedy canon primes and two zooms, Canon 70-200 IS and the 17-55 IS. We also shot some Super 8mm, just to give us that look and vibe sprinkled in with the clean look of the digital image.
Also had a shotgun mic and a ZOOM H4.
We would start the day by making sure all cards are cleared and batts charged then shoot some event/race set up or time lapse of sun rises, get the race action then shoot until the parties ended. Our last things to shoot would be the night life. At The Raven for example, after getting the last shots, we'd order some food…maybe sample a fine local IPA, open up the MACBOOK and download all cards to drive #1, double check all downloads were correct and accounted for, then once we get back to the room for the night, copy drive #1 to drive #2….just to be safe. Clear all cards, charge all batts and be ready for the next day.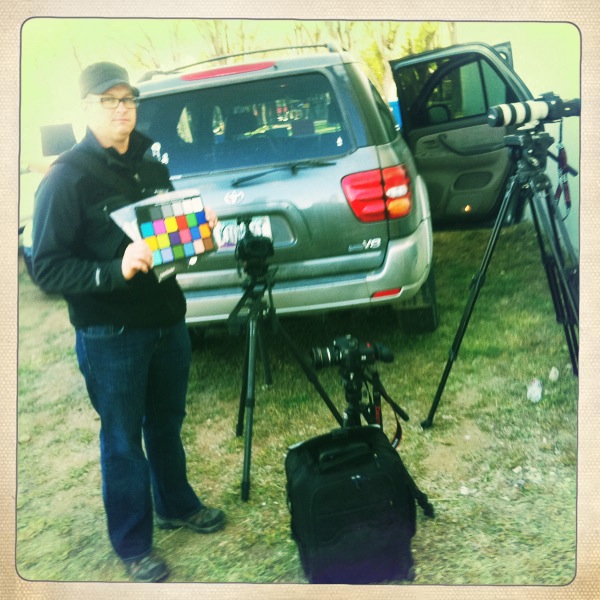 How was working with 8mm? Did you have use any tricks to get the footage into FCP?
I love shooting super 8mm when I can or when the project allows. There is nothing like exposing celluloid. There was a TV commercial for Jamaica that ran back in the mid-90s that used super 8mm. It was right around the time I was gearing up to shoot some 35mm for a tourism piece for Tucson, AZ. I remembered reading about a company in Burbank, Pro8mm (pro8mm.com) that had been trying to revive super 8 and I think Michael Bay used them for Pearl Harbor around the same time. I found them and decided to shoot some super 8 to mix with the 35 for that project. It was great.
Now, I call the good folks at Pro8mm, simply pick the stock, the amount and the format for editing. I usually buy one of the packages they offer. On this last project, I bought the 8 roll package (about 20 minutes of footage-shot at 24 & 18fps) and it includes transfer to ProRes. I send the exposed film and a hard drive to them and I get ProRes files I can drop right in to the time line. Easy…you just have to plan for it because there is time and expense involved. Oh…and I do have a camera. A Nikon R10. One other thing about shooting with older cameras, you do need to allow for wide screen transferring since the framing of older cameras is not wide screen. I tend to allow for a bit more head room so transfer framing is not cutting heads off.
It seems like you we're shooting some secluded areas. How was shooting in the wilderness? Did you encounter any problems?
Planning is the key to any shoot. The city of Prescott and the forest service is very welcoming of all outdoor enthusiasts. Chris Hosking is in charge of the area trails and he was extraordinarily crucial in helping transport us to the key areas for wilderness coverage. He is also part of a group called Prescott Mountain Bike Alliance. He knew the course and suggested access points to some really cool areas. We scouted the day before the first race by riding around and getting ideas of what is important to cover. Since we only had two shooters, we had to be very efficient with where we needed to be at various points of the race.
The high point on the trail has a great look in to Skull Valley and a great view of the 14 mile climb out. There is also a great transition area at that same spot with a food/water station, transition from a really steep climb to a big down hill and easy access for spectators.
There was a bit of climbing up rough areas and running to get from one spot to another….climbing up some rocks and into crevices, but that is where the cool shots are. Chris would drop me off and say "There is a little water fall crossing up that hill. Should be a good shot…you have 30 minutes until we have to move to the next spot to see the leaders come by." So I'd shoot the riders go by one spot, say a climb up a switch back, then I'd go straight up to meet them at the top to cross the waterfall or a technical rock outcrop. Then I run back down the hill and meet Chris and we'd go to another pre-determined spot. In the mean time, Ashley is back at the start finish line setting up cameras for the finish, getting sound bites from finishers and spectators…the kids race, stuff like that.
Ashley and I have shot in some funky places so we know how to travel light. We have some carbon fiber Manfrotto tripods with these tiny little fluid heads so weight is not much of an issue. In town, we used bigger tripods for bigger lenses and important interviews. We also had a Kessler pocket dolly.
I think we avoided any serious problems because we planned well and made sure to have extra batts and cards with us always. It helps to be in shape too because we did get a work out everyday and the elevation of Prescott is about 5,500 ft.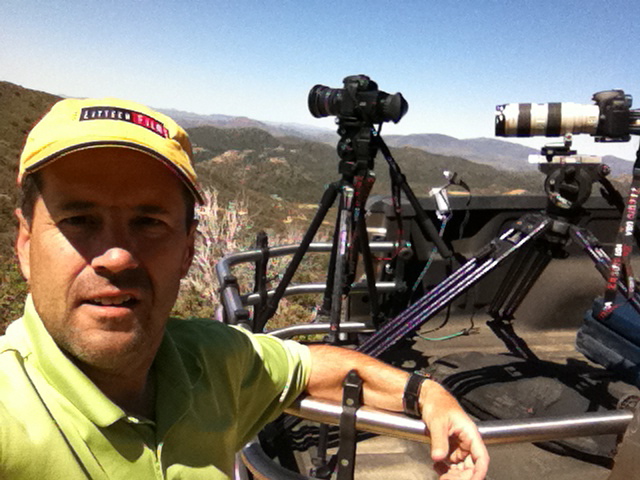 You have a few different tracking shots with the bikers. We're you riding along with them?
There is one segment of the trail that is parallel with a fire road. I shot out the side of a jeep to get those pictures. Again, following our plan, we knew that area was the end of the race. It is the last segment of single track before the riders get back on the pavement and head to the finish line. The riders would be very spread out there and we'd have several opportunities to get a shot. It is only about a half mile segment so we shot about five chunks there.
What made you want to use Lumineux and how did it effect your production?
The email promoting Lumineux arrived on a day when I was going though footage and getting my super 8 ready to send over to Pro8mm. I thought immediately Lumineux would be working on this project. I do have some old film chunks from when I used to shoot more film and have scraps of leader and such transferred, but nothing HD. I also have the old Art Beats Film Clutter, but not HD and the SD stuff just looks bad if I try to drop it in a HD timeline. Lumineux looked like a great solution and the price is terrific. I downloaded it right away, picked a couple of random shots from the Whiskey and in less than five minutes, had a clip I uploaded to show Ashley (//vimeo.com/23239759). He responded "I downloaded it already."
I ended up using a clip for the end graphic since it just seemed to work, especially with the music and coming out of the rider winning, the sun setting and the flare. It made building of the end graphic much easier. I layered a couple of clips so a flash would be right where I wanted it for a type transition or piece of the music.
I could tell the look of this product would work very well with the gritty, guerrilla film feel of a mountain bike promo. Just seemed obvious to me. You guys have some great products.
Thanks to Scot for answering our questions. Check out some of Scot's videos over at Litteer Film's Vimeo Page
---