EasyTracker
Plugin for tracking motion in video
Details
Easy Point Tracker
It's a popular and eye-catching effect - an object moves around in the frame, and a title or animation travels with it, as if they are stuck together somehow. Easy Point Tracker, one of two plugins included with EasyTracker, allows you to create exactly this effect. Want to call out a coffee mug with an animated title that says "Coffee"? Simply draw a box around the coffee mug in the frame, drop in your animated title, and click the "Track" button. EasyTracker also works great with 3rd-party animated templates, so you can create a complex, attractive tracking effect very quickly.
Easy Planar Tracker
EasyTracker also includes a powerful planar tracker called Easy Planar Tracker. Easy Planar Tracker allows you to replace - for example - a sign, window, or phone screen with anything you want. So you could draw a rectangle that matches your phone screen, drop in the image you want to appear in its place, and click "Track".
Simple Controls
Creating a motion tracking effect often requires that you navigate a complex, cumbersome keyframing UI or perform multiple round-trips to a compositing application like After Effects. It can slow your project to a crawl. EasyTracker is designed for video editors - it lets you work quickly, achieve great tracking results, and get your project out the door.
Tutorials
To see how use EasyTracker's Easy Planar Tracker, check out this brief video.
To see how use EasyTracker's Easy Point Tracker, check out this brief video.
Product Specs
| | |
| --- | --- |
| Editing Platform | Final Cut Pro X |
| Hardware requirements | Mac with Intel Core 2 Duo processor or better, 2GB RAM |
| OS requirements | macOS v10.11 or better |
| Supported codecs | All codecs supported by Final Cut Pro X |
| Supported resolutions | All resolutions supported by Final Cut Pro X |
| Software requirements | Final Cut Pro 10.2.2 |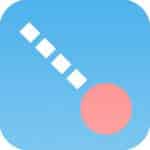 EasyTracker
Quickly create titles, images, and animations that "stick" to moving objects in your frame, tracking their motion.
---
Easy Point Tracker – track moving objects in your video
Easy Planar Tracker – replace phone screens, windows, or signs with your own image
Simple Controls – create complex tracking effects quickly and easily
$99