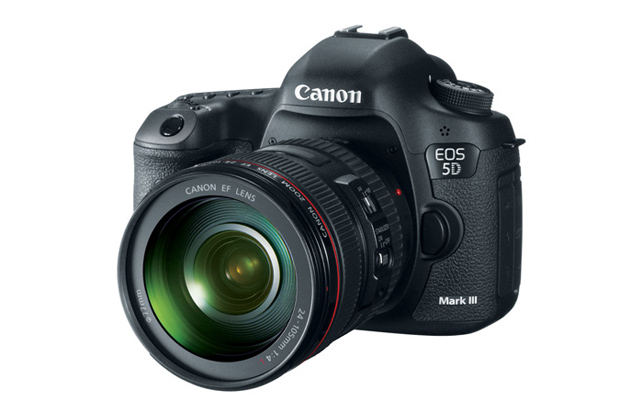 Canon announced it's long anticipated full frame HDSLR, the EOS 5D Mark III. The mkIII features a 22.3 megapixel sensor. It shoots up to 60fps at 720p (no 1080p 60fps) with h.264 compression. Canon added a new DIGIC processor which should help with some of the jello and moire issues that haunt the mkII. Two more stops have been added to improve low light performance. They've finally included a headphone jack and the ability to adjust audio levels within the camera. An SD slot has been added alongside the CF card slot, allowing you to record on to both cards (once one runs out it automatically switches to the other.) They've also added the ability to shoot HDR, a feature that's appeared in some of the most recent Magic Lantern hacks. The mkIII features 720p HDMI output, although no clean HDMI out. Canon's increased the record time to the now seemingly standard 29 minutes 59 seconds.
The 5D mkIII is expected to be out by the end of the month. It will retail at $3,999 (body only.)

DPReview did a nice piece showing off the mkIII, check it out:
To learn more about the 5D mkIII check out Canon's EOS 5D Mark II page.