UNITE TV EP. 1 WINSTON McCALL
from
Unite Clothing Company
on
Vimeo
.
In the past few weeks in Minneapolis the temperature has slowly dropped and the days have become shorter and shorter. Winter is slowly creeping in on us here at CrumplePop. That's why I was extra excited to see a gorgeous bodyboarding video by Caleb Graham find it's way to my inbox. His beautiful footage of waves, bodyboarders and beaches worked really well with our Lumineux effects. Caleb took a some time to chat with us about the project.
Could you explain the project for us?
This is a clip I made for Australian based clothing brand Unite. It was to launch a new TV section of their website, where there will be short action based clips profiling their team riders. The rider in this case, Winston McCall, is actually much better known as vocalist for international metal band 'Parkway Drive'. Before the band took off, he was more or less on track to becoming a professional bodyboarder. This is the first surfing footage to emerge of him in years, and I'm sure most of the bands fans had no idea he still surfed this well! I met Winston last year, when I worked with Parkway Drive – producing, directing and editing their music video for the track 'Karma'. It was obvious he still had a solid passion for chasing waves, so when winter(our best season for waves) came around, we where both amping to chase waves up and down the coast whenever we where both free! Then when the opportunity came up to use this footage for a Unite podcast, we chased some more waves and it came together perfectly.
Where did you shoot this? It's beautiful.
This clip is shot on the East Coast of Australia. Both Winston and myself are from the north coast, just below the QLD border. So a lot of the footage is from around this region, but we also did two trips to the NSW South Coast to get a bit of variety! It was a great year for waves, and the elements definitely aligned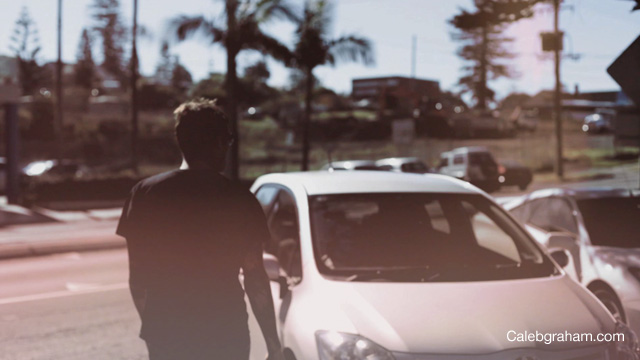 What camera (or cameras) did you use to shoot this?
The clip is shot predominantly on the Canon 5d and 7d. There are a few cutaway shots in there shot with the GoPro HD, to give it a bit more of a personal feel. For low budget clips like this, you can't beat the above cameras for the price. They have their limitations to work around, but no other camera's in this price range come close to delivering the same results!
I see you have a few shots that look like the camera is right inside the wave. How exactly did you end up capturing those? Do you have any tricks for capturing close up action shots like that?
I try and use GoPro's whenever I can to get an extra angle to make things more dynamic. The 720p/60 mode in particular lends itself greatly to water based shots! It has been used to create two of the angles in the clip. The first, is for some of the rider based POV shots, where the GoPro is actually mounted on his leg whilst surfing. The second is for some of the water based shots, where the rider is coming towards the camera. I was actually shooting a land angle this day, and had a photographer friend who was shooting stills from the water. I decided to attach the Go Pro to the top of his waterhousing, and asked him to stop and start recording whenever he was able. I wasn't sure how it would come out, but thought at minimum it might give me a couple of cutaways. As it turned out, the footage from this angle actually ended up coming out great! All of the fisheye water shots you see in this clip are from that angle. When I dumped the footage and saw how it came out I was stoked! One of my friends I shoot regularly with has nailed some of the better POV footage I have seen. He has made a custom pole mount that goes at the rear of his bodyboard, and it is definitely some of the better POV surfing footage ive seen!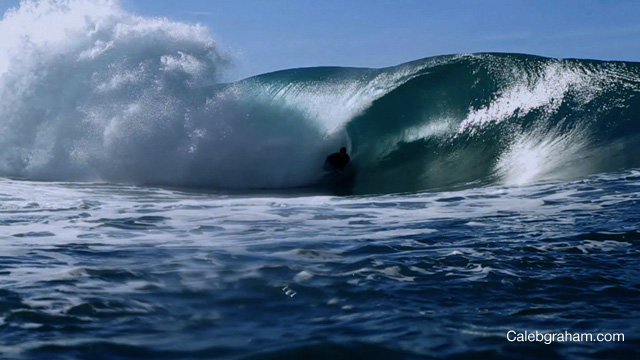 What was your workflow like?
It all seems pretty second nature to me know, dealing with the files from these cameras. My basic workflow, is to transcode all the footage into ProRes LT 1080p25 using Mpegstreamclip, and then to conform any clips shot at a lower framerate using Cinema Tools. Both the 7d and the Gopro HD shoot 720p/60, so ill generally just scale them to 1080p, and conform them back to 25 frames. Keep everything the same format for when it hits the timeline. From there, the edit was done in Final Cut, the grading in Color, and the quick animation at the end in After Effects.
Why did you want to use Lumineux? Did you plan to use it before shooting?
I heard about Lumineux from one of my good mates – Mitch Payne. I have always collected light leaks and burns from 8mm and 16mm clips, but the idea of light effects designed for digital HD is something that appealed to me, so I didn't hesitate to purchase the Lumineux package! This is the first clip I've used it on, and I loved the results! I think it compliments the 5d lifestyle footage nicely, and it is something I kept in mind whilst shooting the clip
How was working with Lumineux? Did you use any specific methods to get leaks to look so natural?
I found Lumineux really easy to work with. All the compositing was simply done using some basic tools in Final cut – Blending modes and Opacity. It was more or less just a matter of just finding a particular effect that suited the clip, and finding the best way to blend it with the original! Couldn't of been easier.
Thanks a bunch to Caleb for talking with us. Check out more of his work over at his page.