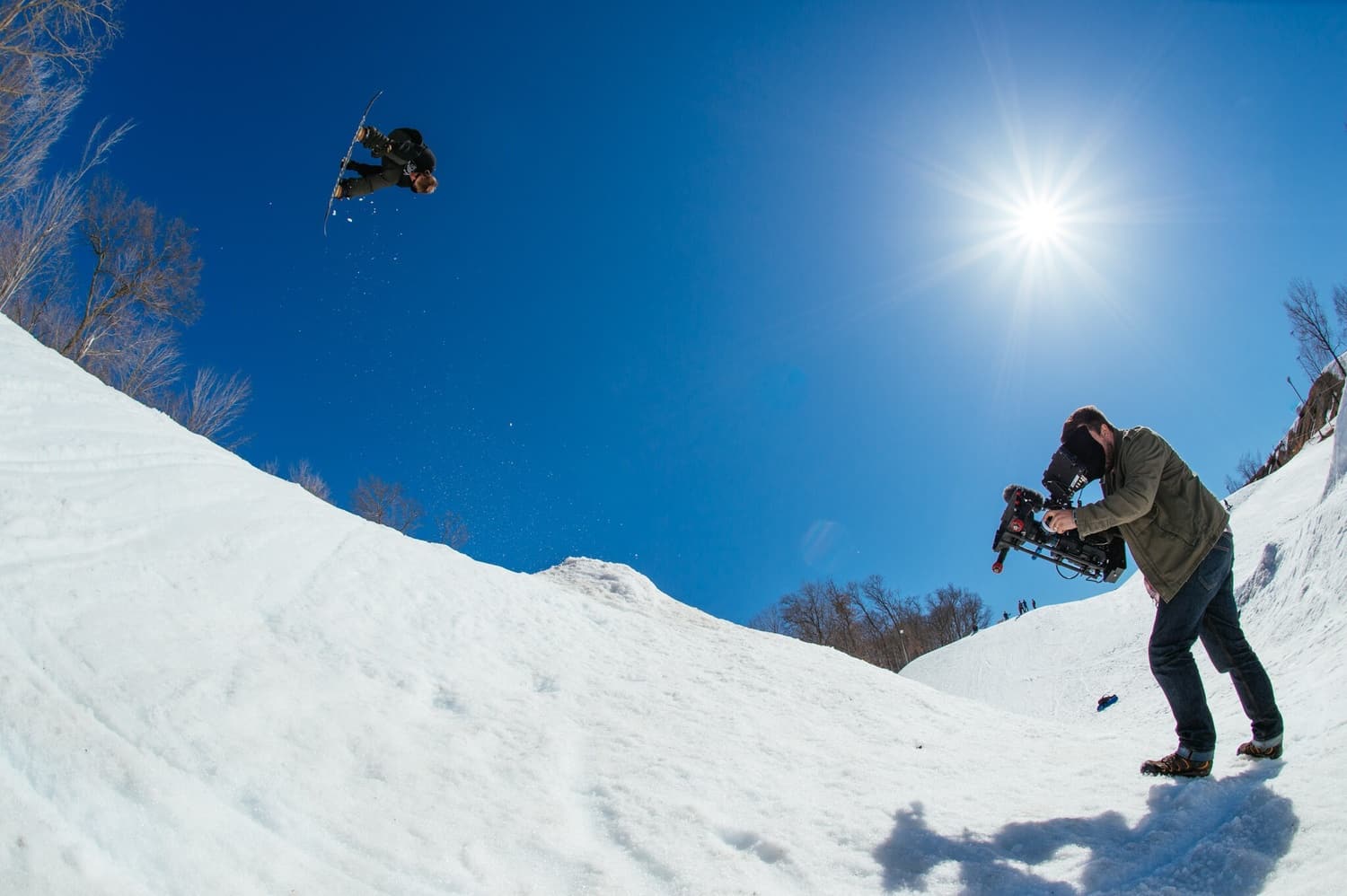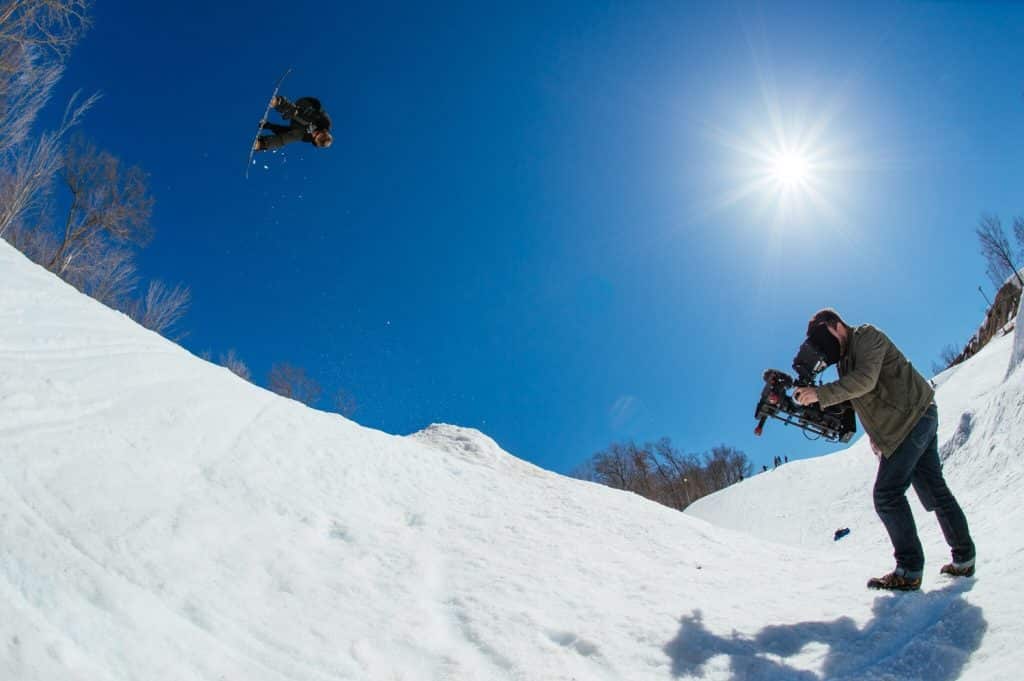 Josh Becker is a DOP and animator based in Minneapolis, Minnesota. He is a regular contributor to the CrumpleBlog. Check out Josh at joshbecker.net and facebook.
As a freelancer, I tend to wear a lot of hats. One day it's a web video that will be compressed online, the next it's documentary that needs to meet broadcast spec, and another it's a stylized product shot that requires a high frame rate with RAW quality. While there are some great cameras in the sub-$15000 price range, I'm not aware of any camera rigs under $35,000 that can accomplish what the FS700+7Q combination is pulling off.
Pretty much everyone is familiar with the FS700, Sony's mighty sub-$8000 camera that put slow-motion capabilities in the hands of the everyman. Released in the summer of 2012, the camera was equipped with a 4K sensor but was limited to capturing 1080p AVCHD to an SD card or a Sony Flash Memory Unit, with frame rates up to 240fps. Of course, the high frame-rates also came with a "gotcha": an 8-second limit, due to the camera's internal buffer that holds the footage before writing it to the SD card or FMU.
Fast forward to November 2013. Convergent Design had announced the Odyssey7Q monitor/recorder earlier that year and after some manufacturing setbacks, units were finally trickling in to dealers. I was lucky enough to get my hands on an Odyssey7Q in early December, so I have watched this baby learn to crawl and now finally begin to stand.
The Odyssey7Q, to get the most out of the FS700, requires the FS700 to have firmware v3.0, which comes with the FS700R model or can be added by sending an older FS700 to Sony and paying an upgrade fee. This enables full functionality of the camera's 4K sensor and RAW output from the 3G-SDI port, unlocking a whole slew of capabilities.
Forget What You Knew About the FS700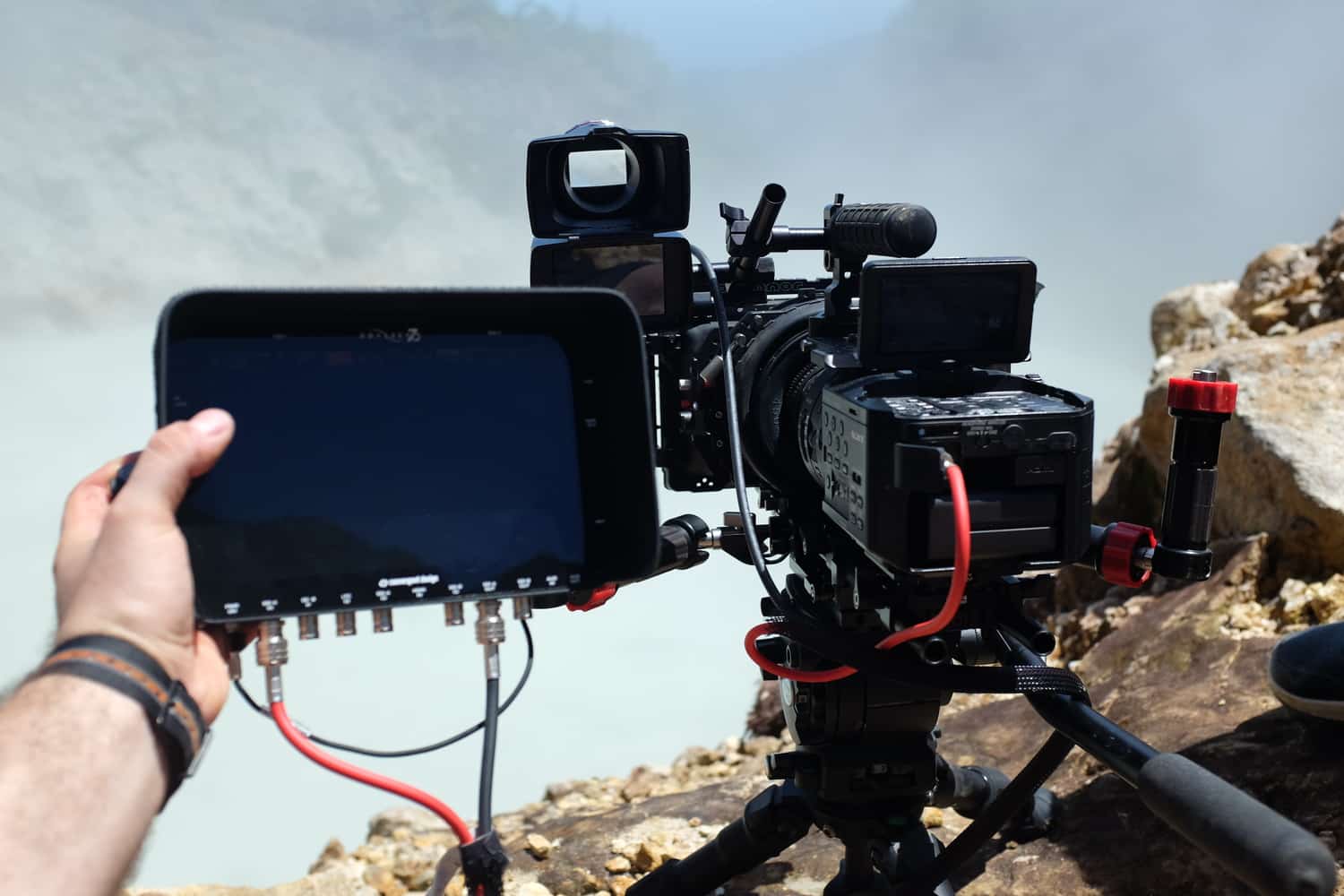 It's a brand new camera. Sure, it's the same FS700 you've seen in the hands of action-sports shooters or on indie music video sets but what's happening under the hood, specifically in the guts behind that beautiful 7.7-inch OLED screen of the Odyssey7Q, is all new.
The FS700 sends the following RAW signals:
4K RAW at 24/30/60fps, 120fps 3.6-second burst mode
2K RAW at 24/30/60/120/240fps
In addition to capturing all of these signals, the Odyssey7Q has the ability to receive the FS700's 4K RAW signal and compress it to an amazing 10-bit 1080p ProRes HQ file, which is virtually free of any aliasing and moiré. More specifically, it clears up a really ugly issue that the FS700 had when recording internally with AVCHD, check out the left edge of the water being poured. A picture is worth a thousand words: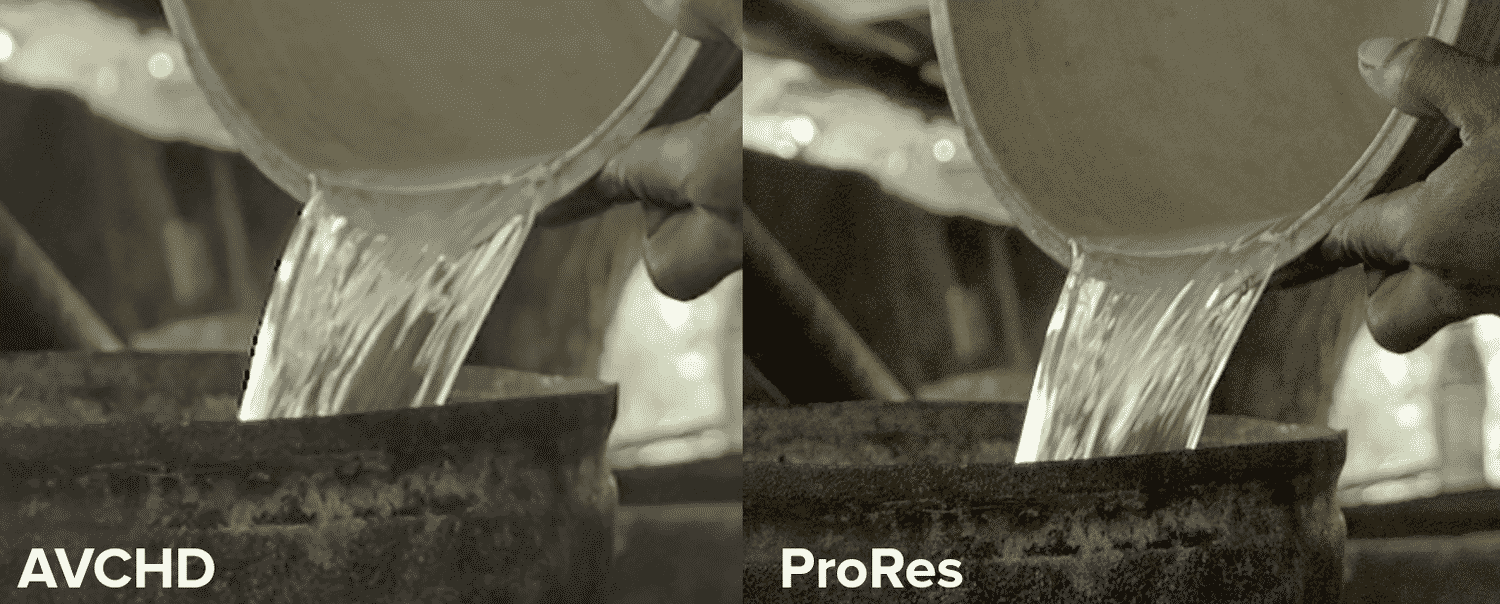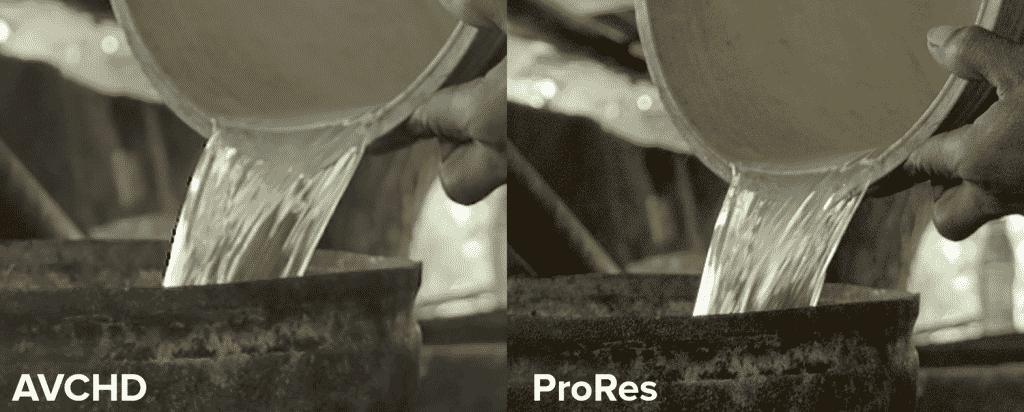 Hands On
Over the last 8 months, I've used the Odyssey7Q in a lot of shooting environments and conditions. From the sub-zero temperatures of the Minnesotan tundra to Dominica's 16-mile Boiling Lake hike. Since the day my Odyssey7Q arrived, I have rarely shot without it.
To begin, the Odyssey7Q has an outstanding 7.7-inch OLED monitor built into it. The capacitive touch screen allows you to toggle focus enhancement tools, waveform monitors and histograms, and exposure tools. In the past several months, aside from a few specific instances, I've set aside my Alphatron EVF in favor of viewing from the Odyssey7Q monitor. Part of that is due to the fact that the monitor will need to be attached regardless, the other is due to how Odyssey7Q exposure/focus tools make shooting so much easier.
Now for some drawbacks: I tend to treat the FS700+7Q as a single unit, in my mind. But the reality is that you're using two devices to capture your image. That's two menu systems to figure out, two batteries to go dead, two sets of preferences/settings to keep an eye on. If you want to switch from "4K to HD" shooting to 2K 240fps RAW mode, you have to not only change the mode on the FS700, but you will need to navigate a few layers deep in the Odyssey7Q settings menu to put it into RAW mode.
Now, the FS700 isn't up for any awards in ergonomic excellence and unfortunately the Odyssey7Q won't change that. While the Odyssey7Q is smaller than the official Sony RAW capture solution, it still adds some bulk to the already awkward FS700.
Putting It to the Test
Here are a couple of projects I was the DP on, where we used the FS700+7Q combination. First, is project I shot on the island of Dominica, where I was constantly shuffling through different modes to shoot 4K RAW, 2K RAW, and 1080p ProRes, depending on what we were trying to capture.
Another recent project was shot completely with RAW, the first installment of a three-part ode to summer titled, "JUNE."
Sony's Swiss Army Knife
I guess what it comes down to for me, as an owner/operator, is having a weapon in your arsenal that can adapt to nearly every situation you throw at it. Just as I may need to rent or borrow a power tool for a special DIY project, I may need to rent special cameras or gear for a shoot. But having that perfect set of tools on hand that will accomplish 99% of your tasks can be a huge advantage. I checked out my FS700's "operation time" clock, and had I been renting my FS700 instead of owning it, the usage time would have been roughly $23,000 in camera rental costs alone. Considering that a portion of those hours were racked up from people renting the camera from me, I would say that the camera has well paid for itself.
After months of using the FS700+7Q, I'm confident that it can handle essentially any shoot I throw at it.
Odyssey7Q Firmware Update – 4K RAW 120FPS Burst
This week, Convergent Design released the latest firmware (v. 2.10.141) for the Odyssey7Q monitor/recorder. Among many new features, Sony FS700 users were given a nice surprise: The ability to capture a 3.7-second burst of 120 frames per second in beautiful 4K RAW.
From the Odyssey7Q, you end up with a folder containing 440 CinemaDNG files. Played back at 23.976fps, that's slightly over 18 seconds of smooth 4K.
The Return of End Trigger
A detail worth mentioning is that this is the only mode of capturing FS700 RAW with the Odyssey7Q that can use the "End Trigger" activation. For those who are unfamiliar: End Trigger mode constantly rolls footage to a buffer inside the FS700 and pressing the record button will actually capture the 3.7-second window that occurred before you pressed record. To many, this feels like some sort of witchcraft time travel. It is great for unpredictable events, maybe you are waiting for a bird to fly away. Rather than rolling for several minutes, you can simply hit the record button the moment after the bird flies away.
On the Odyssey7Q, RAW slow motion was a double-edged sword. You had the range and quality of RAW plus the ability to record until your SSDs were brimming with footage, but without end trigger you could end up rolling footage for several minutes before those birds flew away. If you aren't rolling while it happens, you won't get the shot. And when 1TB is a measly 20 minutes of 240fps, you could be in for a data management nightmare.
The new 4K 120fps burst helps bridge the tradeoff that was common before: resolution vs. frame rate. Prior to this firmware release, increasing the resolution from 2K to 4K resulted in a drop of maximum fps from 240fps to 60fps. Now, although only for a 3.7-second window, there is a new sweet spot for getting full 4K resolution with a taste of that addictive slow motion. And think of all the storage saved!
The Birds and the Bees (plus BBQ and Basketball)
I took the new firmware out for a spin and grabbed a couple quick shots using the 4K 120fps burst. Nothing fantastic, just a few situations where you may want the extra resolution of 4K, the safety of End Trigger, and a touch of that sweet, sweet slomo. I settled on four shots: A bird grabbing some take-out, a bee in my yard, firing up some charcoal, and sinking a two-pointer.
And rather than cutting down each shot to the "good" sections, I opted to leave all 440 frames in, to illustrate exactly how long of a shot you end up with while using the 4K RAW 120fps burst. The basketball shot is only 220 frames, as it was shot using End Trigger Half mode (only fills half of the buffer).
Here is a preview on Vimeo:

Below, I've rendered out ProRes HQ files, processed as BMD Film (flat) through DaVinci Resolve. Regarding the RAW files: each burst of 4K 120fps ends up as a 5.91GB folder. I'm not currently planning on uploading the RAW files because that's pretty chunky.
ProRes HQ – Bird 1.76 GB
ProRes HQ – Bee 1.61 GB
ProRes HQ – BBQ 1.74 GB
ProRes HQ – Basketball 931 MB
(NOTE: Clips are for testing/educational use only.)
FS700+7Q and The Future
With each firmware released for the Odyssey7Q, more power is unlocked from the FS700. With this combination, we can now capture 4K RAW at 24/30/60/120 frames per second (120fps limited to burst mode) and 2K RAW at 24/30/60/120/240 frames per second. In addition to RAW, the Odyssey7Q has the power to take in the 4K RAW signal and use all of that information to create an incredible 10-bit 1080p ProRes HQ files that has virtually no aliasing or moiré, up to 30fps.
Future firmware updates will include 4K ProRes, freeing us from the massive file sizes required of the RAW DNG files. We also have custom LUTs to look forward to, as well as 10-bit 1080p ProRes HQ up to 60fps.
I'm excited to see the future development of the Odyssey7Q and utilizing all of the power that it has unlocked from this camera. Thanks to the whole Convergent Design team for creating such a great device. I know I've given Mitch and Andy at CD an earful in the past regarding features, bugs, and updates, but without the hard work of them and their whole team, these capabilities would have never been unlocked.
Josh Becker is a Director of Photography and animator located in Minneapolis, MN. Check out Josh at joshbecker.net and facebook.