The corporate video sector doesn't exactly have a reputation for being wildly exciting. It's often associated with dreary talking heads, tedious soundtracks and uninspiring camera work.
At Tech TV we're all about staying far away from that image. We're an award-winning video production company based in the UK. We specialise in corporate videos that look great as well as being short, shareable, and straight to the point. We often work to tight deadlines and have multiple projects on the go at once, so speed is really important.
About a year ago, the company decided to make the switch to FCP X. We were already using FCP 7 but after the FCP X launch, we became interested in moving to the new software – despite the bad press it got on launch. It was initially a gradual process, starting with smaller projects with no defined deadline, but it soon became clear that there was no going back.
I joined Tech TV in January, just after the big switch. Having worked mostly with Avid during university, I expected my first assisting job to involve a lot of syncing, logging and waiting for footage to transcode, so I was pretty surprised to find out most of that wasn't necessary with FCP X.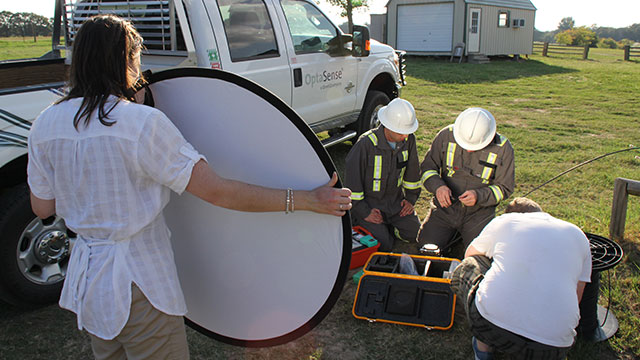 Our workflow really couldn't be easier. We mostly shoot with the large sensor Panasonic AF-100 (AF-101 here in the UK) with prime lenses. We back up the cards on location to rugged hard drives then bring these back to the edit. It's really easy to import the AVCHD rushes straight into FCP X through the import window. We can start cutting while the footage continues to import, quickly skimming through the event browser to pull down interviews and find our favorite shots.
"The great thing about FCP X is that it lets us start editing really quickly" says our Head of Production Matt Smith, "Some of the best ideas come in the edit, video is visual and FCP X is great at is visualizing how the shots are going to work together."
I think the biggest test of speed was using FCP X for very tight deadlines like event wraps. We've now done a few events where we've managed to film, edit, colour correct, and add effects and graphics in a day. It looks great, and has been turned around in barely any time.
We do all our grading in FCP X using the in-built colour controls and make use of a few plugins for quick skin tone or white balance fixing.
"I use the colour correction tool all the time" our Editor and Producer Tash Jones says. "I use the colour mask to select and improve any colours that don't look right, and I often use the shape mask to create simple vignette or a subtle sunset look."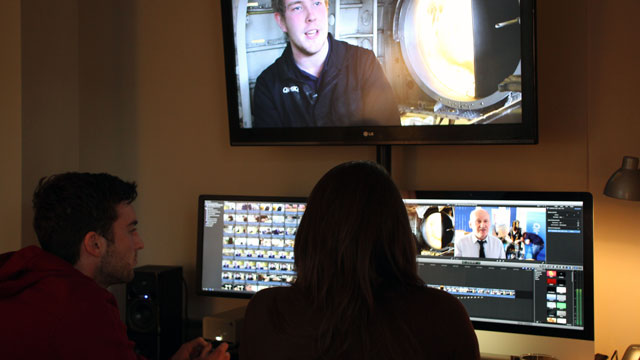 Something that has really changed the way we work is the amount of plugins now available for FCP X. We use them in pretty much every production; they allow us to make a creative edit quicker than ever.
We often take GoPros out on our shoots, and so we've found that the CrumblePop Fisheye Fixer plugin is fantastic – with a click of a button the image straightens out so it gives us some more flexibility with our shots.
"We've put the GoPro underwater and even on a centrifuge used for flight training" says Tash, "so it was whizzing round at some ridiculous G force, and the Fisheye Fixer plugin managed to sort the footage out, so we were impressed with that."
We also make use of effects like glitch transitions, lens flares, light leaks and whip pans to give edits more pace and polish.
"The thing about corporate video is that often you haven't always got amazing pictures to work with," says Matt. "You often need something to help them come alive a bit."
He adds: "Whereas indie filmmakers might have a nice landscape or studio set to work with, a lot of our 'bread and butter' filming is in a boardroom or office. That's where Final Cut X and the plugins really come in, you've got a growing catalogue of stuff to use, so it's really helped us create a more polished result."
The software isn't without it's flaws, and we have had some problems with bugs along the way. There's a particularly annoying one at the moment that tries to make all your key frame moves ease in and out, which it seems can only be fixed by toggling various options on and off repeatedly. Little glitches like that have been really frustrating, but with each update these things have been fixed and overall we've found that it crashes a lot less than other NLEs.
We honestly haven't looked back to FCP 7 in a long time. In fact having worked at the company for just under a year, I can only recall two times we opened 7 and they were both to revisit old projects, which we then ended up 7toXing anyway.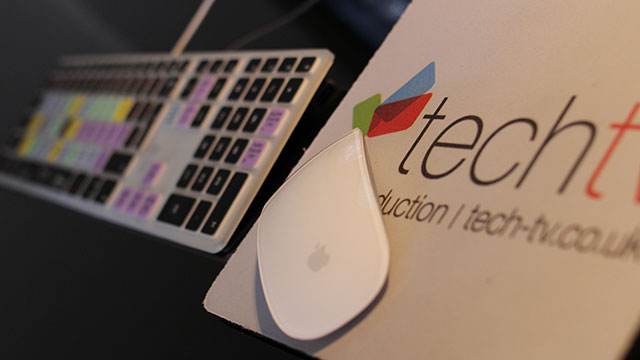 It's not going to win everyone over, but to be honest FCP X is perfect for the kind of work we do and our clients are happy because they get the professional look in half the time without the big production company price tag.
"I like to think of us as a very modern production company" says Matt, "we're making a lot of stuff for mobile and social media. FCP X just seems to tie into that whole way of thinking."
Roxanne Ibbetson is a Production Assistant at Tech TV, an award winning video production company based in London and Surrey in the UK.