7 Best Field Recording Microphones
---
There are a plethora of microphones and recordings devices in the market for every situation, and when it comes to field recording, there are many things to consider before choosing the recording gear that'll best suit our needs.
Just like when looking for the best microphones for podcasting, we can choose between dynamic, condenser, and shotgun microphones, but not only that: even your smartphones can do decent recordings if you have a good external microphone for your iPhone!
In today's article, I'll delve into the world of the best microphones for field recording, and the ideal microphones and equipment you should always carry with you. At the end of the post, you'll find a selection of what I think are the best field recording mics on the market right now.
The Essential Field Recording Equipment
Before you run to buy the first microphone on our list, let's talk about the equipment you need for your sonic explorations. Besides the microphone, there are other things you need: a field recorder, a boom arm or stand, a windshield, and other accessories to protect your audio gear. Let's analyze them one by one.
Recorder
The recorder is the device that will process all the audio captured by your microphone. The most popular option is the portable field recorders; thanks to their size, you can carry handheld recorders anywhere and also connect them to your computer via an audio interface. Plus, they provide excellent recordings. However, you'll need to be extra careful and protect your gear from the weather and wind noise when doing nature recordings; the same goes if you're using mobile devices like a tablet or smartphone.
The most popular handheld recorders are:
What Type of Microphone is Best for Field Recording?
Most microphones ideal for field recordists fall into one of the following categories:
Shotgun microphones: Undoubtedly the most popular option for field recording. Its directional pattern helps to record clear sound by placing it directly to the source. They require a boom arm.
Dynamic microphones: This is perhaps the easiest option if you have just started field recording. These microphones tend to be more forgiving thanks to their low sensitivity. By capturing sound accurately throughout the audio spectrum, they can help you record quiet sounds in nature and in the studio.
Lavalier microphones: These are great because they are tiny and portable to carry to the desired recording location. They're so small you can easily adjust their direction to capture sounds you wouldn't be able to capture with more bulky alternatives.
Accessories
You can start your field recording experience as soon as you have a recorder and microphone, but it'd be good to highlight a few add-ons that'll help you become a professional field recorder. When you buy a microphone, it might include some of the accessories on the following list. These are not necessary but highly recommended, mainly to deal with wind, sand, rain, and temperature changes.
Windshields
Boom arms
Tripods
Mic stands
Extra cables
Extra batteries
Travel cases
Plastic bags
Waterproof cases
Understanding the Polar Pattern
The polar pattern refers to the direction from which the microphone will pick up the sound waves. The different polar patterns are:
The omnidirectional polar pattern is ideal for field recordings and natural environments because it can record sounds from all around the mic. An omnidirectional microphone is a great choice when you want to achieve professional nature recordings.
The cardioid pattern picks sound from the front side of the microphone and mitigates the sounds from other sides. By capturing audio only coming from the front side, these professional microphones are most common among audio engineers.
The unidirectional (or hypercardioid) and supercardioid polar patterns provide more side-rejection but are more susceptible to sound coming from behind the mic and must be placed in front of the sound source.
The bidirectional polar pattern picks sounds from the front and behind the microphone.
The stereo configuration records the right and left channels separately, which is ideal for recreating the ambient and natural sound.
Top 7 Best Field Recording Microphones in 2022
On this list, you'll find what I believe are the best options for field recording mics for all budgets, needs, and levels. We've got it all: from the top-rated microphones regularly used in the film industry to the mic you can use with your current mobile devices for more DIY projects. I'll start with the most expensive microphones and go down from there.
Sennheiser MKH 8020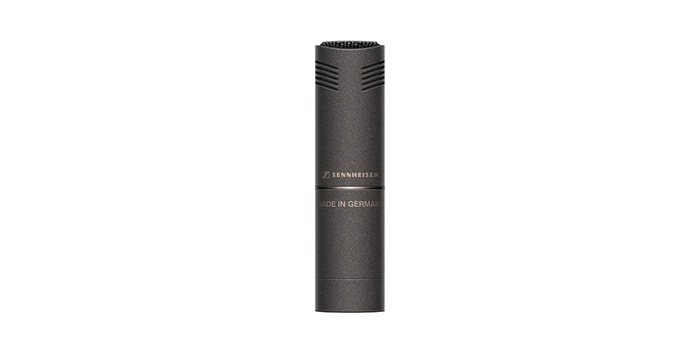 The MKH 8020 is a professional omnidirectional microphone designed for ambiance and close-distance microphone recording. The cutting-edge Sennheiser technology allows the MKH 8020 to perform under demanding conditions, such as a rainstorm, windy scenarios, and humidity. Its omnidirectional polar pattern is also ideal for recording orchestral and acoustic instruments.
Its modular design consists of the MKHC 8020 omnidirectional capsule and the MZX 8000 XLR module output stage. The symmetrical transducer in the capsule has two back-plates, which significantly reduces distortion.
The MKH 8020 has a broader frequency response of 10Hz to 60kHz, making it the best mic for low instruments and double bass, but also for ambient recording to capture those high frequencies in nature with pristine sound quality.
The Kit includes the MKCH 8020 microphone head, XLR module MZX 800, microphone clip, windshield, and a travel case. The price of the MKH 8020 is around $2,599. If you want to achieve extremely high-quality audio and money is not an issue, then I'd recommend getting two of these beauties high-quality and creating a stereo pair team unlike any other.
Specs
RF condenser microphone
Form factor: Stand/Boom
Polar pattern: Omni-directional
Output: XLR 3-pin
Frequency response: 10Hz to 60,000 Hz
Self-noise: 10 dB A-Weighted
Sensitivity: -30 dBV/Pa at 1 kHz
Nominal impedance: 25 Ohms
Phantom power: 48V
Max SPL: 138dB
Current consumption: 3.3 mA
Pros
Non-reflective Nextel coating.
Extremely low distortion.
Resistant to different types of weather.
Do not pick up interference.
Ideal for ambient recordings.
Wide frequency response.
Very low self-noise
Cons
Not an entry-level price, by far.
It requires a boom arm or mic stand and other protective accessories.
Can enhance hisses from high frequencies.
Audio-Technica BP4029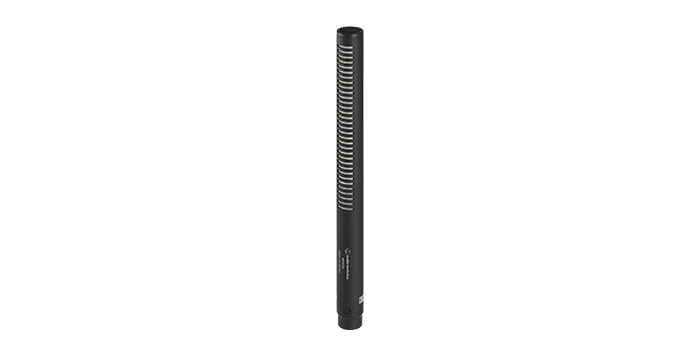 The BP4029 stereo shotgun mic is designed with high-end broadcast and professional productions in mind. Audio-Technica has included an independent line cardioid and figure-8 polar pattern, selectable with a switch between a mid-size configuration and a left-right stereo output.
The flexibility in the BP4029 allows choosing between two left-right stereo modes: the wide pattern increases ambient pickup, and the narrow delivers more rejection and less ambiance than the wide pattern.
The mic includes a stand clamp for 5/8″-27 threaded stands, a 5/8″-27 to 3/8″-16 threaded adapter, a foam windscreen, O-Rings, and a carrying case. You can find the Audio-Technica BP4029 for $799.00.
Specs
M-S mode and left/right stereo modes
Polar pattern: Cardioid, Figure-8
Frequency response: 40 Hz to 20 kHz
Signal-to-noise ratio: Mid 172dB/Side 68dB/LR Stereo 79dB
Max SPL: Mid 123dB Side 127dB / LR Stereo 126dB
Impedance: 200 Ohms
Output: XLR 5-Pin
Current consumption: 4 mA
Phantom power: 48V
Pros
Perfect for broadcast, video filming, and sound designers.
It's compatible with field recorders like the Zoom H4N and DSLR cameras.
Versatility of configurations for every need.
Reasonable price.
Cons
Difficult access to the switch to change configurations.
Users report issues in humid environments.
The windscreen provided does not perform well.
DPA 6060 Lavalier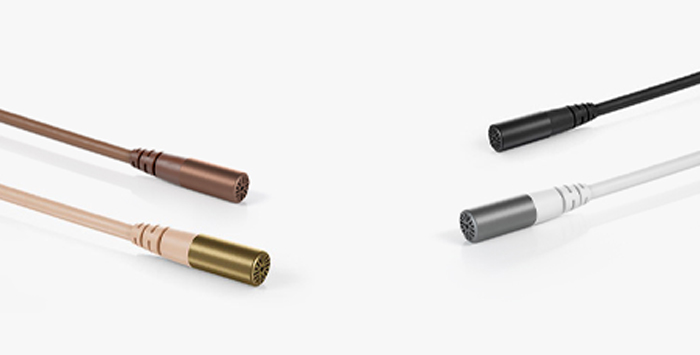 If the size is important to you, then the DPA 6060 tiny lavalier microphone will be your best companion. It's only 3mm (0.12 in), but don't let the size fool you, it comes packed with the power of prestigious DPA microphones. Thanks to the CORE technology by DPA, the DPA 6060 can record whispers as well as screams with perfect clarity and minimum distortion, all with a tiny 3mm microphone.
The DPA 6060 is made of stainless steel, made even more durable by a Physical Vapor Deposition (PVD) covering treatment, which enables it to sustain high temperatures and impacts. The cable is durable and has a Kevlar inner core that can withstand heavy tugs. Many DPA microphones were used during Game of Thrones filming because of these features and sound quality.
You can configure the DPA 6060 on the DPA website, choosing the color, the type of connection, and accessories. The price will vary, but it starts at $450.
Specs
Directional pattern: Omnidirectional
Frequency response: 20 Hz to 20 kHz
Sensitivity: -34 dB
Self-noise: 24 dB(A)
Max SPL: 134 dB
Output impedance: 30 – 40 Ohms
Power supply: 5 to 10V or 48V phantom power
Current consumption: 1.5 mA
Type of connector: MicroDot, TA4F Mini-XLR, 3-pin LEMO, Mini-Jack
Pros
Small and easy to conceal in nature.
Waterproof.
Resistant.
Perfect for nature recording
Cons
Price.
Cable size (1.6m).
Rode NTG1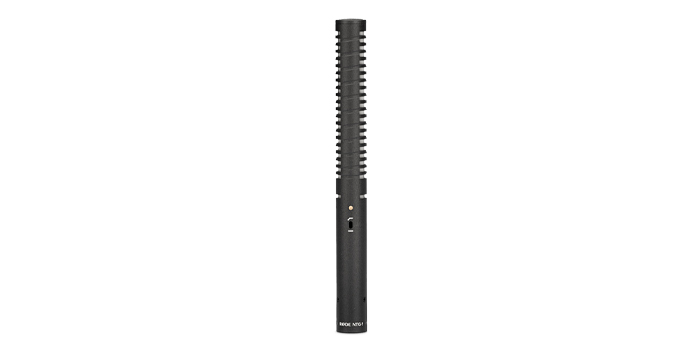 The Rode NTG1 is a premium shotgun microphone for filming, television, and field recording. It comes in a rugged metal construction but is very lightweight to use with a boom arm to have it off-screen or reach sound sources beyond reach.
Because of its high sensitivity, the Rode NTG1 can generate high output levels without adding too much gain to your preamps; this helps reduce the self-noise for the preamps and delivers cleaners sounds.
The Rode NTG1 comes with a mic clip, windshield, and a travel case. You can find it at $190, but the price may vary.
Specs
Polar pattern: Supercardioid
Frequency response: 20Hz to 20kHz
High-pass filter (80Hz)
Output impedance: 50 Ohms
Max SPL: 139dB
Sensitivity: -36.0dB +/- 2 dB at 1kHz
Signal-to-noise ratio: 76 dB A-Weighted
Self-noise: 18dBA
Power supply: 24 and 48V Phantom power.
Output: XLR
Pros
Lightweight (105 grams).
Easy to use and portable.
Low noise.
Cons
It requires phantom power.
It's a directional microphone, so it might be difficult to record ambiance sounds with it.
Clippy XLR EM272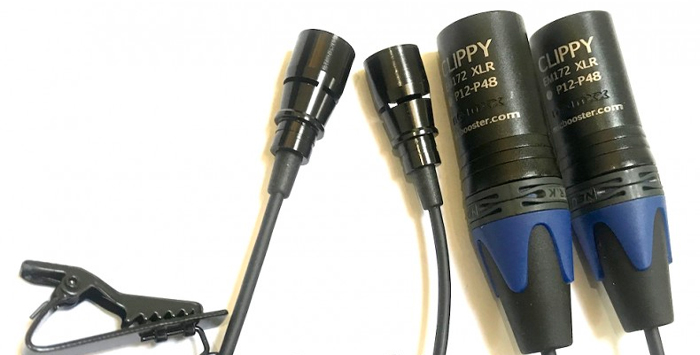 The Clippy XLR EM272 is an omnidirectional lavalier microphone that features the Primo EM272Z1, an exceptionally quiet capsule. It has balanced XLR output with gold plated pins but is also available with 3.5 with straight and right-angle plugs to use with devices that allow this input.
The low noise of the Clippy EM272 makes it perfect for stereo recording on the field. It's also highly used by ASMR artists thanks to its high sensitivity.
The Clippy EM272 requires phantom power, ranging from 12 to 48V. Operating at 12 volts can lengthen the battery life of portable recorders.
The EM272 comes with a pair of Clippy clips and has a 1.5m cable which can be short for some setups. You can find it for around $140
Specs
Microphone capsule: Primo EM272Z1
Directional pattern: Omnidirectional
Frequency response: 20 Hz to 20 kHz
Signal-to-noise ratio: 80 dB at 1 kHz
Self-Noise: 14 dB-A
Max SPL: 120 dB
Sensitivity: -28 dB +/- 3dB at 1 kHz
Dynamic range: 105 dB-A
Output impedance: 1.4 k ohms
Phantom power: 12-48V
Current consumption: 0.9 mA
Cable: 1.5m, Shielded balanced Mogami 2697 cable
Output connector: XLR Male, Neutrik, gold-plated pins
Pros
Its low self-noise allows for good-quality ambient and nature recording.
Competitive price.
Available in XLR and 3.5 plugs.
Easy to conceal and protect from the environment.
Cons
Short cable length.
No accessories included.
It overloads when exposed to loud sounds.
Zoom iQ6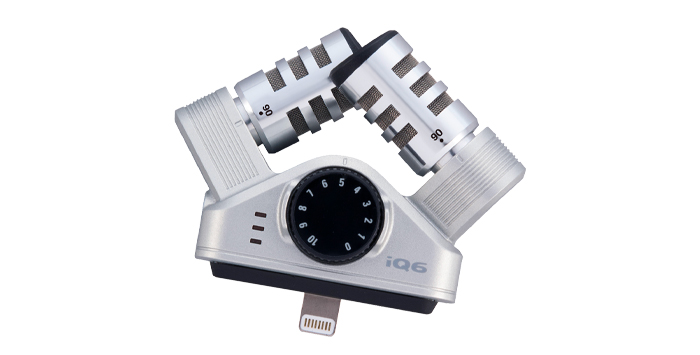 The Zoom iQ6 is an alternative to the microphone + field recorder combo, perfect for Apple users. The iQ6 will turn your Lightning iOS device into a pocket field recorder, ready to record nature sounds wherever you are, with its high-quality unidirectional microphones in an X/Y configuration, similar to the ones in dedicated field recorders.
The tiny iQ6 features a mic gain to control the volume and a headphone jack for direct monitoring. Pair it with your headphones and your iPhone, and you have a practical portable field recorder.
You can buy the Zoom iQ6 for around $100, and you won't need to get a field recorder, but you'll have to buy the additional accessories and an iOS device if you don't have one.
Specs
Angle X/Y Mics at 90º or 120º degrees
Polar pattern: Unidirectional X/Y stereo
Input gain: +11 to +51dB
Max SPL: 130dB SPL
Audio quality: 48kHz/16-bit
Power supply: by iPhone socket
Pros
Plug and play.
User-friendly.
Lightning connector.
Works with any recording app.
You always have your recording equipment with you.
Cons
The X/Y configuration might not be the best for ambient sound recording.
The HandyRecorder app has a few issues.
It picks up interference from your phone (which can be reduced when in airplane mode.)
Rode SmartLav+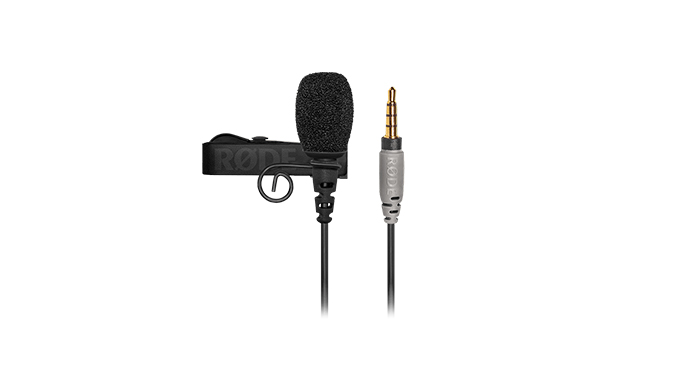 If you're starting and the only recording device you have right now is your smartphone, maybe your best option will be the SmartLav+. It provides good-quality recordings and is compatible with all smartphones with a 3.5 headphone jack.
The SmartLav+ can be used with devices such as DSLR cameras, field recorders, and Lightning Apple devices, with adapters for each type of connection. It has a Kevlar-reinforced cable, making it durable and suitable for field recordings.
It's compatible with any audio app from any smartphone, but it also has an exclusive mobile app: the Rode Reporter app to adjust advanced settings and upgrade the SmartLav+ firmware.
The SmartLav+ comes with a clip and a pop shield. You can buy it for around $50; it's definitely the best solution if you're on a budget.
Specs
Polar pattern: Omnidirectional
Frequency response: 20Hz to 20kHz
Output impedance: 3k Ohms
Signal-to-noise ratio: 67 dB
Self-noise: 27 dB
Max SPL: 110 dB
Sensitivity: -35dB
Power supply: powers from the mobile socket.
Output: TRRS
Pros
Compatible with any smartphone with 3.5 mm input.
Rode Reporter app compatibility.
Price.
Cons
Sound quality is average when compared with more expensive mics.
Built quality feels cheap.
Final Words
Field recording can be a fun activity when done with the right equipment. A field recorder will allow you to store the audio files to edit them later, so getting the best microphone for your needs will allow you to capture pristine-quality audio for your sound effects, which you can enhance in post-production.
All in all, the list above will help you achieve the sound quality you deserve for your field recording sessions.
Good luck, and stay creative!