7 Best Tube Preamps in 2022 for Any Style or Budget
---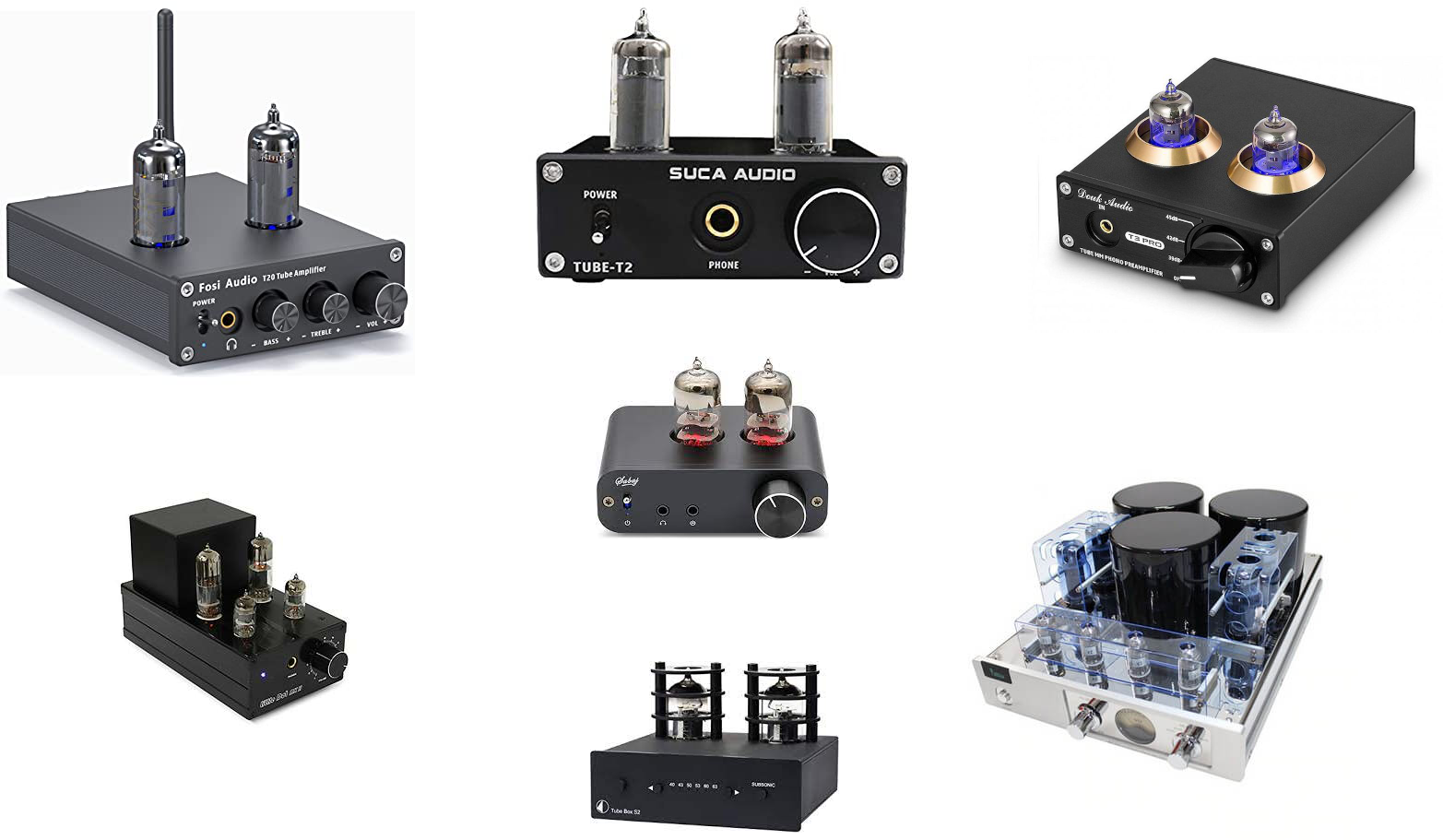 If you take music seriously, it won't be very long before you start to come across the debate about which sounds better, analog or digital. Both sounds have characteristic qualities which mark them out as unique, and which one a listener prefers is very much down to personal preference.
However, when it comes to using a tube preamplifier, the consensus is that most tube preamps tend to sound warmer, richer, and just a little bit more "special" than the sometimes-cold equivalent in the digital world. This can especially be true if you are listening to vinyl, where warmth and tone are the praised characteristics of the medium.
With the growth in the popularity of vinyl and the developing appetite for high-quality and audiophile sound, the market for tube preamps has grown.
But how do you decide what the best tube preamp is for you? We'll go over the best tube preamplifiers to suit all styles and budgets.
7 Best Tube Preamps in 2022
1. Suca-Audio Tube Preamplifier $49.99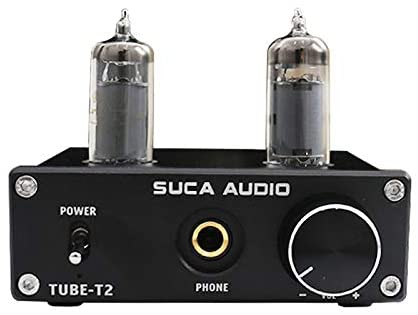 For anyone looking to get started with a tube preamp, the Suca Audio Tube T-1 is a great place to begin. It is extremely affordable, and it is constructed from a solid aluminum alloy that can stand up to being taken around.
The knobs are a simple bass, treble, and volume control, with all three knobs situated on the front of the device, alongside a pleasingly solid on/off slider switch.
The rear of the device has RCA input and output sockets, as well as the connector for the power cord.
Considering the cost, sound reproduction is good quality, and there is lots of warmth and depth to the reproduction. Being a budget model, it may not be up there with the top-end preamps, but for what it costs you are getting value for money.
If you are looking to try out a phono preamp to see if they are for you, and don't want to invest heavily in an initial purchase, then the Such-Audio Tube-T1 represents a great starting point.
Pros
Light, portable, and well-constructed.
Extremely cost-effective.
A great entry point into the tube preamp scene.
Best tube preamp for under $50.
Cons
No headphone socket.
Sound not as rich as some competitors.
2. Douk Audio T3 Pro $59.99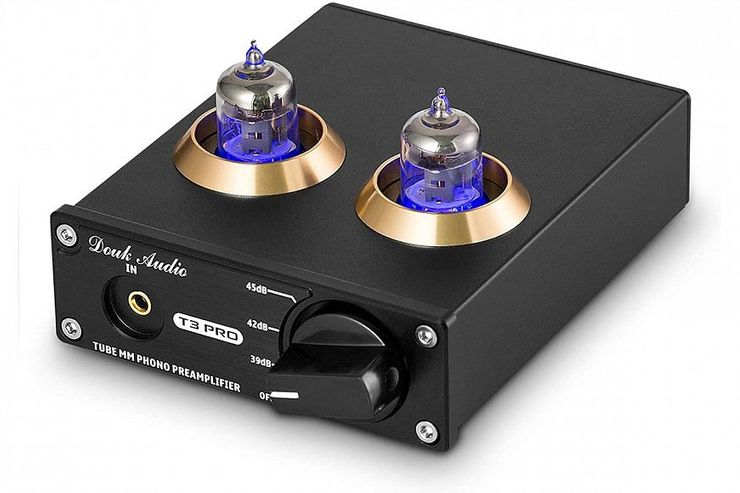 Housed in a stylish black-and-copper box, the Docs Audio T3 Pro is another fantastic budget tube preamp that more than justifies its small price tag.
The front of the box consists of a 3.5mm headphone socket, as well as a gain knob. This allows you to adjust the gain settings to three preconfigured levels, or simply off. This is valuable if you have your preamp attached to a record player because each record player cartridge will respond differently. With the T3, you can adjust the gain to find the best setting to match your record player's sound.
On the rear, there are RCA inputs and outputs, as well as a ground to help keep noise to a minimum.
In terms of performance, the T3 gives clear, clean audio with almost no noise at all. It gives a plush, rich tone to vinyl reproduction, and also helps digital audio sound more naturally warm as well. Each vacuum tube is easily replaceable.
The Douk Audio T3 is a great phono preamp, is a stylish addition to any audio set-up, has the sound quality to back up the good looks, and is a great piece of audio equipment.
Pros
Excellent design.
Small, portable, and solid aluminum construction.
Great budget preamp.
Gain control allows you to really get the best from both the preamp and your turntable.
Cons
No individual bass or treble controls.
3. Fosi Audio T20 Tube Preamp $84.99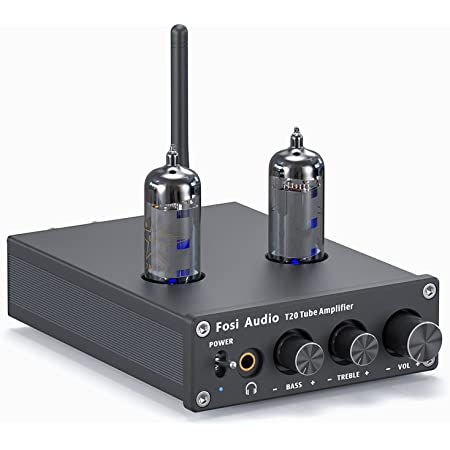 Staying in the budget range, we have the Fosi Audio T20 tube preamp. And for just a few dollars more than the previous preamps, you do get more for your money.
The box itself is a simple black design, with bass, treble, and volume knobs mounted on the front. In addition, there's a 3.5mm headphone jack and a power on/off slider switch.
However, it is the rear of the device where the differences are most apparent. In addition to the RCA input sockets, there are also two sets of TRS output sockets to connect to speakers or other passive amplifiers.
Most impressive is that it also features a Bluetooth setting, so at the flick of a switch you can output to your Bluetooth headphones rather than to your amplifier.
But it's not all about connectors — the sound quality of the T20 is excellent as well. The preamp gives a rich and warm sound, and there's plenty of detail. Given its budget nature, the T20 can actually hold its own against considerably more expensive tube preamps, which makes it even better value for money.
The Fosi Audio T20 Tube Preamp is a great piece of equipment and an excellent investment. Great sound, fantastic connectivity, and a budget price. It really is the best budget tube preamp.
Pros
Great quality sounds, well-balanced, and lots of detail.
Bluetooth connectivity on a budget device.
Another great Fosi audio box from a wide range.
Great range of connectors.
Cons
More suited to a home environment than anything larger.
4. Pro-Ject Tube Box S2 $499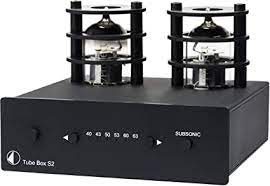 Moving away from the budget end of the spectrum, we have the Pro-Ject Tube Box S2. While this tube preamp comes with a much higher price tag, one listen will make it clear what you are paying for.
The initial appearance may not seem all that remarkable in terms of its design aesthetic but it's what's inside the box that counts. The box itself is reassuringly heavy and this feels like a well-engineered piece of kit. Each vacuum tube is protected by a series of plastic rings.
You can set the input impedance to match your turntable's cartridge. These are adjusted by little switches on the underside of the box, which isn't very convenient. However, once they have been set once they only need to be adjusted if you replace your cartridge with a different model.
The front of the box consists of a simple gain control with an LED display, and a subsonic filter button. The back has RCA in and out.
It's in the sound quality that the Tube Box S2 really scores though. The sound range is incredible and very responsive across the entire spectrum. This is a warm sound from a lush and luxurious preamp with a very wide dynamic range.
The difference next to less expensive preamps is immediately apparent, and the Pro-Ject Tube Box S2 easily earns its higher price tag. It's a remarkable preamp that's well worth investing in — if you can afford it.
Pros
The best tube preamp under $500.
Configurable input impedance to match your cartridge.
Simple and unfussy, but incredibly powerful.
Sounds amazing across the entire sound spectrum.
Built like a tank.
Cons
5. Yaqin MC-13S $700.00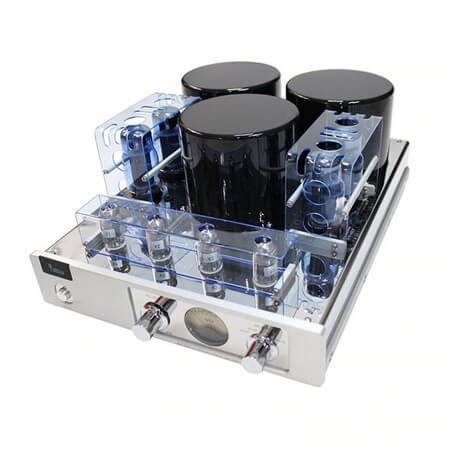 The Yaqin MC-13S is certainly a striking-looking piece of audio equipment. With its silver front, old-fashioned looking VU meter, tubes kept safe under transparent plastic, and exposed power transformers, it's certainly fair to say that no other tube preamp looks quite like it.
However, the sound quality is what really counts, and with its four vacuum tubes, you can hear the difference the Yaqin makes. The sound really couldn't be of better quality and this is a piece of kit for the dedicated audiophile.
The investment isn't cheap but the quality speaks for itself. The sound quality is unbelievably sharp and clear, and there's very little on the market that can come close to it.
The Yaqin is what's known as a push-pull amplifier. This means that it can either absorb or supply current, and the end result is a device that has enhanced capacity, and you can hear the difference. Nothing else sounds quite like it.
The rear of the device also shows off what you get for your money with four RCA input ports for connecting multiple different audio sources. There are also dual mono and stereo outputs, designed to use banana plugs.
However you look at it, the Yaqin MC-13S is an astonishing preamp and though it's not cheap, it is worth every penny. It really is one of the best tube preamps.
Pros
Unparalleled sound quality.
Incredibly distinctive design.
The analog VU meter is a nice touch.
Crystal-clear sound, and no hiss even at the quietest volumes.
Cons
6. Little Dot MKII $149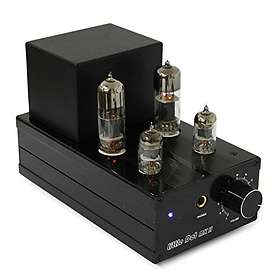 Looking for a midrange tube preamp that has great sound quality without requiring audiophile levels of financial investment? Then consider the Little Dot MKII.
This is a small, slender device, and it's not necessarily the best-looking preamp. But don't let its size or style fool you into thinking that it can't deliver because it definitely can.
The simple front of the preamp consists of a headphone jack and a volume knob. The rear has two RCA jacks for input and output.
The Little Dot is primarily designed to be used with headphones and this is where the device excels. Deep, penetrating basses and lovely clear high notes are produced.
The Little Dot also supports high headphone impedance, so if you have a high-quality pair of studio headphones then you will be able to make use of them with the Little Dot and take full advantage.
And although Little Dot specializes in headphones, that doesn't mean it can't produce great sound for hi-fi units as well, because it definitely can.
The Little Dot MKII is an all-round great performer. Much more affordable than the high-end tube preamps, but providing excellent quality over the cheapest end of the spectrum, the Little Dot simply represents great value for money.
Pros
Terrific sound quality.
Very small physical footprint — it's not going to eat up acres of shelf space.
Comes with accessories straight out of the box, which is surprisingly unusual.
One of the best tube preamps on a budget.
Cons
7. Sabaj PHA3  $27.99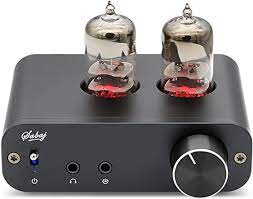 The Sabaj PHA3 is a tiny little device and is really designed as an entry point into the tube preamp world.
Yet for an inexpensive device, the Sabaj has both looks and quality. The sleek, curved box that houses the preamp feels remarkably expensive given the price tag.
The front panel has a headphone socket as well as a 3.5mm input, a power button, and a large volume knob. The rear of the box has the usual RCA input. The device is primarily designed to be used with headphones, though the output can of course be connected to anything.
The device features a low-noise power circuit, which means that clear, clean audio is produced. For such a cheap device, the results are impressive, and can immediately be heard.
While it may not be as flashy as some of the other competitors on the list, the Sabaj PHA3 is still a good starting point and, at such a low price, it's difficult to complain too much!
Pros
Adds a lot more warmth and depth – a decent tube preamp.
Incredibly good value – at that price, you really can't go wrong.
Surprisingly great build quality.
Cons
Not quite as good as others on the list.
Basically only designed for headphones.
Things to Consider Before Buying Tube Preamp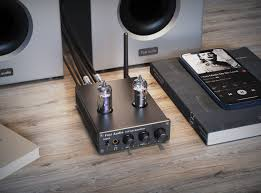 Cost

Tube amps can range from extremely affordable to very expensive. You want to balance the best tube preamps against your budget.

Design

Aesthetic is a key part of many people's audio set-up, so ensure that you pick a tube preamp that will sit well with, rather than stand out against, your current set-up.

Sound Quality

The big one! You want to pick a tube preamp that is going to enhance your current set-up. Whether you listen through headphones, a hi-fi system, or Bluetooth you want to ensure you are getting the maximum sound quality for the amount of money you are spending.

Usage

Some tube preamps are better for certain functions. If you want to listen to vinyl only through a hi-hi you might want to choose one preamp. Or perhaps adding warmer characteristics to sounds from a digital source. Each preamp will have its area where it specializes, so choose the one you want to match what you want to do with it.

Time

Although it's a minor point, it's worth mentioning — vacuum tubes take time to heat up before they become operational. This can be up to a minute or two, depending on the tubes. Unlike digital circuitry, you can't just flick a switch and have them come on instantly.
FAQ
What is a tube preamplifier?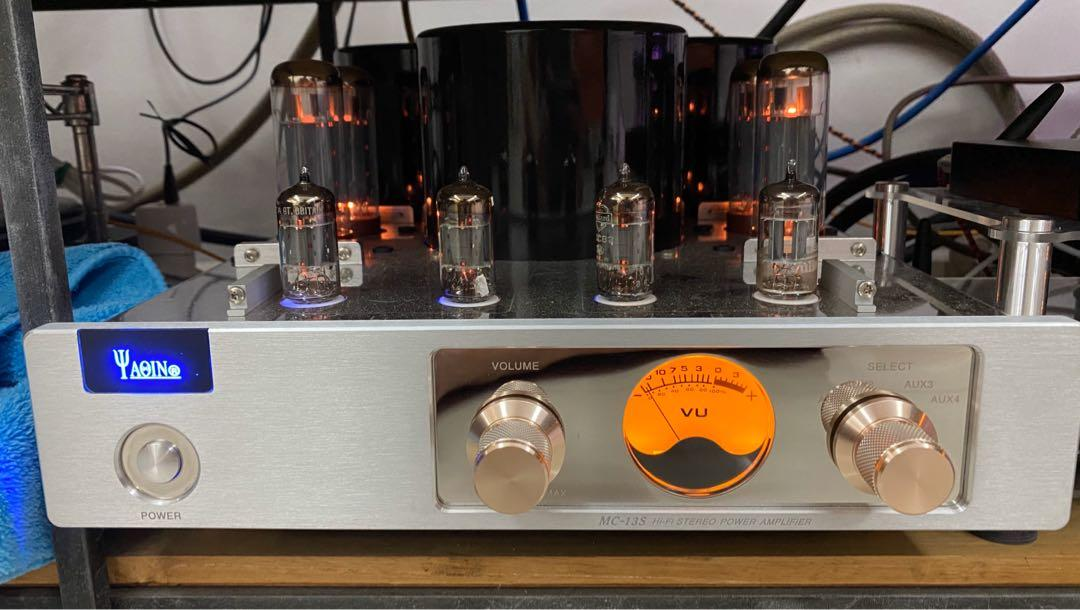 A tube preamp — or to give it its full name, a vacuum tube preamplifier — is a device that amplifies a sound signal using vacuum tubes rather than a solid-state device such as circuitry.
The sound can come from LPs, microphones, digital sources such as CDs or streaming, and others — the origin of the sound doesn't matter.
What the tube preamp does is process the signal to add warmth and natural sound to the audio so that it sounds fuller, crisper, and more rounded. Bass will sound clearer and fuller, mid-range tones will be punchy and dramatic, and high-end frequencies will ring clear and undistorted.
This works especially well with vinyl, which is why many vinyl enthusiasts have embraced the growth of the tube preamp with gusto.
Are tube preamps worth it?
Sound quality and what makes "good sound" is very subjective. For every vinyl enthusiast that will wax rhapsodic about the different way records sound next to digital, you will find someone else who cannot hear much of a difference. That means that there is no simple answer to this question.
What is definitely true is that tube preamps create a different kind of sound because the tube contains actual moving parts. A solid-state device — that is, anything digital — does not. It is the moving parts within the vacuum tube that lets it generate the unique sound associated with tube preamps.
And there's no doubt that the best tube preamps do produce a different kind of sound from their digital brethren. With tube preamps starting for as little as $50 it's easy to make an investment and find out for yourself. All the preamps have their own characteristics, and whether you want them for a high-end vinyl setup, a simple entry point, or to even explore a DIY tube preamp kit, there's a tube preamp out there for you.
But be warned — you may fall in love with tube preamps, as many others have, and never look back!