9 Best ASMR Microphones: Detailed Comparison
---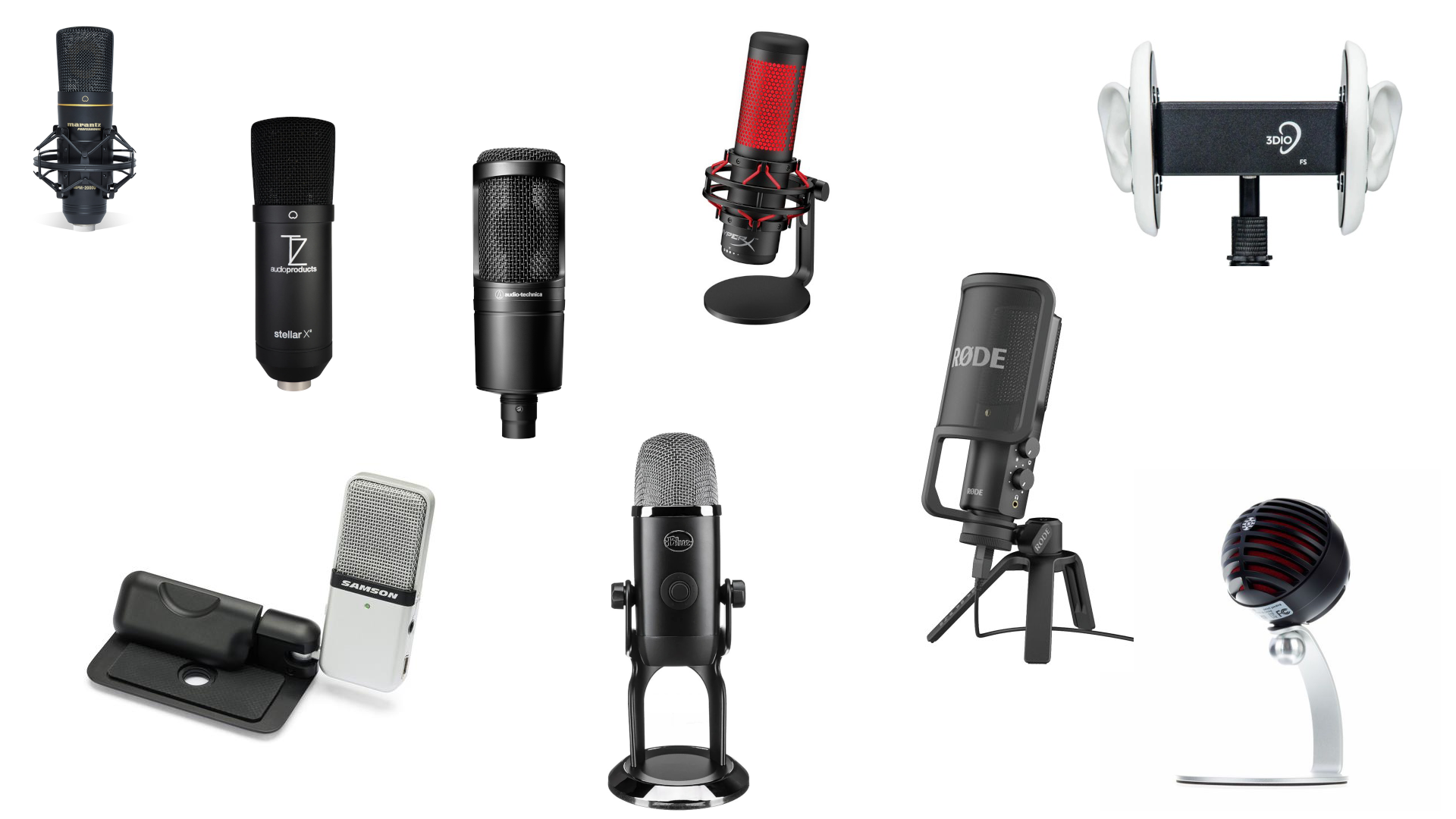 There are many different types of microphones on the market for recording and content creation. Whether you are recording a podcast or laying down the latest hit, there's bound to be a microphone out there for you.
ASMR microphones are a little different from regular microphones and are used by recording artists to achieve a particular effect. And that effect is unique to ASMR.
What is an ASMR Microphone?
ASMR is an acronym for Autonomous Sensory Meridian Response. This means that ASMR videos and audio can be used to help people relax, and they can produce a sort of "tingling" sensation which helps with anxiety or worry, helping to lull the listener into a calmer state of mind. ASMR has been developed and can be used as a kind of therapeutic technique for quite a few years now.
Key to this is having a high-quality microphone that can capture the sound you want to record, and that sound alone. All background noise needs to be screened out, and you need to record audio that is high quality.
Different types of sound can work with ASMR, including common ones like people whispering, water moving, conversations, and many more. For quieter sounds, you will need an exceptionally sensitive microphone to capture every nuance. For louder sounds, something more powerful might be required.
With many different ASMR microphones available, it's important to make the right choice when it comes to making your selection.
But which ASMR mic should you choose? Let's see which ones make the grade.
9 Best ASMR Microphones
1. Audio-Technica AT2020  $98.00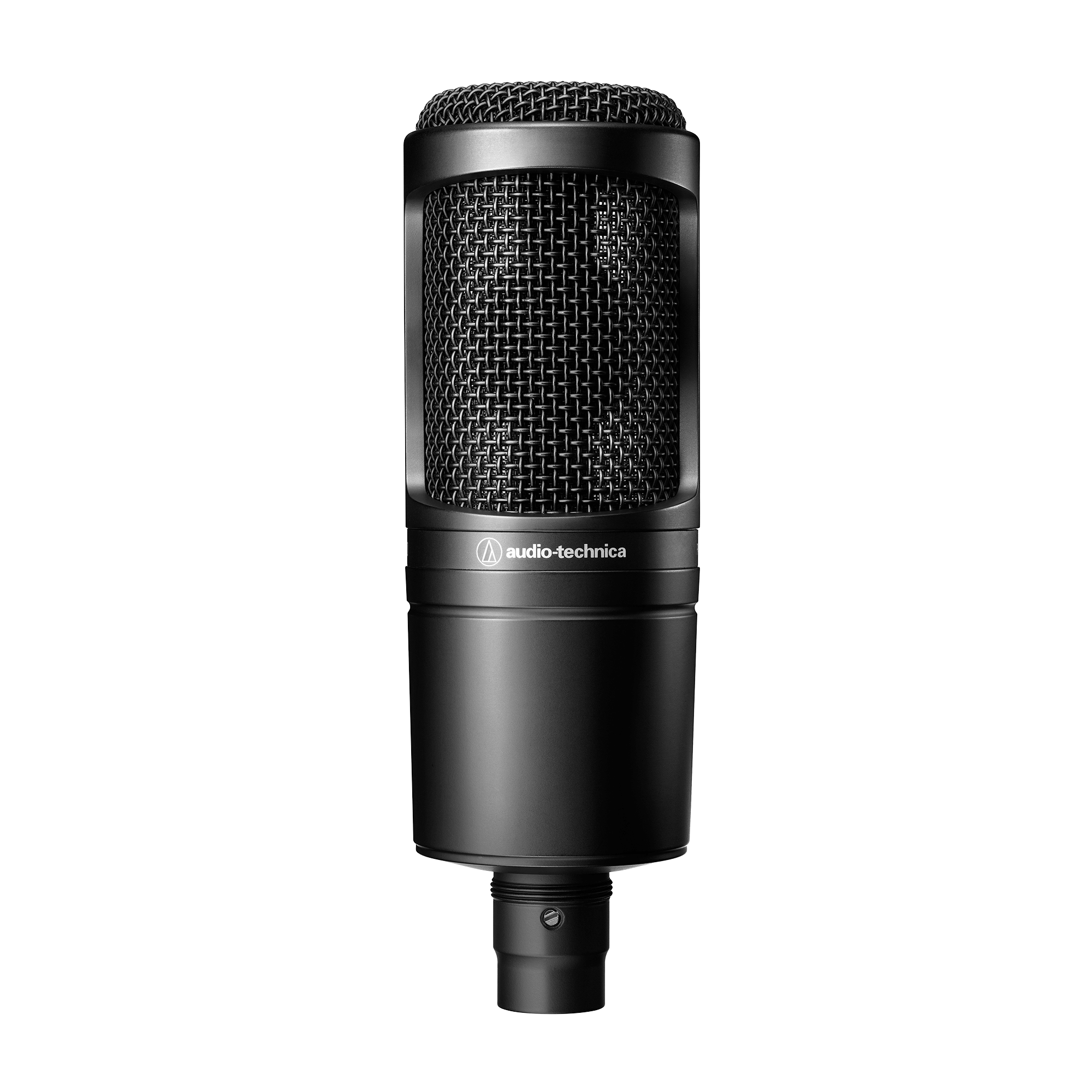 Starting at the budget end of the spectrum, the Audio-Technica AT2020 provides a great entry point for people who are looking to get started with ASMR recording. It has a cardioid pattern, which is to say it is unidirectional, as most ASMR microphones are.
This means it has an excellent response from sound directly in front of its capsule, but almost nothing is captured from any other direction. This makes it perfect for recording quiet sounds.
It captures a neutral, clear, and crisp sound, bringing a natural feel to anything you need to record. The high frequencies are captured particularly well — perfect for the kind of recording that ASMR requires. And the device has low self-noise, so there's no hiss or hum.
The connection on this model is XLR, so you will need an audio interface to connect it to your computer. However, there is also a USB mic available for just a few dollars more which won't require an audio interface.
The build of the microphone is solid, and the finish is high-quality. Overall, if you want a budget entry point into the world of ASMR recording, the Audio-Technica AT2020 is a reliable place to start, with great audio quality at an affordable price.
Specs
Weight: 12.17 oz
Connection: XLR
Polar Pattern: Cardioid
Impedance: 100 Ohms
Frequency Range: 20Hz – 20 KHz
Requires Phantom Power: Yes (XLR model)
Pros
Excellent build quality as usual from Audio-Technica.
Simple to get started with.
Great sound quality for the price.
Excellent high-frequency response.
Low self-noise.
Cons
Very basic.
No additional features.
Doesn't come with any extras, such as a shock mount.
2. Rode NT-USB  $147.49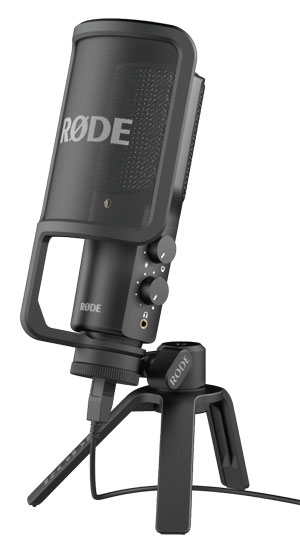 With both a step up in budget and quality, the Rode NT-USB represents a move into a more professional league. The Rode name comes up again and again when looking at high-quality microphones, and the NT-USB is no exception to the quality they provide.
The sound recording is of the standard you would expect from Rode, and clear, natural audio is captured effortlessly.
The microphone isn't quite studio quality, but for anyone recording at home or in a semi-professional environment, it is more than good enough.
Rode has also provided a number of accessories. These include a tripod stand, to ensure stability during recording, and a pop shield to help cut down on plosives and breath noise while you're recording.
There's also a built-in 3.5mm headphones jack to ensure real-time monitoring, so you can be sure there's no latency when listening to live recordings.
Rode has continued to provide great quality microphones with the NT-USB and it is another great microphone in their range.
Specs
Weight: 18.34 oz
Connection: USB
Polar Pattern: Cardioid
Impedance: N/A
Frequency Range: 20Hz – 20 KHz
Requires Phantom Power: No
Pros
The great Rode sound quality is present and correct.
USB connectivity means no learning curve – it's simple plug-and-play.
Generous extras bundle.
Low device noise for recording.
3.5mm headphone jack for monitoring.
Cons
Good extras, but the tripod isn't the best quality, unusually for Rode.
Odd mid-point between fully budget and fully professional means it might struggle to find its target market.
3. Samson Go $54.95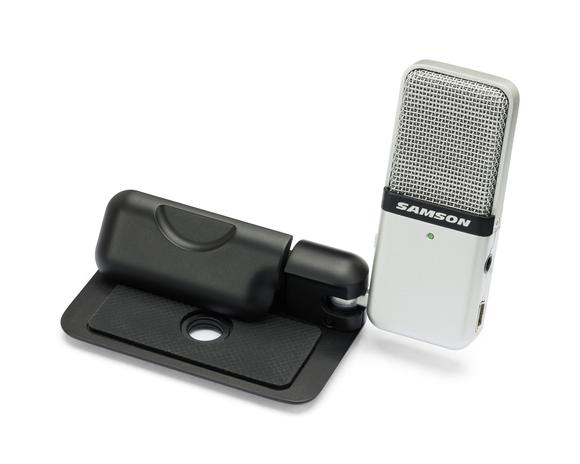 Designed with portability and flexibility in mind, the Samson Go is a small device that nevertheless packs a punch.
The microphone comes with two cardioid patterns which can be chosen with the flick of a switch on the microphone's casing.
The recording is designed more to be used with speech than ambient sound or music, and it captures the spoken voice with clear precision.
Though ideal for ASMR, it will also work equally well as a regular podcasting mic, giving it extra flexibility.
The mic comes with a solid metal stand which can allow it to stand on a desk or be clipped to the top of a laptop screen or monitor. It also acts as a protective shield when the microphone is folded away. It also comes with a pouch for additional protection when you are on the go.
If you are looking for a compact, sturdy option for recording where lightness and flexibility are paramount, the Samson Go is an ideal choice.
Specs
Weight: 8.0 oz
Connection: Mini USB
Polar Pattern: Cardioid, omni
Impedance: N/A
Frequency Range: 20Hz – 22 KHz
Requires Phantom Power: No
Pros
Extremely compact and ideal for on-the-run recording.
Sturdy metal stand and carry case help keep it safe.
Two polar patterns give added flexibility.
Fantastic value for money.
Comes with an additional four-port USB hub.
Cons
Mini USB connection is pretty old-fashioned these days.
Small frame means the sound quality is not quite up to the best on the list.
4. Shure MV5 $99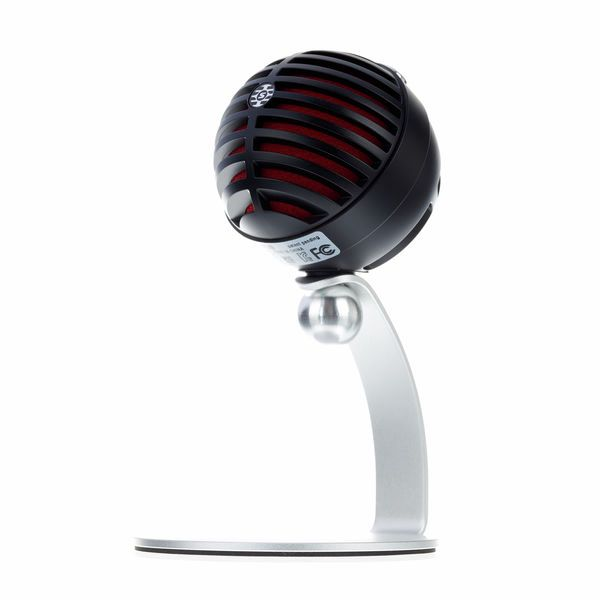 One thing is certain — you won't mistake the retro sci-fi design of the Shure MV5 for any other microphone. With its unique, compact stand and rounded, red grille, nothing else quite looks like it.
But the Shure MV5 isn't all looks, and when it comes to performance it stands out just as much.
The rear of the microphone houses a 3.5mm headphone jack and a USB socket for powering the device. There are also controls on the microphone itself which allow the switching of three DSP modes: voice, instrument, or flat. There are also LED lights to show you which is currently activated.
The sound recording is great at higher frequencies, and when recording in flat DSP mode you get a clean, clear signal that's ideal for tweaking at a later stage.
However, the Shure also comes with its own software which allows you to adjust and change compression and EQ levels as well.
Shure has provided another great quality microphone that embraces flexibility and multi-use to make a microphone that can be used for just about anything.
Specs
Weight: 10.0 oz
Connection: USB
Polar Pattern: Cardioid
Impedance: N/A
Frequency Range: 20Hz – 20 KHz
Requires Phantom Power: No
Pros
Very flexible solution, with multiple recording modes.
Free software so you can adjust settings and sound to your heart's content.
For once, both USB and lightning cables are included, so Apple users can rejoice.
Works just as well for recording podcasts and vocals as it does for ASMR.
Cons
Retro-futurist design might not be for everyone.
The stand is light and easy to knock over.
5. Blue Yeti X  $169.99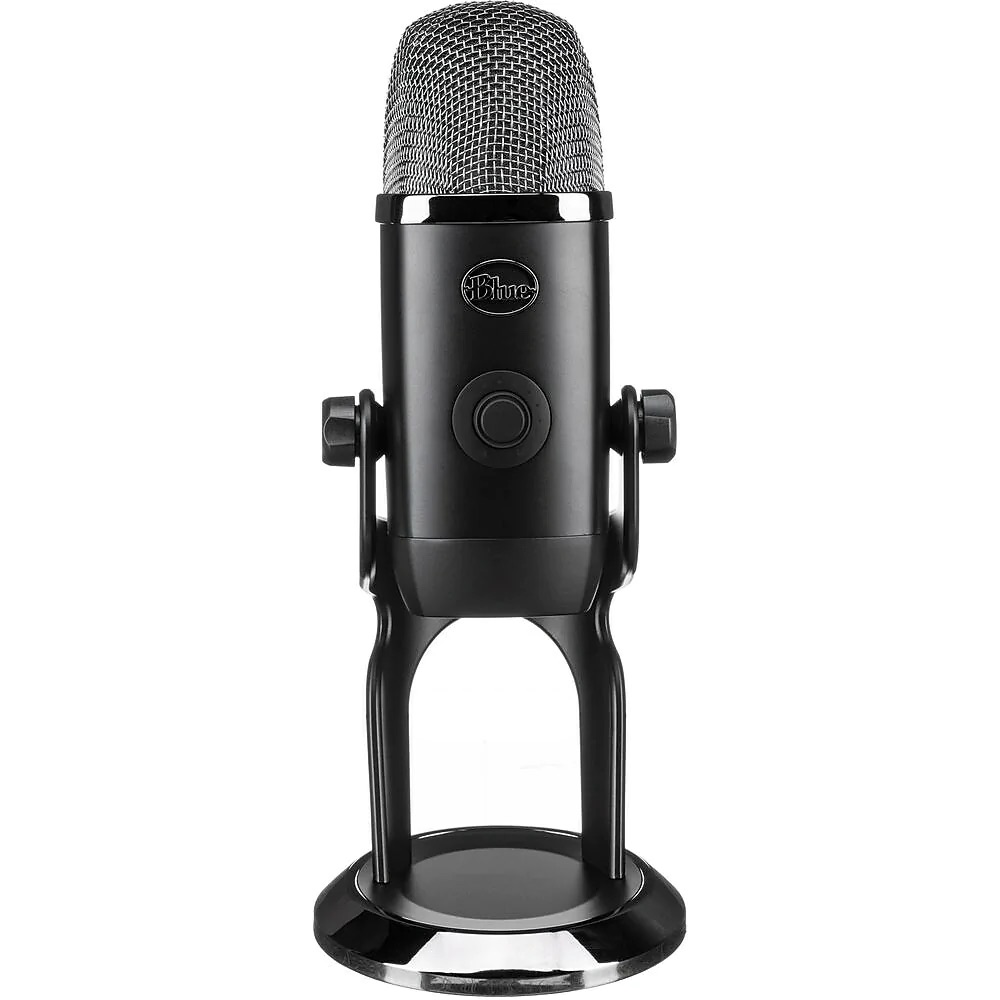 Blue Yeti carries a certain reputation with it — that it is one of the best ASMR microphones that you can buy. And in this case, the device certainly lives up to the name.
The Blue Yeti X is a USB microphone, so you know you can plug it straight into your computer and get started.
Although this is a condenser mic, you don't need phantom power, USB power is enough.
And with a variety of polar patterns, the Blue Yeti X can be used for a variety of purposes, including podcasting and live-streaming.
Of course, it's perfect for ASMR as well, and the quality of sound captured is excellent. The sound is captured at broadcast quality, with plenty of clarity and focus, and there's a halo meter around the control knob so you can always be sure you're not in danger of clipping.
With a host of features, including its own software to help you control and edit sounds, the Blue Yeti X may not be the cheapest ASMR microphone on the list, but what you pay for is more than worth the investment.
Specs
Weight: 44.8 oz
Connection: USB
Polar Pattern: Cardioid, omni, figure-8, stereo
Impedance: 16 Ohms
Frequency Range: 20Hz – 20 KHz
Requires Phantom Power: No
Pros
Excellent sound capturing, perfect for ASMR.
Versatile enough to be used for many other purposes.
Flexible recording set-up.
Multi-function knob and halo meter.
As good as USB microphones get.
Cons
Heavy!
Would really benefit from an XLR version.
6. 3Dio Free Space  $399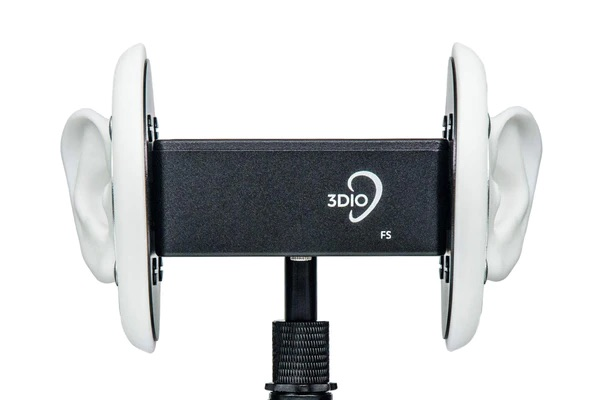 At the top end of the market, there is the 3Dio Free Space. This is a binaural microphone, so a little different from the others on this list. Binaural microphones capture sound from microphone capsules within the casing to produce a 3D stereo effect so the sound seems to be coming from everywhere.
The recording is perfect for capturing ASMR, and the microphone is extremely sensitive so can pick up even the quietest of sounds.
The front of the microphone is simple and clear, with those bizarre human ears on the sides. It is those ears that hold the microphone capsules. The rear of the device has a bass roll-off, which removes all frequencies below 160Hz. There is also a power switch on the back, and the stereo jack is set in the base of the device.
The 3Dio has extremely low self-noise, which makes it even more ideal for low-volume ASMR recordings, especially if you take it out and about. Recording in nature, particularly, is ideal for it.
Not everyone will want to make binaural recordings, which means that the 3Dio Free Space is a device with a narrow range of users. But if you do want to make binaural ARMR content you really can't go wrong with this mic. The 3Dio Free Space is one of the best binaural microphones.
Specs
Weight: 24.0 oz
Connection: TRS stereo jack
Polar Pattern: Cardioid stereo
Impedance: 2.4 Ohms
Frequency Range: 60Hz – 20 KHz
Requires Phantom Power: No
Pros
Very sensitive microphone.
Binaural recording is as good as you can get.
Extremely low self-noise.
Compact device considering its quality.
Cons
Very expensive.
Those ears are definitely a goofy feature and not for everyone.
7. HyperX QuadCast  $189.00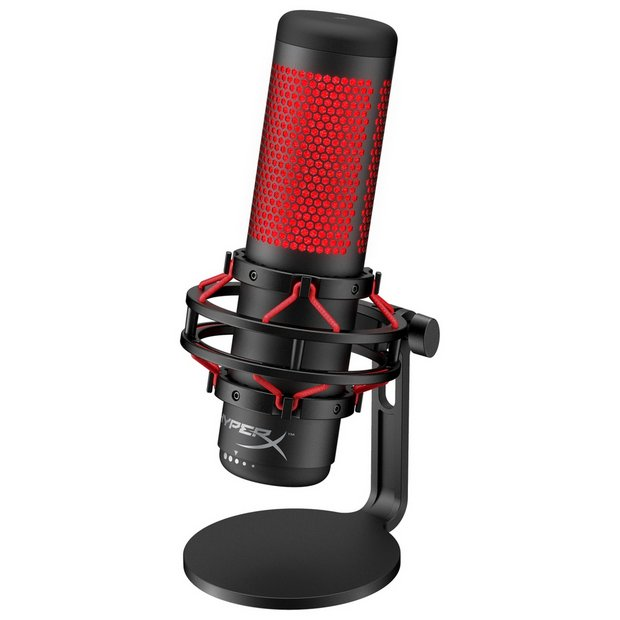 At the more midrange end of the financial spectrum is the HyperX Quadcast. With its vivid red styling it certainly stands out and the quality of the microphone matches the quality of its appearance.
Although the HyperX QuadCast is marketed as a gaming microphone it is also ideal for ASMR recordings. It comes with a variety of polar patterns, which makes it a very flexible solution for different recording scenarios.
It is a sensitive microphone, and it has a great response in the midrange and high-frequency ranges, making it ideal for ASMR. The microphone also has a mute button, and the whole mic lights up when it's in use so you never need to worry about whether you are on or not.
The microphone also comes with a lot of extras, including a stand, adapter for boom stands, shock mount, and USB cable which means you don't have to lay out any extra cash for necessities.
Although not the cheapest introductory mic on the list the HyperX QuadCast is still a great place to begin with ASMR recording, and because of its flexible polar patterns can be used for many other recording types. It's a great solution all around.
Specs
Weight: 25.6 oz
Connection: USB
Polar Pattern: Cardioid, bidirectional, omnidirectional, stereo
Impedance: 32 Ohms
Frequency Range: 20Hz – 20 KHz
Requires Phantom Power: No
Pros
Striking design, and lights up to let you know you are muted.
Wide range of different polar patterns.
Good selection of extras.
Excellent quality sound
Cons
Not cheap for an entry-level mic, though still reasonable.
More for indoor use than outdoor.
Another great-quality mic that would benefit from an XLR version.
8. Stellar X2 $199.00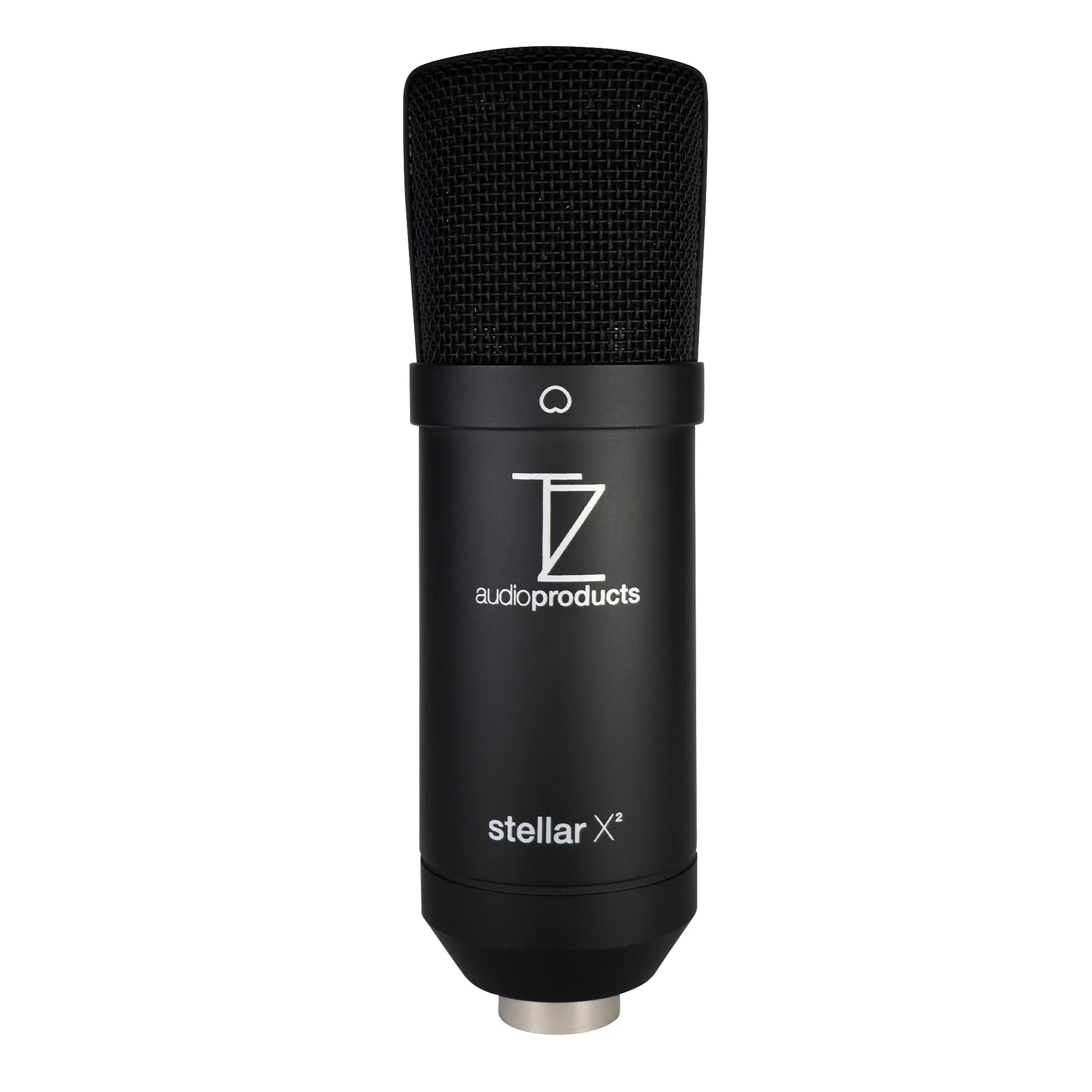 The Stellar X2 is another excellent ASMR microphone, but with the added bonus of being XLR rather than USB. If you are looking for a good price-to-quality ratio, then it's one to consider.
The sound is high quality and perfect for ASMR recordings, and sounds raw, natural, and pure. The Stellar X2 is also well-built, meaning that even though it's very sensitive it can easily handle being taken out of the studio into the real world.
As this is a condenser mic you will need an audio interface.
It comes with a shock mount so that it can be as sensitive as possible, and low noise circuitry means that the self-noise is practically non-existent.
It is a great podcasting mic and vocal mic as well, so although it only has one polar pattern, for any unidirectional recording the Stellar X2 is a great performer.
A rugged, hard-wearing microphone with the sensitivity to capture even the quietest sounds for ASMR — the Stellar X2 really is a fantastic choice.
Specs
Weight: 12.2 oz
Connection: XLR
Polar Pattern: Cardioid
Impedance: 140 Ohms
Frequency Range: 20Hz – 20 KHz
Requires Phantom Power: Yes
Pros
Strong, rugged build quality.
Very low self-noise.
Excellent sound capturing.
Great condenser mic.
 Surprisingly flexible solution, considering only one polar pattern.
Cons
Bland styling.
Quite expensive for what it is.
9. Marantz Professional MPM-2000U  $169.50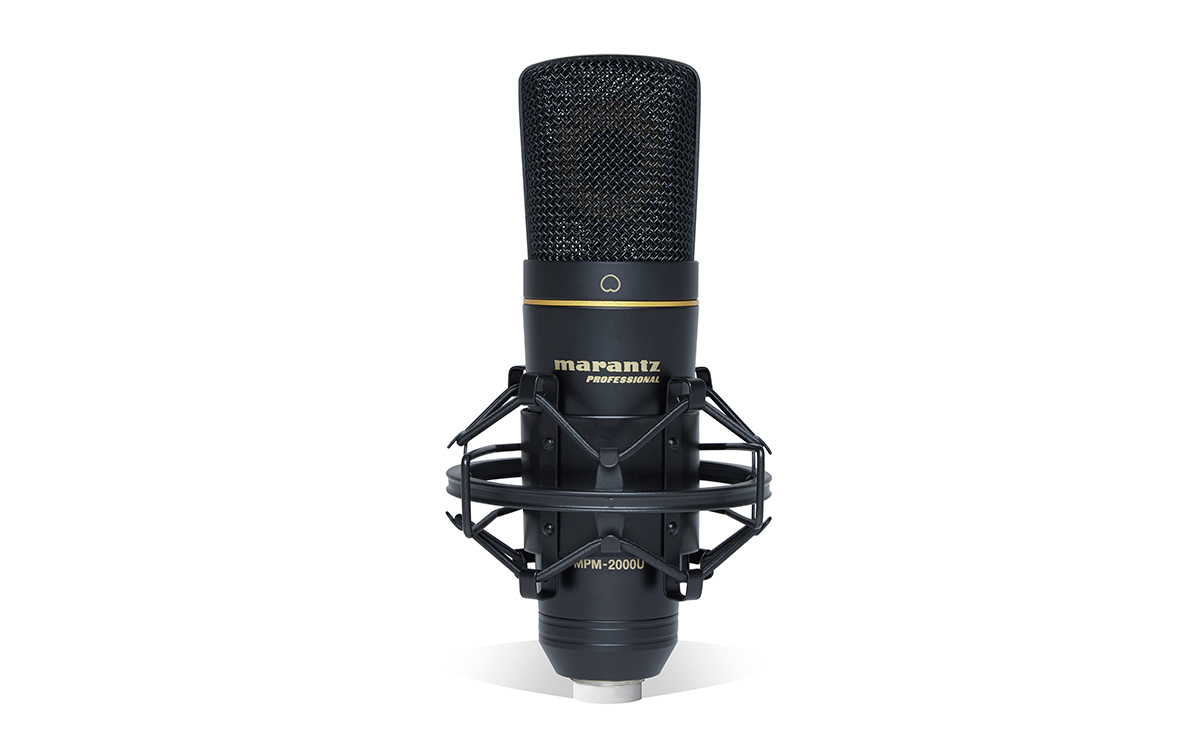 To round off our list, we have the Marantz Professional MPM-2000U. This is a great-quality microphone and with its discrete gold stylings certainly looks the part.
The microphone picks up clear, natural audio and has a rich, gentle sound. The polar pattern is very tight, so there's little background noise captured, making it ideal for ASMR recordings.
And with low self-noise you know you're not going to be capturing anything other than the sound you want, so audio quality is very high. There's no background hiss or hum at all.
And the high-quality shock mount means that your mic is kept safe from any vibrations.
It's also sturdily constructed and it feels like a premium piece of kit for a midrange price. If you are looking for a microphone that really will live up to the high standards of ASMR recording then Marantz Professional is a great choice.
Specs
Weight: 12.2 oz
Connection: USB
Polar Pattern: Cardioid
Impedance: 200 Ohms
Frequency Range: 20Hz – 20 KHz
Requires Phantom Power: No
Pros
Well constructed.
Great quality shock mount.
Self-noise is very low.
Also comes with a carry case!
Cons
Could do with a headphone jack for live monitoring, considering the price.
Needs a stand, which is not included.
Things to Consider Before Buying an ASMR Microphone
When deciding to buy the best ASMR microphone, there are several things to keep in mind.
Cost

Top of almost everyone's list! ASMR microphones range in price from very cheap to very expensive. It's important to invest in a good piece of equipment, but if your budget is more limited, it's wise to focus on the quality-to-price ratio to ensure you are getting as much from your money as possible.

Polar Pattern

When it comes to recording, the polar pattern is really important. Most ASMR microphones are cardioid. This means that they are unidirectional — that is, record sound only which is directly in front of them, and screen out sound from the side.

However, many ASMR microphones have dual or multi-polar patterns, meaning they can be used for a variety of recording styles alongside ASMR. If you are only recording ASMR content, choose a microphone with a cardioid polar pattern.

If you want to use it for live-streaming, podcasting, or video calling, choosing a mic with a variety of polar patterns will be a better investment.

Build Quality

If you are going to spend your hard-earned money on an ASMR microphone it needs to stand up to the rigors of recording. If you're recording in a home-studio environment then build quality is less of an issue, but if you want to travel with your microphone, be sure to buy one that's rugged enough to be hauled around. The best ASMR microphones should be able to cope with any environment.

USB vs XLR

As covered in our FAQs below, it's important to take note of whether the microphone you buy has a USB or XLR connection and choose the one that best suits your set-up. Some microphones will come with a TRS jack, though this is less common.

Self-Noise

Most microphones will aim to have as small a self-noise profile as possible Self-noise is the noise the actual microphone generates when it is in use. XLR microphones, because they have a balanced input and output, have the lowest self-noise, though USB microphones are also very good at this now.
FAQ
How Much Do ASMR Microphones Cost?
The price of an ASMR microphone ranges from very cheap to very expensive. Which one you choose to go for very much depends on both your budget and what you are going to be using it for.
As a general rule, the cheaper a microphone is, the less high quality it will be. Some microphones will go as low as $25, but the quality is usually poor and not worth the investment.
However, all the microphones on our list have plenty to recommend, so price alone cannot always be a determining factor.
Anything between $100 and $150 should guarantee that you will be getting a good-quality ASMR microphone, however, there are both more expensive and cheaper options out there. The best ASMR microphones can set you back several hundred dollars.
If you are looking for something quick, easy to set up, and requires little in the way of technical skills, then buying a less expensive USB microphone will suffice.
If, on the other hand, you want to go for more professional results, spending more money on an XLR microphone will undoubtedly pay dividends.
Should I Use an XLR or USB Microphone for ASMR Recordings?
XLR microphones are the worldwide standard when it comes to recording audio. And when you are recording for ASMR, the better the audio quality, the better the results are going to be.
XLR continues to be the highest-quality microphone available, but comparing XLR to USB shows that sometimes it's not that clear-cut.
USB microphones have gotten much better over recent years, and the sound quality they offer has been constantly improving.
USB microphones also come with two other advantages — they are generally cheaper and require little-to-no technical knowledge to set up and use. You just plug the USB cable into your computer and go.
XLR microphones are more complex. You cannot simply plug them into a computer — they require an audio interface. The audio interface provides a preamp that allows the microphone to work. If you have a condenser mic, the audio interface will also provide phantom power to drive the condenser. The audio interface then needs to be connected to your computer and set up.
All of this requires considerably more technical know-how than USB microphones. But the result is that you have better-quality sound recording, a more flexible and upgradable set-up, and access to a wider range of high-quality and high-performing microphones.
Ultimately, there's no simple answer as to whether you should use an XLR or USB microphone — it depends on your setup and what you want to achieve. We can recommend you look at this comparison we have come up with:  USB Mic vs XLR