What is the Best DSLR Microphone in 2022?
---
Every media producer gets to that point where they realize their sound quality does not quite match up to video quality. Truth is if you want to film anything of professional value and high quality, a DSLR microphone is a must.
DSLR video cameras usually come with a built-in microphone, but most of them can only provide the bare minimum quality. The video quality of the cameras is usually great, and that makes it all the more obvious when the sound is horrible. Built-in DSLR camera microphones have their uses.
They are easy to hide, so can be helpful if you're trying to record discreetly. The audio quality is bearable if good sound isn't that important to you. But if you take your work seriously, you're going to need more than the bare minimum sound recording.
If I Only Use Built-In DSLR Camera Microphones, Will the Sound Quality be Good Enough?
You may think that you can get by with your camera's built-in microphone, but for anything other than amateur stuff, you'll need to upgrade to achieve the level of sound quality that online viewers have come to expect. This is where external microphones come in.
An external DSLR microphone can significantly improve your videos' sound quality while remaining easy to use. In addition, they are portable, effective, and somewhat affordable for the quality they provide.
Four Primary Types of Microphones Used with DSLR Cameras:
Shotgun microphones
Lavalier microphones
Headset microphones
Handheld microphones
Shotgun Microphones
These are the microphones most frequently used with DSLRs. They are called shotgun microphones because of the long, slotted tube in front of the microphone cartridge that makes it resemble a shotgun. Shotgun microphones are said to be extremely directional. Their lengthy design helps in the detection of distant sounds that are difficult to reach. They do this by canceling out sounds outside of the direction of their barrels, resulting in a cleaner sound. They can be mounted to the tops of boom poles or, more typically, to the tops of cameras. They're very effective and straightforward to use.
Lavalier Microphones
A lavalier microphone or "lav mic" is a tiny microphone that is fixed to the user's body or clothing with a mic clip. A lav mic can be wired or wireless and is designed to be small, light, and unseen. Lavalier mics provide deceptively quality sound and are great for discrete filming. There are many brands of lav mics available for creators.
Read up on the Best Wired and Wireless Lavalier Microphones in our article.
Headset Microphones
Headset microphones are usually used alongside earphones or headphones. There's a wide variety of headsets available. Headphones with two ear cups and an arm-attached microphone provide stereo sound, but single-ear cup headsets allow you a better sense of your environment. A single ear headset or mono headset is perfect for those times when the background noise levels are low. However, when things get noisy, a double-cup headset works best.
Handheld Microphones
Handheld microphones are the most popular type of microphones. These microphones are designed for, of course, hand-holding, but they can also be hooked onto a microphone stand when singing or giving a speech. While it's nice to be able to hold your mic, make sure you avoid handling noise. Handheld microphones require more expertise than the others, but they perform just as well, if not better.
Like I said earlier, shotgun mics are the most frequently used with DSLR cameras, and that's because they provide pristine sound while also being portable. Since they're mounted on the cameras and are super directional, capturing quality audio while you shoot is effortless.
This guide is full of shotgun-style microphones as they are by far the most popular DSLR microphone style.
10 DSLR Microphones that have Found Fame Among Creators:
Rode VideoMic Pro
VideoMic NTG
VideoMicro
Sennheiser MKE 600
MKE 400
Shure VP83F
Canon DM-E1
Audio-Technica AT8024
Saramonic VMIC
Tascam TM-2X
Rode VideoMic Pro
$229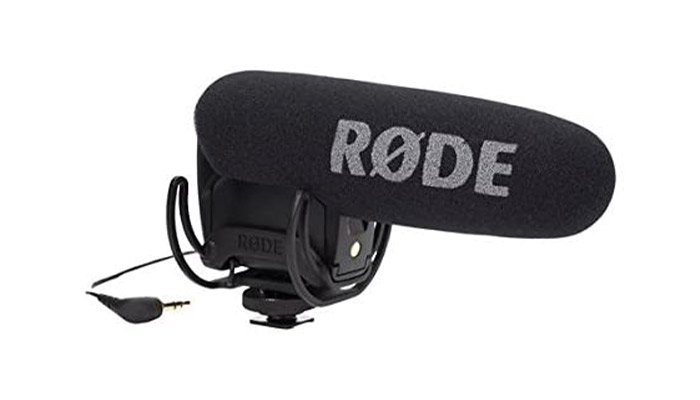 Rode VideoMic Pro are high-quality on-camera shotgun microphones that can be used for various recording situations. For a while now, it has been the industry standard go-to microphone for vloggers, filmmakers, and content creators, thanks to its compact, lightweight nature. In addition, it delivers high-quality directional audio due to its broadcast-grade condenser capsule and precise supercardioid polar pattern. It is the best microphone for any producer who wants to take their audio to the next level.
When you use this microphone, the first thing you notice is that it is very light, weighing only 85g. The Rode VideoMic Pro is popular because it offers a characteristically rich mid-range emphasizing vocal clarity. It also comes with several useful functions that will help you adapt to your recording environment. For example, it has a high-pass filter that reduces rumble from low frequencies generated by unwanted noise such as traffic and air conditioners and a three-position level control that ensures perfect recording levels every time you shoot.
Specs
Acoustic Principle: Line Gradient
Capsule: 0.50"
Frequency Range: 40Hz – 20kHz
Maximum SPL: 134dB SPL
Maximum Output Level: 6.9mV (@ 1kHz 1% THD into 1KΩ load)
Sensitivity: -32.0dB re 1 Volt/Pascal (20.00mV @ 94dB SPL) +/- 2dB @1kHz
Polar Pattern: Supercardioid
High pass filter frequency: 80 Hz
Rode VideoMic NTG
$249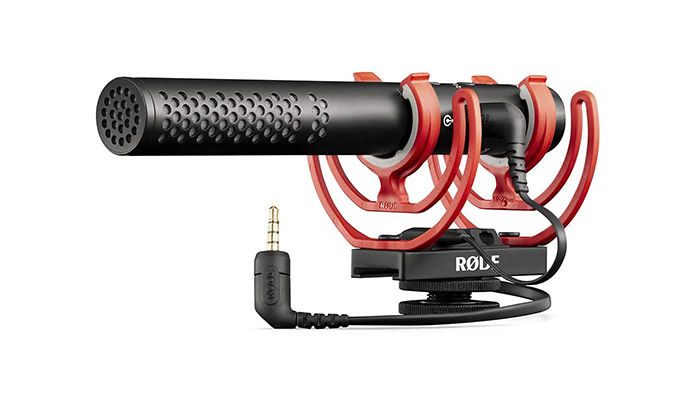 The VideoMic NTG is a versatile microphone that delivers excellent audio in every setting. It is mostly used on camera to capture broadcast-quality audio in the field. Still, it can also be used with a smartphone, portable audio recorders, and your desktop for interviews and recording podcasts. It is designed to be flexible and to adapt to any recording situation.
The VideoMic NTG uses acoustic perforations along the shaft of the microphone instead of the linear slots seen in conventional shotguns and on-camera microphones. This design provides a high degree of transparent audio.
With a very flat frequency response, a highly directional supercardioid pattern, and extremely low self-noise, you have tiny on-camera microphones that can compete with the best microphones on the market.
Specs
Acoustic Principle: Pressure gradient electric condenser
Polar Pattern: Supercardioid
Frequency Range: 20Hz – 20kHz
Frequency Response: 35Hz – 18kHz ± 3dB
Output Impedance: 10()
Signal-to-Noise Ratio: 79 dBA
Dynamic Range: 105dB
Sensitivity: -26 dB re 1V/Pa (50mV @94dB SPL) ± 1Db @ 1kHz
Input SPL @ 1% THD: 120dB SPL
High Pass Filter Frequency: 75Hz, 150Hz
Output Connection: 3.5mm auto-sensing USB-C
Bit Depth: 24-bit
Rode VideoMicro
$55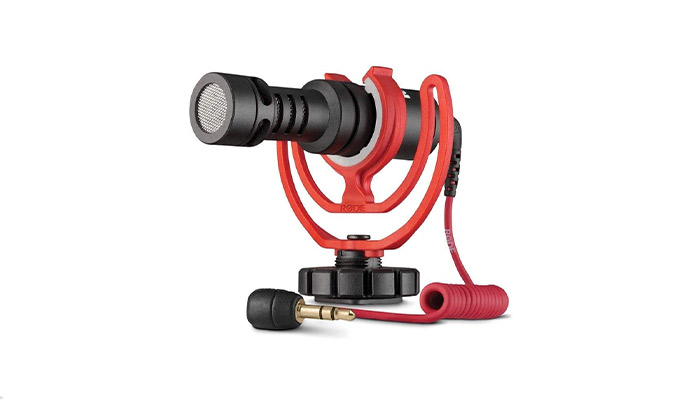 The VideoMicro was designed to be a smaller, lighter version of the already compact VideoMic without a significant drop in quality. The VideoMicro is a high-resolution on-camera microphone for vlogging and filming. It produces crisp, precise, natural-sounding audio thanks to its condenser capsule and cardioid pickup pattern, making it ideal for excellent audio production.
The VideoMicro is ultra-compact and super light, weighing only 42g. With a shock mount included, it's ideal for use with smaller cameras, cellphones, and other mobile devices. It also works well on a boom pole, and its high-grade ceramic coating and luxurious fuzzy windshield make it ideal for outdoor video making. This makes it a highly flexible tiny DSLR microphone.
Specs
Acoustic Principle: Pressure gradient
Active Electronics: JFET impedance converter
Capsule: 0.50″
Polar Pattern: Cardioid
Address Type: End
Frequency Range: 100Hz – 20kHz
Maximum SPL: 140dB SPL
Sensitivity: -33.0dB re 1 Volt/Pascal (22.00mV @ 94 dB SPL) +/- 2dB @ 1kHz
Equivalent Noise Level (A – Weighted): 20Dba
Power Requirements: 2V-5V DC
Output Connection: Mini jack / 3.5mm TRS
Sennheiser MKE 600
$329.95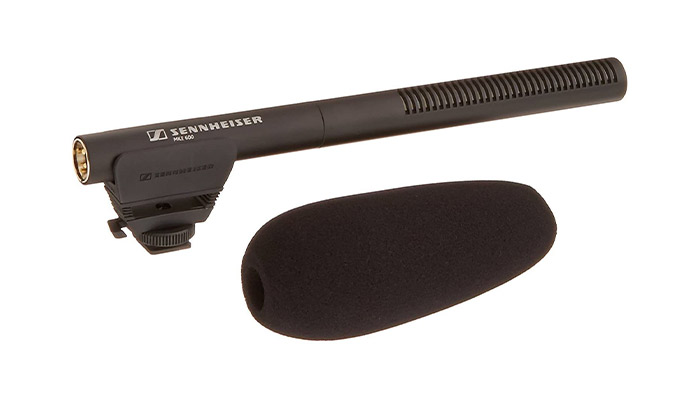 The MKE 600 is an excellent DSLR video camera/camcorder microphone that can maintain performance even in the most challenging filming situations. Its hypercardioid design boosted by a slim cigarette-like build, gives it unmatched directivity. Balance is no issue as the MKE 600 includes a shoe shock mount for easy placement on your camera or a tripod.
Another great feature is the switchable Low Cut filter that enables it to reduce wind noise in your recordings. If your DSLR camera or camcorder does not have phantom power, the MKE 600 can still be used because AA batteries can power it.
Specs
Microphone: Supercardioid/lobar
Sound Field: Mono
Capsule: Condenser
Frequency Response: 40Hz to 20kHz
Maximum Sound Pressure Level: 132dB SPL at P48; 126dB SPL
Sensitivity: 21mV/Pa at P48; 19mV/Pa
Equivalent Noise Level: 15dB (A) at P48; 16dB (A)
High-Pass Filter: 100 Hz
Approximate Battery Life: 150 Hours
Sennheiser MKE 400
$199.95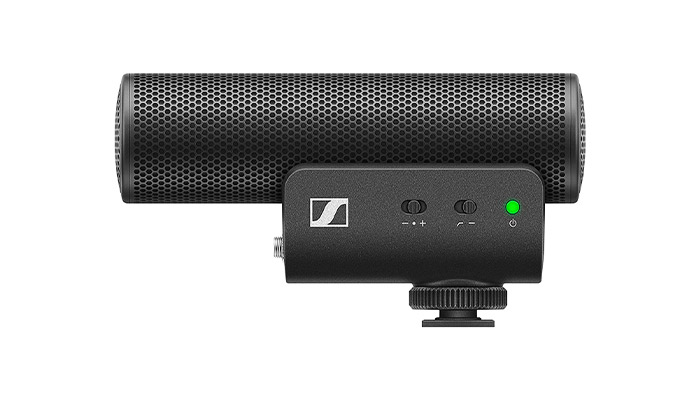 The MKE 400 is a small, highly directional on-camera shotgun microphone that isolates and enhances your video's audio. It has built-in wind protection and integrated shock absorption.
The MKE 400 also has a switchable low-cut filter that focuses your sound on the most important frequencies for clarity and voice intelligibility, and a three-step sensitivity switch allows it to produce distortion-free sound in any context. Interchangeable 3.5 mm locking coiled cables work with DSLR/M and mobile devices, and a convenient headphone jack lets you hear your recordings while recording.
Specs
Frequency Response: 50 – 20,000Hz
Maximum Sound Pressure Level: 132Db SPL
Microphone Connector: 3.5mm jack, screwable
Headphone Connector: 3.5mm jack
Output Power: 105 (headphone impedance 16 ()), 70 mW (headphone impedance 32 Ω)
Transducer: Pre-polarized condenser
Pick-up Pattern: Super Cardioid
Sensitivity: -23 / -42 / -63 DBV/Pa
Shure VP83F
$263
If you are looking for a DSLR microphone that sounds accurate and travels well, the Shure VP83F is the one for you. It has a supercardioid/lobar polar pattern that allows users to capture only the sound they want, with a wide frequency range for natural audio reproduction. In addition, it has an all-metal construction enclosed within a Rycotte Lyre shock mount system.
The 3.5mm audio connection allows you to send audio to your DSLR's audio input. It comes with a 32GB micro SDHC card, a five-position advanced control level, and an illuminated LCD display for real-time monitoring. Additionally, it is super easy to record using the Shure VP83F. Finally, it provides a long battery life with up to 10 hours of operating time on two AA batteries.
Specs
Operating Principle: Line gradient
Capsule: Electret condenser
Polar Pattern: Lobar, Supercardioid
Frequency Range: 50Hz – 20 kHz
Maximum SPL: 129.2dB SPL (1 kHz, 1%THD, 1-Kilo Ohm Load)
Sensitivity: -35.8 DVB/Pa at 1 kHz (Open Circuit Voltage)
Signal-to-Noise Ratio: 78.4 dB A-Weighted
Equivalent Noise Level: 15.6 dB A-Weighted
Audio-Technica AT8024
$239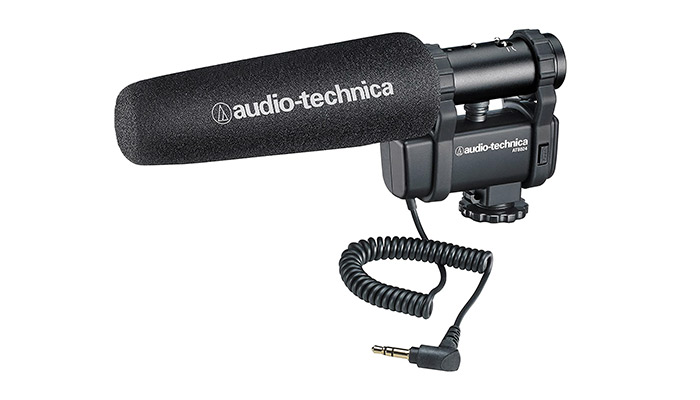 With a handy integral shoe mount and rubber shock mount to insulate from vibration and mechanical camera noise, the AT8024 is designed exclusively for use with DSLR and other video cameras, delivering considerably superior sound than inbuilt camera mics. It is a condenser microphone with a fixed charge for use with DSLRs and other video cameras. For high-resolution audio in any situation, the microphone can be used in mono or mid-side stereo modes.
With an integrated 3.5mm connection that connects straight to your camera, the AT8040 produces far better sound than built-in camera microphones. The microphone also has an 80 Hz high-pass filter option that allows you to choose between a flat response or a low-frequency roll-off to decrease unwanted ambient noise, room reverberation, and mechanically coupled noise.
Specs
Frequency Response: 40-15,000 Hz
Polar Pattern: Line-cardioid, LR stereo
Sensitivity: –37 dB (14.1 mV) re 1V at 1 Pa (Mono & LR Stereo)
Maximum Input Sound Level: 128 dB SPL
Signal-to-Noise Ratio – Mono: 72 dB, 1 kHz at 1 Pa; Stereo: 70 dB, 1 kHz at 1 Pa
Dynamic Range Mono: 106 dB, 1 kHz at Max SPL. Stereo: 104 dB, 1 kHz at Max SPL
Signal-to-Noise Ratio Mono: 72 dB, 1 kHz at 1 Pa. Stereo: 70 dB, 1 kHz at 1 Pa.
Battery Life: 100 hours, typical
Saramonic Vmic
$54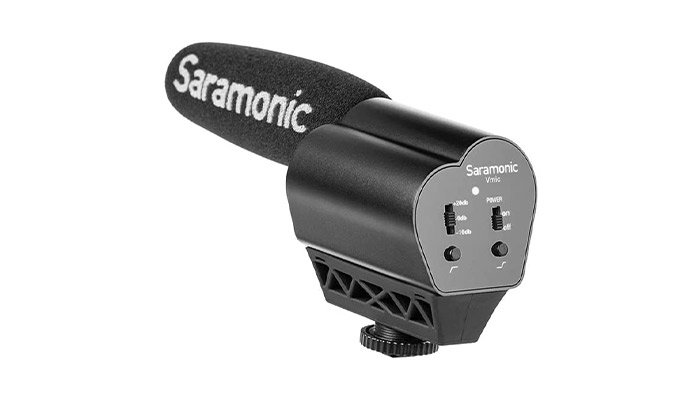 For its price, the Saramonic Vmic packs a lot of useful features. It is a broadcast-quality condenser microphone that works with DSLR cameras and camcorders to create near-professional audio.
This is a camera-top shotgun microphone that can be mounted to a 1/4″ tripod mount or placed in the camera shoe of your DSLR/Video Camera. It has an output to connect the microphone to your camera and also allows you to record directly to an internal SD card. It provides you with as much functionality as higher-priced microphones as well as additional features to ensure a smooth process.
Specs
Polar Pattern: Super-cardioid
Frequency Response: 75-20kHZ
Sensitivity: -40dB +/- 1dB / 0dB=1V/Pa, 1kHz
Signal to Noise Ratio: 75dB or more
Output Impedance: 200Ohm or less
Sound Field: Mono
Tascam TM-2X
$99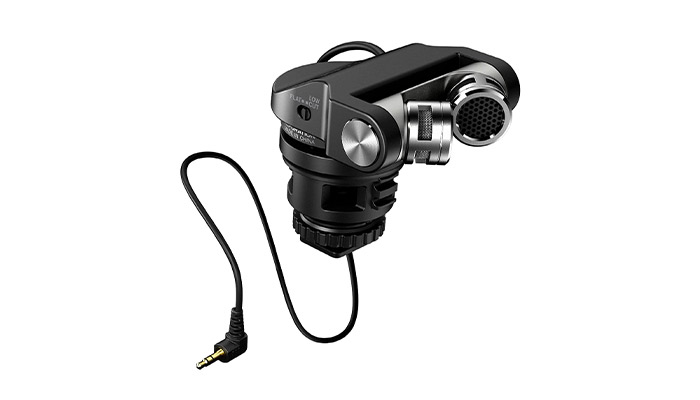 This is another cheap but well-performing DSLR microphone. The TM-2X is an X-Y stereo condenser microphone that can record high-quality sounds suitable for DSLR footage. The X-Y pattern is a stereo recording technique that records sounds while minimizing the hollowing out effect (when the central sound becomes weak).
The TM-2X is incredibly simple to operate, even though it may not look like it. It only requires mounting the noise isolation arm on a camera and connecting the stereo mini-jack plug to the camera's external port. After that, you have to set the camera's recording level to match the film's target subject, and you're free to enjoy filming with pristine sound.
Specs
Frequency Range: 50Hz to 20kHz
Sensitivity: -37.0dB
Input Impedance: 1600.0 Ω
Signal-to-Noise Ratio: 74.0dB
Canon DM-E1
$239
Companies like creating products that work seamlessly with one another. They do this to avoid compatibility problems but also to increase their footprint in the market. Canon was able to do this successfully with the DM-E1. It pairs effortlessly with most Canon EOS series, but it also has no problems working with other brands of DSLR cameras. The shotgun design of the directional stereo microphone produces high-quality sound.
It has three audio pickup modes: the shotgun mode for picking voices, the 90° stereo mode that enables you to capture sounds of a concentrated group, and the 120° stereo mode that is designed only to pick up sounds coming from a wide area in front of the camera. The microphone's compact and lightweight design makes it easy to take with you wherever you go. When combined with the camera and lens, it forms a tidy recording device that allows you to shoot handheld for lengthy periods of time comfortably.
Specs
Frequency Range: 50 – 16000 Hz
Sensitivity: -42 dB (SHOTGUN: 1 kHz, 0 dB=1 V/Pa)
Output impedance: 550 Ω (Ohms)
Finding the Best Microphone for My DSLR Camera
DSLR microphones are indispensable if you ever plan to get the best audio quality when filming and recording with a DSLR camera. If you're starting out, any of those microphones would do the job. If you're a more experienced video maker looking for an upgrade, this guide should help you make a decision. Ultimately, the final decision depends on your budget, your setup, and the sound quality you desire.