Best Podcast Headphones For Taking Your Audio to the Next Level
---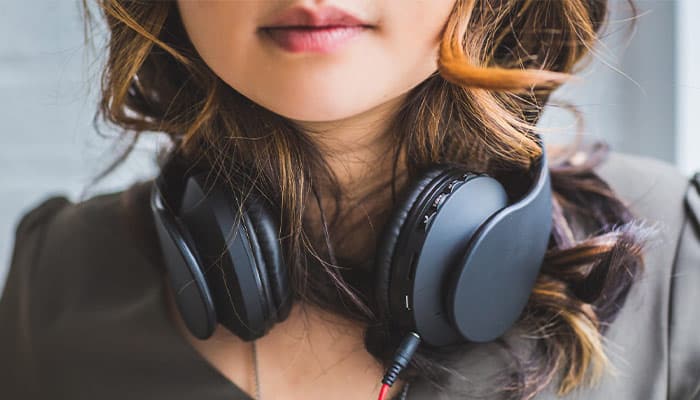 When you work with sound, listening to your output is super important. For most other audio scenarios, listening through loudspeakers is good enough. For podcasts, however, there's no way around getting a decent pair of headphones.
Good podcast headphones are among the most essential parts of your podcasting setup. It doesn't matter whether you're just starting or doing it for a while.
Many starting podcasters are put off by the cost. That's reasonable if you're only a casual podcaster. Still, it's an investment worth making if you plan on taking it seriously and you want others to take your show seriously too. It is almost as important as getting a microphone.
In this article, we'll discuss the essentials of podcast headphones and ten devices that should top your list if you decide to get one.
Why Do you need Headphones for a Podcast?
Most people listen to their favorite podcasts on headphones. Using podcast headphones while recording gives you the ambient sound isolation required to hear exactly how the recording will sound, making it easy to spot mistakes, tonal changes, volume changes, outside noises, weird compressed audio, and other imperfections.
It gives you total control over the sound quality of your recording and helps you adjust your voice and mic technique on the go.
If you're just starting, you may not see the utility in this, but trust me, it matters. So, without wasting any more time, here are some reasons you need podcasting headphones.
It Helps You Control How You Sound
The way you sound to people and the way your own voice sounds can be very different.
Unfortunately, how you sound to other people is more important if you're setting up a podcast. This is why headphones are essential because you'll listen to your content as it sounds to others.
It can also help you figure out if something needs to be changed, such as being off-mic, excessively loud, or popping every time you utter a word that starts with a harsh consonant like 'p,' 'b,' or 'k' (known as plosives).
Fixing those changes immediately will reduce the time you spend editing afterward.
It Prevents Audio Bleeding
Audio bleed happens when a sound is picked up by an unintended microphone. With podcasts, it occurs when two or more individuals are recording and speaking without headphones, and the audio from one person comes through the speakers and is picked up by another person's microphone.
It sounds like there's an overlap of voices. Listeners notice and get turned off by it. They don't have a name for it, but they notice.
Wearing headphones lets you turn off your speakers and avoid this.
It Gives You More Control Over Your Audio Levels
If you're running a podcast, I don't expect the same level of meticulousness professional audio producers apply to their work. It's easy to forget to perform a quick audio check to ensure your audio levels are accurate. Because of that, you may run the risk of clipping, which occurs when the volume levels are too high for the microphone to record.
Clipping is more problematic in podcasts because chunks of conversation are lost. However, if you use premium headphones, you can easily tell when you're going too loud, and you can modify them as you go on, saving yourself from a lot of post-editing.
Factors To Consider While Choosing Podcast Headphones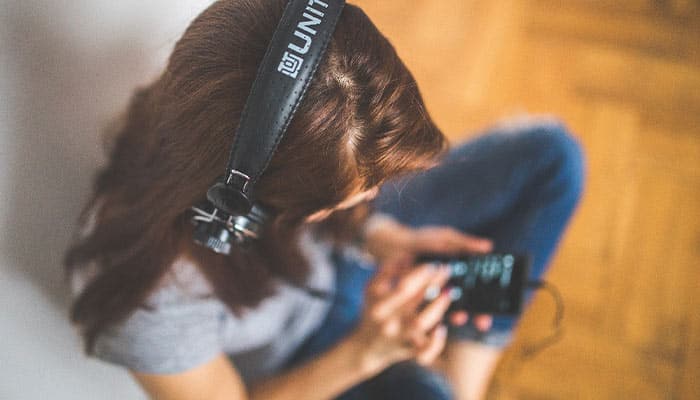 The Type Of Podcast Headphones
There are two main types of headphones: closed-back and open-back. Open-back headphones allow air passage through the ear cups from the back of the speaker element. These headphones typically sound more natural and clear.
On the other hand, closed-back headphones are completely sealed at the back, hence the name. It only allows sound out where it can reach your ear. These types sound less natural but are the best ones to use while podcasting. They almost completely block out external noise, which offers you better sound isolation.
The Sensitivity Level Of The Podcast Headphones
Sensitivity level here refers to how loud your headphones will play at a certain power level. The preferable headphone sensitivity level for podcasting is between 80 and 125 dB sound pressure level (SPL).
The tricky part here is that the measurement isn't the same for all brands, making it slightly difficult to tell precisely how loud the headphones are until you test them personally. Unfortunately, this also means it isn't that helpful in choosing which headphones to buy.
The Frequency Response/Range Of The Podcast Headphones
Frequency response refers to the range of frequencies that an audio device can work with. The preferred range is 20 – 20,000 Hz, and it differs from one brand to another, just like the sensitivity level. Beginners often ignore it, but it is one of the most critical factors in sound reproduction.
Other factors to consider include the price of the podcast headphones, your budget, comfort levels, and anything else you may be looking for. Unfortunately, many of the best podcast headphones are pricey and may not appeal to leisure podcasters.
However, there are less costly ones, which we'll cover in a different article.
The Comfort Level of Podcast Headphones
Comfort levels also matter. Podcasts can be lengthy to listen to and even lengthier to make. That's too long to be uncomfortable. Does it hurt your ears? Would I prefer using in-ear headphones? Are the ear cups padded enough? Do they offer replaceable ear pads?
The Podcast Headphones' Ease of Use
Finally, you also have to consider ease of transportation. Podcasters like to move around and record on the go. Not all podcast headphones are easy to take from one place to another due to their weight and cable length. If your podcast involves you moving around a lot, you may want to consider wireless headphones or Bluetooth headphones.
Also, check out our 10 Best Microphones for Podcasting article.
9 Best Headphones To Use For Podcasting
Below is a list of some of the best podcast headphones you can find.
Audio Technica ATH-M50x
$169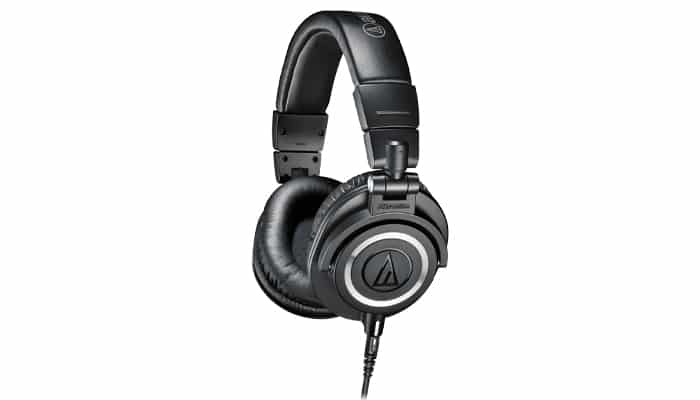 The Audio Technica ATH-M50x is one of the most popular over-ear headphones available on the market today. They are a very comfortable pair of podcast headphones, great for use inside and outside of a studio.
The Audio Technica ATH m50x has the ability to deliver accurate audio, and deep bass response makes it perfect for long podcast recording periods. In addition, a cool feature of these headphones is the collapsible and foldable 90-degree swiveling ear cups that allow easy one-ear monitoring. These are the qualities that make it the top choice among professionals.
Each box comes with compatible accessories, including a protective carrying pouch, a screw-on adapter, and three interchangeable detachable cables. Another reason it is so popular is the design. It is stylish enough to stand out without being tacky and drawing unwanted attention, and it is available in several cool colors that users particularly like.
On the flip side, the ATH-M50x's padding isn't great at heat distribution, so you have to take it off occasionally to avoid sweaty ears, especially in hot environments.
Audio Technica ATH-M50x Specs:
Type – Closed-back dynamic
Driver Diameter – 45mm
Frequency Response – 15 – 28,000 Hz
Sensitivity – 99 dB
Impedance – 38 ohms
Beyerdynamic DT 770 Pro
$159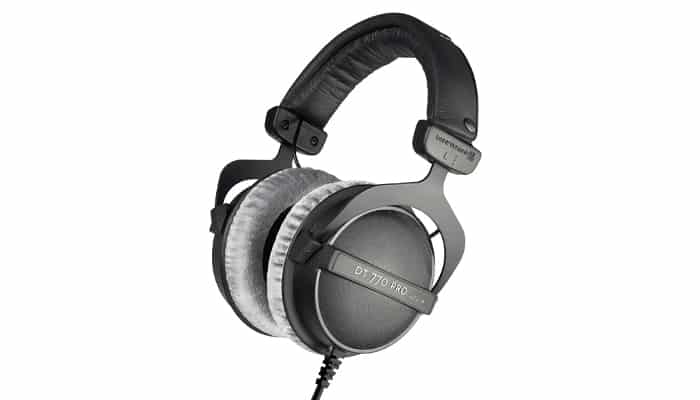 Beyerdynamic is another familiar brand among professionals. The DT 770 Pro is a closed-back headphone that offers maximum flexibility and perfect audio quality that you can always count on.
It is designed for critical sound monitoring, providing a neutral, top-notch listening environment with excellent sound isolation and impulse response. This makes it loved among podcasters, sound engineers, and music producers worldwide.
Like the Audio Technica ATH-M50x, these podcast headphones are incredibly comfortable and can be worn for long periods. It comes with a single-sided cable that enables you to frequently put on and take off the headphones without fear of getting the wires tangled.
Before buying, keep in mind that it has no active noise canceling or inline volume control, so you're not blindsided. There are three other models available, so you can buy the one that best suits your needs.
Beyerdynamic DT 770 Pro Specs:
Type – Closed-back dynamic
Frequency Response – 5 – 35.000 Hz
Nominal Sound Pressure Level – 96 dB
Sony MDR7506
$130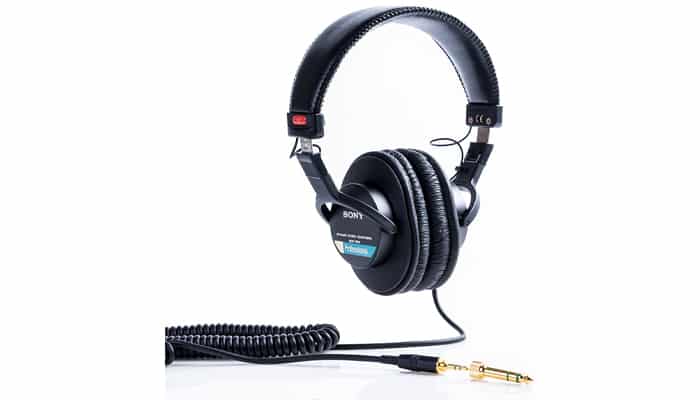 The Sony MDR7506 is one of the best headphones in the company's range of professional headphones. It used to be popular for being cheap and excellent (previously $66), but now it is known for just its excellence. However, it should be said that its audio quality still surpasses the price.
It is foldable and comes in a light carrying case, so you can easily travel with it. It also comes with a thick and durable coiled cable, making it perfect to use on a desk or any stable surface while recording your podcast.
Although this headphone beats many other headphones in audio quality, it isn't the most durable out there. It is made of 90% plastic with exposed metal and visible screws, and while this makes it lightweight, it also means it can easily get broken. The good news is that it is entirely repairable, and Sony has specific service manuals for it.
Sony MDR7506 Specs:
Type – Closed-back dynamic
Frequency Response – 10-20kHz
Impedance – 63 ohms
Sensitivity – 106 dB/W/m
Sennheiser HD280 Pro
$99.95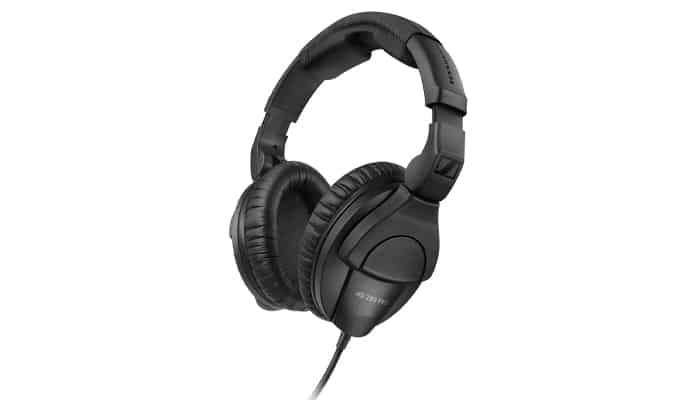 The Sennheiser HD280 Pro is an affordable, great-quality pair of headphones. It is one of the most popular closed headphones and has been sought after by creators worldwide, despite being launched in 2003. The Sennheiser is relatively heavy at 285g, but its smooth, comfortable design makes it almost unnoticeable.
It has a highly durable build quality and is comfortable to use for several hours. While this good pair of headphones isn't specifically designed for noise canceling, it does offer excellent sound isolation benefits thanks to the design of its ample ear pads. However, there may be some heat buildup in those pads after many hours of use.
The Sennheiser HD280 Pro has a simple minimalist design that may not appeal to many. However, a newer version called the HD380 Pro has the same decent job functionality but a fancier design.
Sennheiser HD280 Pro Specs:
Type – Closed-back dynamic
Frequency Response – 8 – 25000 Hz
SPL – 113 dB
Normal Impedance – 64 ohms
Sennheiser HD25
$149.95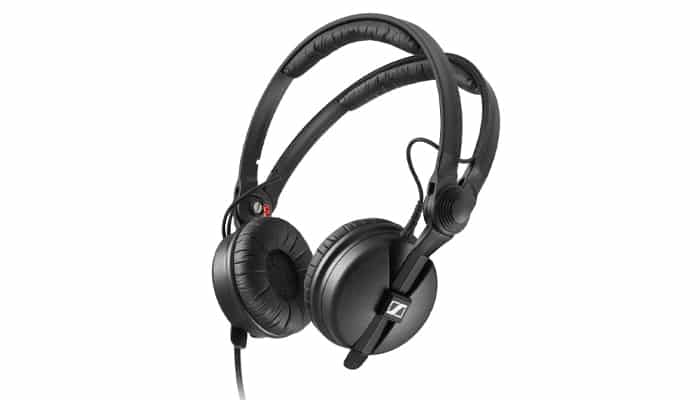 Sennheiser is good at what they do, and this is another "oldie but goldie" device that proves it.
The HD25 is lightweight, reliable, and super durable, more than enough to satisfy the needs of professional podcasters. The HS25 headphones, which are rugged and modular, are professional monitoring headphones that are great at blocking out outside noise and reducing high sound pressure levels.
They also work remarkably well in loud conditions.
The Sennheiser HD 25 headphones are almost entirely out of plastic, so potential buyers conclude that they're too light to be truly durable. However, durability is one of its strong suits. It takes a lot of intentional effort to break or bend the plastic.
This durability, combined with lightweight and great quality, makes it a choice pick among podcasters. No matter how hard you bend or bash the plastic, it will not break.
Sennheiser HD25 Specs:
Type – Closed-back dynamic
Frequency Response – 16 – 22000 Hz
Nominal Impedance – 70 ohms
Maximum SPL – 120 dB
Shure SRH840A
$149
With identical appearances, dimensions, and only gold lettering to differentiate between them, the Shure SRH840A is the newer, much-improved version of the old SRH840. These headphones are "professional" monitoring headphones perfect for podcasting and home studios. They're a terrific buy if excellent sound quality is your top priority.
The Shure SRH840A monitor headphones provide the neutrality that monitor headphones require, with just enough thickness in the upper bass and low mids to avoid sounding sterile. The primary strength here is the lack of coloration in the mids, particularly in the vocals.
The SRH840A's exceptional isolation is another of their strong characteristics. The circumaural, closed-back design fits comfortably over the ears and reduces ambient noise and sound leakage to a bare minimum. It has excellent noise isolation qualities, and its sense of soundstage depth gives these podcast headphones their three-dimensional feel.
Shure SRH840A Specs:
Type – Closed-back dynamic
Frequency Response – 5 – 25000 Hz
Impedance – @ 1 kHz – 40 ohms
Sensitivity – @ 1kHz – 97 dB/mW
Shure SRH440
$99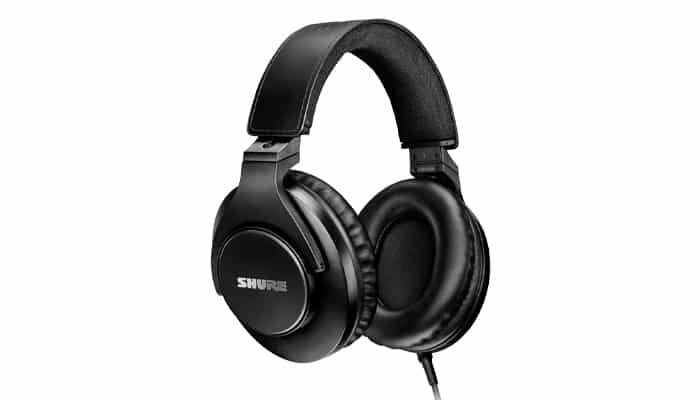 The Shure SRH440 doesn't quite have the finesse that some of the podcast headphones above do, but it still offers excellent quality and noise cancellation. It also has a neutral tone that professionals really like.
The body is entirely made of plastic, but it is surprisingly sturdy and durable. The ear cups are made of vinyl, which isn't the best, but you can always replace them with SRH840 pads, which are significantly more comfortable.
They don't have any active isolation, so they don't block many external sounds, especially at low volumes. Turning the volume up to avoid this can lead to sound leakage. Also, they have no external controls, and they're not the most portable headphones for traveling.
Shure SRH440 Specs:
Type – Closed-back dynamic
Frequency Response – 10 – 22000 Hz
Impedance – @ 1 kHz 44 ohms
Sensitivity – @ 1 kHz 105 dB/mW
AKG K72
$50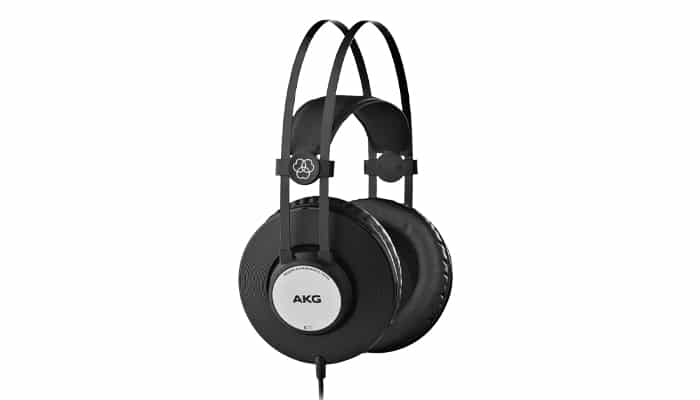 For a meager $50, the AKG K72 is the best budget pair of headphones a podcaster can have. The adjustable headband and lightweight design will provide several hours of comfort while you're recording a podcast. It comes with a 3m cable best suited for home studio use, and the large ear pads are incredibly comfortable on the ears.
If you're new to podcasting and you're just looking to get nice but affordable equipment, you should definitely try out this one. The headphones aren't exactly industry-standard, so do not expect much when it comes to audio quality.
That being said, for such a low price, the AKG K72 does really well. It has a flat frequency response, more than most good headphones within this price range, and you get to avoid major bass or treble skews with better imaging clarity.
AKG K72 Spec:
Type – Closed-back dynamic
Rated Impedance – 32 ohms
Sensitivity – @ 1 kHz – 112 dB
Bose QuietComfort 25
$125 – $300 (Varies)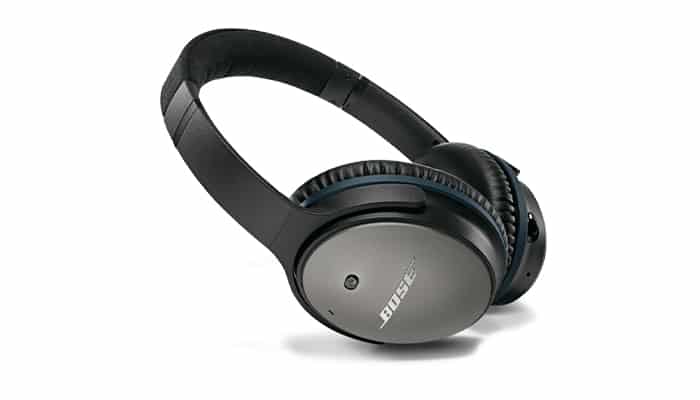 Lastly, we have the Bose QuietComfort 25 headphones. True to its name, the Bose QuietComfort 25 are complete acoustic noise-canceling headphones specifically designed for Apple products.
It produces high-end neutral sound and is powered by a single AAA battery that offers over 35 hours of use. If the battery dies, it continues to play on, but you only get a fraction of the great sound quality.
The QuietComfort 25 are perhaps the most comfortable pair of headphones around. Bose appears to have struck an outstanding balance between durability and comfort. The only way these headphones could be more durable would be to sacrifice some of the lightness and comfort.
Despite being old and discontinued, it is still one of the most sought-after pairs of headphones. It doesn't matter where you are; the noise cancellation on these are unmatched. Put these on, and you'll only hear the sounds you absolutely want to hear.
Unfortunately, it's no longer in production, but you can find used and refurbished Quiet comfort headphones as well as spare parts.
Bose QuietComfort 25 Specs:
Type – Closed-back dynamic
Frequency Response – Unknown
Impedance – Unknown
Sensitivity – Unknown
Conclusion
If you're looking for a way to improve your podcast or to start it right, you should definitely get podcast headphones. There are many to choose from, each with many features, but that's to be expected since it's a very competitive market. However, it also means that you have many good options to choose from. These listed are some of the best headphones available.