Home Recording Studio: What are the Best Studio Monitors on a Budget?
---
Whether you're an audiophile, a professional, or just like home studio recording, upgrading the audio equipment in your home recording studio is a crucial step towards a new sonic experience. The right studio monitors will diffuse sound waves across your environment, creating an immersive soundscape in your room that makes you appreciate the audio quality of each production.
As someone who has produced dozens of albums over the last decade, I can guarantee you that working on the same album with two different pairs of studio monitors will lead to two albums that sound very different. It may seem subtle at first, but once you start appreciating the quality of music production, you'll realize the right studio monitors will open the door to the best music production and optimal listening experience far beyond just using studio headphones.
Today we'll look into the world of the best budget studio monitors. Yes, they are cheap studio monitors, but the sound quality of these studio monitor speakers is anything but. Nevertheless, these budget studio monitors will provide you with everything you need. This is true whether you're a music producer or simply someone who loves to mess around with a digital audio workstation like Pro Tools, and especially true if you listen to music in a small room, office, or home recording studio. Let's take a look at the best cheap studio monitors.
PreSonus Eris 3.5 Studio Monitors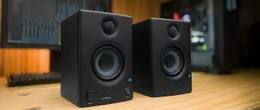 Price: $100 (pair)
At this price, you can't get anything better than these budget studio monitors. The 3.5-inch Kevlar woofer and 1-inch silk dome tweeter provide a crystal-clear studio-quality sound, ideal for mixing and mastering music in a small environment. However, the PreSonus Eris 3.5 also comes with controllers that allow you to personalize the output, adding additional depth to sound coming out of the speakers. At 50W combined, a pair of PreSonus Eris 3.5 monitors is an excellent choice for bedroom music producers and audio professionals working in a small project studio.
If you want to learn more about What is the Audio Mastering Process and How to Master a Song – jump on here
Mackie CR4-X Monitor Speakers
Price: $125 (pair)
Again, these budget studio monitors are a great value for money. The Mackie CR4-X provides the clear playback necessary to mix and master music efficiently. With frequency responses from 80Hz to 20kHz and 50W power, this pair of budget studio monitors will give you an enveloping sonic experience in your workroom. On the downside, the bass response is slightly more pronounced than the other ones. While it's not a big deal considering the price, if you're looking for 100% flat sound or accurate playback, you may want to consider other options.
KRK Classic 5 Powered Studio Monitors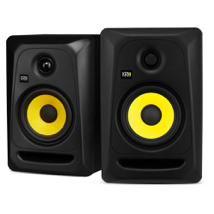 Price: $300 (pair)
KRK is a historic and iconic brand for a reason: anyone working in the music industry will recognize at first glance the yellow woofer speaker cone that characterizes the studio monitors created by the California-based manufacturer. Thanks to the +2 dB KRK Bass Boost, you can customize the stereo output and create your own personalized sound. There's also a smartphone app that allows you to adjust the sound directly from your phone. These KRK monitors are one of the best options for DJ studios. If you're an electronic producer looking for an accurate and transparent sound, the KRK Classic is a fantastic option.
JBL 305P MkII Professional Studio Monitors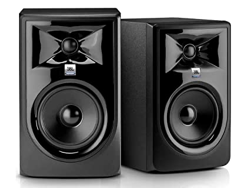 Price: $290 (pair)
JBL has made above average speakers renowned worldwide for the last seventy years, and the JBL 305P MkII is no exception. Eighty-two watts of power and a dynamic audio range are what define this little pair of studio monitors. Powerful enough to use them for small shows or a home studio but ideal for workroom environments, the JBL 305P MkII speakers offer an incredibly detailed listening experience with transparent sound reproduction of all frequencies.
Pioneer DJ DM-40 Desktop Monitors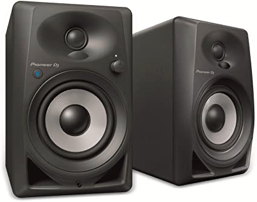 Price: $200 (pair)
Although mostly known for its excellent turntables, Pioneer entered the market of budget studio monitors in 2016 with the DJ DM-40. Affordable and boasting astounding sound quality, this pair of speakers has become a favorite option of bedroom DJs worldwide. The most impressive feature of these studio monitors is the quality of low frequencies: the bass is deep and rich but never overshadows the high frequencies. As a result, the DM-40 is the perfect choice for electronic audio engineers and DJs working in small environments or a home studio. However, if you're not into electronic music, you may find the lower frequencies too enhanced.
Yamaha MSP3A Powered Monitor Speakers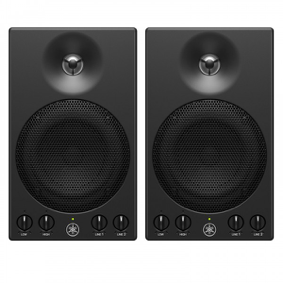 Price: $450 (pair)
The sound coming out of the Yamaha MSP3A is accurate, transparent, and enveloping. With a 4-inch woofer and a 0.8-inch tweeter, these studio monitors guarantee pristine sound without occupying much space. Need more bass? No problem! The bass reflex enclosure and Twisted Flare Port can enhance lower frequencies without compromising the clarity of the sound giving playback a natural sound.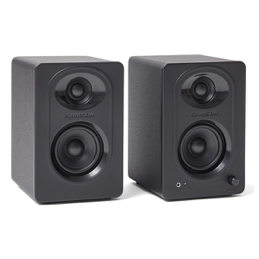 Price: $150 (pair)
This pair of affordable studio monitors can be a good solution for bedroom producers, with the Bass Boost switch allowing you to highlight the lower frequencies without distortion. The frequency response is far from being transparent, I'm sure they can be used for general multimedia editing, but I wouldn't use them for mixing and mastering an album. Instead, I'd recommend them primarily for multimedia consumption or as a backup pair of monitors.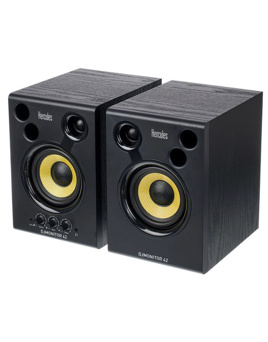 Price: $139 (pair)
The expansive sound spatialization and immersive ambience impressed me the most about these budget studio monitors. These monitors can be used both in the studio and as DJ monitors, but they do emphasize lower frequencies considerably. If you're new to music production or making music in a small studio, the DJMonitor 42 will give you a taste of a professional studio at a very reasonable price.
JBL 1 Series 104-BT Compact Desktop Reference Monitors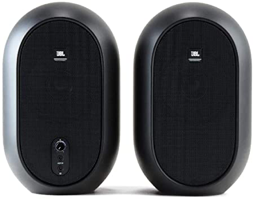 Price: $215 (pair)
This pair of desktop consumer speakers differ from the previous budget studio monitors in more than one way. First of all, their ovoid design makes them stand out compared to the standard minimalist design of professional monitors. Although they offer plenty of details and the overall sound is quite rich, the JBL 1 Series 104 emphasizes low frequencies to an extent it becomes too inaccurate for home recording. However, it's still a fantastic speaker for listening to music and multimedia entertainment.
Conclusion
If you're entering the world of music production, all the entry-level studio monitors described in this article will reproduce sound perfectly for you. The sound quality and overall transparency of the speakers featured guarantee an optimal output and the required frequency and definition to create a professional song for home studio recording.
One day you'll get to the point when you'll need bigger, or better, home recording studio monitors: either because you're moving to a larger room, creating more complex soundscapes, or simply because you want to upgrade your equipment to look and sound more professional. Whatever the reason, these budget studio monitors have the quality to accompany you in the first steps of your career as an audio professional.