Shure MV7 vs SM7B: Which is Better For Podcasting?
---
The Shure MV7 and SM7B are popular microphones offering excellent sound quality, durability, and versatility. Both are designed for recording vocals and are well suited for podcasting. So, if you're trying to decide between these two mics for podcasting, which one should you choose?
In this post, we'll take a detailed look at the Shure MV7 vs SM7B. We'll consider their strengths, weaknesses, and their key differences to help you decide which mic is the better choice for podcasting.
Shure MV7 vs SM7B: Key Features Comparison Table
| | SM7B | MV7 |
| --- | --- | --- |
| Price (US retail) | $399 | $249 |
| Dimensions (H x W x D) | 7.82 x 4.61 x 3.78 in (199 x 117 x 96 mm) | 6.46 x 6.02 x 3.54 in (164 x 153 x 90 mm) |
| Weight | 169 lbs (765 g) | 1.21 lbs (550 g) |
| Transducer type | Dynamic | Dynamic |
| Polar pattern | Cardioid | Cardioid |
| Frequency range | 50 Hz–20 kHz | 50 Hz–16 kHz |
| Sensitivity | -59 dBV/Pa | -55 dBV/Pa |
| Maximum sound pressure | 180 dB SPL | 132 dB SPL |
| Gain | n/a | 0 to +36 dB |
| Output impedance | 150 Ohms | 314 Ohms |
| Output connectors | 3-pin XLR | 3.5 mm jack, 3-pin XLR, USB |
| Accessories in-the-box | Switch cover plate, foam windscreen, thread adapter | 10-foot micro-B to USB-A cable, 10-foot micro-B to USB-C cable |
| MOTIV app | n/a | Free to download and use |
What is a Dynamic Microphone?
Both the Shure MV7 and SM7B are dynamic microphones. These types of microphones feature a moving coil that converts sound vibrations into electrical signals using electromagnetism.
A typical dynamic microphone is sturdier than other types of microphone, such as condenser mics, and doesn't require external (phantom) power. This makes dynamic microphones popular for on-stage use.
They can also handle higher sound pressure levels than condenser mics, which makes them a great choice for recording loud sounds from drums or guitar cabs.
Shure SM7B—The Veteran
The Shure SM7B is one of the most popular studio-quality broadcast microphones available, offering excellent sound, construction, and versatility. Released in 2001, it's a variant of the original Shure SM7 which was first released in 1973.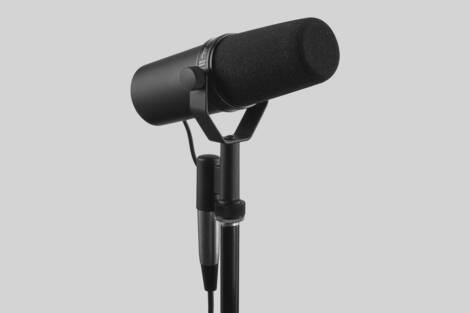 The high-quality audio of the Shure SM7B has made it the microphone of choice for popular podcasters like Joe Rogan. The original SM7 has also been used to record much rock and pop music legends over the years, including the likes of Mick Jagger and Michael Jackson.
Pros and Cons of the SM7B
Pros
Excellent audio quality
Solidly built
Good in-the-box accessories
Cons
No USB output
Needs additional equipment to boost gain and to get the best results
Not compatible with the ShurePlus MOTIV app
Shure MV7—The Newcomer
The Shure MV7 was released in 2020 and is the company's first microphone with both XLR and USB outputs. It's based on the SM7B but is squarely focused on being a podcast microphone designed for recording vocals.
The MV7 offers the additional convenience of direct recording into a computer or digital system due to its USB connectivity while retaining much of the audio quality associated with the SM7B.
Pros and Cons of the MV7
Pros
Very good audio quality
Has XLR and USB outputs and headphones monitoring
Solidly built
Built-in adjustable gain
Convenient control using the ShurePlus MOTIV app
Cons
Limited in-the-box accessories
Shure MV7 vs SM7B: Detailed Features Comparison
Let's take a closer look at the features of the Shure MV7 vs SM7B.
Connectivity
The SM7B has a single XLR connection allowing output to a mixer or audio interface via an XLR cable. This is an analog output, so analog-to-digital conversion (ADC) needs to occur through a separate device (e.g., audio interface or computer sound card) for digital recording and editing.
The MV7, in contrast, has three connection options: an XLR output, a micro-USB port, and a headphones monitor output.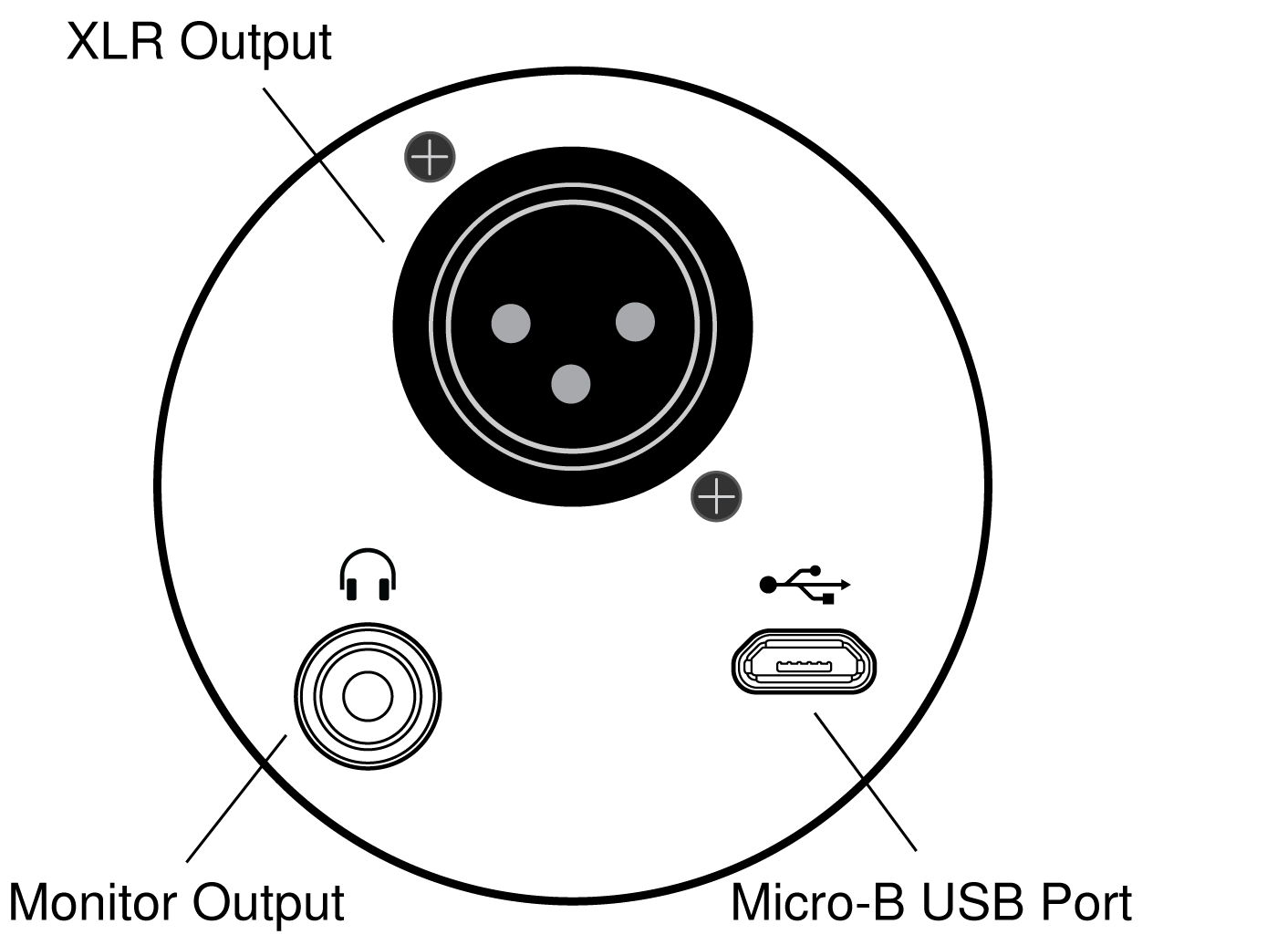 The USB connectivity of the MV7 allows you to plug directly into a digital recording and editing system (e.g., DAW) without the need for a separate ADC device. This is because the MV7 has built-in ADC, with a resolution and sampling rate of up to 24 bits and 48 kHz, respectively.
This results in a better dynamic range than some other popular USB mics, such as the Blue Yeti or Audio Technica AT2020USB, which have a maximum resolution of only 16 bits.
The MV7's USB connection also allows access to various configuration settings using the ShurePlus MOTIV app (more about this later). And the headphones' output allows zero-latency monitoring with adjustable volume.
Build Quality
The SM7B is solid, weighing nearly 1.7 pounds (765 grams), and has withstood the test of time over decades of on-stage handling. There's little or no plastic in its construction, and it's known to be a robust and long-lasting microphone.
Measuring 7.8 x 4.6 x 3.8 inches (199 x 117 x 96 mm), the SM7B isn't small, but it's usually used with a mic stand so its weight and size are less of an issue.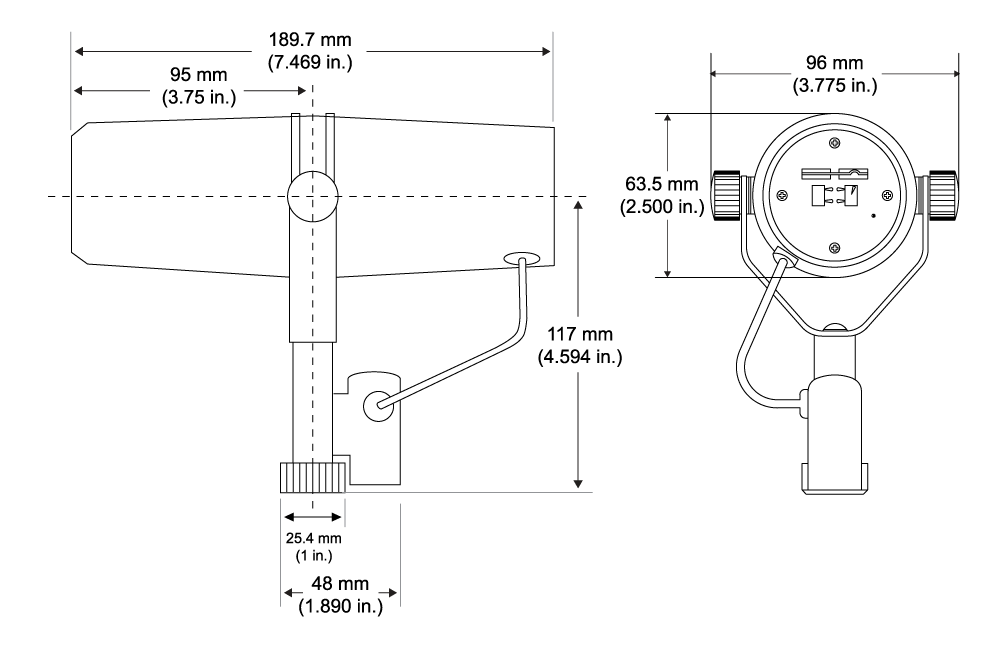 The MV7 is lighter (1.2 pounds or 550 grams) and smaller (6.5 x 6.0 x 3.5 inches or 164 x 153 x 90 mm) but is also made with a metal construction—it, too, is a study microphone.
The SM7B can withstand higher maximum sound pressure levels (180 dB SPL) than the MV7 (132 dB SPL), although both mics are robust in this regard. A sound pressure level of 132 dB SPL (MV7), for instance, is like being close to an airplane that's taking off and 180 dB SPL (SM7B) is like being next to a space shuttle during launch!
Frequency Response and Tone
The SM7B has a wider frequency range than the MV7, i.e., 50 Hz to 20 kHz:

The MV7's frequency range is 50 Hz to 16 kHz:

The SM7B's wider frequency response captures more of the top end, which is great for recording instruments like guitars. The SM7B also sounds fuller and warmer at the low end due to its relatively flat frequency response in the 50–200 Hz range, adding a richer sound to vocals.
The MV7, on the other hand, is designed specifically with vocal clarity in mind and accentuates frequencies in the 2–10 kHz range. This comes at the cost, however, of possible plosive and sibilance issues—you may need to carefully position your mic or use a pop filter to avoid these, or you can conveniently remove plosives using CrumplePop's PopRemover AI plug-in during recording or post-production.
Gain
The SM7B has a relatively low sensitivity (-59 dBV/Pa) which means it needs plenty of gain (at least +60 dB) to ensure that recordings aren't too quiet or noisy.
Unfortunately, even when using the SM7B with an interface or mixer, there may not be enough gain produced (typically only around +40 dB). So, the best way to get the total gain that you need is to use the Shure SM7B with Cloudlifter.
Cloudlifter is an inline preamp that boosts the gain of low-sensitive mics like the SM7B. It provides up to +25 dB of ultra-clean gain, so you'll still need to connect to a mic preamp, audio interface, or mixer, but you'll have a much better output level and sound quality.
The MV7 has a better sensitivity than the SM7B (-55 dBV/Pa) and has a built-in, adjustable gain of up to +36 dB. This means you can use the MV7 without an inline preamp.
The MV7 also has a built-in mic mute button, which can be really handy during live recordings (if you need to cough, for instance). The SM7B doesn't have one, so the only way to mute it is with an external (inline) mute button or using the mute switch on a connected mixer or audio interface.
Output Impedance
The SM7B has an output impedance of 150 Ohms which is a good level for high-fidelity audio devices. The MV7 has a higher output impedance of 314 Ohms.
The output impedance of your microphone matters when you're connecting to other audio devices. This is because it affects the degree of voltage (i.e., signal) transferred from your microphone to the connected device—all else equal, the lower the output impedance, the better for audio quality.
The situation is made worse when you're using long cables, where the cable adds to the overall output impedance of the mic-cable combination. So, the lower output impedance of the SM7B will result in a marginally better sound than the MV7, especially when using long cables.
Accessories
The SM7B comes with the following in-the-box accessories:
a switch cover plate
a foam windscreen
a thread adapter
The switch cover plate (model RPM602) is a backplate to cover the switches on the rear of the SM7B and helps to prevent accidental switching. The foam windscreen (model A7WS) reduces unwanted breath or wind noise during usage, and the thread adapter (model 31A1856) lets you convert from 5/8 inch to 3/8 inch depending on whether you're connecting to a standard microphone stand (i.e., you won't need the adapter) or a desktop boom arm (i.e., you'll need the adapter).
The MV7 comes with two micro-USB cables as in-the-box accessories (models 95A45110 and 95B38076). This may not seem like much, but the MV7's USB connection gives you access to a useful out-of-the-box accessory that can add real convenience to controlling your MV7's settings—the ShurePlus MOTIV app.
The MOTIV app is free to download and lets you adjust the MV7's mic gain, monitor mix, EQ, limiter, compressor, and more. You can also enable Auto Level mode, which lets the app select the settings that will work best for your recording needs. Alternatively, you'll have full control over the settings in Manual mode.
Cost
The US retail prices of the SM7B and MV7 are $399 and $249, respectively (at the time of writing). The SM7B, therefore, costs more than one-and-a-half times the cost of the MV7. But there's more to it than that.
We've seen that the SM7B needs more gain to function well, whereas the MV7 has built-in gain. This means that, in practice, you'll want to use your SM7B with an inline preamp and additional preamp, mixer, or audio interface. This adds to the cost, perhaps considerably, of the basic setup that you'll need when using the SM7B.
In contrast, you can use the MV7 straight out of the box—just plug it into your laptop and you're ready to go. It's truly designed to be a versatile podcasting microphone, just as Shure promises!
Final Verdict
In comparing the Shure MV7 vs SM7B, one thing is clear—they're both excellent microphones for podcasting!
They have some differences, however, when it comes to overall sound quality, convenience, and cost.
The Shure SM7B offers a marginally better sound quality than the MV7, including a wider frequency range and a warmer tone, and is better suited for recording instruments. It only has an XLR output, however, and requires an inline preamp, interface, or mixer for the best results. This makes it more expensive and less convenient than the MV7.
The Shure MV7 is purpose-built for podcasting and comes equipped with XLR and USB connectivity. It can work directly with a digital system without the need for additional equipment. It also has a useful MOTIV app for controlling settings.
So, which of these two is the best microphone for podcasting?
If you're on a budget and you want direct connectivity and convenience, then the feature-rich Shure MV7 is the best choice. If, however, you don't mind spending a bit more and consider the better sound quality of the SM7B to be a priority, then you should choose the Shure SM7B.
Whichever you choose, you'll get an excellent microphone that's well suited for podcasting and should deliver quality results for years to come—you'll be a happy podcaster either way!