Top 7 Best Mic Preamps for Vocals in 2022
---
Have you got a great audio production workflow but feel that you're missing the character of sound you're looking for? Or perhaps you've got too much noise in your signal path, or your mic signals aren't getting boosted enough? Or, maybe your vocals aren't sounding as full and natural as you'd like?
If any of these apply to you, then a microphone preamp may be just what you need.
Microphone preamps are devices that, as the name suggests, amplify microphone signals to produce better results. They are essential kit in most modern studios and are often built-in to other devices such as mixing consoles or audio interfaces.
They can be invaluable in managing noise levels or altering the sound quality of your audio production workflow, bringing out the best in your vocals or instrument inputs alike.
So, if you're looking to add (or replace) a microphone preamp in your audio production system, this post will help as we take a look at 7 of the best microphone preamps available to help you decide.
What Is a Mic Preamp?
A microphone preamp is used to amplify mic signals, i.e., increase their gain, and bring them to a level that's suitable for use in audio production workflows.
The reason for doing this is that microphone signals are very weak, so they need to be amplified to bring them to a sufficient level, i.e., a line level, for audio equipment like amplifiers or audio interfaces. Microphone preamps, therefore, help adjust microphone signals to be stronger and more suitable for audio production workflows, bringing better overall results.
You can learn more about microphone preamps from our post: What is a Preamp
When Do You Need a Microphone Preamp?
The first and most obvious reason for mic preamps is to amplify mic signals, as just discussed. But beyond this, preamps alter the audio signal that passes through them to some degree, and this can add desirable characteristics, i.e., 'color', to your sound.
Some mic preamps, for instance, bring a fuller or richer sound to your signal path, giving you a sensation of soft or warm audio. Others may barely alter your sound, giving you very little coloration and lots of clean gains.
In general, when choosing a preamp you shouldn't consider it as just a preamp for producing gain, but also as a device that will affect your sound in some way. The best microphone preamps for your needs, therefore, are those that give you the right balance of technical features—gain staging, controls, noise levels, etc—and sound coloration.
Even if you have a built-in mic preamp in your existing equipment, such as in a mixer or audio interface, you may want to add a separate mic preamp into your signal path. This can help you alter the sound characteristics (or reduce noise) to your liking.
Types of Microphone Preamps
Microphone preamps come in a variety of configurations, form factors, and build types, including:
Stand-alone units vs built-in to other devices such as mixing consoles or audio interfaces (as discussed).
Solid-state vs tube and discrete electronics.
Larger devices vs smaller mic activation devices.
Desktop devices vs rack-mounted (i.e., 500 series) units.
In this post, we'll discuss stand-alone microphone preamps, either desktop or rack-mounted, featuring a variety of technical factors, controls, and sound characteristics. We'll focus on mic preamps that are known for their ability to bring out the best in vocals but also produce excellent results for instruments.
Do Microphone Preamps Reduce Noise?
All electronic circuits generate noise. So, whenever you're using audio (electronic) equipment, noise is present, and the more devices there are in your signal path, the more noise there will be (for a given level of gain).
Microphone preamps are no exception.
All else equal, adding a microphone preamp to your signal path will not reduce noise. But the way that you manage the devices in your signal path and the type of microphone preamp that you choose can reduce the overall noise in your system, for a given level of gain.
This is because, if you use a microphone preamp with very low noise levels, then you can replace some of the existing (noisier) gain stages in your audio workflow with these preamps, reducing the overall level of noise in your system. In this way, mic preamps can help to manage noise in your audio workflow down to levels that you're happy with.
But how do you know how noisy a mic preamp will be?
There are some technical specifications that can guide you, such as:
The Equivalent Input Noise (EIN) measures the amount of noise that your preamp produces under a standardized approach—the lower this figure, the better.
The Total Harmonic Distortion Plus Noise (THD+N) measures the total amount of (undesired) harmonic distortion and noise that your preamp produces relative to the (desired) signal level—again, the lower, the better.
Keep in mind that even the best mic preamps generate some level of noise. Where you place them in your signal path and the role that they play in your gain staging are what matter. As such, they can make a significant difference to the overall noise in your system.
7 Best Mic Preamps for Vocals
With all of this in mind, let's now look at 7 of the best microphone preamps that you can buy today, without costing the earth. They are presented in no particular order, and the features and specs that we highlight are focused on mic inputs rather than line or instrument inputs.
1. Neve 1073 DPX

The Neve 1073 DPX mic preamp is a variant of the classic Neve 1073 range and is an enhanced, dual-channel, 2-unit rack-mounting version of the original with several useful features, including:
High-quality Neutrik combo jacks on each channel of the front panel, allowing easy switching between mic (XLR) or instrument (TRS) inputs.
High impedance (Hi-Z) input on the front panel.
Separate XLR jacks on the rear panel.
LED peak meters on each channel, switchable between pre-EQ, post-EQ, or post-output.
Built-in headphones amp with jack and volume knob.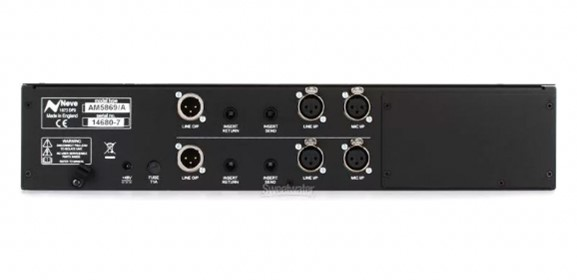 The build quality of the 1073 DBX is excellent, with robust metal construction. The transformers at the input and output stages are built to the same custom Marinair specifications featured in early Neve consoles, helping to deliver the classic sound that Neve is known for.
The 1073 DPX's frequency response is fairly flat to 20 kHz (i.e., +/- 0.5 dB from 20 Hz to 20 kHz), with a slight attenuation to -3 dB at around 40 kHz.
The electronics are surface-mounted rather than point-to-point, which is an understandable cost-saving and efficiency measure relative to Neve's early consoles.
Nevertheless, the sound quality of the 1073 DPX is superb, with a natural and full character, and very similar to the original 1073 under normal gain levels.
At higher gain levels, the 1073 DPX may sound thinner than the original, but it's not a major distraction from the overall quality of sound that the DPX produces.
In terms of cost, there's no denying that the 1073 DPX is expensive, retailing in the US for $2,995 (MSRP). You can pick it up for less, though, and it's a lot cheaper and more versatile than the original 1073.
Features
Microphone I/O on front panel and rear panel
Custom Neve Marinair transformers manufactured to original specifications
Built-in EQ and high pass filter
Direct headphones monitoring
Cost (US MSRP) $2,995
Specs
Gain | +20 dB to +80 dB
Input impedance | 300 Ω or 1,200 Ω (switchable)
EIN | -125 dBu @ 60 dB gain
Dimensions | 19 x 3.5 x 14 in (480 x 88 x 356 mm)
Weight | 22 lbs (10 kg)
Pros
Retains the classic sound of the Neve 1073 but with additional flexibility
Headphones monitoring
Cons
External power supply
Expensive (but less expensive than the original Neve 1073)
2. Great River ME-1NV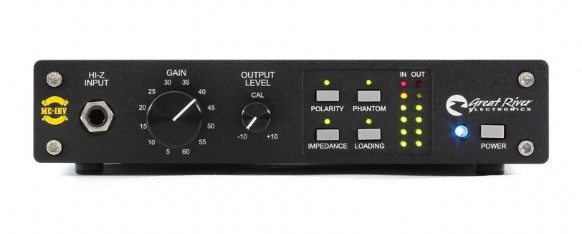 The Great River ME-1NV is a vintage-style preamp that's based on the classic sound of the Neve 1073. It's a solidly built, relatively compact single-channel preamp with a simple control layout. It also comes in a dual-channel variant, the ME-2NV.
Its connections and controls include:
Separate input and output gain knobs (allowing gain staging)
Buttons to set polarity, phantom power, switchable input impedance, and additional loading
XLR input and output jacks
1/4 inch jack for an EQ or compressor option
Like the Neve 1073 DPX, impedance is switchable between low (300 Ω) and high (1,200 Ω), with the lower setting being a good option for some ribbon mics.
Dual metering on the front panel helps in setting levels, but the input and output gain knobs are a little difficult to use as their markings are imprecise. Also, there's no center mark on the output gain knob, making it even trickier to work with. But the overall range provided by the knobs is sufficient.
The ME-1NV offers a flat frequency response to around 20 kHz, when correctly terminated, falling slightly to -1.5 dB at 35 kHz and -3 dB at 50 kHz. This suggests that there's very little coloration of sound from this preamp within the range of human hearing.
The overall sound of the ME-1NV is excellent, with a vintage characteristic driven by Sowter transformers. These help to provide the full, meaty sound quality that's associated with Neve preamps.
The ME-1NV isn't the cleanest or quietest of preamps, however, but its tonal output is rich. The way that you set the input and output gain stages also gives you tonal options that work well with a variety of musical genres. You can expect a full, textured vocal recording when using the ME-1NV.
Beyond emulating the classic Neve sound, the ME-1NV is specially designed to address some of Neve's perceived shortcomings. It handles lower frequencies better, for instance, and has less of a tendency to distort under various conditions.
The ME-1NV is reasonably priced at $1,495 (US MSRP), putting it within reach of a quality home setup, while its charismatic sound means that it's also popular in many professional studios.
Features
Adjustable gain stages
Multiple in and out connections
Separate input and output metering
Additional 600 Ω switchable load
Input and output meters on each channel
Custom-wound transformers and gold-plated switching contacts
Cost (US MSRP) $1,495
Specs
Gain | -20 dB to + 70 dB (with gain staging)
Input impedance | 300 Ω or 1,200 Ω (switchable)
EIN | -125 dBm @ 40 dB gain
Dimensions | 1.7 x 8.6 x 10 in (44 x 218 x 254 mm)
Weight | 6.5 lbs (2.9 kg)
Pros
Attractive vintage sound
High levels of gain with input and output metering
Input impedance and output loading switches
Internal power supply
Cons
Inaccurate output gain control
3. AEA RPQ2

The AEA RPQ2 is a 2-channel mic preamp that's specially designed for ribbon microphones.
Ribbon microphones are trickier to work with than (other) dynamic microphones or condenser microphones, as they're more sensitive to the loudness and proximity of sound sources. They also require more gain and a higher input impedance (on the preamp they're connected to) for sufficient strength and quality of the signal transfer.
With the right equipment, however, ribbon mics give you a rich, natural, and uncolored sound that's favored for vocals by many audio professionals.
This is where the RPQ2 shines—it's optimized for ribbon microphones and offers the high gain (+81 dB) and high input impedance (63 kΩ) that they need.
With a brushed aluminum case and solid build quality, the RPQ2 features staged gain controls (a 13–63 dB gain knob and a -60–19 dB fader), three EQ knobs, signal LEDs, and additional controls for 48 V phantom power (P48), shelving EQ, and input selections. There are also two XLR connections—a mic input (with switchable P48) and a balanced line output—and two quarter-inch TRS jacks.

The frequency response of the RPQ2 is fairly flat, with only a slight attenuation above 100 kHz, suggesting very little overall sound coloration. You may find some unwanted subsonic frequency components, however, when using a ribbon mic, and you'll need to manage them in your DAW—a fixed high pass filter would have been a nice addition to mitigate this.
In terms of sound quality, the RPQ2 stands apart for its neutral-sounding and clean amplification, even at high gain levels. It has a low noise floor and plenty of headroom.
The built-in EQ works very well for ribbons, allowing easy reduction of the 'proximity effect' that's usually associated with these types of mics, and helping to produce a more natural and airy sound when higher frequencies are boosted. These same qualities, however, are less suited to other types of mics that typically have frequency sensitivities that are different from ribbons.
At a US retail cost of $1,499 (MSRP), the RPQ2 isn't cheap, but it's also not very expensive for the quality that this excellent preamp brings to your audio recording equipment and setup. This is particularly true if the mics you're using are ribbons.
Features
Optimized for use with ribbon microphones
Adjustable gain stages
Built-in EQ
Cost (US MSRP) $1,499
Specs
Gain | +81 dB (at 1 kHz and with gain staging)
Input impedance (without P48) | 63 kΩ
EIN | -130 dBu (A-weighted)
Dimensions | 19 x 9 x 1.8 in (485 x 230 x 45 mm)
Weight | 4.3 lb (2 kg)
Pros
Excellent sound with a natural (neutral) quality and low noise
Optimized for ribbon-type microphones with a high gain, high input impedance, and tailored EQ options
Internal power supply
Cons
Limitations of built-in EQ when used with other (non-ribbon) types of microphones
Lack of fixed high pass filter to remove the subsonic frequencies typically associated with a ribbon mic
4. API 512V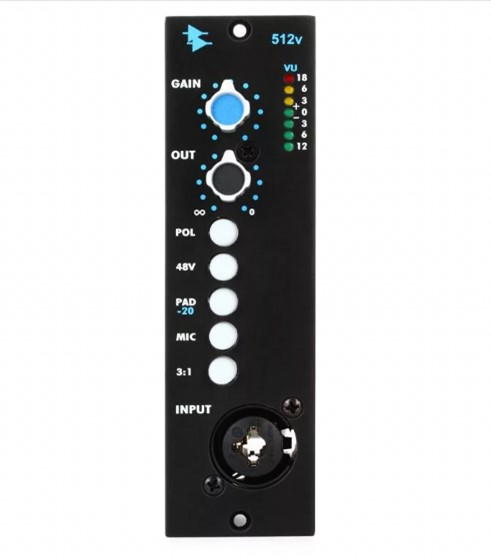 The API 512V mic preamp is a 500 series rack-mounted unit based on an API preamp design that dates back to the 1960s. The 512v is an updated version of this vintage design and is better suited to modern, DAW-oriented recording equipment and workflows.
This API preamp is one in a series of classic API preamps—from the original 512 model, succeeded by the 512b, and then the 512c. Retaining the acclaimed sound of its predecessors, the 512v offers additional features, such as:
An output attenuator (level control) helps with level-matching, which is particularly useful in DAW-based workflows and reduces the need for external attenuators.
A 3:1 output transformer switch, offering further control over gain staging.
A new combo-style input jack for XLR and TRS connections.
The output attenuator gives you freedom in how hard you drive your input level and gain since you can use it to prevent the next stage of your audio workflow from overloading. This gives you more scope for artistic expression—using a saturated input, for instance, without clipping at the output—and lets you match your output level to a wide range of audio interfaces.
Tapping the 3:1 switch produces a drop of 12 dB in the 512v's output, giving you further flexibility in how you manage your input and output gain stages.
The unit is well-built and features LED metering, a gain knob, switches for phantom power, polarity reversal, -20 dB pad, and mic input selection (the default is a Hi-Z input.) This is in addition to the aforementioned output level attenuator and 3:1 transformer switch.
The frequency response is very flat, with only a marginal attenuation in the 20 kHz to 50 kHz range.
When it comes to sound quality, the 512v is impressive, with warmth and punchiness, rich tones, a detailed mid-range, and dense bass. Vocals sound splendid, with fullness, clarity, and depth. All of this is in keeping with API's acclaimed audio signature that's been established over decades.
The list price (US MSRP) of the 512v is $995, representing excellent value for the sound quality and richness produced by this classic preamp.
Features
Iconic API preamp sound character
Separate input and output gain stages
Transformer tap switch and output attenuation, allowing scope for artistic expression in managing gain stages
Cost (US MSRP) $995
Specs
Gain | +34 dB to +65 dB
Input impedance | 1,500 Ω
EIN | -129 dBu
Dimensions | 1.5 x 5.3 x 7 in (38 x 133 x 178 mm)
Weight | 1.4 lb (0.6 kg)
Pros
Superb sound, with a distinctive warmth and richness
An updated, DAW-friendly version of a classic preamp design
Output attenuation control and tap switch for gain staging
Cons
Unusual rotation (positioning in place) of combo XLR-TRS jack
5. Universal Audio 710 Twin-Finity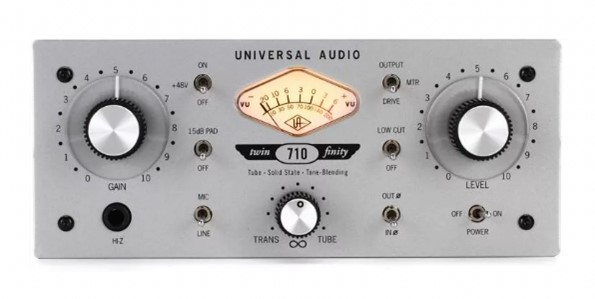 The Universal Audio 710 Twin-Finity is a half-rack, single-channel mic preamp that combines tube and solid-state electronics in one unit, giving you a choice of tonal quality between the two. You can use either to select the best mic preamp for your needs (i.e., an all-tube preamp or an all-solid-state preamp), or blend them in any proportion.
Universal Audio makes a dedicated preamp of each type, i.e., the Universal Audio Solo 610 tube preamp and the Solo 110 solid-state preamp, but the 710 has a unique tonal character that's different from either of them. This is due to the way that circuit configurations are combined in the 710.
There are separate gain and level controls for gain staging, letting you add coloration and distortion by driving a higher input gain. There's a single VU meter that you can switch between drive (input) or output display modes—this shows you how hard you're driving the input stage.
The 710 is all-metal and solidly built with a retro-style appearance and a simple connection layout—the front panel has switches, knobs, and controls, as well as a high-impedance instrument input, while the rear panel has a microphone input, line input, and line output. A desktop kit is also available, giving DAW-based studios the option of a convenient, two-in-one versatile microphone preamp.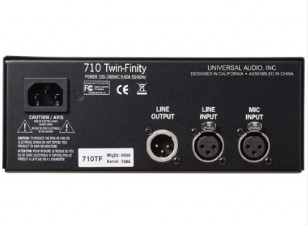 The 710's frequency response is very flat, with a variation within 0.2 dB over a 20 Hz to 100 kHz range.
The real appeal of the 710 is its versatility in giving you a blend of the sound produced by tube and solid-state electronics in a single unit. The sound quality can differ noticeably between the two:
The tube preamp sounds better after it's switched on for at least a half hour (as with any tube amp), giving you a tonal quality that's fat at the low end and relatively smooth at the high end, in keeping with the overall warmth that you'd expect from a tube preamp.
The solid-state preamp sounds flat and transparent at around a midway gain, with a slightly harsher tone as you increase the gain drive.
Blending the two preamps gives you plenty of creativity in mixing the tonal character of the fatter sounding tube preamp with the punchier high end of the solid-state preamp. There's only one drive control, however, so you can't drive the tube or solid-state preamp gain by different amounts.
Both preamps sound great on vocals, and although it's a matter of personal preference, not driving either of the microphone preamps too hard gives you a rich and clean vocal sound. Again, the 710 stands out as one of the most versatile microphone preamps for this reason—you can blend the tonal character between the tube and solid-state preamps to bring out the best in a wide range of vocal styles.
At a US retail price (MSRP) of $1,149, the 710 is a great option for those wanting the best of both worlds (i.e., a tube preamp and a solid-state preamp) in one cost-effective package.
Features
Versatile blend of tube and solid-state preamps
Dual-stage gain stage control
Switchable VU monitoring of input or output gain stage
Cost (US MSRP) $1,149
Specs
Gain | +70 dB (with gain staging)
Input impedance | 2,000 Ω
THD+N | 0.1% tube, 0.005% solid-state (@ +4 dBu)
Dimensions | 8.5 x 3.5 x 10.3 (215 x 89 x 260 mm)
Weight | 5.3 lb (2.4 kg)
Pros
Choice of tube vs solid-state preamp sound (and any blend of the two)
Great sound quality with a unique tone compared with the dedicated Universal Audio tube or solid-state microphone preamps
Caters to a wide variety of vocal styles by blending the tonal character of tube vs solid-state
Cons
Lacks independent signal path drive controls for tube vs solid-state
6. Grace Design M101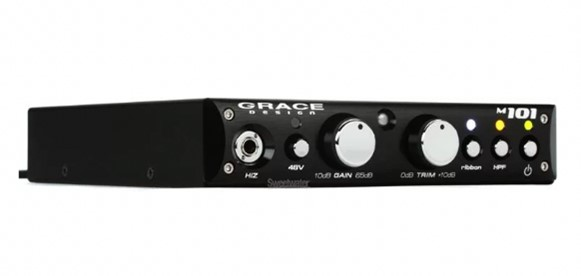 The Grace Design M101 is a half-rack, single-channel microphone preamp that uses a circuit architecture based on transimpedance.
In simple terms, transimpedance uses current feedback rather than voltage feedback in the amplifier gain stage. This allows accurate tracking of complex waveforms, harmonics, and transients, producing a very transparent sound. Transimpedance avoids the irregularities associated with integrated circuit (op-amp) designs—such as slew rate limiting—and the resulting sound is quite different from the typical solid-state sound.
The M101 has a solid, rugged construction and can handle the bumps and knocks of live performance environments. There's an XLR input jack, a high impedance input jack, three output connectors—XLR balanced, TRS balanced, and TRS unbalanced—a gain control with a separate trim knob (for gain staging), and switches for phantom power and ribbon microphone mode.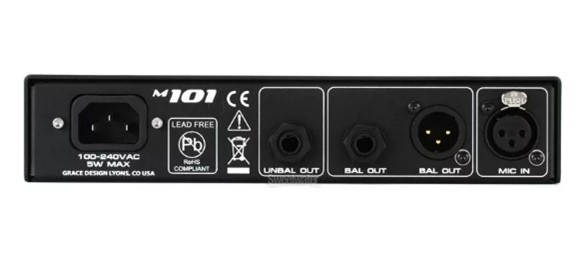 In terms of sound quality, the M101 is best described in the words of Grace Design's founder, Michael Grace:
The M101 is true to Michael Grace's philosophy, assisted by its transimpedance circuitry, in giving you an extremely clean gain with no discernible coloration. If you connect a neutral mic, for instance, you'll get a neutral sound. But if you connect a mic with character, then the M101 will retain the character with great detail and will not add very little to it. In other words, the M101 gives you an extremely faithful reproduction of sound with very low noise.
The list price (US MSRP) of $925 offers a relatively affordable option for smaller studios wanting a high-quality, clean preamp that can adapt to a variety of microphones (i.e., with varying impedance) due to its transimpedance circuitry.
Features
Transimpendance circuitry offering clean gain and a transparent sound
Separate gain and trim knobs for gain staging
Solid and rugged build quality
Cost (US MSRP) $925
Specs
Gain | +10 dB to +65 dB
Input impedance | 8.1 kΩ or 20 kΩ (mic vs ribbon mode)
THD+N | <0.005% (@ 60 dB gain), <0.001% (@ 40 dB gain)
Dimensions | 1.7 x 8.5 x 9 (43 x 216 x 228 mm)
Weight | 2.4 lb (1.1 kg)
Pros
Extremely clean gain with detailed and uncolored sound
Versatile across microphones with varying impedance
Very low noise
Cons
Neutral sound does not suit situations where a degree of additional tonal character is wanted
7. Chandler Limited TG2-500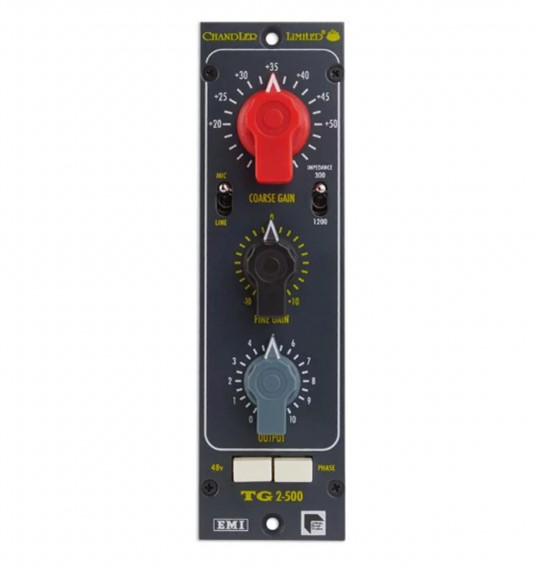 The Chandler Limited TG2-500 is a single channel, 500 series rack-mounted microphone preamp that's built on the classic EMI/Abbey Road British consoles of the 1960s and '70s. It features the same discrete, transformer-based electronics from Chandler Limited's earlier TG2 series models.
The TG2-500 has a simple design with controls for course gain, fine (trim) gain, and output (fader) level, and switches for mic vs line input, input impedance selection (300 Ω or 1,200 Ω), phantom power, and phase selection.
The TG2-500 is based on the recording equipment which brought the famous EMI/Abbey Road sound to many rock albums, including The Beatles' Abbey Road and Pink Floyd's Dark Side of the Moon. Its sound quality, therefore, can be described as anything but neutral.
It features the mid-range richness, open and airy top-end, and full bottom-end that's associated with those celebrated albums. Overall, it brings a warm audio sensation and great musicality to your mix.
By balancing the controls for course gain, trim, and fader, it's fairly easy to achieve the amount of distortion that you're looking for. Unfortunately, the distortion lacks the richness associated with the analog sounds of valve electronics, but the TG2-500's distortion character is faithful to the more over-driven distortion found on typical EMI/Abbey Road vocal recordings.
The US retail cost (MSRP) is $995, so although it's not inexpensive, it may be a small price to pay for those who want to recreate the classic sound character of Abbey Road.
Features
An emulation of the famous EMI/Abbey Road sound
Simple design and controls
Cost (US MSRP) $995
Specs
Gain | +60 dB (with course and fine controls)
Input impedance | 300 Ω or 1,200 Ω (switchable)
Pros
Unique and attractive sonic character
Easy-to-use controls
Distortion level is easy to balance
Cons
No separate mic or line input
Cannot disable phantom power inline mode
Conclusion
As always, it's important to consider the whole signal path in your audio production workflow and recognize that microphone preamps can't fix fundamental issues occurring elsewhere.
Even the best microphone preamps can't solve inadequacies in your signal path, they can only amplify and alter the sound that's coming into them from a mic or instrument input.
But by choosing the right microphone preamp, you can significantly improve the sound of your audio production system, either by reducing the overall noise level or altering the character of sound, or both.
In this post, we've looked at 7 of the best microphone preamps to help you make the right choice for your audio production workflow.