6 Best Wireless Lapel Microphone for iPhone in 2023
---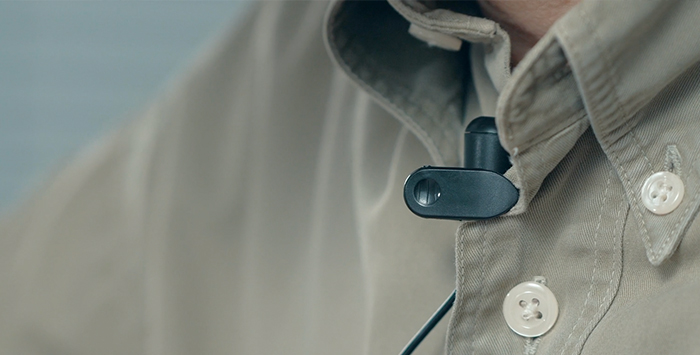 The iPhone is a great portable recording device. There's a lot of technology packed into a very small package, and the flexibility and quality of the iPhone make it ideal for anyone who wants to record on the go.
However, recording quality audio is always a challenge. There can be many different factors that can affect the quality of recorded sound.
These could be external environmental factors such as wind noise, traffic, or passing people. Or they could be internal, for example, if you are recording in a room filled with echo. All of these can be fixed with CrumplePop's new SoundApp, but you still want to capture the best quality audio you can.
The easiest way to do that is to connect an external microphone to your iPhone. And wireless audio is one of the best solutions. While there are many different options when looking for a microphone for iPhone recording, the Lavalier microphone offers a simple, portable approach to capturing great audio.
A lavalier mic allows discrete placement and hands-free recording and is ideal for recording speech, dialogue or any kind of voice recording.
How To Place Wireless Lapel Microphone for iPhone to Capture Audio
Most of the lavalier mics on the market are omnidirectional. That means they capture sound from all directions, rather than from one specific direction.
Because of this, it is important to keep in mind the distance the lavalier mic is from the source of what you want to record.
Placement
The best placement should be to have the mic on the chest area, around one foot (30 cm) away from the sound source (i.e. the person who is actually speaking). This lets you capture clear, natural sound regardless of where you point the iPhone camera.
Using a wireless lavalier microphone means that there's no cable clutter, so nothing to get in the way of you shooting the best footage while capturing your sound.
But which are the best lavalier mics on the market? Let's take a look at some of the contenders.
Wireless Lapel Microphones for iPhone: 6 Best Mics Reviewed
1. Fifine K031B $42.99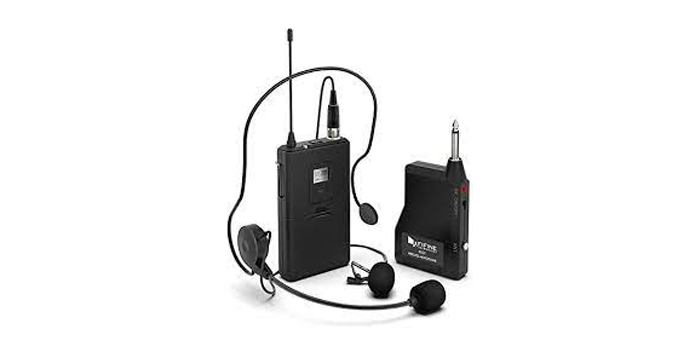 For an entry-level device, the Fifine wireless microphone is a great place to start. This is a traditional lavalier microphone, with a receiver that attaches to your iPhone, and a mic to capture audio that attaches to your clothes.
The device operates on UHF frequencies and has a good range. The mic is very light and easy to wear, while the receiver is a bit on the large side.
This is because it houses two AA batteries, as well as an internal USB C-charged battery pack.
Flexibility
While this means that the receiver is larger than some others on the list, it has the flexibility of being able to swap out batteries whenever you need to, so you need never run out of power while recording.
The range of the device is around 50 feet (15 meters), which is acceptable but not spectacular. The sound quality is a noticeable step up from the iPhone's internal mic.
It might not quite have the same quality as some of the more expensive items here, but given the cost, the quality is still good.
The Fifine is a good introductory lavalier microphone and will let anyone who wants to start using an external mic purchase one without worrying about over-investing financially. Cheap, cheerful, and a great learning tool — it's a great choice.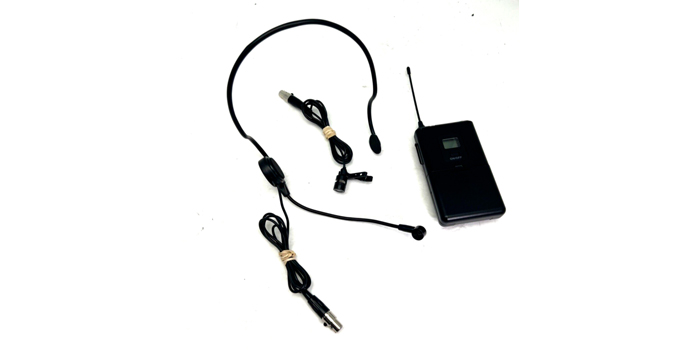 Stats
Frequency: UHF 565-584MHz
Dimensions: 7.8 x 6.3 x 2.68 inches
Weight: 1.76 lb
Battery Life: Four hours
Range: 50 feet
Pros
Good quality for an affordable price.
Swappable batteries mean never running out of power.
Very light mic.
Cons
Not the best build quality.
Average range.
Doesn't ship with a lightning connector.
2. Boya BY-WM2G $68.95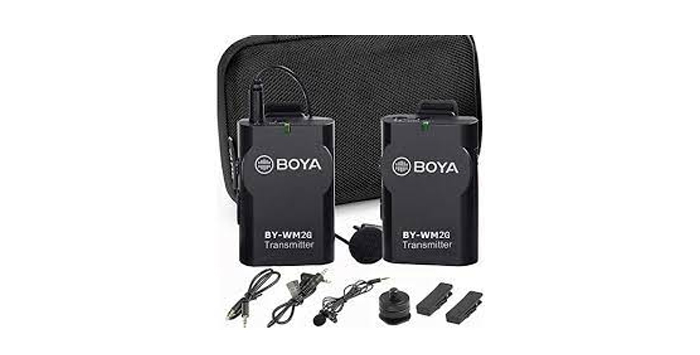 Staying at the budget end of the external microphone spectrum we have the Boya BY-WMG2. A reliable, dependable lavalier microphone, the Boya is another good entry point for those looking to get started with alternatives to the iPhone's built-in mic.
The microphone is small and lightweight, and the wireless system is a little less bulky than the Fifine. The sound quality is good, and the operational range is similar to the Fifine.
The device is easy to use and simple for beginners to pick up. So if you are just starting out on your recording journey it's a good option.
One notable bonus is that the transmitter and receiver are already paired, so there's no fiddling around — you can record as soon as you open the box with no setup.
The device has a small LED which lets you see the audio waveform as you are recording. This helps you to be sure your audio files are being correctly recorded.
Although not an essential feature, it's a nice touch and a rarity in a budget device so very much something to be commended.
If you are eager to get started on your wireless microphone journey and don't want to splash huge amounts of cash, then the Boya makes for a great purchase.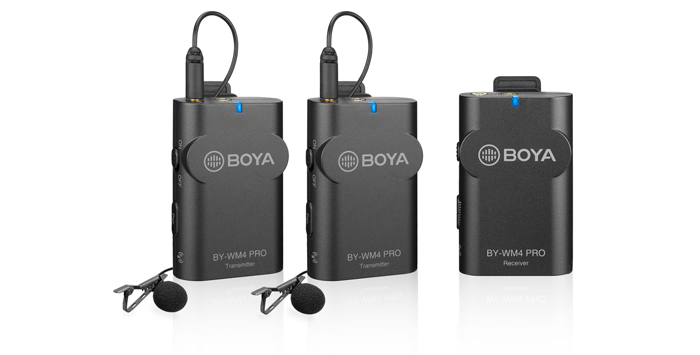 Stats
Frequency: 2.4 GHz
Dimensions: 2.36 x 1.61 x 3.39 inches
Weight: 1.7oz
Battery Life: 10 hours
Range: 197 ft
Pros
Very budget-friendly and at a reasonable price.
No learning curve and simple to use.
Good-quality audio files are captured.
Built-in headphone jack, so zero-latency monitoring (not true of all budget devices!)
Cons
No lightning connector so needs to be bought separately.
3. Movo Edge-DI-Duo Wireless Lavalier for iPhone $149.95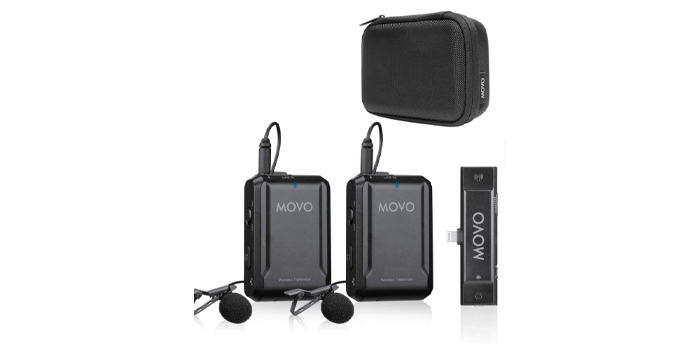 If you're looking for a Bluetooth wireless microphone then the Movo Edge-DI-Duo might be just the device for you.
The Movo comes with a carry case that keeps all the components safe and secure when you are out and about. The receiver plugs directly into your iPhone via the lightning connector and it draws power from your iPhone's battery. The receiver also has a 3.5mm headphone jack so you can directly monitor your recording.
Pairing is simple and straightforward, all you need to do is turn on the microphone, turn on the receiver and they will pair as soon as you start to record anything.
The device also has a stereo and mono recording setting, depending on the kind of audio you want to capture.
Construction of the transmitters and receiver is solid. Then, for securing the microphone to your clothing and the belt clip on the transmitter are also well-built and there's no danger of anything coming loose or falling off.
Sound quality is high and recorded audio is a huge improvement over the iPhone's built in microphone. Wind noise can be kept to a minimum if you are outside thanks to a wind muff and the range for the transmitter and receiver is great – distance really won't be a problem if you need to roam.
The Movo is a great piece of kit, has great sound quality and really scores when it comes to ease of use and good design. For a practical, Bluetooth based solution it's a great option.
Stats
Frequency: Bluetooth, 2.4 GHz
Dimensions: 8.54 x 6.73 x 2.24″ (whole package)
Weight: 0.4 oz
Battery Life: 6 hours (transmitter)
Range: 197 ft
Pros
Great quality sound.
Pairing made easy and well-considered design.
There's a stabilizer for gimbal use.
Cons
Expensive for what it is.
No extras in the package despite the price.
4. Rode Wireless Go II $187.00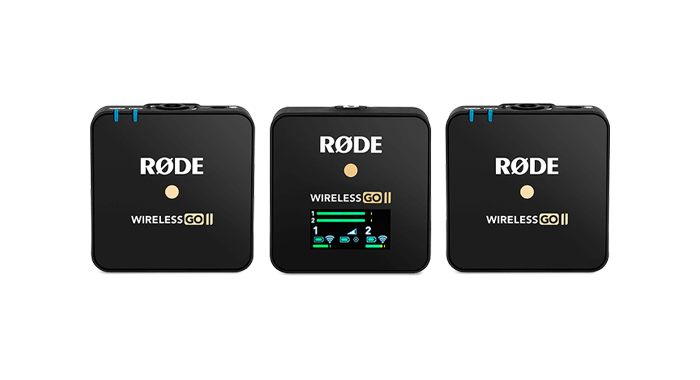 The name Rode will come up again and again when looking at microphones and there's a reason for this — they produce great quality equipment. The Wireless Go II is no exception to this.
The device itself is small, light, and easy to use. When it's clipped to clothing the wireless transmitter barely even seems to be there, and the receiver is equally compact and small.
Configurations
The Wireless Go II can be used in two different configurations. This makes it a flexible solution.
It has a built-in mic, so you can simply press a button and start recording as soon as your subject is good to go.
Or you can use it in a more conventional set-up, with a transmitter and a receiver connected to your iPhone.
However, whichever configuration you use, you can be sure of clear, crisp dialogue being captured, and the sound quality is what you would expect from a company of Rode's reputation. And it has one of the most impressive ranges of any mic, at over 650 feet.
The stereo mode allows you to capture two audio streams simultaneously. This, again, greatly adds to the flexibility of the device.
Each device can run for seven hours, and the audio recording is captured as a WAV file for great audio quality. Combined, this means that you can be recording audio for up to 14 hours if you use the built-in mic in the transmitter and receiver.
However, even seven hours should be more than enough.
The Rode Wireless Go II is a flexible and adaptive lavalier microphone solution, and good value for your money considering the sound quality is near-professional.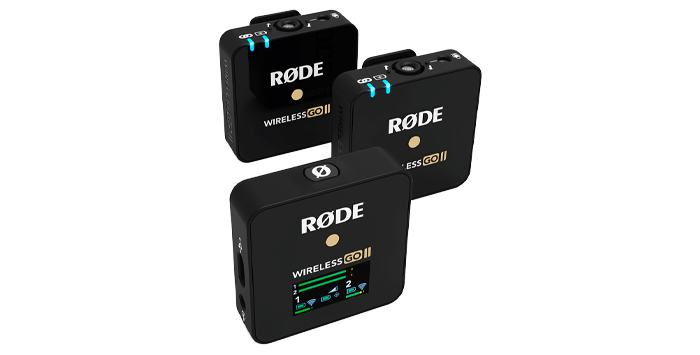 Stats
Frequency: 2.4 GHz
Dimensions: 1.73 x 1.78 x 0.72″
Weight: 1.05 oz
Battery Life: 7/14 hours
Range: 656 ft
Pros
Small, light, and compact.
Built-in mic makes the Rode a very flexible solution.
High-quality captured audio.
Durable design.
Can record on single or separate channels in stereo mode.
Rode app for accessing settings is good.
Cons
Built-in batteries can't be swapped out.
Some settings are only accessible via the app.
5. Sennheiser XSW-D $319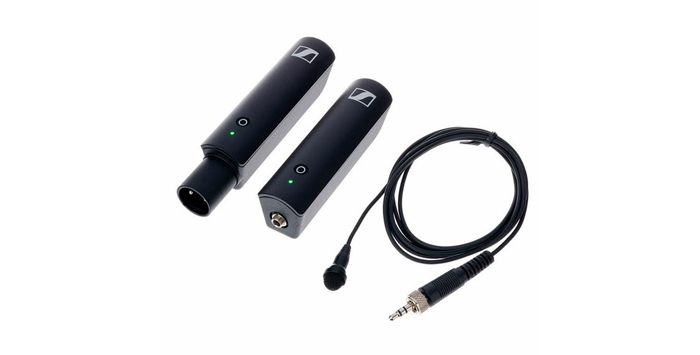 The Sennheiser name is synonymous with quality in the headphones market, but with the XSW they are now making their name in the microphone market as well.
The XSW-D comes with a hefty price tag but you are getting plenty for your money. Everything is plug-and-play, and you can begin recording with no fuss or trouble. And of all the lavalier lapel mics, this is one of the lightest but most durable.
The sound quality is crystal-clear, and Sennheiser is in a league of its own in terms of capturing quality audio. The device has 5 different channels so you can select whichever one you need to cut down on any potential background interference or background noise..
Or if you choose you can have five different mics connected to a single receiver (these can be connected but need to be switched between in use.)
Both the receiver and transmitter are extremely compact, especially compared to the budget devices on offer. You get five hours of battery life, and the device has an impressive range too.
Headphone jack
Audio latency is almost nothing, even without using the built-in 3.5mm headphone jack. There is also an XLR socket available if you wish to connect a wired device, so both connectors are available.
Functionality is accessed via a series of press durations, and an LED indicator lets you know your selection has been made.
Overall, the Sennheiser may not be cheap but you get what you pay for. If you want a simple, hassle-free recording microphone with the very best audio recording quality, the XSW-D is the one to go for.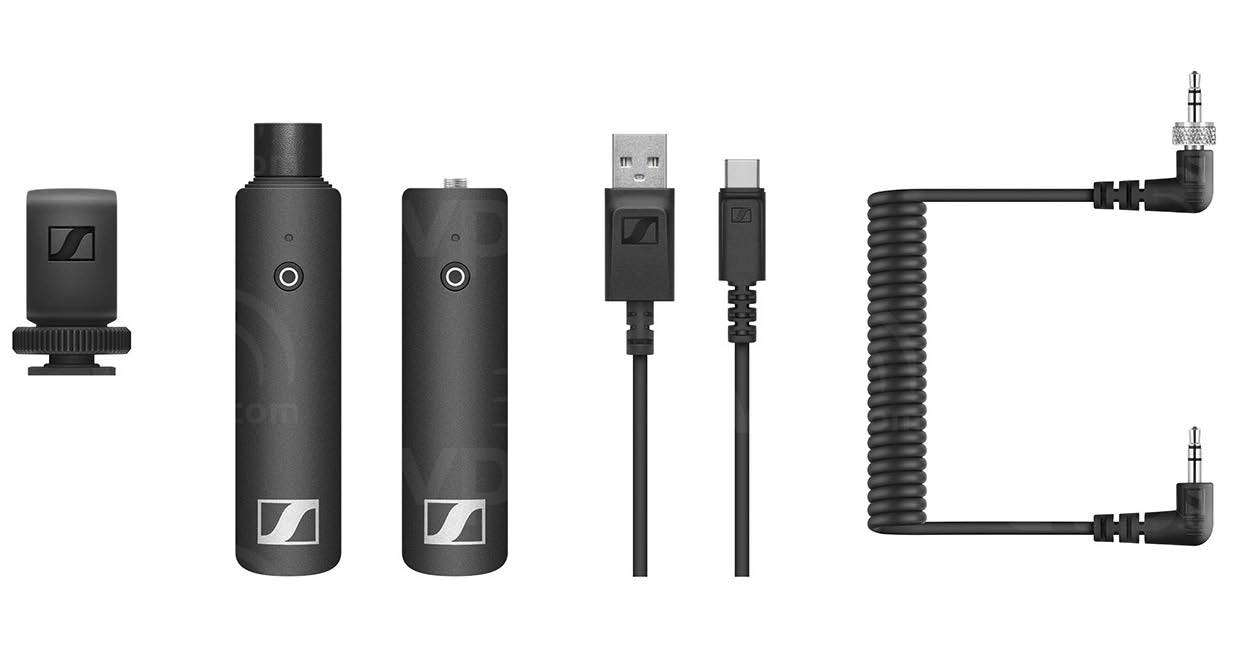 Stats
Frequency: 2.4 GHz
Dimensions: 4.02 x 0.94 x 1.1 inches
Weight: 1.04oz
Battery Life: 5 hours
Range: 250 ft
Pros
Unparalleled quality.
Light, quality mic.
Ability to pair up to five devices at once.
Simple turn-on-and-go use, easy for even beginners to get to grips with.
Compact, well-built, and reliable.
Cons
For $319, a lightning connector really isn't too much to ask for.
Expensive!
6. Comica CVM-WS50 $119.00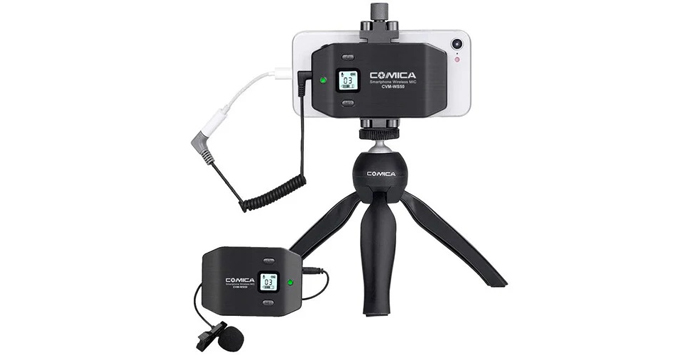 The Comic CVM-WS50 is unusual in when it comes to wireless lavalier microphones for iPhone that is actually designed to be used with smartphones, rather than being one that can also be used with smartphones.
The device has an excellent range on it of up to 197 feet (60 meters), which means you can stray far and wide from the receiver and still be sure you can record good audio as you need it.
There are six selectable channels so you can switch to avoid interference. The device has real-time sound monitoring, with zero latency.
Sets
The CVM-WS50 can be bought as either a single or double set. However, neither come with a 3.5mm headphone jack and cable, this needs to be purchased separately. Both come with a small LCD screen on the rear to allow access to the devices' functionality.
This can be further controlled with a series of buttons and slider controls, making accessing the different functions quick for when you need to rapidly adjust your recording style.
Overall the Comics CVM-WS50 is a little too expensive to call a budget lavalier microphone, but it still has plenty of great features, and sound quality is never compromised. Definitely worth a look if you need an iPhone microphone.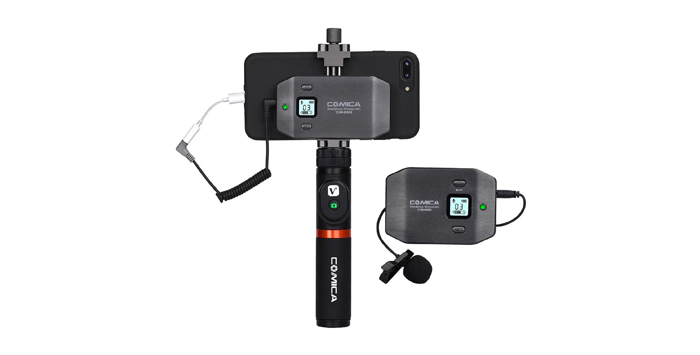 Stats
Frequency: 520 – 526 Mhz
Dimensions: 4.09 x 2.27 x 1.63
Weight: 4.41 oz
Battery Life: 8 hours
Range: 197 feet
Pros
The LCD screen is clear and simple.
Great quality audio quality for a reasonable price.
Amazing range, even when there are obstructions.
Comes with a solid metal smartphone holder.
Cons
Fairly no-frills considering it's not a budget buy.
Slightly larger mic than some.
7. Sarmasonic Blink500 B2 $199.99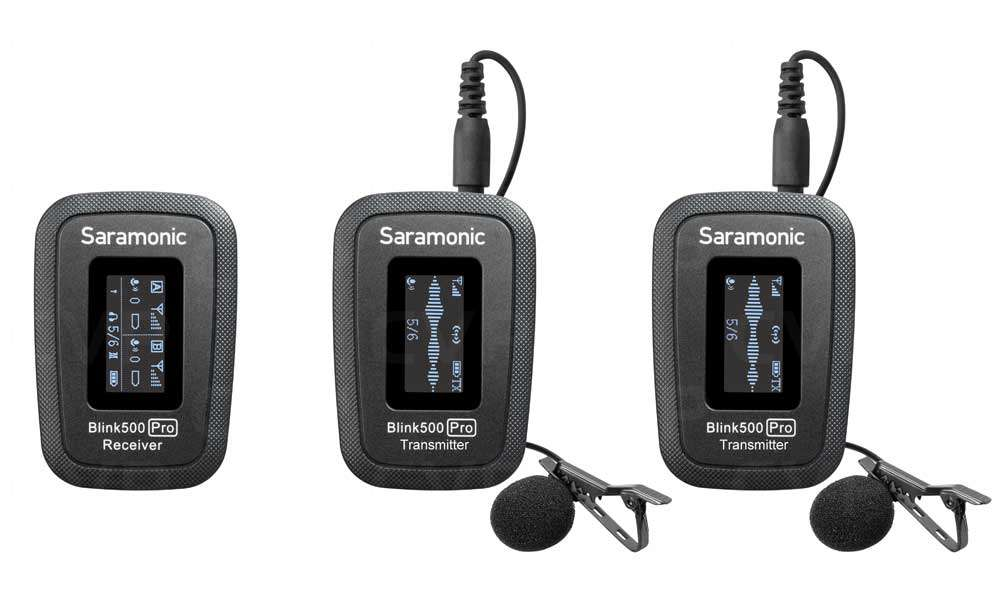 Straddling the line between fully-professional and budget-level price, the Sarmasonic Blink500 B2 is an excellent lavalier microphone for iPhone recording that would do any audio set-up proud.
This wireless system has an excellent range of 164 feet (50 meters) so roaming around won't cause any problems. The connection remains solid even when there are obstacles and the omnidirectional mic recording is dependable.
The device is incredibly light, so much so that it's easy to forget that it is even there. The audio quality doesn't suffer from being recorded by such a light device though, and the sound is clear and clean.
Built-in Mic
The transmitters also have a built-in mic, like the Rode, so you can press a button and begin recording immediately, without even needing to connect to your smartphone.
The built-in mic has a good sound quality, though as you would expect not quite as good as the dedicated lav microphone. Still, for speech or recording music it is competent. It is also a directional microphone.
The windproofing is also very good quality, and it is easy to record great audio quality even in strong winds so your audio recording remains noise free.
The Blink500 B2 represents a great investment. It's not cheap but the quality speaks for itself and this is a great wireless microphone kit. If you need an external mic, it's a sound investment.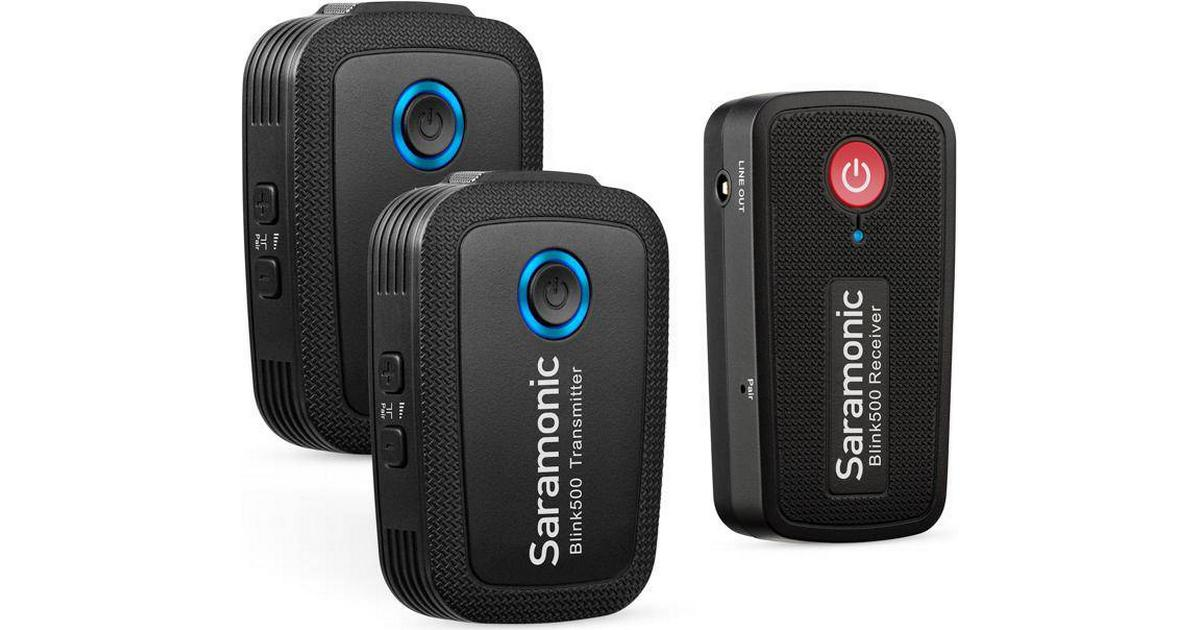 Stats
Frequency: 2.4GHz
Dimensions: 2.5 x 1.7 x .65" (63 x 43 x 16.5mm)
Weight: 1.2 oz
Battery Life: Approx. 5 hours
Range: 164 ft
Pros
Great wind-reduction.
Sound quality is broadcast-standard — it really is excellent.
Low latency when listening.
Built-in mic as well as a lavalier.
Cons
The wind reduction is only for the lavalier microphone – the built-in mic has none.
Plastic build means it's light but less durable than some.
How to Buy a Wireless Lavalier Microphone for iPhone: Best Tips and What to Pay Attention To
Frequency
Older lavalier mics will normally use a frequency somewhere in the megahertz (MHz) range.
Newer models will use 2.4Ghz, which is the same frequency as computer wireless. 2.4GHz will generally offer better quality sound and a more reliable signal.
However, that doesn't mean that older models should be written off — they can still produce excellent-quality sounds.
Connectors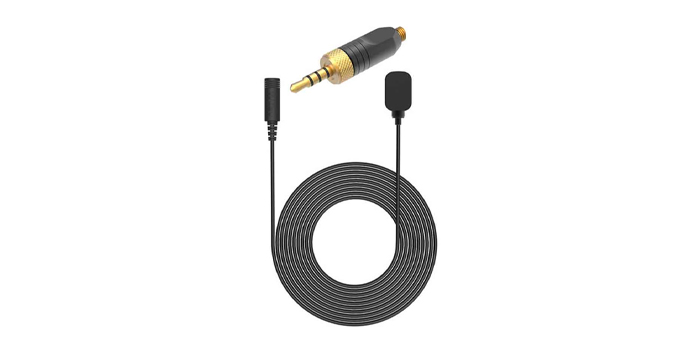 All mics will come with 3.5mm connectors. This is the standard for a headphone jack. However, only some will also ship with a lightning connector to attach the receiver to your iPhone.
This is frustrating, as the cost to manufacturers is very small. It's an oversight that manufacturers would do well to address.
However, if you buy a lavalier microphone to use as an external microphone, bear in mind you may need also to purchase additional 3.5mm-to-lightning connectors to connect the receiver to your iPhone.
TRRS Standard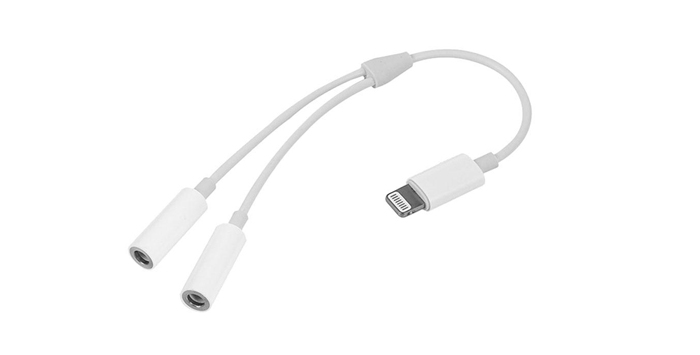 In addition, it is vital to ensure that your lavalier mic supports the TRRS connector standard.
A normal TRS connection will not be recognized by your iPhone. It requires a different TRRS standard, even if you have a 3.5mm-to-lightning adapter.
You can tell if your choice of lavalier mic supports the TRRS standard – it will probably say "iPhone compatible" or something similar.
However, if you have any doubts, please check with the manufacturer on their website.
Microphone Placement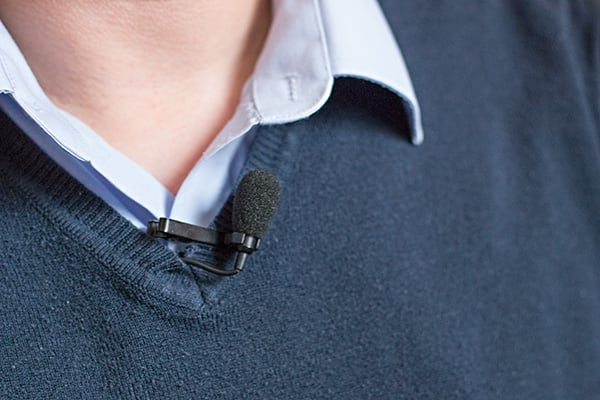 The best place to put a lav mic when attaching it is at the edge of a piece of clothing. This can be a tie, collar, or seam.
The important thing is that you want the lapel mic to touch against as little as possible so that the clothing doesn't create any adverse noise, and so that the mic doesn't touch the subject's skin.
You want to clip the mic approximately one foot away from the speaker.
Fortunately, even if you do pick up some rustle from clothing when recording, the CrumplePop Rustle Remover AI can help clean up any audio problems that might occur.
Conclusion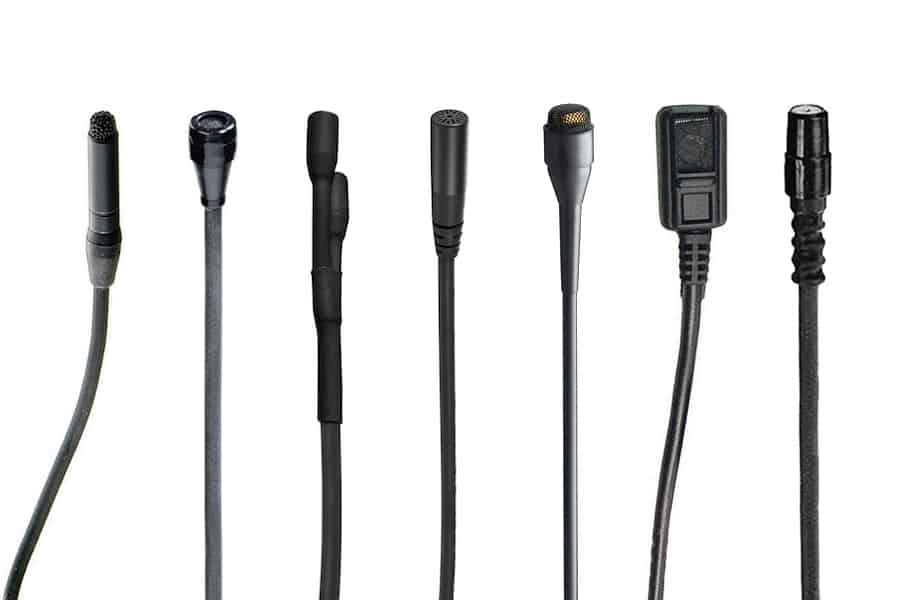 There is a wide range of lavalier mics available on the market. And when it comes to choosing a wireless microphone to upgrade from your iPhone microphone, buyers really are spoiled for choice.
Microphones range from cheap, practical entry-level devices, to professional-quality recording devices. They can be wired, wireless or Bluetooth microphones – they will all work, though wireless lavalier microphone will mean no cable clutter.
However, what they all have in common is a big improvement over iPhone microphones – you really can hear the difference.
Now all you need to do is find the perfect subject to record, then just plug in and go!