What is the Best Microphone for iPhone in 2022: Improve your audio recordings with the best microphones
---
With every new iPhone rollout, there are video and image quality improvements, but not so much with the microphone for iPhone. Anyone trying to record audio for video or just audio period will find the built-in microphone for iPhone inadequate for professional or even semi-professional use. It picks up operational and handling sounds that have poor coverage and offers no wind or noise protection whatsoever.
Smartphones operate with a very restricted frequency range, around 300Hz to 3.4kHz. As a result, they use very low bit rates. In addition, the built-in microphone for iPhone may be faulty, and you may find yourself needing a quick, superior fix. If you're trying to create content, conduct an interview, record a voice-over, or just feel the need for better audio, you'll need much better external microphones.
Why Should I Use an External Mic?
Using a microphone alongside a phone may seem weird or crude if you're not typically tech-savvy, but it can significantly improve your audio. But anyone familiar with the Apple ecosystem knows that compatibility with non-Apple products can be a headache.
Here is the Smartphone Video Production guide for you – Smartphone Video Production: iPhone 13 v Samsung s21 v Pixel 6
This is made worse by Apple's refusal to switch to the universal USB-C or keep a headphone jack. So any brand of devices that connect with iPhones and other Apple products needs to work around that by building a Lightning connection or attaching to an adapter that can simulate that.
Adapters, however, are a bit clumsy. In addition, wires and extra contraptions can dissuade users from using microphones, opting to make do with the built-in microphone for iPhone instead.
Therefore, once you've decided to get an external microphone, you're likely to find a narrow but competitive product market. However, we've got you covered if you are looking for the best iPhone microphone for your setup but are unsure about which brand to get. In this article, we discuss some of the best external microphones for iPhone users today.
Six of the Best External Microphones for iPhone
Rode VideoMic Me-L
Shure MV88
Zoom iQ7
Comica Audio CVM-VS09
Movo VRX10
PALOVUE iMic Portable Microphone
Rode VideoMic Me-L
$79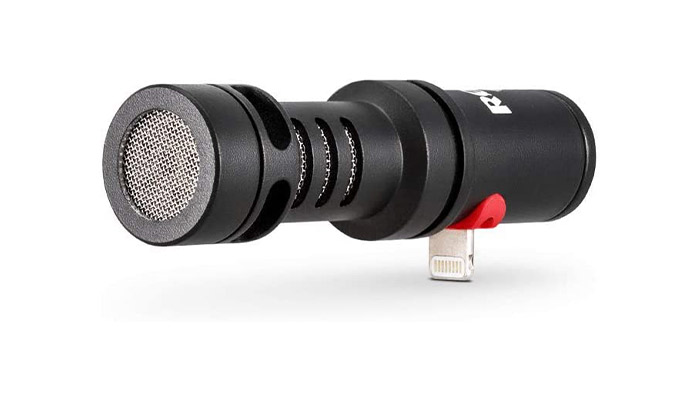 Usability
The Rode VideoMic Me-L is a shotgun-style mic that can plug directly into iOS devices through a lightning port (the L in Me-L stands for Lightning.) The microphone uses its connection point as a mount. In addition, it features a cardioid capture pattern, which focuses on capturing directly in front of the capsule to ensure intelligible and clear audio.
While crafted for iPhone and iPad use, the mic offers a 3.5mm TRS jack that can be used for backup analog recording but is mainly used for direct monitoring while recording with an iOS device. This is useful as you're giving up your lighting port for the input and power supply, so there's no other way to monitor what you're capturing in real-time.
Build
Its minimalist design and plug-and-play form factor make it ideal for mobile iOS recording. In addition, the audio quality is superb and used for studio-grade recording. Although targeted at podcasters, YouTubers, and movie filmmakers shooting on an iPhone, this Rode microphone is compatible with all Apple iOS devices operating on iOS 11 or higher.
It possesses a solid build quality with a durable, gaunt chassis that's resistant to scratching. Moreover, the iPhone or iPad powers the device, so no additional batteries are required.
It also features a huge windscreen, also known as a dead cat. It works very well at quelling wind, so if you are in a quiet environment, you can get away with using it from several meters away. However, it is rather inconspicuous and receives a lot of attention. In addition, the size makes it difficult to film with, and there's no chance of using it discreetly.
Speciality
The microphone's Lightning connector is relatively short, so you'll have to remove your phone cover or risk the microphone randomly disconnecting from your iPhone.
This Rode mic offers crisp recordings that rank highly among the best of its class. It works seamlessly with the Rode app and provides a frequency response of up to 48kHz. Its background noise cancellation is also elite.
Rode VideoMic Me-L Specs
Form Factor – Mobile Mic / Shotgun Mic
Sound Field – Mono
Operating Principle – Pressure Gradient
Capsule – Electret Condenser
Polar Pattern – Cardioid
Frequency Range – 20 Hz to 20 kHz
Signal-to-Noise Ratio – 74.5 dB
Output Connector (Analog) – 3.5 mm TRS
Output Connector (Digital) – Lightning
Headphone Connector –  3.5 mm
Shure MV88
$149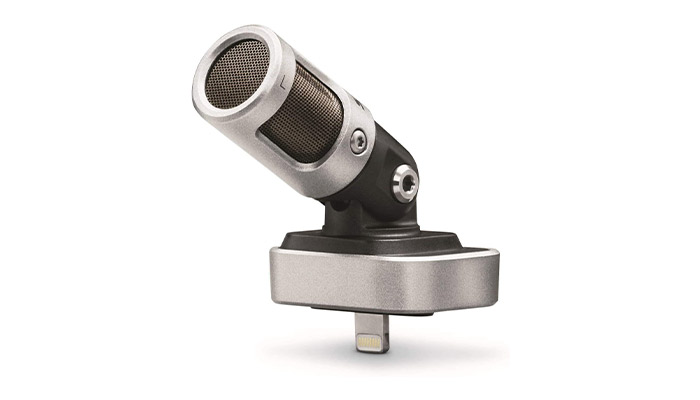 Usability
The Shure MV88 microphone records crisp, clear recordings in 48 kHz/24-bit, making it suitable for near-professional use.
This plug-and-play mic is powered by your iOS device and can capture in either cardioid mode or bidirectional mode. Cardioid is best for recording from a singular direction. Bidirectional works when you want to record from different directions.
You can also utilize both the cardioid and bidirectional mono capsules together if you want to. You'll get a natural stereo-sounding outcome since they are configured in an M/S orientation.
Build
Just like the Rode VideoMic Me L, there's a mismatch between the Lightning connector length and the Lightning port, so you'll likely have to remove the case from your phone or tablet like with the Rode for the mic to connect correctly.
Speciality
It comes with a handy windscreen for filming in the wind or around noise. It works perfectly with the Shure Motiv app, allowing you to control digital signal processing, bit rate, sampling rate, mode switching, and many other things. This can help reduce the amount of processing you may have to do afterward.
It does not come with a headphone jack (the MV88 was released after Apple got rid of the headphone jack), but you can use Bluetooth headphones to monitor while recording. In addition, the MV88 delivers clear, dynamic sound and can handle up to 120 dB without distorting.
The MV88 might be a latecomer to the iPhone microphone market, but its dynamism, flexible recording options, and solid performance should carve it a spot. If you want to record via your iPhone while on the go, you'll get significantly better audio quality by opting for the Shure MV88.
Shure MV88 Specs
Form Factor – Mobile Mic
Sound Field – Mono, Stereo
Capsule – Condenser
Frequency Range – 20 Hz to 20 kHz
Output Connectors (Digital) –  Lightning
Headphone Connector – None
Zoom iQ7
99$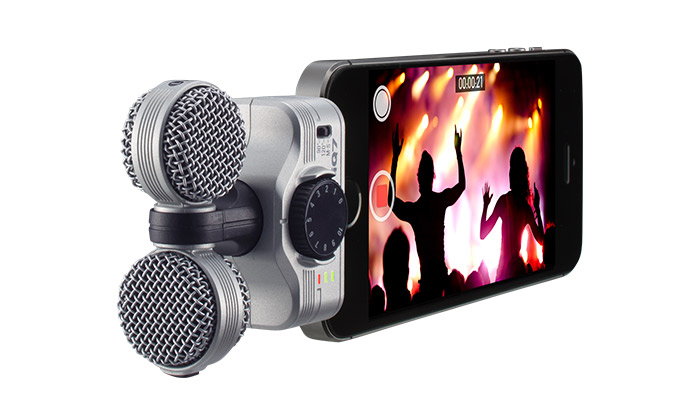 Usability
A longtime stakeholder in the microphone market, Zoom has stepped up from the iQ5 and iQ6 with their – zoom iq7 ms stereo microphone. The iQ7 is unique to both by being a stereo condenser mic. This means that it can receive audio signals from multiple channels giving your recordings the sensation of width.
This is achieved through the microphone's design, where two mics sit at opposite angles. One microphone captures the signal in front of it, and the other captures left, and right sounds. It also offers a slider to adjust how "wide" you want the resulting sound to feel.
Build
This is a lightweight and compact microphone for iPhone. Unfortunately, this comes at a cost to the device's build quality, as the entire mic is made of plastic. Even the capsule is made of plastic.
It doesn't have the phone case problem other microphones seem to have. Instead, a small removable spacer around the port can help adjust how the device fits.
It comes with a small removable windscreen, much smaller than the VideoMic's dead cat. It offers neat left-channel and right-channel recording, although there may be significant overlap due to the small distance between the microphones.
Speciality
The iQ7 records excellent quality audio. You can also switch to mono recordings with no hassle, making them appealing to people who demand mono compatibility for their stereo recordings. The mics are arranged in a rotating capsule.
This allows you to toggle the orientation for the best stereo recording. This mode switching adds a layer of complexity that may be undesired, but it offers flexibility and dynamism in the long run.
You can use the iQ7 alongside Zoom's companion iOS app, Handy Recorder. This allows you to record, edit, and share audio files. Here you can also decide what format you want to record in, from an uncompressed WAV to AAC formats from 64 to 170kbps. Handy Recorder also labels each recording by their format for easy identification.
This mic doesn't offer RFI protection, which blocks interfering electromagnetic waves. Unfortunately, this means you can't use this mic with recording apps requiring Wi-Fi or Bluetooth connectivity. You'll get lots of clicks and pops while recording if you do.
With the iQ7, you can be sure that your audio will be better than your iPhone's built-in mic. If you're looking for a quick and easy way to get more professional, clear audio out of your iPhone, the iQ7 is a great choice.
Zoom iQ7 Specs
Form Factor – Mobile Device Mic
Sound Field – Stereo
Capsule – 2 x Condenser
Polar Pattern – Cardioid
Output Connectors (Analog) – None
Output Connectors (Digital) – Lightning
Headphone Connector – 3.5 mm
MOVU VRX10
$50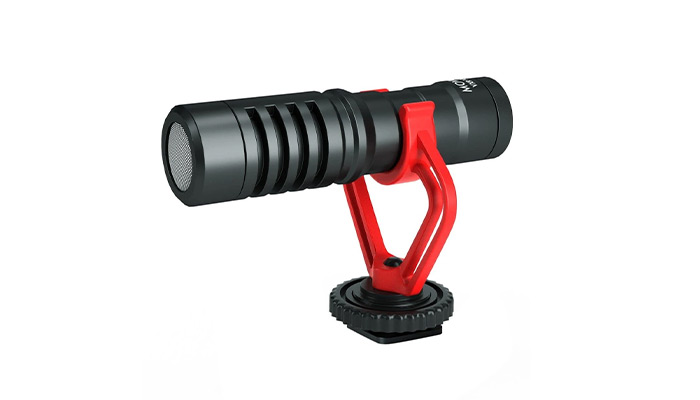 Usability
The VXR10 is a small, durable, and lightweight microphone for iPhone that can be used in perfect sync with cameras or smartphones. It comes with a sturdy shock mount, a furry windscreen, and both TRS and TRRS output cables that work with pretty much everything from desktop computers and android phones to iPhones. In addition, it doesn't use batteries, so all you have to do is mount the camera on your device and plug it in.
The VRX10 is a super-cardioid shotgun-style mic, giving you a polar pattern that is better suited for iPhone recording. In addition, it can accommodate a 35 Hz to 18 kHz frequency response, which is good enough for all kinds of media.
Build
The VXR10 Pro doesn't come with a lightning cable. It connects fine with iPhones; rest assured. But it requires the user to buy additional hardware.
The shock mount is great for sticking the VXR10 Pro on a camera. Unfortunately, it makes it pretty much impossible to use for anything else, even holding it in your hand or resting it on a table. If you want to use the VXR10 Pro without a camera, you'll likely need to purchase a different microphone stand or shock mount.
Speciality
The VXR10 Pro doesn't seem to have any noise filters, meaning recordings are filled with background noise. This isn't an issue if you are a reporter and just need a quick clip to transcribe. However, if you are creating a podcast, video, or another project, you might run into some issues.
That said, for $50, the VXR10 Pro is versatile enough and offers a high enough quality recording to be very useful for those who need to get basic sound clips without wanting to lug around any bulky equipment.
MOVU VRX10 Specs
Form Factor – Mobile Device Mic
Sound Field – Mono
Capsule – Electret
Polar Pattern – Cardioid
Output Connector – Lightning
Headphone Connector – 3.5 mm
PALOVUE iMic Portable Microphone
$99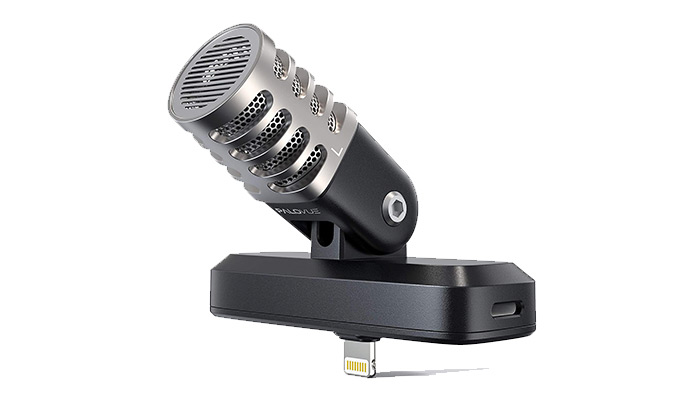 Usability
It is a tiny omnidirectional Lightning-compatible microphone with noise cancellation. It is a condenser-type microphone that records crystal clear sound of far superior quality than the in-built iPhone microphone.
Build
The iMic features an all-metal body and flexible head that you can rotate up 90 degrees towards and away from you. It comes with an app you can use to adjust microphone settings. It cannot directly control the start and end of the recording, but you can adjust the gain, EQ, and volume.
You can also toggle a tab to mute or unmute the microphone. You can use the mic without the app, but it is best alongside it.
The microphone comes with a windscreen that reduces the occurrence of wind, breath sounds, and noise interference and also keeps the metal frame of the microphone clean, sanitary, and moisture-free.
Speciality
It comprises two microphone charcoal boxes arranged in a mid-side configuration, and it provides adjustable stereo sound suitable for capturing audio from various sources.
The iMic has an integrated 3.5mm headphone jack with which you can monitor your audio with a wired headphone. It measures only 2.6 by 2.4 inches, perfectly accentuating its plug-and-play design. In addition, it comes with two lithium-polymer batteries that charge even while recording (it has two jacks on the left and right ends, one for charging and the other for  monitoring.)
The PALOVUE iMic Portable delivers high-quality sound, perfect for recording audio for podcasts, YouTube videos, and more.
PALOVUE iMic Specs
Form Factor – Mobile Device Mic
Sound Field – Mono
Capsule – Condenser
Polar Pattern – Omnidirectional
Output Connector – Lightning
Headphone Connector – 3.5 mm
Comica CVM-VS09
$35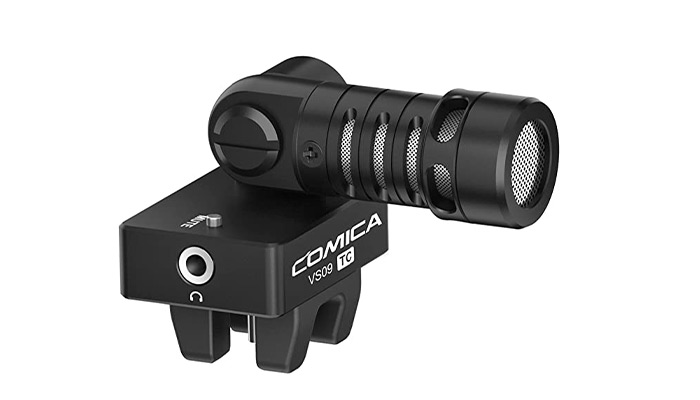 Usability
The Comica CVM-VS09 MI is a condenser microphone designed for recording audio with smartphones. You can tilt the cardioid condenser capsule microphone up to 180 degrees with a rubber clamp which can help keep the unit secure from constant disconnection. It is a compact microphone specially designed to be mounted on an iPhone or an iPad by plugging it directly into the Lightning port of these devices.
It provides a significant sonic improvement to audio and video recordings, especially compared to your iPhone's built-in microphone. In addition, with its 3.5mm TRS headphone port, it can provide real-time audio monitoring and allows you to make adjustments on the go.
Build
The Comica CVM-VS09 mic is made of 100% aluminum, which provides an excellent anti-interference effect and ensures a stable recording environment. This makes it perfect for interviews and other purposes that demand uninterrupted audio or speech.
It features a mute button that enables you to mute the mic, ensuring that you only hear the audio you've just captured when reviewing your footage. It also comes with a dense foam windscreen that protects against wind noise when recording outdoors.
Speciality
You can rotate the rotary microphone 180 degrees to match different usage scenarios and angles, meeting the diverse needs of the users. This, alongside its alloy build, makes this microphone for iPhone ideal for vloggers, podcasters, and work from home video conferencing.
Comica CVM-VS09 Specs
Form Factor – Camera-Mount
Sound Field – Mono
Capsule – Electret Condenser
Polar Pattern – Cardioid
Frequency Range – 60 Hz to 20 kHz
Signal-to-Noise Ratio – 70 dB
Output Connectors (Digital) – USB Type-C
Headphone Connector –  3.5 mm
Moving Beyond the Headphone Jack: Finding High-Quality Audio for iOS Devices
If you want to increase the standard of your work, you might want to start with the audio. Getting external mics for your iPhone will definitely add that extra bit of dynamism to your iPhone footage and is a no-brainer for those who wish to record consistently.
These are some of the best external microphones in terms of subjective quality. They are top of the line and will suffice for all your audio needs. Choosing the best microphone for iPhone is still hard, though, so we've made it easier. Above, we discussed six different external microphones. Whichever brand you decide on ultimately depends on your budget as well as your personal and professional leanings.