Adobe Audition vs Audacity: Which DAW Should I Use?
---

Both Adobe Audition and Audacity are powerful and well-known digital audio workstations (DAWs).
Audacity and Adobe Audition are used for creating sound recordings and audio editing. They are audio editing tools and can be used on sound production, most commonly music. One of the main differences between these two is the cost. While Audition requires a subscription, Audacity is a free, open-source product.
In this article, we will be doing a side-by-side comparison of two of the most popular on the market to see which is best: Adobe Audition vs Audacity. Let's go!
Adobe Audition vs Audacity: Quick comparison table
| | Adobe Audition | Audacity |
| --- | --- | --- |
| Price | $20.99 annual / $31.49 monthly | Free |
| Operating System | macOS, Windows | macOS, Windows, Linux |
| License | Licensed | Open Source |
| Skill Level | Advanced | Beginner |
| Interface | Complex, detailed | Simple, intuitive |
| Plugins Supported | VST, VST3, AU(Mac) | VST, VST3, AU(Mac) |
| VST Instrument Support | No | No |
| System resource required | Heavy | Light |
| Video Editing Support | Yes | No |
| Record Multiple Sources at The Same | Yes | No |
Adobe Audition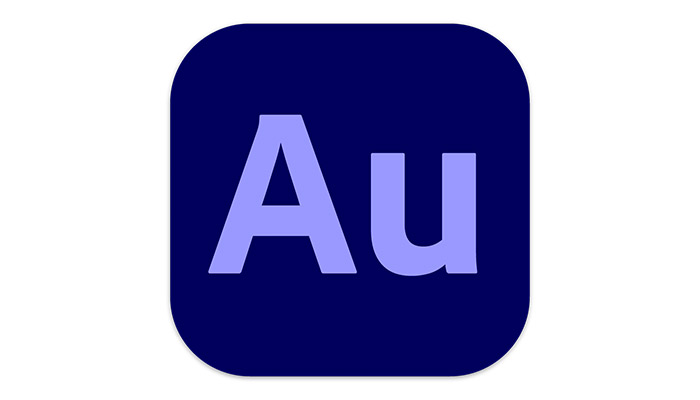 Introduction
Audition is a professional-level DAW from Adobe, and has been around since 2003. It is widely used as a professional, industry-standard piece of software.
Quick Overview
Adobe Audition is free for a 14-day trial period, after which there is a monthly subscription of $20.99 on an annual plan, or $31.49 on a monthly plan (which can be canceled at any time.)
The software is part of Adobe's Creative Cloud platform and can be downloaded from their website. Audition is available for Windows 10 or later, and for macOS 10.15 or later.
Interface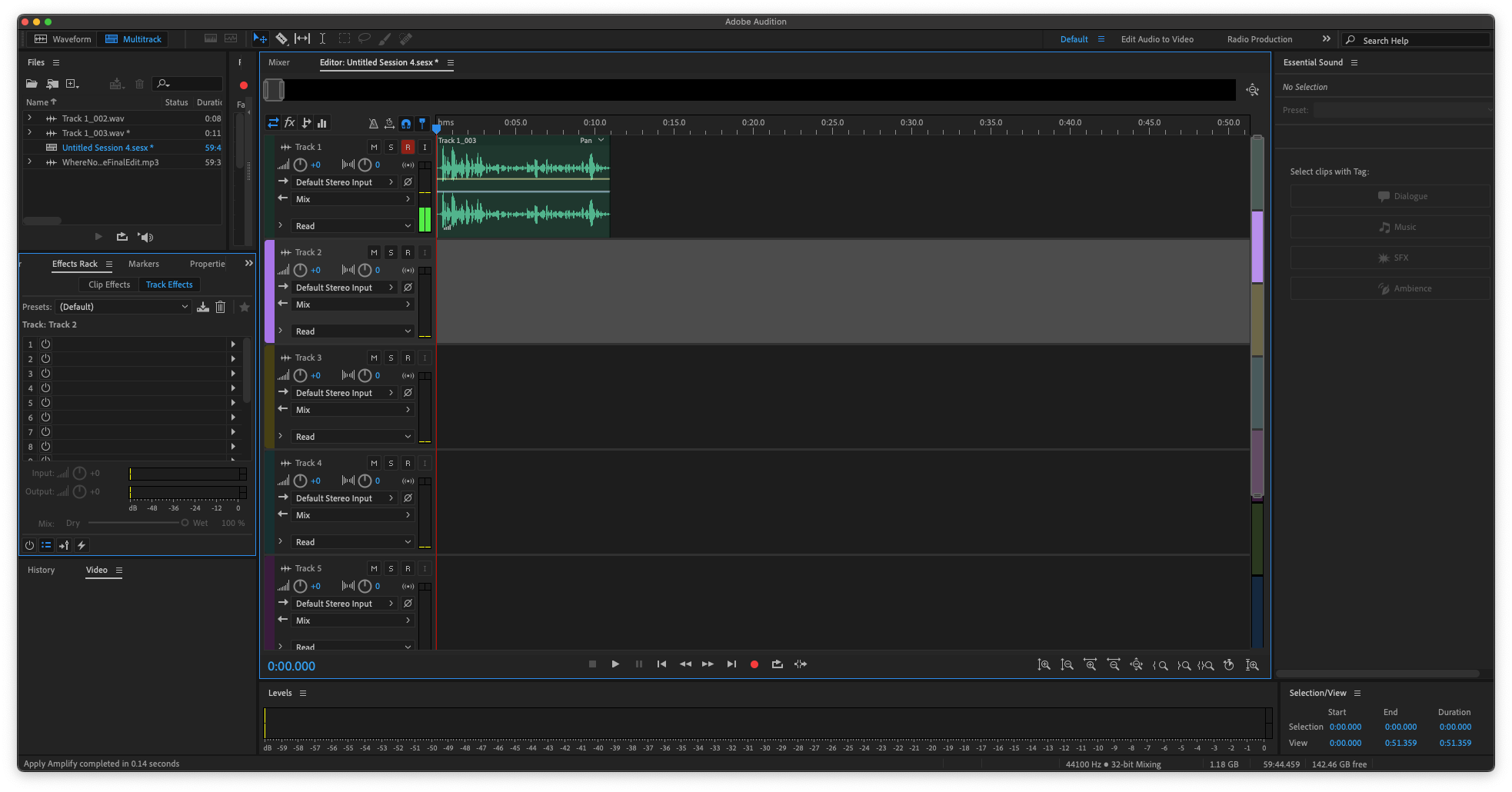 As you would expect from professional software, the user interface is detailed, technical, and contains a lot of features.
Effects racks and file information are held on the left-hand side, while on the right there are the Essential Sound options alongside track duration information.
The audio track or tracks are in the middle and come with a raft of controls next to them. You can also customize the interface easily to suit individual needs.
The interface is modern, dynamic, and has a lot of control. There's no doubt that the options immediately available are impressive, and accurately reflect the quality of the software.
But for a newcomer, that means there's a lot to learn, and little about the interface which feels instinctive.
Ease Of Use
Adobe Audition is definitely not the easiest software to use.
Even recording the simplest of tracks can take effort. Input hardware has to be selected, the correct recording mode (waveform or multitrack) needs to be chosen, and if you are in multitrack mode, the track itself needs to be armed.
Effects can also take some time to master, and the process is again not instinctive.
While learning these basics can be done after a few attempts, it's certainly not a simple click-and-record solution.
Multitracking
Adobe Audition has a powerful multitrack option.
It can record numerous different inputs from a variety of different instruments and multiple microphones simultaneously via the options next to each track.
The multitrack options also make it easy to blend together various pre-recorded tracks from multiple files, such as podcast hosts who have been recorded separately.
When files are imported, they are not automatically added to the waveform editor for audio editing. Rather, they appear in the Files section, then have to be added.
However, Audition does not default to multitrack mode. It starts with Waveform mode, which works on only one track. The Multitrack function must be selected for it to work.
There is a lot of detail with Audition's Multitracking function. While it takes a little time to learn, it's incredibly powerful and flexible.
Mixing and Audio Editing
Mixing and editing an audio file is one of the core functions of any DAW, and Adobe Audition is a very strong contender here, in conjunction with its Multitracking.
Adobe Audition has a number of tools that allow for sound editing. Splitting tracks, moving them, and being able to arrange things any way you want is straightforward.
The Automation tools — which allow effects to be automatically applied — are simple and easy to understand.
Audition supports destructive and non-destructive editing. Destructive editing makes a permanent change to your audio file and non-destructive means the change can be easily reversed.
This makes it simple to keep track of any adjustments you make and revert them if you decide you don't need them or made a mistake.
Effects Options
Adobe Audition comes with a plethora of effects options. These are high-quality and can make a substantial difference to any track. Standard effects such as normalization, noise reduction, and EQing are all excellent, with fine control and detail available.
There are also plenty of preset options so you can get started straight away.
Adobe Audition has a range of tools for audio restoration which are industry-standard and some of the best available in any software. These include the powerful adaptive noise reduction tool, which works well when restoring audio on video.
The Favorites option is also worth mentioning. This allows you to run macros for commonly-repeated tasks you need to undertake. Just set up the macro and your tasks will be easily automated.
There is also the option to Master in Audition, so once your track has been edited you can make any final adjustments to ensure that it sounds as good as possible.
If you want to expand the range of effects available, Adobe Audition supports VST, VST3, and, on Macs, AU plugins.
Overall, the range and control of effects in Adobe Audition are extremely powerful.
Exporting Audio Files
Audition exports multitrack files as sessions. These preserve the track layouts, effects, and changes you have made so your work can be returned in the future.
If you are exporting your final track to a single file, Adobe Audition has more than twenty options for different file formats. These include lossy formats, such as MP3 (using the powerful Fraunhofer encoder), and lossless, such as OGG and WAV. You can also export directly to Adobe Premiere Pro for video editing, as well as other Adobe apps.
Pros:
Extremely powerful.
Flexible and configurable.
Excellent range of built-in effects with fine control.
Audio restoration functions are brilliant.
Native integration with Adobe's other software.
Cons:
Expensive.
Steep learning curve for newcomers.
Heavy on system resources — it requires a lot of processing power or it will run very slowly.
No MIDI support. While you can edit and record musical instruments in Audition, it does not natively support MIDI instrumentation.
Audacity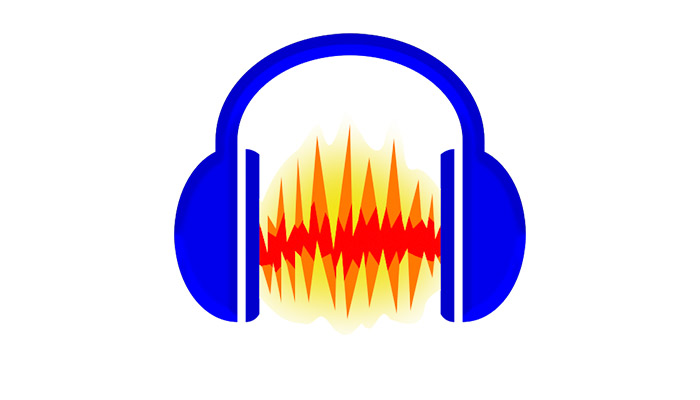 Introduction
Audacity is a venerable DAW, having been around since the year 2000. It has developed into a sophisticated piece of software and has become instantly recognizable.
Quick Overview
Audacity has one advantage over all other major pieces of audio software — it's completely free. Simply download Audacity from their website and you're good to go.
Audacity is available for Windows 10, macOS (OSX and later), and Linux.
Interface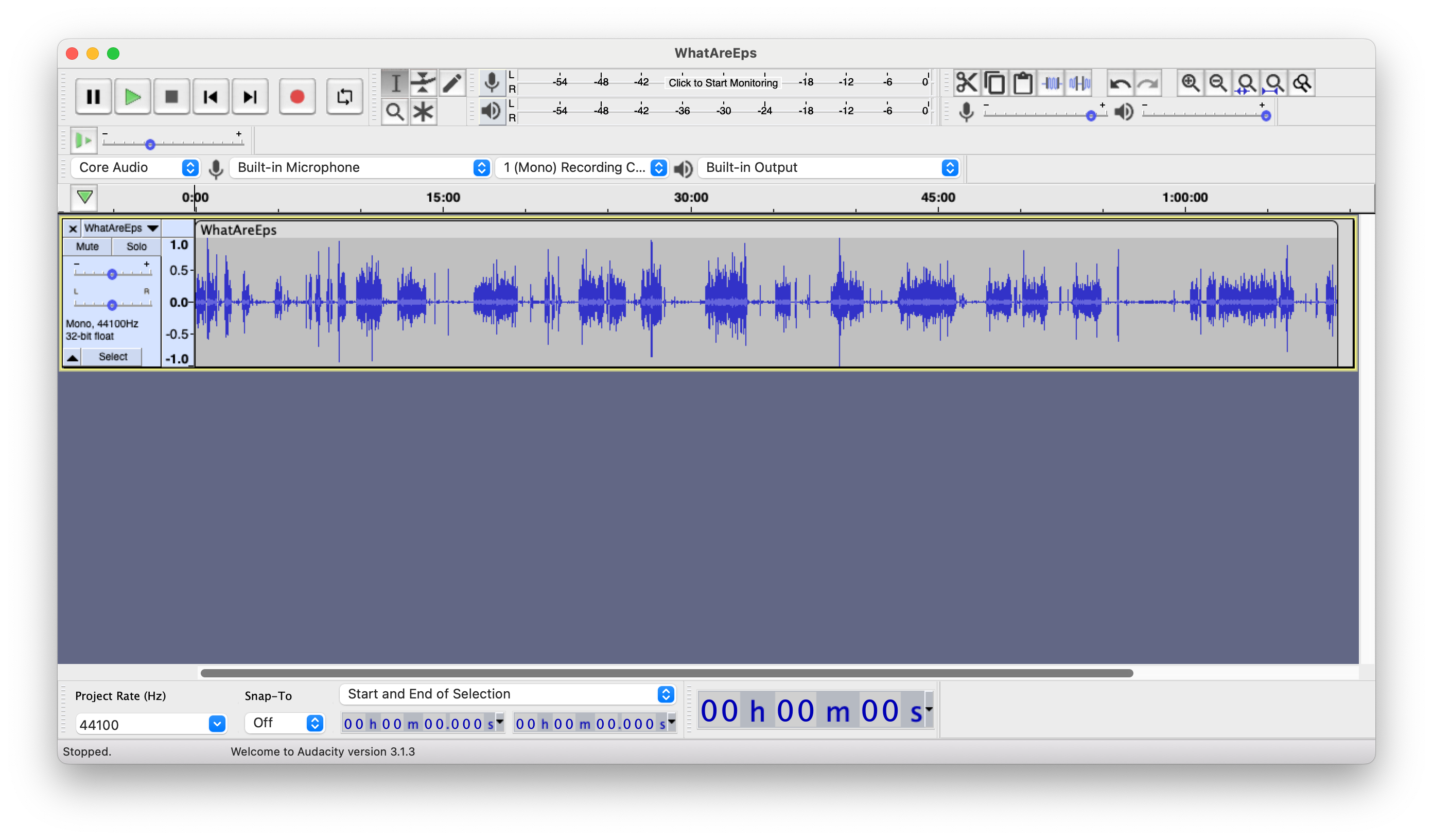 Audacity has a very old-fashioned-looking user interface. Much of the layout feels like it comes from another era — because it does.
Controls are large and chunky, the amount of on-screen information is limited, and the layout has a certain basic approach to it.
However, it is also bright, friendly, and welcoming. This makes it easy for newcomers to get to grips with, and beginners won't be overwhelmed with too many options.
That approachability makes Audacity a great entry point for people setting out on their DAW journey.
Ease Of Use
Audacity makes it extremely easy to start recording sound. You can select your input device from the drop-down menu in the control area, select mono or stereo (mono is always better if you are just recording a spoken voice), and hit the big red Record button.
And that's it! Audacity makes it very simple to get underway and even a beginner can start recording audio tracks in no time at all.
Other functionalities, such as Gain and Panning are easy to access to the left of the Waveform display, and a few, clear controls are represented by large, easy-to-understand icons.
Overall, Audacity makes getting your first recording underway as trouble-free as possible.
Multitracking
Audacity works in Multitrack mode when you import audio files into the software and does so by default. This makes importing pre-existing files for editing very simple.
When you start and stop recording live audio, Audacity will automatically create separate sections, which can easily be dragged and dropped on the same track or over to different tracks.
Recording with multiple sources, such as different podcast hosts, is challenging to do in Audacity. Overall the process is clumsy and difficult to manage, and Audacity is better suited to recording a single source or solo podcaster.
Mixing And Audio Editing
It's pretty easy to start using Audacity's editing tools.
You can drag and drop sections where you need them to be. Cutting and pasting is intuitive and getting to grips with the fundamentals of editing can be done in no time at all.
It is also straightforward to mix audio, and simple gain controls allow easy control of the playback volumes on each track. You can also consolidate tracks if you have a large number so you don't get confused or use up too many system resources.
However, Audacity does not support non-destructive editing. That means when you make a change to your track, it is permanent. There is an Undo feature, but it is a primitive one-step-back approach and does not let you view your editing history.
Effects Options
For a free piece of software, Audacity has a remarkable range of effects options. All the basics are covered, with EQing, Normalization, and noise reduction all effective and simple to use. However, there are also plenty of extra effects available, including reverb, echo, and wah-wah.
Audacity also comes with an extremely effective Noise Reduction tool, which helps get rid of any background noise that might accidentally have been picked up.
It also has a very useful Repeat Last Effect setting so you can apply the same effect to multiple different parts of your recording instead of having to navigate through a lot of menus every time.
Audacity supports VST, VST3, and, on Macs, AU for additional plugins.
Exporting Audio Files
Multitrack files are exported as an Audacity project file. As with Audition sessions, these preserve the track layouts, effects, and changes you have made. Sessions and projects are essentially the same thing, just named differently in each piece of software.
Audacity supports both lossy (MP3, using the so-so LAME encoder) and lossless (FLAC, WAV) formats when exporting to a single track.
The most common file types are all supported, and bit rates can be selected depending on the quality and size of the file required. The quality is even given handy, friendly names for newcomers so it's clear what option you are getting. These are Medium, Standard, Extreme and Insane.
Pros:
It's free!
Clean, uncluttered interface makes it simple to get started with.
Very easy to learn.
Fast, and very light on system resources — you don't need a powerful computer to run it.
Amazing range of effects for free software.
Fantastic beginner's option for learning audio editing and mixing.
Cons:
Old design looks clunky and clumsy next to slicker, paid software.
Limited support for recording multiple sources.
Lacks support for non-destructive editing.
Can't record MIDI, though can import and play MIDI files.
Audio only — no video editing options.
Final Words
At the end of the day, Adobe Audition and Audacity are very much two sides of the same coin.
Adobe Audition is certainly more powerful and has a range of options, controls, and effects that are clearly fantastic at what they do. However, an Audition also comes with a hefty price tag and requires real effort to learn and develop skills.
Audacity is, for a free piece of software, remarkably powerful. For all the features Audition has, Audacity is very nearly able to keep pace with the more professional, paid end of the spectrum. It is also very simple to use, and even a novice can get recording and editing in no time at all.
Ultimately, which DAW you choose will depend on your needs and budget – Adobe Audition vs Audacity has no simple winner. If you require something cheap and cheerful to get started with, then Audacity is a perfect choice. If you require something more professional and have the budget for it, then you can't go wrong with Audition.
Whichever you select, though, you will end up with an excellent DAW. Now the only thing stopping you is your imagination!
You may also like: