Audacity vs GarageBand: Which Free DAW Should I Use?
---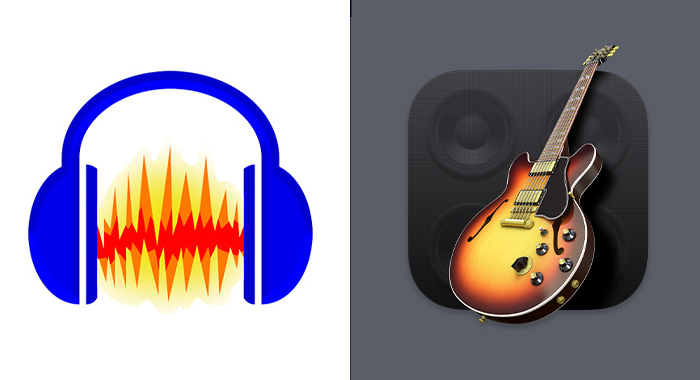 Choosing a Digital Audio Workstation is one of those decisions that have a lasting impact on your workflow and music career. There are plenty of options out there; for beginners, it might be confusing and expensive to try to get professional software, so the best bet is to start with software that's more available and ready to start.
Today, I'll talk about two of the most popular DAWs available for free that can deliver professional sound quality: Audacity vs GarageBand.
I'm going to delve into these two DAWs and highlight the best features of each one of them. In the end, I'll compare them and go through the pros and cons of Audacity and GarageBand, answering the question that's probably in your mind right now: which one is better?
Let the battle "Audacity vs GarageBand" begin!
About Audacity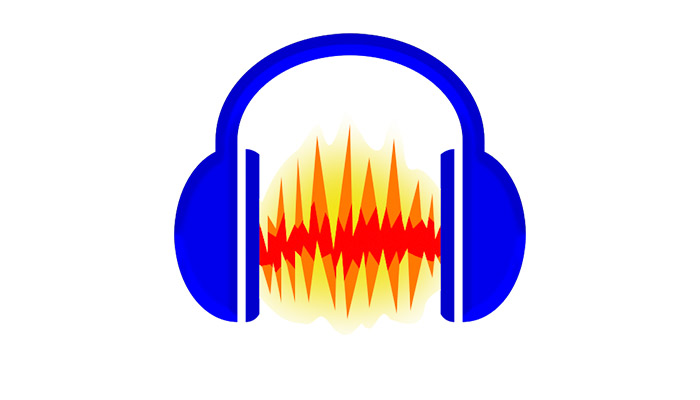 First, let's start with the basics. What is Audacity? and what can I do with it?
Audacity is a free, professional audio editing suite for Windows, macOS, and GNU/Linux. Although it has a plain and, quite frankly, unattractive interface, YOU SHOULDN'T judge this POWERFUL DAW by its looks!
Audacity is not acclaimed just for being free and open-source; it has plenty of intuitive features that can enhance your music or podcast in no time.
Audacity is a music production software ideal for audio recording and editing. From the moment you launch it, you'll see how simple it is to start recording. Once you select the right microphone or input device, you're ready to hit the red button and start recording your music or show.
Saving your audio files in various file formats couldn't be easier: just save your multiple tracks and export them (you can even export true AIFF files), choose the format and where you want to save your audio files, and voilà!
Though I've used many DAWs over the years, Audacity is still my favorite option for quick recordings and podcast editing: the minimalist approach, design, and free audio editing suites make it the ideal choice for those looking to record audio sketches or edit audio quickly and efficiently.
If you just started making music, Audacity is the music production software that will help you master the basics of audio production before moving to high-end software.
Why people choose Audacity
Audacity might look like a second-rate DAW due to its basic design, but it is a powerful tool for editing any audio track. Here are the most common reasons why people choose to work with Audacity.
It's Free
There isn't much free good-quality software you can rely on, but Audacity performs magnificently. Over the last 20 years, Audacity has helped thousands of independent artists learn the basics of music production and has been downloaded over 200 million times since its release in May 2000.
As you would expect with an open-source program, Audacity's online community is very active and helpful: you can find many tutorials on how to mix the entire track and turn it into a song ready for publication.
Cross-platform
Installing Audacity across different operating systems provides the flexibility many music producers need these days. Did your PC break down? You can still work on your project with a MacBook or Linux computer. Just remember to have a backup of all your projects!
Lightweight
Audacity is lightweight, fast and effortlessly runs on older or slower computers. Below you'll find the requirements and notice their specs are minimal compared to other heavier DAWs.
Windows Requirements
Windows 10 /11 32- or 64-bits system.
Recommended: 4GB RAM and 2.5GHz processor.
Minimum: 2GB RAM and 1GHz processor.
Mac Requirements
MacOS 11 Big Sur, 10.15 Catalina, 10.14 Mojave and 10.13 High Sierra.
Minimum: 2GB RAM and 2GHz processor.
GNU/Linux Requirements
The latest version of GNU/Linux is compatible with your hardware specifications.
1GB RAM and a 2 GHz processor.
You can also find versions of Audacity working on prehistoric operative systems like Mac OS 9, Windows 98, and experimental Linux support for Chromebooks.
Vocal and instruments recording
Here is where Audacity really shines. You can record a demo song by importing background music, recording your voice, and adding equalization, echo, or reverb. For podcasting, you'll require a microphone, an audio interface, and a computer running Audacity. Once recorded, you can easily cut unwanted sections, remove noise, add breaks, fade ins or outs, and even generate new sounds to enrich your audio content.
Intuitive Editing Tools
Audacity gets things done without distractions. You can easily import or record a track, adjust the maximum volume level, speed up or slow down recordings, change pitch, and much more.
Backing Tracks
You can create backing tracks to perform, import audio samples, and then mix them. But you can also use Audacity to remove the vocals from a song you like to use in karaoke, covers, or for your rehearsals.
Digitalization
Digitalize old tapes and vinyl records to keep listening to your favorite hits on MP3 or CD player; record audio from your TV, VHS, or your old camera to add a song to your childhood memories. There is no end to what you can do with this unassuming DAW.
Pros
With Audacity, you get a full easy-to-use digital audio editor for free.
No need for additional downloads or installations, Audacity is ready to use.
It's lightweight, running smoothly on almost any computer compared to other demanding audio editing software.
Being open-source software, it provides the flexibility and freedom experienced users need to alter and modify the source code and correct errors or improve the software and share it with the rest of the community.
Considering it's free, Audacity is very powerful and has some tools you can find in more expensive software instruments.
Cons
No virtual instruments and midi recordings to make music with. Audacity is more of an audio editing tool than software for music creation.
Being open-source, it can be problematic for those not familiar with coding. You don't get help support from developers, but you can get help from the community.
The unpretentious look of Audacity's interface can make it seem like it's not as good as it really is. This might disappoint artists looking for an innovative UX design.
The learning curve can be steep for total beginners, and the rudimentary look does not help. Thankfully you can find step-by-step guides online.
About GarageBand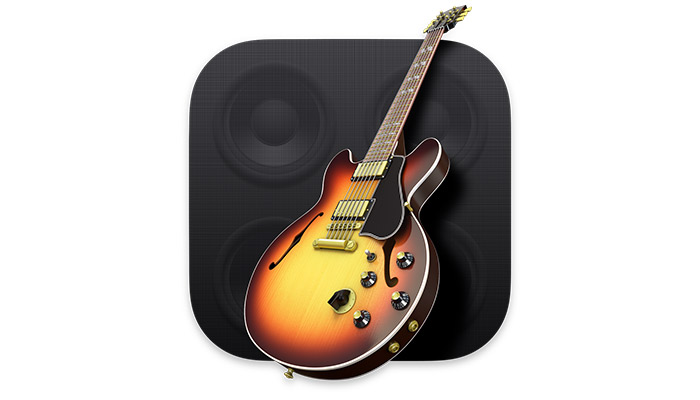 GarageBand is a complete digital audio workstation for macOS, iPad, and iPhone to create music, record, and mix audio.
With GarageBand, you get a complete sound library that includes instruments, presets for guitar and voice, and a wide selection of drums and percussion presets. You don't need extra hardware to start creating music with GarageBand, also thanks to an impressive array of amps and effects.
The built-in instruments and pre-recorded loops give you plenty of creative freedom, and if they're not enough for your projects, GarageBand also accepts third-party AU plugins.
Audacity's in-depth customization allows you to create your own rig: choosing amps, and speakers and even adjusting the position of the microphones to find your distinctive sound or emulate your favorite Marshall and Fender amplifiers.
Don't have a drummer? No worries, a key feature of GarageBand is Drummer: a virtual session drummer to play along with your song; select genre, rhythm, and add tambourine, shaker, and other effects you like.
Once your song is complete, you can share it directly from GarageBand via email, social networks, or streaming platforms like iTunes and SoundCloud. You can share GarageBand projects too for remote collaborations.
Why people choose GarageBand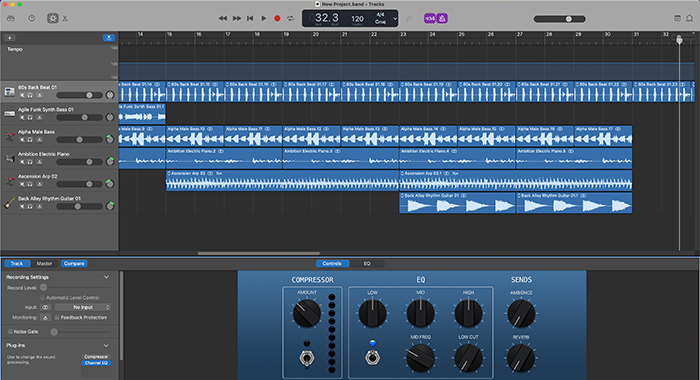 Here's a list of reasons why musicians and producers opt for GarageBand instead of Audacity or any other DAW.
Free and Pre-installed
GarageBand is by default available on all Apple devices. If not, you can find it in the App Store for free, with Apple pre-recorded loops and virtual instruments included. Beginners can start using GarageBand right away and learn how to make music on multiple tracks, thanks to the midi keyboard, pre-recorded loops, and pre-recorded material.
Most Recent GarageBand Requirements
macOS Big Sur (Mac) iOS 14 (mobile) or later required
Beginner-friendly
GarageBand has an intuitive user interface: whenever you start a new project, it guides you through what to do next to achieve professional results. When recording music, you can choose between recording audio, like voice or guitar, adding a virtual instrument like piano or bass, or creating a beat with Drummer.
Make Music in No Time
GarageBand is for making music, sketching ideas, and mixing your songs using the presets available. Beginners prefer GarageBand because you can start songs without worrying too much about technical stuff. No more excuses to postpone your music career!
GarageBand Features Midi Recording
GarageBand users love to work with virtual instruments. These are great when you don't play any instrument but want to bring your ideas to life. Besides the ones included, you can also use third-party plugins.
Pros
Having GarageBand pre-installed saves a lot of time for Mac users. And being exclusive makes it runs smoothly on all apple devices.
The sound and effects library included is enough to get you started, and when you're ready, you can buy third-party plugins to expand your sonic palette.
GarageBand helps you learn to play an instrument with its built-in piano and guitar lessons.
There is a GarageBand mobile app for iPad and iPhone with fewer functions, but great to start a song from anywhere when creativity strikes and resume your work on your Mac once back home.
Cons
GarageBand is exclusive to Apple devices, restricting your collaborative projects to macOS, iOS, and iPadOS users.
The mixing and editing tools are not the best in the music production realm. Especially when it comes to mixing and mastering, you'll feel the difference between Audacity and more professional DAWs.
Comparison Between Audacity and GarageBand: Which One is Better?
The main reason why these two DAWs are often compared is that they're both free. Free software is ideal for anyone starting to learn a new skill. Neither requires a complex configuration or installation process: set up your audio interface, and you're good to go!
Music Editor vs. Music Creation
Although also Audacity is a digital audio editor, with GarageBand, you can make music from scratch by adding a percussion beat, composing a melody, and recording vocals; you can record an idea in seconds and save it for later.
There's been a few artists whose hits originated on GarageBand: Rihanna's "Umbrella" with the royalty-free "Vintage Funk Kit 03" sample; Grimes' album "Visions"; and Radiohead's "In Rainbows."
On the other hand, Audacity does not let you be that creative, but it's an outstanding audio editing tool, overshadowing even the much acclaimed GarageBand.
Virtual Instruments
One of the great things about virtual instruments is the possibility of creating music without real instruments or music skills. Sadly, Audacity doesn't support midi recording; you can import an audio recording or samples, and edit and mix them into a song, but you can't create a melody using third-party plugins as in GarageBand.
With GarageBand, midi recording is easy and intuitive, allowing beginners to make the most of the wide array of sounds offered by the Apple software.
To some people, Audacity caps their creativity with these limitations; to others, it makes them think outside of the box to get the sound they envisioned without midi recording.
Graphic User Interface
When comparing both user interfaces, we immediately notice that Audacity is not a pretty DAW. On the other hand, GarageBand lures you to play with it with a friendlier and neater user interface. This detail might be irrelevant for some, but it can be a decisive factor for those who've never seen a DAW before.
Mobile App
The GarageBand app is available for iPhones and iPad. It has some limitations, but it's great to create something while being away from your Mac. The best thing is that you can continue working on what you started from any device.
Audacity does not have a mobile app yet. We can find similar apps for mobile but nothing compared to the integrations provided by GarageBand to Apple users.
Cloud Integration
The iCloud integration in GarageBand makes it easier to start working on your song and resume from any other Apple device: This is great for travelers and musicians who struggle to find a moment to sketch out their ideas.
With Audacity being cross-platform, cloud integration would be a life changer for this DAW. But for now, this option is not available.
You may also like:
Audacity vs GarageBand: Final verdict
To answer your first question, which one is better? First, you have to ask yourself what you're looking for: Audacity is excellent for audio editing, mixing, and mastering. GarageBand can unleash your creativity with the tools all music producers need.
If you're looking for DAWs that offers a complete music production package and support midi recordings, you should go for GarageBand.
I know it's a bit unfair for Windows users with no access to GarageBand; if you're one of them, you'll have to stick to Audacity unless you're ready to dive into a more advanced DAW, which won't be for free. However, I've used Audacity for over a decade for my music and radio shows and couldn't be happier with it: so you should definitely give it a go.
For macOS users, you can try both and see what works better for you; I would suggest staying with Apple products and benefiting from all its features.
In short: Mac users should go for GarageBand, while Windows users should opt for Audacity, at least at the beginning. Ultimately, both DAWs are a fantastic option for both beginners entering the world of music production and established artists looking for ways to sketch out their ideas on the go.
FAQ
Is Audacity good for beginners?
An audacity is an excellent tool for beginners and perhaps the best introduction to the world of audio production: it's free, easy to use, and with enough built-in effects to record and mix music professionally.
This open-source software is a great option for podcasters and artists looking for an accessible and lightweight digital audio editor they can start using right away on their Windows or Mac device.
Do professionals use GarageBand?
Professionals have been using GarageBand for years because it's compatible with all Mac devices, which makes it the best option to record and edit audio on the go. Even superstars like Rihanna and Ariana Grande sketched out some of their hits on GarageBand!
GarageBand provides musicians with a plethora of effects and post-production tools that can help them bring to life songs that meet the music industry standards.
Is GarageBand better than Audacity?
GarageBand is a DAW, whereas Audacity is a digital audio editor. If you're looking for a piece of software to record and produce your own music, you should opt for GarageBand: it has all the tools and effects necessary to record and refine a track.
Audacity is more straightforward recording software that is ideal for sketching out new ideas and simple audio editing; therefore, when it comes to music production, GarageBand is the best option for your career.
Is Audacity Better Than GarageBand?
Audacity is appreciated by millions of artists worldwide because it's free, extremely intuitive, and has a minimalist interface ideal for beginners and experts alike. It doesn't offer anywhere near as many effects as GarageBand, but its no-nonsense design allows you to edit podcasts and music way faster than with other more expensive DAWs.