Audio-Technica AT2020 vs Røde NT1-A: Which is the Best Mic?
---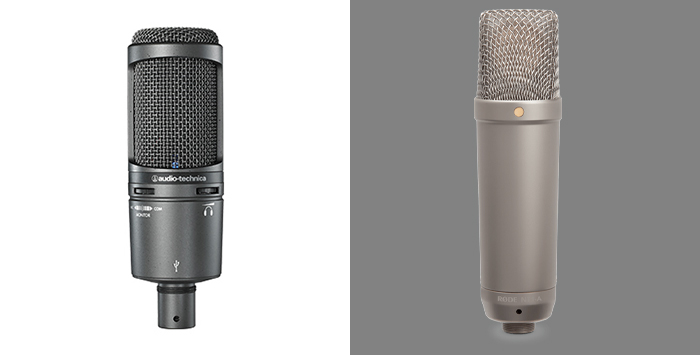 Choosing the right microphone for your home recording studio can be a daunting task. There are dozens of options available for all budgets, and sometimes it's hard to identify which condenser microphone is the best option for your needs.
While looking for the best budget podcast microphones or the ideal mic for your home studio, you might realize that there are two very popular options when it comes to entry-level mics: the Audio-Technica AT2020 and the Rode NT1-A. These two beloved condenser microphones have been part of the starter kit for many artists and podcasters because of their affordability and excellent sound quality.
So today we'll take a look at these two powerful and budget-friendly mics: I'll explain their main characteristics, their differences, specs, and their primary uses, and I'm sure that by the end of the article you'll find it easier to decide which one is right for you.
Let's dive in!
Audio-Technica AT2020 vs Røde NT1-A: Comparison Table
| | | |
| --- | --- | --- |
| | Audio-Technica at2020 | Røde nt1-a |
| Type | Cardioid Condenser XLR Microphone | Large-Diaphragm Condenser Microphone |
| Cost | $99 | $199 |
| Color | Black | Beige/Gold |
| Polar Pattern | Cardioid | Cardioid |
| Max SPL | 144dB | 137dB |
| Output Impedance | 100 ohms | 100 ohms |
| Connectivity | Three-pin XLR | Three-pin XLR |
| Weight | 12.1 oz (345 g) | 11.4 oz (326g) |
| Phantom power | yes | yes |
Audio-Technica AT2020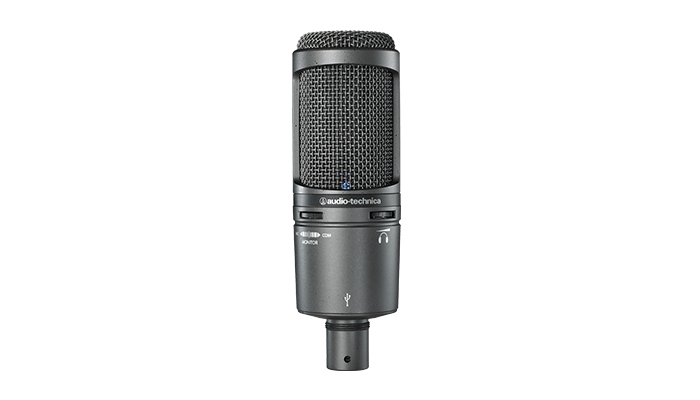 Audio-Technica is a well-established brand in the music production world, with gear that's been used by many professional studios globally. The Audio-Technica AT2020 is one of their most popular products: a wonder to work with and at a reasonable price.
The AT2020 is a cardioid condenser microphone, built in a rugged metal housing for durability and to keep up with the load from busy recording sessions or touring. The kit includes a stand mount, a threaded adapter, and a storage bag. The AT2020 requires an XLR cable that's not included when you buy it.
As usual with condenser mics, the AT2020 requires 48V phantom power to work. Thankfully, most audio interfaces include phantom power for condenser microphones like the AT2020; however, if you're looking for a USB mic, the AT2020 is also available as a USB microphone.
The AT2020 is a cardioid polar pattern microphone, meaning it pick-ups the sound from the front and blocks sounds coming from the sides and rear, which makes the AT2020 a favorite for recording vocals, voice-overs, and podcasts. The AT2020 can also record multiple instruments with little background noise, and the cardioid pattern will help mitigate the keyboard sound or other unwanted noises in the room or house during their live streams, which is especially useful if you're a podcaster or streamer.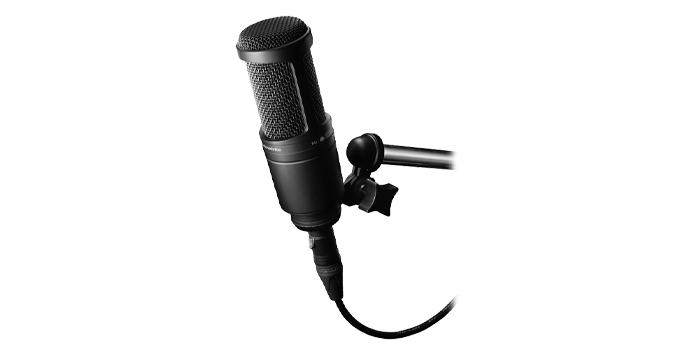 The microphone is quiet, with only 20dB of self-noise. However, if you're recording in your room, we recommend treating your room for better performance, as the AT2020 is very sensitive and will pick up a wide range of frequencies.
The AT2020 easily handles high SPL (sound pressure level) that will allow you to record loud music instruments such as an electric guitar and drums. That's why many professionals use them as drum overhead microphones. Even though I said it's the ideal microphone for people just entering the world of home studio recording, the AT2020 does not sound cheap, even when used for semi-professional purposes.
The Audio-Technica AT2020 was designed with home studios in mind, creating a very affordable microphone for everyone entering the world of audio production, podcasting, or voice-overs. You can find it for around $99. It might not deliver the highest audio quality in the market, but it does an outstanding job considering the great price.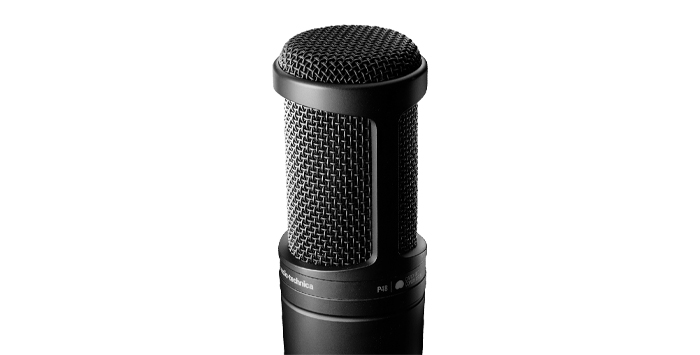 Specs
Type: Condenser mic
Polar pattern: Cardioid
Output connector: Three-pin XLR
Frequency response: 20Hz to 20kHz
Sensitivity: -37dB
Impedance: 100 ohms
Max SPL: 144dB
Noise: 20dB
Dynamic range: 124dB
Signal-to-noise ratio: 74dB
45V Phantom power
Weight: 12.1 oz (345 g)
Dimensions: 6.38″ (162.0 mm) long, 2.05″ (52.0 mm) diameter
Why Do People Choose the AT2020?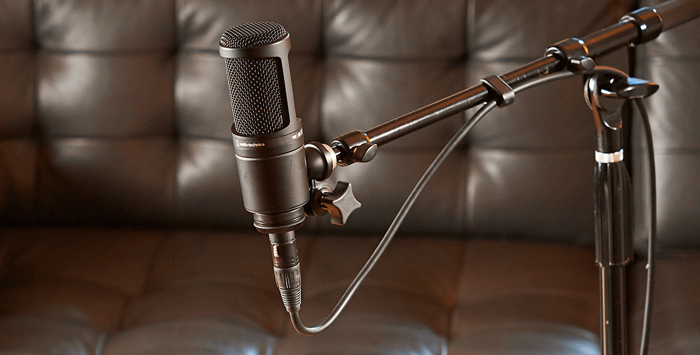 The large diaphragm condenser microphone AT2020 is very popular for projects like voice-over work, podcasts, YouTube videos, streaming, audio production, and recording acoustic instruments, strings, and vocals. Its strength lies in its versatility.
Speaking of music, you can use the AT2020 to bring to life professional recordings across all genres: neo-soul, R&B, reggae, rap, and pop, but it can also deliver great results when used for louder genres, thanks to its high SPL that provides a very accurate representation of the sonic spectrum even at high volumes.
The Audio-Technica AT2020 is like having a piece of professional gear in your home studio at an entry-level price.
Pros
Price for the value.
Warm and flat sound.
Easy to mix in post-production.
Can handle loud sounds without distortion.
Its polar pattern helps isolate the sound source.
It comes with a stand mount.
Build quality.
It's versatile for recording quiet vocals or loud drums.
Very sensitive.
Flat frequency response.
Cons
It doesn't include an XLR cable, shock mount, or pop filter.
Without a pop filter, it accentuates the plosive and sibilant sounds.
It needs room treatment for better performance.
The pouch might not be the best for traveling, only for storage.
Only one polar pattern.
Not for live performances.
Rode NT1-A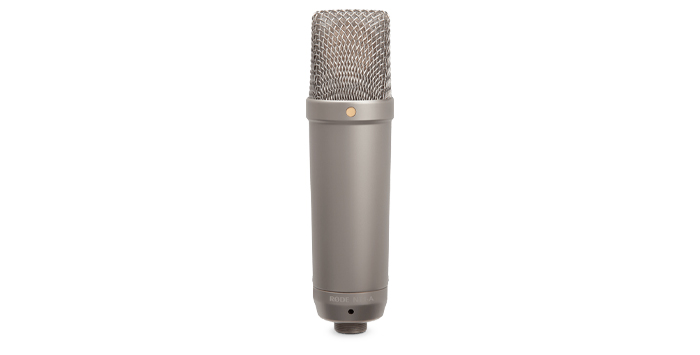 Rode is another well-known company renowned for producing the best microphones and audio equipment in the market. The Rode NT1-A is a large-diaphragm condenser microphone and one of the beloved by the home studio community.
It's built in a heavy-duty metal nickel finish that looks elegant and refined. It weighs 326g, which makes it a bit bulky, but it also feels sturdy enough to endure travel. However, it does not come with a travel case or pouch for storage. Its gold-sputtered capsule delivers a warm sound without affecting frequency response.
The Rode NT1-A comes with an all-included kit, almost ready to use out of the box, with a shock mount, pop filter, and 6m XLR cable. You'll just need an audio interface or mixer with a 24V or 48V phantom power. The pop filter included is average but does a decent job minimizing the plosives. The shock mount help reduces unwanted rumble noise, but it can make the Rode NT1-A even heavier.
The Rode NT1-A also includes a practical dust cover to protect your condenser microphone from dust when not in use or to keep it clean if you decide to take it outside. A DVD with tips and techniques for recording with your new NT1-A is also included in your microphone kit.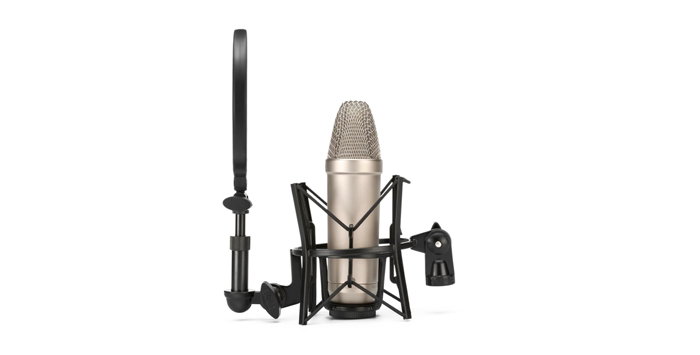 The Rode NT1-A is considered the world's quietest studio microphone due to its ultra-low self-noise (only 5dB), perfect for quiet environments and recording soft clean vocals or an acoustic guitar. It's very sensitive and can capture every nuance from your instruments with total accuracy without adding extra noise.
This great microphone has a cardioid polar pattern. It captures sounds from the front side, labeled with a golden dot, and doesn't record sounds from the rear and sides. Just like the AT2020, the NT1-A is a microphone you can use for loud instruments as it can handle high SPL.
In terms of sound, the NT1-A can truly bring your acoustic instruments to life, though some users complain of it being harsh and too bright on the high end of the spectrum. But this is something you can correct with some EQ knowledge and good preamps. With a few tweaks, the NT1-A can sound like a high-end microphone and maximize the quality of your audio recordings.
You can find the Rode NT1-A for around $200. When you compare its features with other entry-level microphones, you'll immediately realize it's worth the higher price, thanks to all the accessories it includes.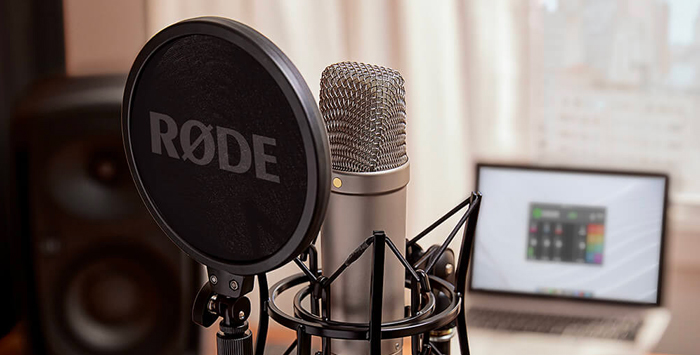 Specs
Type: Condenser
Polar pattern: Cardioid
Output connector: Three-pin XLR
Frequency response: 20Hz to 20kHz
Sensitivity: -32dB
Impedance: 100 ohms
Max SPL: 137dB
Noise: 5dB
Dynamic range: >132dB
Signal-to-noise ratio: 88dB
24V or 45V Phantom power
Weight: 11.4 oz (326g)
Dimensions: 7.48" (190 mm) long, 1.96″ (50 mm) diameter
Why Do People Choose the NT1-A?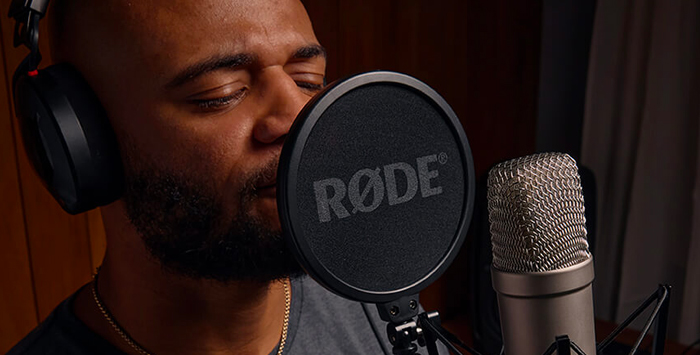 The NT1-A comes ready to use out of the package, so it's a good choice for a beginner who wants to get the most out of their investment and just wants to start recording right away.
Many users choose the NT1-A to upgrade their entry-level gear with a mic that delivers quality much closer to a professional recording studio. The NT1-A works best for acoustic instruments such as guitars, pianos, violins, drum overheads, vocals, and spoken recordings.
The low noise floor is another reason why people choose the NT1-A: it's a quiet microphone when in use and also when powered off.
Pros
Clear recordings.
It comes well-equipped and ready to use.
Easy to EQ and mix.
High SPL.
Clear and sharp vocals.
Great for acoustic guitars.
Can handle most instruments and vocals.
Cons
It accentuates sibilant sounds.
The shock mount makes the microphone heavier.
Its price is higher than most in their range.
The high end is too bright, harsh, and sibilant.
The pop filter is static and difficult to adjust.
AT2020 vs Rode NT1: Head-To-Head Comparison
So far, we've seen each microphone's features, cons, and pros. Now it's time to see them side by side to get a better understanding of which one is the best for your needs. Bear in mind that it all comes down to the type of sound you're looking for: while someone might dislike a brighter sound, others might actually prefer it. So in this section, we'll look into these two microphones and analyze their main characteristics one by one.
Sensitivity

Both the AT2020 and the NT1-A are condenser mics and require to be connected to an audio interface or mixer with phantom power via XLR. Condenser microphones are sensitive microphones that can pick a wide range of frequencies, and both microphones provide extreme accuracy throughout the spectrum.

EQ Improvement

There are no doubts the AT2020 and the NT1-A are good microphones, but neither would sound at their best right away without proper EQ and compression. They can be OK for raw recordings, but be sure to learn the basics of equalization and other recording techniques to get the best out of your microphone. It's all about experimenting.

Budget

Despite the price difference, both are considered entry-level mics. Many choose the AT2020 as their first microphone and the NT1-A as an upgrade. The price is the main difference here, and the winner is undoubtedly the AT2020.

The sound difference, when compared with the NT1-A, may not be enough to justify paying double the price for an entry-level mic. Instead, it might be easier to get a good pop filter, and cables or a stand for the AT2020.

Recordings: Which One Does It Better?

The AT2020 has better reviews about vocal recordings and speech in general, with a cleaner sound and excellent low end. The Rode NT1-A has this sharp peak in the high end that users always complain about, stating it makes it harder to blend the vocals.

As overhead mics, both microphones perform amazingly well, and there are no significant differences between the two, delivering an excellent organic sound.

When it comes to recording music, both microphones get the job done. However, when recording your acoustic guitar, apparently, the NT1-A delivers better results than the Audio-Technica microphone.

For loud instruments, the AT2020 features a 144dB max SPL, higher than the 137dB of the NT1-A, meaning the Audio-Technica microphone will record louder instruments or vocals without distortion.

If you're constantly recording percussions, drums, and amps with electric guitars, you might want to go for the AT2020.

Quietness

The AT2020 has 20dB of self-noise against the Rode NT1-A with 5dB of low self-noise. That's a big gap between Audio-Technica's mic and the world's quietest microphone.

Accessories

The NT1-A is the winner here, thanks to the all-inclusive package. However, users have pointed out that you can get a good quality pop filter, shock mount, and even a mic stand for your AT2020 with the money you'd be saving from not buying the NT1-A kit.
Final Thoughts
In music, your style, genre, and even the room where you are recording are factors you must consider when buying your first microphone. What someone might think is the best microphone for acoustic guitars might not be the best for a flute player or a hip-hop singer.
Price is always a crucial factor. The AT2020 is half the price of the NT1-A, but does that mean it delivers half the quality? Absolutely not.
Choosing the right microphone for your needs is always hard. If you're not sure where you're going with your audio projects or just want to try something new, then the AT2020 is the best choice for you. It can last you for years until you decide you want to get better gear.
The NT1-A is a better choice if you have the budget and prefer the brighter sound typical of the Rode microphones. Additionally, if you have the opportunity to try them before purchasing them, I will suggest doing so. There is no better way to get the right mic than giving it a try yourself.
Both microphones are great, and with a few adjustments in post-production, they can bring to life pristine sounds and high-quality recordings. So whichever you choose, rest assured you won't be disappointed. Good luck!