Great Audio Without Spending a Fortune: What is the Best Starter Audio Interface
---
Buying an audio interface means taking your music production to the next level. While you can create a track simply using your laptop and digital audio workstation (DAW), adding an audio interface to your audio gear will dramatically expand the range of sounds at your disposal and improve the quality of your recordings.
Professional music production requires equipment that delivers pristine high-quality audio and transparent recordings. Luckily, in the fantastic era of digital music production we live in, you don't have to spend a fortune in order to publish songs that sound professional.
However, you do need to carefully select the musical equipment that you'll add to your home studio. It will define the quality of your productions and, perhaps, your music career.
The audio interface is one of the few essential items that can transform your homemade tracks into worldwide hits. Your songwriting or beat-making skills may be extraordinary, but they won't make your songs successful unless they're recorded professionally using high-quality equipment.
Together with professional microphones and headphones, audio interfaces are a must-have for anyone who wants to create music that sounds professional on all playback devices.
This article will look into what an audio interface is, what it does, and why you absolutely need one. Then, I'll analyze what you need to be aware of when buying the best audio interface for your needs and how to make the most of it. Finally, I selected some of the best audio interfaces in the market and highlighted some of their very handy features.
As you go through the list, you'll see a variety of specs and different prices, but trust me: all of these audio interfaces provide incredible results. They won't disappoint you, regardless of your experience and the genre you work on. Let's dive in!
What Is An Audio Interface?
If this is your first experience in the professional music recording process, you may not know what an audio interface is. So, let's start with the basics.
An audio interface is a device that translates analog signals (the sounds you're recording) into bits of information your computer and DAW software can recognize and analyze. This small piece of equipment makes communication between your PC and a microphone possible while allowing audio recording and playback of multiple audio channels.
Why Do You Need An Audio Interface?
There are many reasons why you may want to opt for an audio interface. However, the most crucial is the desire to upgrade your recording quality.
There are indeed many USB microphones that do a fantastic job at converting analog sounds to digital. However, they offer much less flexibility compared to an audio interface. For instance, audio interfaces allow connecting more than one microphone and capturing recordings from all of them at once. This gives you much more flexibility and opportunities to experiment with the quality of your recording sessions.
If you're in a band or recording analog instruments frequently, getting the right audio interface is a necessary step to take your music production to the next level. But even if you're using primarily digital instruments on your DAW software, an interface will give you the chance to add more sounds to your sonic "palette."
What Should I Consider When Buying An Audio Interface?
Although there are no huge differences between audio interfaces within the same price range, it's helpful to analyze what you need to look for when buying a new interface, especially if this is the first time you have bought one.
Inputs & Outputs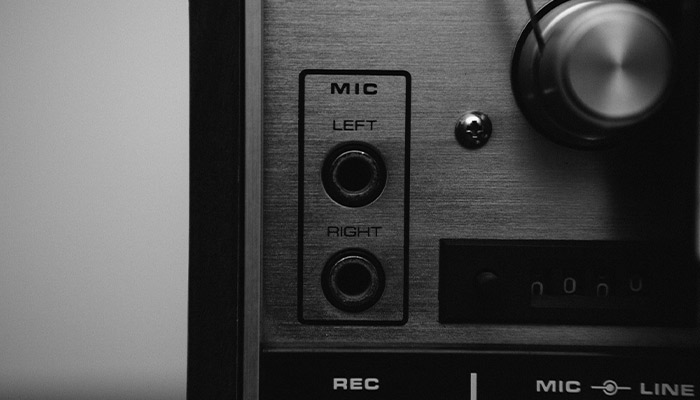 Inputs
Input entries are the ports that connect your microphones or musical instruments to your audio interface, which then processes the incoming signal and sends it to your PC. On the other hand, outputs entries allow listening to the sound stored by the computer via headphones or speakers.
This is a fundamental feature. Before buying your new interface, you'll need to think carefully about the present and future use you'll make of it. For example, how many instrument inputs do you need? What kind of instruments are you usually recording?
If you want to record your band's rehearsals and get good-quality audio, you can't have fewer inputs than the number of musicians playing simultaneously. So, if you play in a classic rock band formation, you'll need at least five inputs: voice, guitar, bass guitar, and drums.
However, if you want to achieve professional results, then you'll need way more input entries than that, probably eight or more, as the drums require at least four dedicated mic inputs (one on the bass drum, one on the snare drum, and two above the cymbals).
If you're a songwriter, you'll need fewer instrument inputs. You'll most likely start by recording the guitar, then recording vocals. You might add textures later on. Remember, multiple instrument inputs are necessary when you're capturing sounds from various sources simultaneously. Therefore, if you're recording all instruments one after the other, you won't need an audio interface with plenty of input ports.
Outputs
Now let's focus on the output. You need an output to listen to your recordings through your headphone or speakers. During the recording session, everything audio-related that's happening on your PC goes through the audio interface. This means you'll need to connect your headphones or speakers directly to the interface unless you want to constantly change the audio settings of your PC while recording.
Many audio interfaces offer multiple speakers and headphone outputs because professional music makers and audio professionals want to listen to the mix on different speakers and headphones to make sure it sounds good on all playback devices.
If this is your first audio interface, look for an interface with just one headphone jack and save some bucks. However, if you're serious about this or already have experience in home recording equipment, multiple headphones and speaker outputs can considerably upgrade your productions' sound.
Connectivity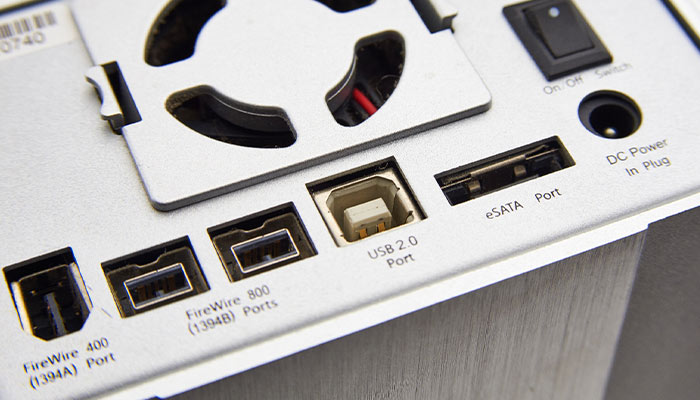 Audio interfaces offer various ways to connect to your PC. Although the most popular option is undoubtedly the standard USB connectivity. You'll still need to check your computer's compatibility before making a final decision. Here's a list of the most common options currently available:
USB
All types of USB connectivity ensure good results and are extremely easy to set up. On the other hand, they may introduce latency which you wouldn't have with different connection types.
FireWire
Before USB, FireWire was the most common connection type. It was more reliable and faster at transferring data than the rest. Nowadays, you'd need to buy an old laptop or a dedicated Firewire card, and audio interface, which we don't think is worth it. Still, the quality you get from this relatively old technology is fantastic.
Thunderbolt
Thunderbolt is currently the most reliable and fastest form of connectivity in the market. Luckily, it's also compatible with standard USB 3 and 4 connectivity. You won't need a dedicated port (although some audio interfaces do have one). Thunderbolt connectivity ensures minimal latency and high-quality audio recording.
PCIe
Technically demanding and much more expensive than the competition, PCIe connectivity delivers pristine results and no latency while recording. This makes it a fabulous option for tech-savvy producers. They can install this port directly into their motherboard.
Sample rate
The sample rate is the number of times an audio signal is sampled per second. As we said before, the audio interface plays a fundamental role by transforming analog sounds into bits of information stored in your computer through the DAW.
Audio engineers are still debating whether a higher sample rate provides better quality audio. However, if your computer can sustain the CPU power required by a larger sample rate, why not? After all, the more samples of a sound you have, the more accurate its digital representation will be.
The possibility to adjust the sample rate of your audio interface can become a crucial part of your music career. It will allow you to record sounds more accurately and make the most of your recording equipment and experience.
Check the specifications of each audio interface before buying it and see the highest sample rate they provide. Once you purchase your interface, you can either change the sample rate directly from the audio settings of your DAW or the audio interface.
Bit depth
Bit depth is another crucial component in audio fidelity and represents the amplitude values of each sample that was captured. A higher bit depth will result in a higher resolution sample, so being able to adjust the bit depth is another fundamental factor when recording sounds.
Recording at 16-bit or 24-bit is the standard option. However, there are audio interfaces that allow recording at 32-bit. These provide even more accurate sounds and audio performance but will also stress your processor. So, make sure you opt for a sample rate and bit depth that align with your CPU power before you start recording music.
DAW compatibility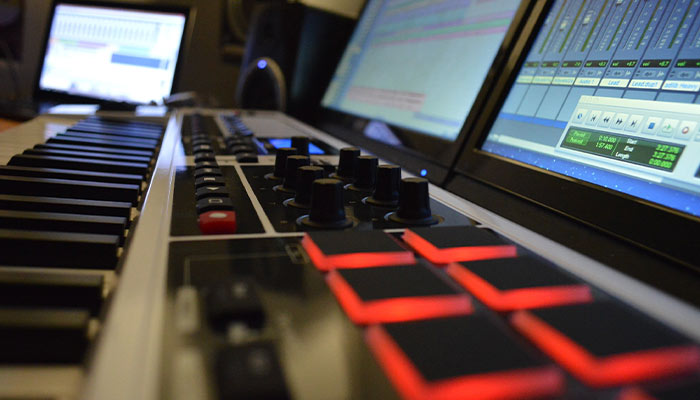 While reading reviews online about the best audio interfaces, you may encounter dozens of negative feedback based on hardware incompatibility. Unfortunately, these things happen, and although often these are problems not strictly related to the audio interface.
I'd recommend reading reviews of those producing music with gear and setup similar to yours. Generally, if you can't use your new audio interface, the problem could be related to your PC, your DAW, or the audio interface itself.
Do I Meet Requirements?
First of all, make sure your computer meets the minimum hardware requirements suggested by the audio interface manufacturer. That's often the issue. You can quickly check this by installing it on a more powerful PC to see if it works.
Is My Sound Card Causing an Issue?
Another issue caused by PCs is a conflict between the sound card and the audio interface. This happens rarely, but it's not unheard of. You can fix this by uninstalling your sound card drivers (make sure you downloaded a copy from your PC manufacturer before you do that) and checking if the audio interface starts interacting with your digital audio workstation.
Did I Set Everything Up Correctly?
As for DAWs, it's more often a human error that causes incompatibility with the audio interface. Some digital audio workstations are challenging to set up correctly. It may take a few tries before you get it right.
However, audio interfaces are compatible with all of the most popular DAWs in the market. So even if you don't get it right the first time around, don't give up. Eventually, you'll make it work.
If all else fails, then the problem may be the audio interface. The simplest way to see if the audio interface is faulty is to test it with multiple PCs and DAWs to see if the problem persists.
Some audio interfaces are not "plug and play" and require some drivers to be installed, so make sure you go through the installation process correctly as it may change depending on the type of computer you use.
Budget
Budget is and will always be a crucial factor when buying new music gear, but I believe it's far from being the most important one. These days, audio interfaces offer incredible results at an affordable price.
Should I Buy a Budget Audio Interface for Beginners?
If you just started recording, you could find audio interfaces for beginners that meet your needs for $100 or less. However, suppose you're serious about production and want to buy something that will last for a long time. In that case, investing in a more sophisticated audio interface will save you time and money in the long term.
My recommendation is to buy an audio interface that won't just satisfy your needs today but also in the future when you'll need more from your music gear. So choose an audio interface with more inputs and outputs than you need right now, and make sure you can record at higher sample rates and bit depth. This will ensure you'll be able to use it for a long time, even when you upgrade your equipment, and will be more demanding in terms of audio quality.
Should I Buy the Most Expensive, Absolute Best Audio Interface?
The price of an audio interface can go from less than $100 to thousands of dollars, but buying the most expensive one is not always the right option to get professional audio quality. Before investing large sums of money on an audio interface with features you'll never need, analyze your requirements and make a decision accordingly. Knowing what you need is the first step toward achieving the sound quality you're looking for.
Audio Interfaces' Most Important Features
Phantom Power
Phantom power allows your audio interface to send power directly to the microphones you're using. As some microphones do require phantom power, having an audio interface that has this option will allow you to use a broader range of mics for your recordings. Generally, the phantom power on an audio interface is labeled "48V" (V stands for volts, the amount of power the interface provides).
Meter
Meter is a fantastic tool to adjust the volume quickly while recording. Meters can be "ring style" or digital, and both options will show you when your sound is too loud with a red signal, meaning the recorded sound will be distorted and needs to be lowered.
Input Channel Types
Many audio interfaces offer different types of inputs, including MIDI connectivity, which is necessary if you're using a MIDI keyboard to make music. Choosing an audio interface with a few different inputs is a good investment as it'll ensure you won't have to replace it when you buy new music instruments.
Build Quality and Form
Just like with the rest of your music gear, protecting your audio interface is necessary if you want it to last for a long time. If you're recording on the road, the build quality of your interface must be good enough to sustain some hits and falls, so buying a travel case for portable audio interfaces is definitely worth the money.
Audio interfaces come in various shapes and forms but can be grouped into desktop or rack mount interfaces. Desktop interfaces are the ones you can move around freely and take with you whenever necessary. Rackmount audio interfaces are permanently installed in an equipment rack. The former provides more movability and simplicity. The latter is ideal for professional recording studios as it offers more inputs and outputs but can't be moved easily.
What To Be Aware Of When Using An Audio Interface
Low Latency
Audio interfaces reduce latency considerably compared to your PC's sound card. This is another reason why you should get one to upgrade your music productions. Whichever audio interface you choose, it should provide a latency of no more than 6ms. Otherwise, you'll get the feeling of constant delay between your DAW and your current recording session.
Low Amount of Noise and Distortion
Even though reducing noise sources before recording is an essential step, choosing an audio interface that adds as little noise as possible is just as crucial. All the interfaces mentioned below provide high-quality recordings with minimal noise floor. However, unwanted noise and distortion in your recording depend on many factors, from faulty cables to excessive use of plug-ins.
Take your time to listen to your recordings carefully and identify when the noise is more evident. After that, try to replace the cables and adjust the settings of your interface preamp and the gain levels. These three steps should help you reduce the noise floor considerably.
Best Beginner Audio Interface Options
What is the Best Beginner Audio Interface?
I hope this article helped clarify the most essential features you need to look for in an audio interface.
The market of audio interfaces for beginners is filled with good-quality devices, so choosing an interface that will make your music sound more professional without spending a fortune won't be difficult.
As you develop your skills as a music producer and audiophile, you may realize the sound of your compositions could improve by using a different audio interface. This is when the information included in this article really comes into play.
Audio Interface Features to Focus On

If you're a beginner, I recommend choosing an entry-level audio interface that will have enough inputs to record your music and comes with a high-quality DAW. However, given the overall quality of compact audio interfaces these days, it's doubtful you'll buy one that won't meet your needs if you're a beginner.

Spend some time understanding how to make the most of your audio interface and reduce latency to the minimum. Experimenting with different microphones and settings will help you develop your taste and upgrade your production skills.

Audio Interface Features Not to Worry About

Even though it's essential to know about them, I wouldn't worry too much about bit depth and sample rate unless you're an audio professional. The combo 44.1kHz/16-bit is the standard CD audio quality, and all interfaces in the market provide these specs. Higher sample rates and bit depth are great for mixing and mastering music. Yet you can easily do without them for your first recordings.
Final Thoughts on the Best Audio Interfaces for Beginners
When buying an entry-level interface, look for simplicity. A plug-and-play device will save you time and energy, especially if you're recording while touring or moving around.
An audio interface with a minimalistic approach can meet your needs perfectly if you just need to record something quickly and professionally. So don't look for a device with features you'll never need. It'll just make your recording sessions stressful and overcomplicated.