The Best Audio Interface for Logic Pro X in 2023: 7 Audio Interfaces You Can Use With Logic Pro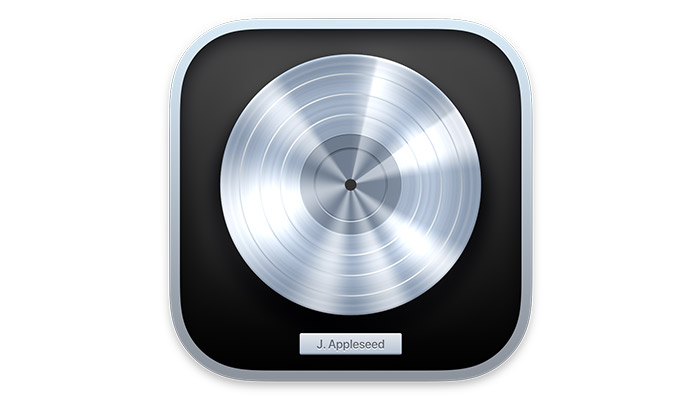 If you own a Mac, Logic Pro X is an easy choice for your DAW (digital audio workstation). It's designed by Apple to work with your hardware and has developed into a powerful tool. Logic Pro X is a great tool to work with.
But to get the most from your software you want to be able to capture your audio through the best hardware. Whether it's MIDI or audio you're recording you're going to need an audio interface.
But with so many audio interfaces available it can be hard to navigate the array of hardware out there.
However, there's an audio interface available for every audio setup and for every budget. And with the right information available, all you need to do is make your choice and you'll have the best audio interface for Logic Pro X.
7 Best Audio Interface for Logic Pro X
1. Focusrite Scarlett 2i2 $169.99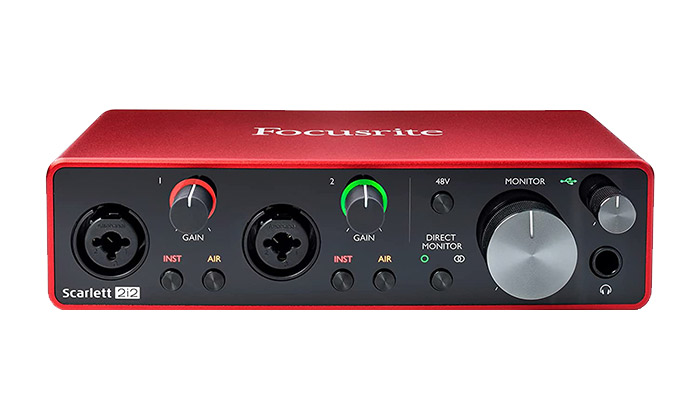 The first audio interface is from Focusrite. Focusrite Scarlett audio interfaces have been around for a long time and there's a reason for that — they're really good. This is the third generation of the Scarlett 2i2 and it still a great audio interface.
This is a simple, portable, and well-constructed piece of kit that won't break the bank and provides a great entry point for anyone looking to get their first audio interface.
The Focusrite features two combination XLR / 1/4-inch jacks on the front panel for connecting microphones or instruments.
There are two built-in microphone preamps and an "air" mode setting which gives a more acoustic, open sound to your recording.
There is a direct monitor built in so you can listen back directly from the audio interface, and there's 48V phantom power available for condenser microphones.
Halo monitors around the gain controls provide a simple visual way of avoiding clipping.
As a USB audio interface, power is provided by a USB-C connection. This is low latency.
The Scarlett 2i2 continues to impress as it develops and remains a simple, easy-to-use, and portable audio interface solution.
Pros
One of the best audio interfaces in the price range for audio quality.
Rugged metal design makes it great for taking on the road or studio use.
Balanced mic line inputs means line-level sources can be used.
Comes with Focusrite Creative software pack with Logic X compatible plug-ins.
Cons
Front-mounted ports mean cables occasionally get in the way of controls.
No MIDI support.
Could do with more USB ports.
2. Universal Audio Apollo Twin MKII Duo $899.99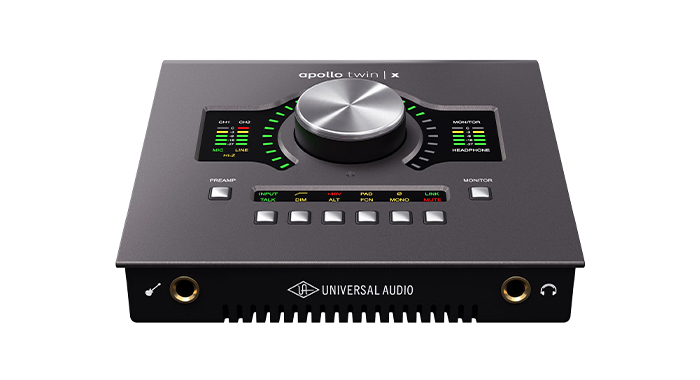 The reputation of Universal Audio is extremely high and that's because they produce consistently great-quality hardware. The Apollo Twin MKII Duo, their entry-level audio interface, is no exception to this and continues its streak of great quality gear.
The MKII Duo features two combination XLR/ 1/4-inch jack ports as well as the ability to support up to eight additional channels via an optical input.
There is also one instrument input and 48V phantom power for condenser microphones.
Power is provided either by Thunderbolt cable or it can simply be plugged into the wall. Channel levels are provided by LED meters to the left of the central knob and overall LED output meters are to the right.
The microphone and line preamps are of professional quality, which helps to justify the somewhat hefty price tag. The sound quality is unimpeachable though.
There's also a talkback button as well as a range of other functions on the front of the device.
Although it's very expensive, the Apollo Twin MKII Duo is a professional-grade piece of gear and if you are really looking to take your recording to the next level then it's an excellent choice. However, for the more budget-conscious, there may be better choices to be made.
Pros
Extremely high-quality preamps.
Easy to use, astonishingly good results
Tracks and monitors in real time.
Comes with LUNA software and UAD plug-ins which are Logic Pro X compatible.
Cons
Extremely expensive.
Thunderbolt connection only.
Thunderbolt cable not even included at this price!
3. Apogee Element 24 $595.00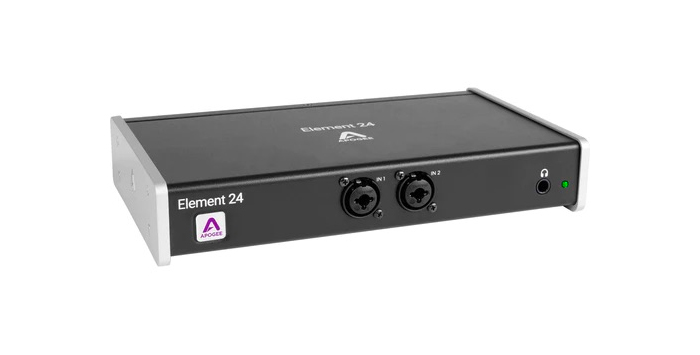 While the Apogee Element 24 might look pretty spartan on the outside – don't let that fool you. Apogee isn't the best-known name in the audio interface business but the Element 24 still deserves a great deal of attention.
The front of the box has two XLR / 1/4-inch combination jacks and a 3.5mm headphone jack, and that's it.
The rear has two balanced XLR monitor outputs, an optical in and out, and a mono function. There is also a talkback and mute and dim functions for the monitors.
However, despite the simplistic look, the sound quality of the Element 24 is extremely high.
It might not be the prettiest box on the market but it's sound quality that counts and there's no question that it's here in spade.
The Element 24 integrates incredibly well with Logic Pro X. As you will see, there are no physical controls on the box — instead, everything is done via the Apogee Control software.
It's a flexible, well-thought-out software that can be accessed from within Logic Pro X and gives you full control of the box.
While this might take an adjustment for some people, it's certainly an unusual approach but the software is great.
If the Element 24 is a little unusual, it still easily earns its place on the list with great sound quality and excellent software. It's an audio interface well worth considering.
Pros
Excellent sound quality that's at a professional standard.
Though not cheap, for that quality, it's still good value for money.
Rack-mountable.
Software integrates with Logic Pro X perfectly.
Cons
Might be good value but still not actually cheap.
No physical controls whatsoever won't be an approach that works for everyone.
4. Solid State Audio SSL 2+ $229.99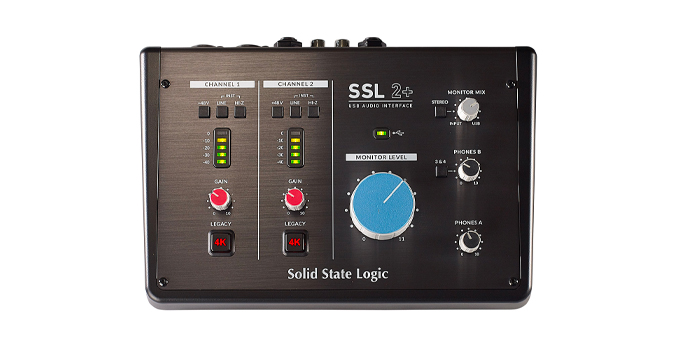 At the more affordable end of the spectrum, we have the Solid State Audio SSL 2+. This is an audio interface with a small footprint and it immediately looks like it belongs in any recording set-up.
And that's because it does! The device features two XLR / 1/4-inch mic and instrument inputs mounted on the rear of the device, alongside MIDI input and outputs, RCA outputs, and two 1/4-inch headphone jacks.
The top of the device features two separate channel mixers with LED level meters and a legacy 4K button.
This is a signal color enhancement and is designed to replicate classic SSL consoles of yore. To the right, there's a master monitor knob and individual level controls for both headphones ports.
As you would expect from a company with SSL's reputation the sound quality is excellent. The interface produces a more "analog" feel than many of its contemporaries.
It's great for capturing certain types of vocals or acoustic instruments but more than flexible enough when it comes to dealing with any other type of recording.
There are also balanced stereo output jacks as well.
The integration is great with Logic Pro X too and even if you're a beginner you'll be able to get up and running in no time at all.
The MIDI support is welcome on a box in this price range as well and gives anyone looking to work with electronic music a great place to start.
SSL has spent a long time building up a stellar reputation in the audio world and the SSL 2+ is another audio interface that continues their legacy. It's simply a great audio interface.
Pros
Excellent range of inputs and outputs for the price point.
Great value for money for this kind of recording quality.
Amazing sound quality with a warm, acoustic feel to the sound.
Really good quality monitoring — not always a given even in expensive audio interfaces.
MIDI included.
Cons
A fair amount of competition in this price range.
Beginners might find the plethora of inputs and options a little confusing.
Very old-fashioned look these days.
5. Apogee One $349.99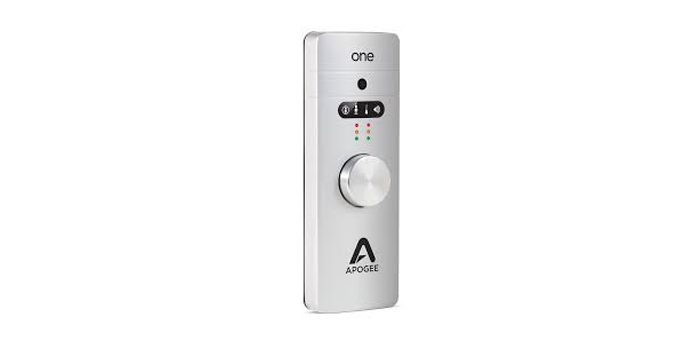 The Apogee One is something a little different in the audio interface market. Rather than being a box that sits on your desk in a rack, it's a small, hand-held device that is designed with portability in mind.
But don't let the diminutive size put you off — the Apogee One is still a great audio interface. Small enough to fit into a pocket, the device has a single knob on the front of it which lets you cycle through the range of options the Apogee One has.
Two simple LED gain meters let you keep a check on your levels so you're not clipping. These are effective enough.
To keep the device as small as possible, the Apogee One has a breakout cable that comes included with the audio interface. It has one XLR and one 1/4-inch jack, so you can capture an instrument and vocal simultaneously.
The device can be powered by an internal battery as well as when it's connected to your computer, and it connects to Logic Pro X via a USB cable. That means you can use it even if you don't have your laptop with you.
The device also features a built-in microphone. While it's not as good as a fully-dedicated mic it's certainly a nice bonus to have and it captures clear, wide sound when used.
Portability can be a real boon in an audio interface if you're out on the road and looking to capture a live performance or simply don't want a large piece of kit taking up space. With the Apogee One, you can have portability without sacrificing quality.
Pros
Absolutely tiny device but doesn't sacrifice quality for size.
Built-in microphone is surprisingly good.
Battery power makes this a flexible solution.
Perfect for anyone who needs to capture sound on the go.
Works with iOS as well as Logic Pro X.
Cons
Very expensive for a tiny device.
Not much in the way of extras.
Does require the carrying of the additional breakout cable — careful not to lose it!
5. Audient Evo 16 $549.00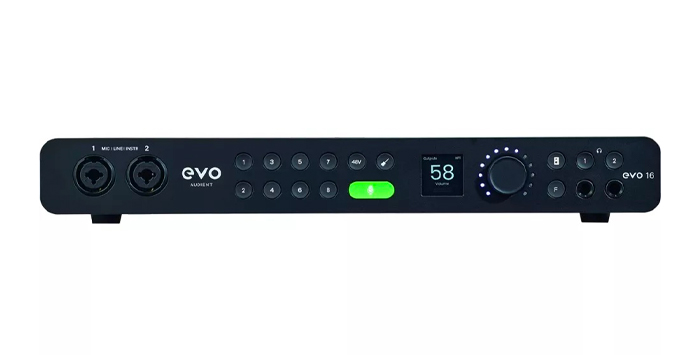 If you are looking to record a lot of different instruments or voices together then the Audient Evo 16 is one of the best audio interface solutions.
The rear of the device features eight 1/4-inch jacks and a further eight XLR / 1/4-inch jacks, so you know you're never going to run short of inputs. There are four optical jacks, two in and two out.
The device connects to your computer via USB-C and there's a mains power jack that provides the juice to run it.
The front of the device features a further two combination XLR / 1/4-inch jacks and two headphones monitoring ports as well.
While some functionality can be controlled via the front panel, the audio interface is designed to work with the Evo software app which gives you full access to the device's settings. This causes Logic Pro X no problems at all and everything works together smoothly.
The sound quality here is extremely high and all channels respond extremely well. The Evo 16 also features Smartgain, which is a feature of Audient hardware and allows the gain to be automatically selected by the audio interface and which it can do across eight separate inputs.
While this sounds like it could just be a gimmick it works very well in practice and is a great little addition to have. And it works well with Logic Pro X too.
Overall the Audient Evo 16 is a great solution for recording multiple instruments or voices and one which is surprisingly affordable. It's a great piece of kit.
Pros
Vast range of inputs for the price point.
Great value for money.
Smartgain is a handy extra and saves loads of time balancing gain controls.
Great software.
Rack mountable.
Cons
A lot to get to grips with for newcomers.
6. Focusrite Clarett OctoPre $807.99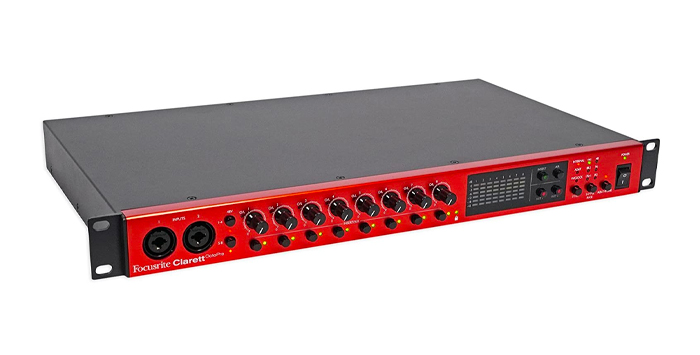 Another audio interface focussing on a larger number of inputs the Focusrite Clarett OctoPre derives its name both from the number of audio inputs and its bright red color.
The OctoPre is very much at the high end of the audio interface market and is a lot more advanced than its smaller brother, the 2i2.
It features two XLR / 1/4-inch line and six XLR / instrument inputs, and there's an AD-DA converter too with zero latency.
There are eight level outputs and each mic socket has its own dedicated mic preamp, rather than one preamp covering all inputs. This makes for a fantastically clear audio quality when recording vocals.
The instrument inputs are also of an extremely high standard, and the OctoPre would fit well into any studio setup. It's also rack-mountable for just such an occurrence. And while the device is ideal for Logic Pro X, the audio interface will work just great with any DAW.
Each of the eight tracks has its own LED gain meter built into the front of the device. There are also two optical ports on the rear of the device for inputs and outputs.
There is also the "air" effect, which gives greater clarity and a warmer sound when recording.
While the Focusrite Clarett OctoPre isn't an audio interface for beginners, the quality does speak for itself.
If you want perfect sound and the ability to capture multiple sources (or even a single source, such as a drum kit, in stereo) then it's a professional-level audio interface that can deal with pretty much anything.
Pros
Very high-quality, channel-dedicated preamps make for astonishing clarity.
AD-DA converters are as good as you can possibly find.
Air effect gives greater clarity to recordings for added audio quality.
Warm, generous sound that suits any voice or instrument when recording.
Excellent build quality, as is typical with Focusrite.
Cons
Professional grade, professional price! But it is one of the best audio interfaces.
Doesn't come with either Thunderbolt or World Clock cables, which at this price is ridiculous.
7. Audient iD4 MKII $198.94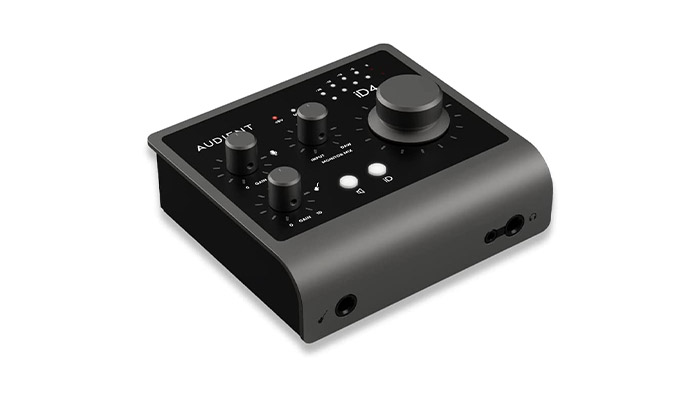 Finally, we come back to something rather more reasonable in terms of size and price, with the Audient iD4 MKII. It's a small box that packs a big punch.
With its small size and small price, the Audient iD4 MKII is one of the most portable and affordable solutions here. The design is clean, clear, and uncluttered and makes everything a breeze to use.
The audio interface features one combination XLR / 1/4-inch jack and a single, separate instrument jack. There's also both a 3.5mm and 1/4-inch headphone output. Two headphone outputs is unusual but a great addition.
It means any headphones can be used with the audio interface regardless of what size jack it has. There are also two line outputs and a loopback facility.
The main knob on the front of the device functions not only as a level control but can also be used to scroll through the device's functions.
This means that you don't have to be reliant on software to easily access everything, though the device works perfectly with Logic Pro X. Power is provided by a USB-C port.
With great-quality sound, a small price tag, and a small footprint, the Audient iD4 is a great starting place on your audio interface journey.
Pros
Small device takes up hardly any room at all.
Simple, USB audio interface and a great desktop audio interface.
One of the best audio interfaces on a budget.
Rugged design means it's a great portable solution.
Comes with the ARC suite of software, which is Logic Pro X compatible.
Cons
Mostly for beginners.
Those angled LED gain meters look awful.
What to Look For When Buying an Audio Interface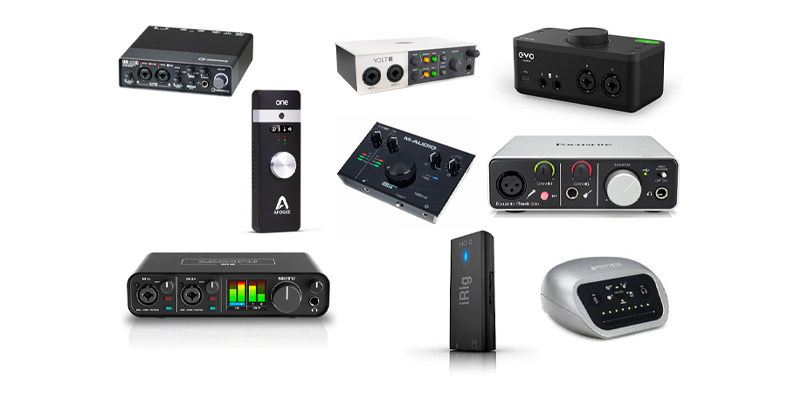 When looking to buy an audio interface there's a lot to wrestle with, especially for newcomers.
However, there are certain things it's always worth keeping an eye out for when you are on the look for an interface, whether you are looking to take your first steps into recording or whether you're a seasoned pro looking to upgrade.
Cost

Audio interfaces can vary extremely in terms of their cost. And while the price might provide a rough bracket as to what kind of interface you are buying but you can't always rely on it to be a good guide.

Buy something within your budget, however make sure you do your research to ensure you get as much for your hard-earned dollars as possible.

Sound Quality

The biggest consideration beyond price. Sound quality can depend on several different factors but if there is one thing you never want to compromise on when it comes to buying an interface, it's this.

Portability

If you want to set up a home-recording studio or a more professional studio setup then portability won't be much of an issue for you.

However, if you travel around recording sound — as part of a band, maybe, or if you're a podcast host who interviews people — then this is an important thing to consider.

Pay particular attention to aspects such as build quality and the materials used in construction. Metal will be far more durable than plastic, for example, and it doesn't always cost more.

Phantom Power

Condenser microphones require additional power to be able to record. This additional power is known as "phantom power" and interfaces can provide this.

Not every interface does, though, so if you work with condenser microphones it's important to choose an interface that can deliver phantom power, otherwise, your microphone won't work.

If you use USB microphones, this won't be an issue and you don't need to concern yourself with phantom power.

Inputs and Specifications

This can include things such as the types of ports, the number of ports available, the connection types, and so forth.

You need to buy an interface that supports the types of cable you have, otherwise you'll just end up investing a whole bunch of money replacing cables when you don't need to.

Similarly, there's no point in buying an interface that only has a couple of inputs if you're looking to record a lot of people or instruments at the same time.

Tailor your purchase to your needs — but always remember, those needs might change in the future so it's a good idea to think about not only what you need now, but what you might require further down the line.

Outputs

Alongside the number of ports an interface has, it's worth thinking about the outputs it has as well. Almost every interface will have one headphone output but if you are working with someone else then a device that has two might be a better choice.

Not all audio interfaces will support external monitors so if you use external monitors you need to get an interface that will support them.

Power

Some devices will work on USB power, some will require mains, and others will run on batteries. Choose a device that will fit your use case.

If you're looking for portability a device that must be plugged into the mains to work isn't likely to be ideal, and if you need something hefty with a large number of ports, a small device that runs on batteries isn't likely to be sufficient either.

Software

Most audio interfaces will come with some kind of software. Sometimes these can be simple plug-ins and sometimes they can be whole separate suites of software to help control your device and get the best out of it.

If you are using your interface in conjunction with Logic Pro X, then you want to ensure that any software the interface comes bundled with will work well with it and won't cause any compatibility issues.

Since Logic Pro X is a Mac-only piece of software, Mac compatibility is of course crucial.
Conclusion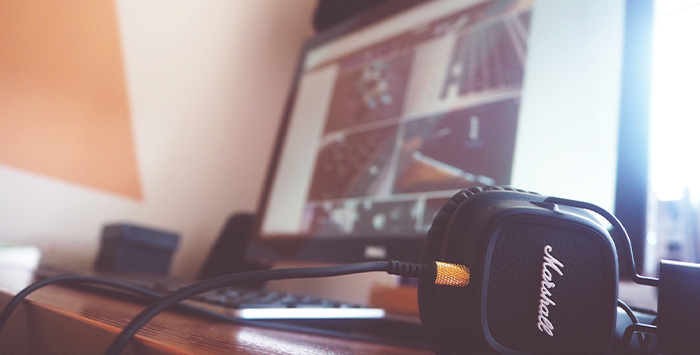 Audio interfaces are a vital piece of the puzzle when you record audio. Choosing an interface can be the difference between having perfect, crystal-clear sound or something muddy and hard to listen to.
And Logic Pro X is a great DAW for Macs, so you know that once you have chosen the perfect interface you will be able to capture all the sounds you ever dreamed of.
So make your interface choice, fire up Logic Pro X, and get recording!