Best Camera Gimbal in 2022: DJI Ronin SC vs Pocket 2 vs Zhiyun Crane 2
Are you on the lookout for a compact but high quality gimbal? Whether you're building a career in film, content creation, or simply want to shoot highlights of your buddy's football game, you should find the best gimbals that maximize your camera's potential.
Below, we're featuring three relatively light, portable, three-axis gimbal stabilizers. These are some of the best DSLR gimbals that comfortably rest at the top of their market, each earning high marks in essential aspects while providing specific strengths (with a few areas of improvement, of course).
If you're having trouble choosing the best gimbal stabilizers for your mirrorless DSLR camera or smartphone (or both), scroll down to read our findings and suggestions for the best camera gimbal.
DJI Ronin SC
Starting at $279, the DJI Ronin SC is the go-to gimbal for mirrorless cameras for three primary reasons: quality construction, reliable stabilization, and ease of use.
Let's talk about its build quality. DJI didn't dare skimp on the materials. After all, even entry-level mirrorless cameras can hurt the wallet (especially compared to DSLR cameras), and no one in their right mind would mount their pricey camera on risky DSLR gimbals.
The DJI Ronin SC is partly made of composite materials, notable for their rust-proof characteristic and resistance against extreme temperatures. It's also crafted with aluminum and magnesium, which offer impeccable durability without adding much weight. This is why the Ronin SC, with the tripod and BG18 grip, weighs only around 1.2kg. Despite this lightweight and modular build, it still has a maximum payload of 2kg making it compatible with most mirrorless and DSLR cameras. You can look at more technical specs here.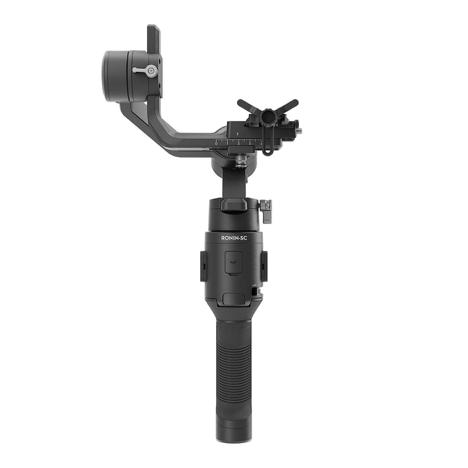 But what about stabilization and performance features?
This gimbal stabilizer is honestly as good as it gets, especially in its price range. The three axes quickly lock the camera in any desired position. The pan axis offers virtually unlimited 360-degree rotations, allowing users to deliver a wide variety of shots and achieve smooth steady footage.
Furthermore, we liked the full control over fast, continuous movement and sudden changes in direction. All you need is to turn on Sport Mode. Simply put, this heightens axis sensitivity to help capture your camera's movements as clearly as possible (so your video won't be a collection of blurry scenes) while keeping your camera steady.
The excellent dynamic stabilization of Ronin SC isn't just because of Sport Mode, however. Working alongside this tech is Active Track 3.0. This AI tech uses the camera of your mounted smartphone (in the Ronin SC phone holder) to help your mirrorless camera focus on a moving subject. The result? Shots look more professional and stylistic in their composition.
As for ergonomics and intuitiveness, the Ronin SC features plenty to boast about. All the basic controls are within reach and respond without any issues. Additionally, adjusting the cam back to its previous position during remounting doesn't take long when with a positioning block.
With regards to the Ronin App, its latest iteration is the best one yet. First-time gimbal users will love the ease by which they can experiment with presets and settings. The Ronin App makes it easy to learn about stabilizing cameras and operating portable gimbal stabilizers. On a related note, here's a quick video about using the Ronin SC:
In addition, the battery grip is top-notch. The ridges improve your hold on the gimbal while the flared design stops you from accidentally dropping the Ronin SC (and your camera) when you're carrying it upside-down.
However, there are features such as Force Mobile that don't give as much value or feel as essential as Active Track 3.0. Also, you might end up spending way more than $279 if you need to have various manual and autofocus lenses. The Focus Motor ($119) and Focus Wheel ($65) are arguably crucial for many types of uses, yet both accessories aren't part of the base package.
Overall though, the DJI Ronin SC remains to be the best gimbal for mirrorless cameras. Its build, design, excellent battery life, compatibility, stabilization, and automated features (like panorama and timelapse) are a cut above the different models in its category. The base package is well worth it, and you can always acquire additional DJI Ronin series products and accessories later to customize your setup if you really need them.
DJI Pocket 2
At just 117 grams, the DJI Pocket 2 is one of the smallest stabilizers for smartphones ever. It has one of the shortest operating times at just two hours while a single charge takes 73 minutes. Yet, this gimbal stabilizer costs $349, a full $79 more than the DJI Ronin SC.
"But how does that pricing make sense?" Simply put, the DJI Pocket 2 isn't your ordinary portable gimbal. It's actually a lightweight two-in-one device consisting of a three-axis gimbal and an HD camera.
Thus, the price tag is a sweet deal for many folks, especially those venturing into vlogging for the first time. With an easy access camera and gimbal that can be conveniently kept in one's pocket. While it may not be DSLR quality, this camera gimbal ensures new vloggers can be filming everyday moments anywhere and at any time with a single hand.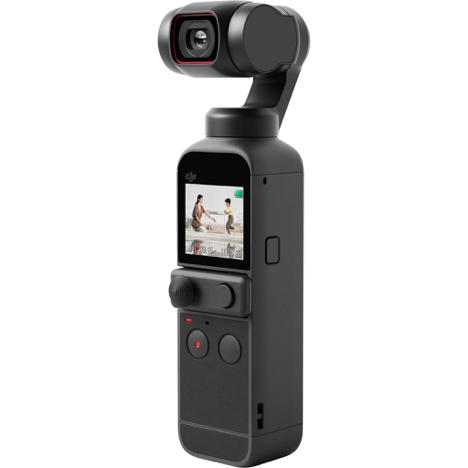 As the successor to the DJI Osmo Pocket, the Pocket 2 improved upon the former DJI products' already remarkable audiovisual capacities. Two of the biggest upgrades here are the sensor and FOV lens. The 1/1.7" sensor provides crisp and beautiful shots even under less-than-ideal lighting conditions, which is often the case when there's no natural light around. On the other hand, the wider FOV lens is a boon to selfie enthusiasts.
The action camera features 64 megapixels. You can zoom up to eight times without losing details. In particular, you can enjoy 4K recordings at 60FPS. However, what we liked most was the HDR video feature. It automatically enhances and adjusts the degree of exposure of subjects and areas in the shot, and the result is perfectly smooth footage with better visual depth and a more realistic look.
With four microphones, one on each side, this device can instantly change where it records sound depending on the camera's position. If you're filming with Active Track 3.0 to let the camera focus on your subject, for example, they can speak while moving around the shot without worry because their voice will still be heard with relative clarity.
Aside from the Active Track 3.0 technology, the Hybrid AF 2.0 and the three axes keep things under control. Its pan axis can't do a 360° mechanical rotation unlike the DJI Ronin SC, but going from -250° to +90° is more than enough control. Read the full specs here.
If you have the budget, the $499 Creator Combo features many accessories (at a lower price than if you would buy them separately) to kickstart your passion for vlogging or content creation. Watch the video below to learn more about this upgraded package:
Yes, the DJI Pocket 2 has a short battery life and isn't designed for stabilizing other cameras other than the one in your smartphone and its own. But features a lightweight, portable design and numerous, innovative ways to control and capture both the sound and visuals, this gimbal has definitely carved its own niche.
Zhiyun Crane 2
Last but not least, the $249 Zhiyun Crane 2 is the most affordable gimbal stabilizer on our list, but don't think that this is a flimsy or all-too-generic model.
First, it features the longest operating time among our three other models, lasting for 18 hours on a single charge and ensuring that you can control it working long hours without pausing for a recharge. In fact, its minimum runtime of 12 hours off a single charge is one hour longer than the full charge maximum operating time of the DJI Ronin SC.
Although it's nice that the three lithium ion batteries and the external charger come with the gimbal, it would've been better if the Crane 2 utilized internal charging instead. Similarly, we appreciate how we could charge our mirrorless cameras and phones with it when our power banks have run empty, but a USB-C option (aside from micro-USB) would be ideal.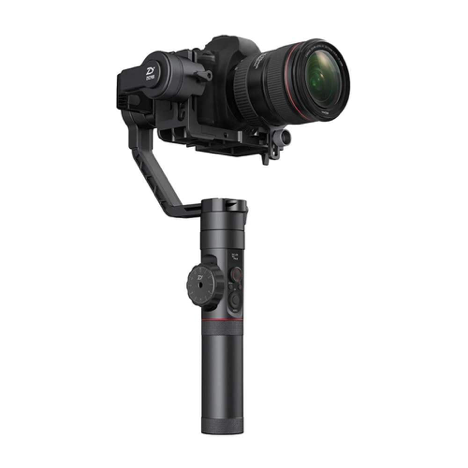 Despite its reasonable price and being only a little heavier than the Ronin SC, it has a bigger weight maximum payload at 3.2kg. This should be sufficient for compatibility with both the best DSLR and mirrorless cameras from series such as the Canon EOS, Nikon D, and Panasonic LUMIX. And with firmware updates, many cameras (like the Nikon Z6 and Z7) will be compatible with it.
This gimbal stabilizer encourages more ambitious and dynamic shots with its unlimited 360° mechanical range and movement angle range for its roll axis and pan axis, respectively. To compare, Zhiyu Crane 2 vs Ronin SC, the Ronin SC only features 360° rotations for its pan axis.
Even with the mechanical movements and heavier camera weight, the Zhiyun Crane 2 delighted us with its quieter performance compared to the first Crane model. Its subject-tracking technology, on the other hand, is on par with the Active Track 3.0 feature of the DJI Ronin SC and Pocket 2. Take a close look at the specs here.
Furthermore, the quick release plate isn't as smooth as expected, but they make remounting a cinch. On the bright side, the OLED display does well in reminding us about the gimbal's status and several camera settings, and the quick control dial never fails us.
We suggest this comprehensive video review to understand what makes this a mighty contender for your next handheld gimbal:
The Zhiyun Crane 2 is a small size, compact camera stabilizer that goes big where it matters. From its standout battery life and payload to its above-average controls and general performance, this is a solid and budget-friendly choice for those with heavy-weight or big cameras.
Conclusion
All in all, choosing from small DSLR gimbals requires taking several factors into account. Apart from budget, you should also consider things like battery life, what video cameras you plan to use, and the kind of images and videos that you want to create. Do you wish to do your shooting mainly with smartphones, DSLR cameras, action cameras, or mirrorless cameras? Is audio quality the most crucial element for you aside from stability? No matter the answer, we hope that this will help you find the best gimbals that can help improve the quality of your footage.