Ronin S vs Ronin SC: Which Gimbal Should I Get?
---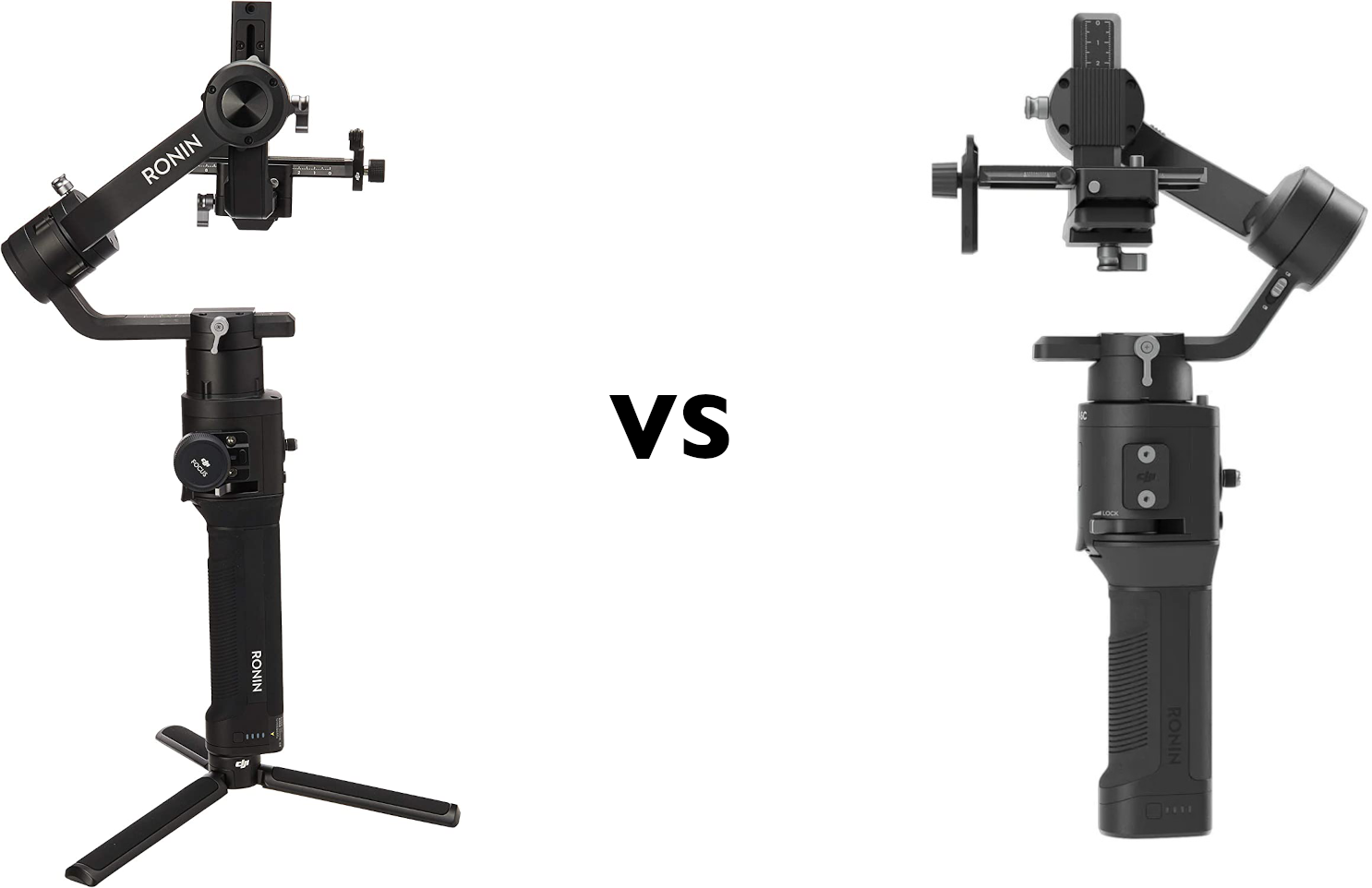 DJI has been producing great equipment for years. Their hardware has a great reputation, and when it came to producing a gimbal stabilizer, the Ronin S was a great first entry into the market.
This has now been followed by the DJI Ronin SC, a second gimbal stabilizer.
Both gimbals have their pluses and minuses. But now that there are two Ronin versions, which one should you choose? Everyone's needs and requirements are different, and it may be that you require one gimbal for one scenario but someone filming another will need something else.
However, in setting up the Ronin S vs Ronin SC for a head-to-head, we will help you decide which gimbal stabilizer will be best suited to your needs. Whether we're talking DSLR cameras or mirrorless cameras, there's a gimbal for you.
Ronin S vs Ronin SC: Main Specifications
Below are the main specifications for both gimbals.
Ronin S
Ronin SC

Cost 

$799

$279

Weight (lb) 

4.06

2.43

Size (inches)

19 x 7.95 x 7.28

14.5 x 5.91 x 6.5

Payload Capacity (lb)

7.94

4.41

Charge Time

2hr 15min (quick), 2hr 30 (normal)

2hr 30 (normal)

Operating Time

12 hours

11 hours

Operational Temperature (°F)

4° – 113°

4° – 113°

Connectivity

USB-C / Bluetooth (4.0 upwards)

USB-C / Bluetooth (5.0 upwards)

Flashlight Mode

Yes

Yes

Underslung Mode

Yes

Yes

Maximum Axis Rotation Speed

All Axis Rotation:360°/s

All Axis Rotation:180°/s

Controlled Rotation Range

Pan Axis Control: 360° continuous rotation

Tilt Axis Control: +180° to -90° 

Roll Axis Control: ±30°, 360°

Underslung/Flashlight:+90° to -135°

Pan Access Control: 360° continuous rotation

Tilt Axis Control: -90° to 145°

Roll Axis Control: ±30°
DJI Ronin S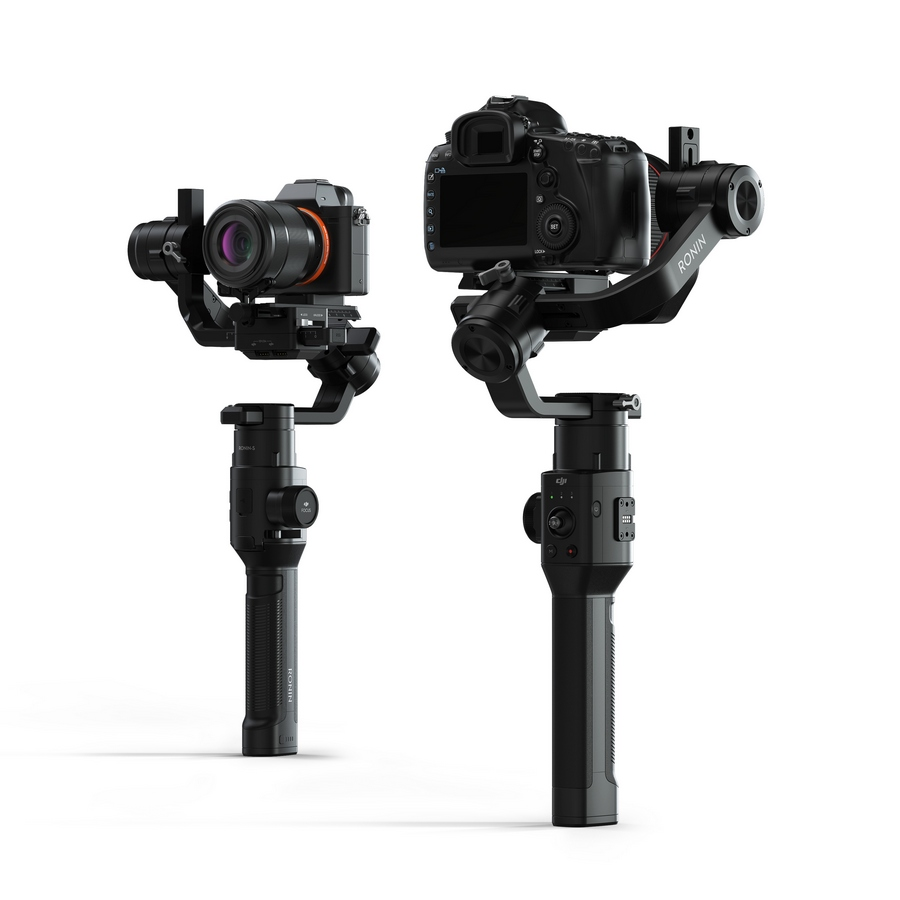 First up in the battle between the Ronin S and Ronin SC is the Ronin S.
Cost
At $799, there's no denying that the Ronin S is an expensive piece of kit. However, when it comes to gimbals you get what you pay for, and the feature set for the Ronin does justify the high price if you are able to afford it.
Design
The Ronin S is the heaviest of the two models, but it is still extremely portable. It features a detachable design, which makes it easy to assemble and disassemble. The end result is a very portable gimbal, which is perfect if you're going to be traveling about a lot of on-location shoots, or if you just prefer to keep your equipment load-light. The build is also solid, and it will be able to take any punishment that taking it on the road results in.
Support
The extra weight means that the Ronin S is able to deal with heavier and larger cameras. This means that it will work better with heavier DSLR cameras rather than mirrorless cameras. Although, it will also be more than suitable with more lightweight models if you need to move about more when shooting.
For a full range of what cameras the Ronin S will support, please see the Ronin-S Camera Compatibility List.
Main Features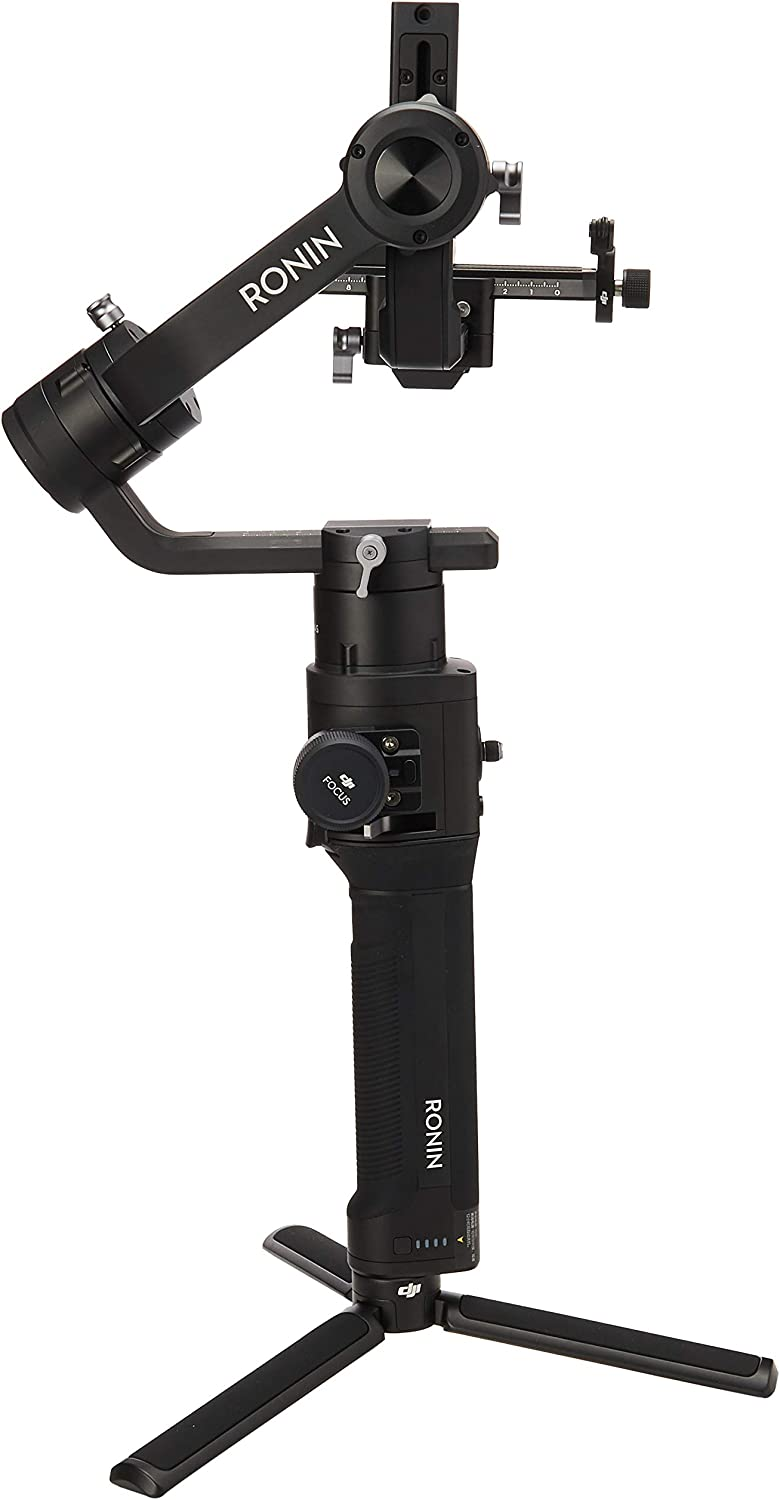 The joystick featured on the Ronin S is simple and responsive, allowing you easy control of the features. The trigger button is smooth in operation and moving between modes on the gimbal is easy and intuitive, even for newcomers.
Meanwhile, the rotation speed on the Ronin S comes in at 360°/s on its pan, tilt, and roll axis.
There is a controlled rotation range of 360° continuous rotation on its pan axis, as well as  ±30° on the roll axis control.
The Ronin S also has a wider tilt axis control, an impressively-wide +180° to -90° in upright mode, and +90° to -135° in Underslung and Flashlight mode.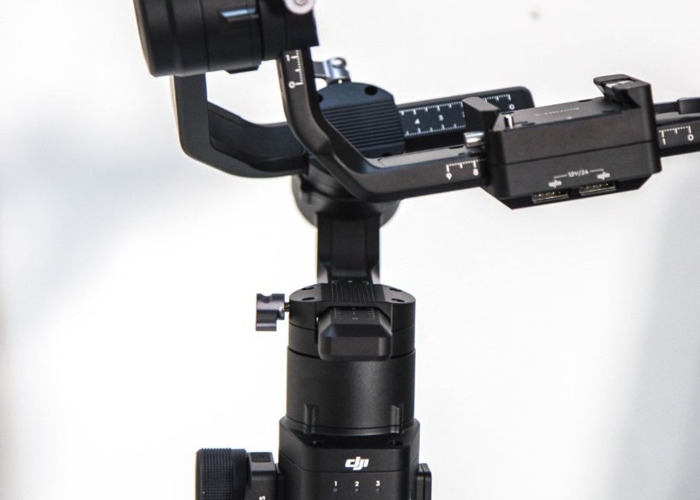 Following that, the following modes are supported:
Panorama: This will allow you to capture shots with a wide field of view.
Time and Motionlapse: Both Timelapse and Motionlapse capture the passage of time.
Sport Mode: This will allow you to keep any fast-moving subject easily within the frame. Although this is ideal for capturing sporting events, any fast-moving object can benefit from being shot in this mode.
ActiveTrack 3.0: If used in conjunction with the Ronin S Phone Holder (or Ronin SC Phone Holder – it works with both), you can attach your smartphone to the camera and use it to accurately follow and track your subject as they are moving. In conjunction with the physical holder, you can download the Ronin app to your smartphone to get this functionality. The Ronin app is simple to get started with and straightforward to use.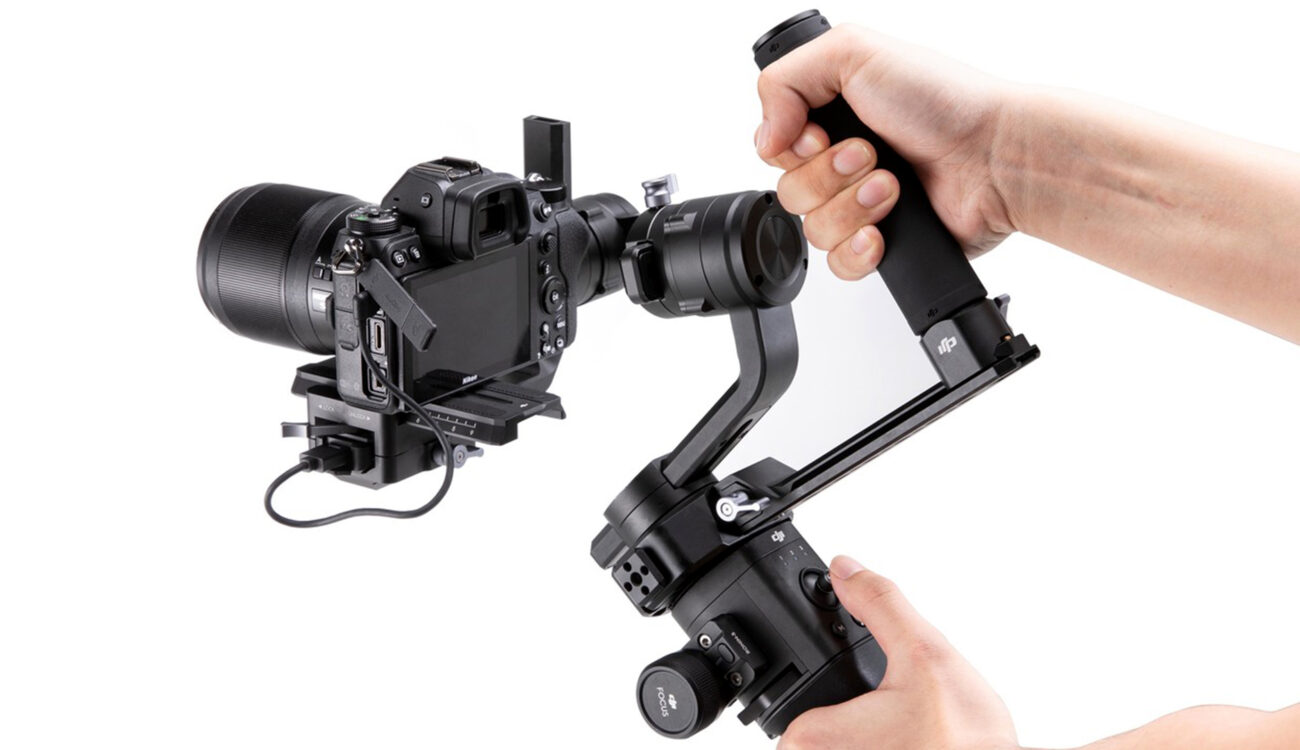 DJI Ronin SC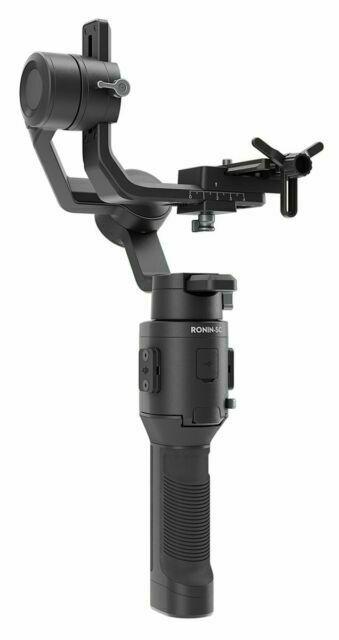 Next up, we have the Ronin SC gimbal.
Cost
At just $279, the Ronin SC gimbal stabilizer is considerably cheaper than the Ronin S. This makes it an obvious entry point for anyone looking to purchase a high-quality gimbal that isn't going to break the bank.
The lower price also reflects the fact that this is primarily designed for mirrorless cameras, which are generally more expensive than DSLR cameras.
Design
As with the Ronin S, the Ronin SC features a modular design. This means that it is detachable and easy to put away and carry. It is also considerably lighter than the Ronin S, weighing in at just 2.43 lb, making it incredibly portable.
Assembly and disassembly are also just as straightforward as it is with the Ronin S. The design is also durable and even though it is the lighter of the two gimbals, it is still rugged and able to deal with any bangs and scrapes that might come its way.
Support
Because the Ronin SC is lighter, it is more suitable for mirrorless cameras than it is for DSLR cameras. That's because mirrorless cameras generally weigh less. Please see the Ronin-SC Camera Compatibility List for more details on what cameras are most suitable for this gimbal.
Main Features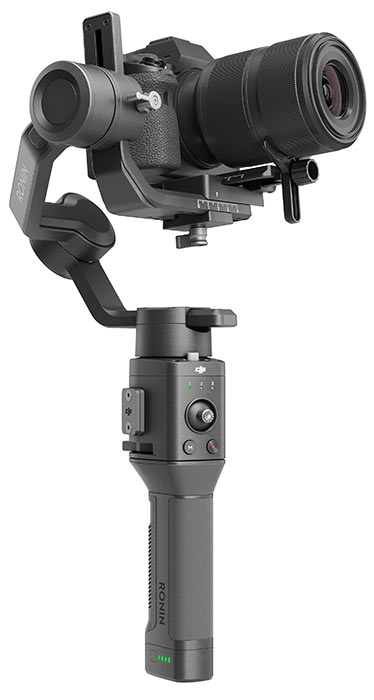 The joystick on the Ronin SC is very similar to that of the Ronin S and has the same degree of responsiveness when it comes to accessing all the settings and modes when used with the front trigger button.
The Panorama, Timelapse and Motionlapse, Sports Mode, and ActiveTrack 3.0 features are shared across both gimbals and work as well on the Ronin SC as they do on the Ronin S.
The design of the Ronin SC means that it comes with 3-Axis locks on each of the pan, roll, and tilt axis. This means that you don't need to deal with the bother of re-balancing the camera every time you're going to use it with the gimbal. It really is a great time-saver.
The Ronin SC is slower when it comes to the speed of its pan compared to the Ronin S. The tilt and roll axis, come in at 180°/s.
However, it also features the same controlled rotation range of 360° continuous rotation, as well as ±30° roll axis control. Considering how much cheaper the Ronin SC is, this is pretty impressive.
The Ronin SC's tilt axis control is -90° to 145°.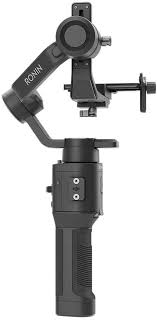 Main Differences Between the Ronin S vs Ronin SC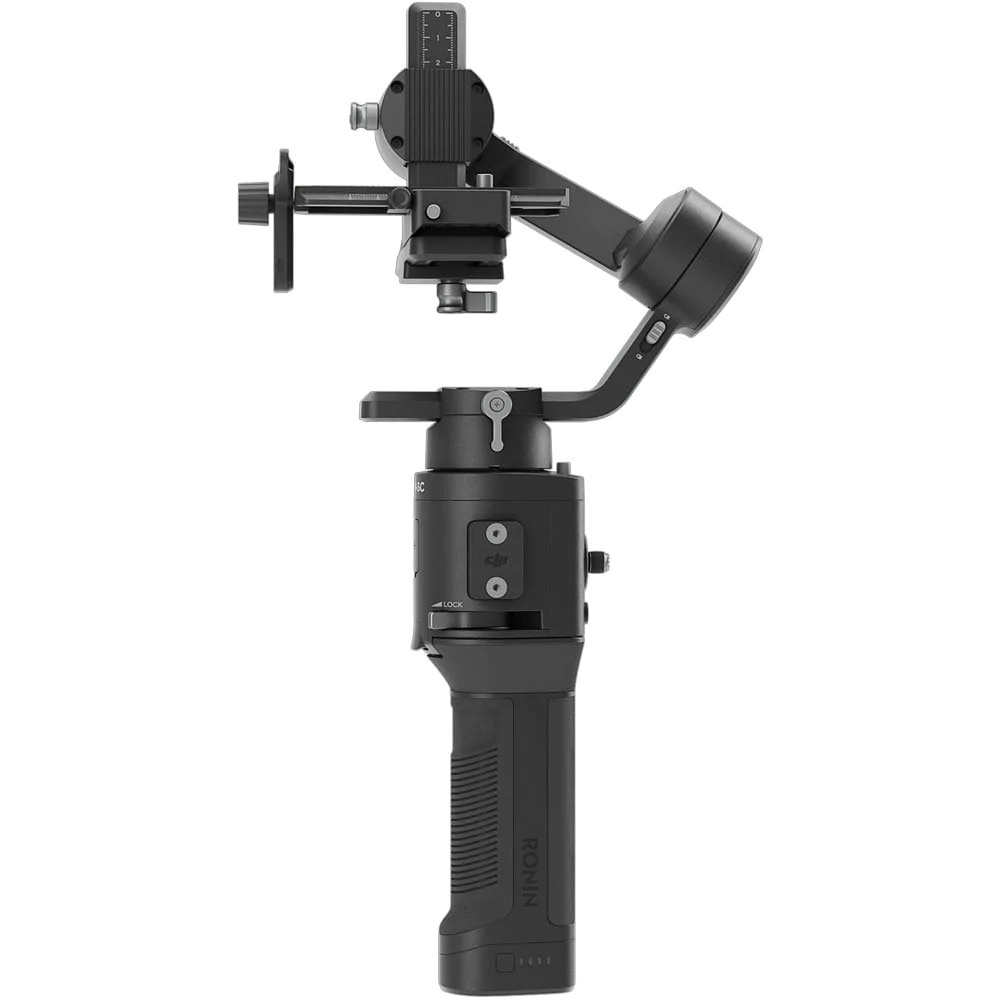 There are several important differences between the Ronin S and the Ronin SC, which are worth highlighting to help you make your decision about which one to choose for your filming needs.
Type of Cameras Supported
If you have a mirrorless camera, then the Ronin SC is the right choice. If you have a heavier DSLR camera, you want to go for the larger Ronin S.
Quick Charge
The Ronin S supports quick charge mode, which the Ronin SC does not. While the difference between charging times isn't huge — fifteen minutes between the S on Quick Charge and the SC on normal charge — sometimes every second can count, so it is worth bearing in mind.
Storage Position
The Ronin SC comes with a storage position for when your gimbal needs to be put away and locked securely in its travel case. The Ronin S does not have this. It's a great extra Ronin SC feature.
Weight
Because it supports considerably larger cameras, the Ronin S is noticeably heavier than the Ronin SC. While this makes sense, it's worth remembering. For instance, if you need to travel any amount of distance with your gimbal, every pound counts. The Ronin SC weighs almost half of the Ronin S.
Price
The Ronin S is nearly three times as expensive as the Ronin SC. This makes it a difficult buy for anyone looking for their first purchase, but for professionals who really need the best, it's an investment worth making.
Final Words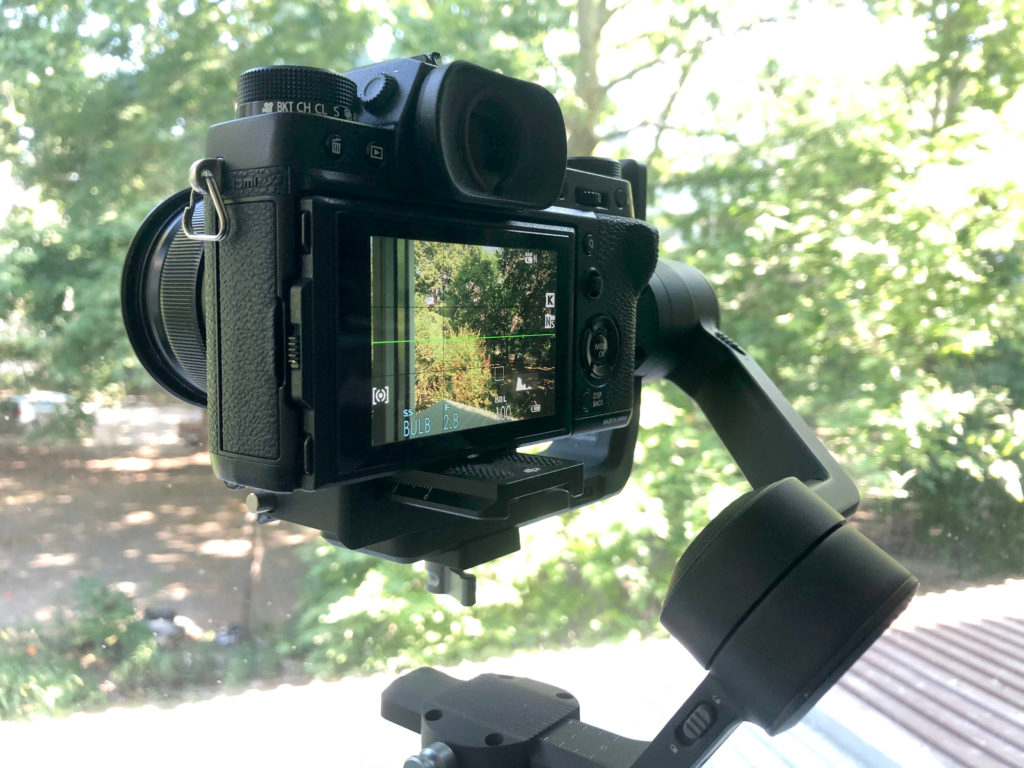 Both the S and the SC are incredibly well-made Ronin gimbals. While there are clear differences between them, there's no doubt that both of them perform extremely well.
For lighter, mirrorless cameras, or for people with a more limited budget, the Ronin SC is a fantastic choice. It's not quite as full-featured as the Ronin S but it still delivers in all the important ways, and its lightness is a real boon — just grab it and go! It's a great investment.
For heavier cameras, the Ronin S is the one to pick. This is a professional-level gimbal that is able to accommodate more advanced and heavier cameras or more extensive lens setups.
The Underslung and Flashlight modes both make a big difference too, as does the wider tilt axis control. The Ronin S is faster than the Ronin SC and has a wider range of motions, and for DSLR camera owners, it's a fantastic purchase.
Whichever gimbal you choose, you can buy it now that you will be investing your money in a great piece of hardware that can stand up to anything you throw and it and capture everything you want.
So go head out and capture some amazing videos!
You may also like: