GoXLR vs GoXLR Mini: Detailed Audio Mixer Comparison Guide
---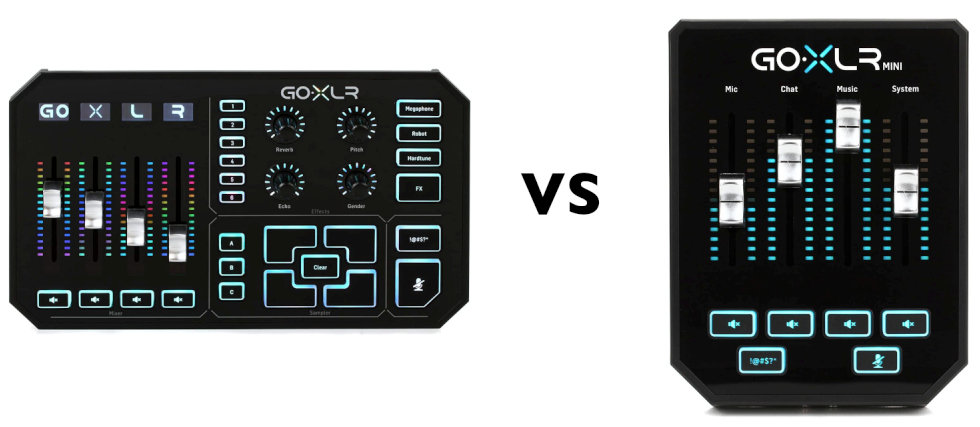 When it comes to audio mixers, TC Helicon has produced two of the best and most well-regarded on the market. These are the GoXLR and the GoXLR Mini.
But, other than the obvious difference in price, what are the differences between these two devices? As every content creator's requirements are different, it's important to make an informed decision when trying to decide between them.
In this article, we'll be looking at GoXLR vs GoXLR Mini and comparing them so you can decide which one would be the best fit for you. GoXLR vs GoXLR Mini – the battle is on!
As with our comparison of RODEcaster Pro vs GoXLR, we will be seeking to give you all the information you require to make an informed decision as to which you need.
And with the right information, you'll be recording and broadcasting perfect content in no time at all.
GoXLR vs GoXLR Mini: Comparison Table
First off, let's familiarize ourselves with the technical specs of both devices. Below is a comparison table with all the relevant stats and details about the GoXLR vs GoXLR Mini.
| | GoXLR | GoXLR Mini |
| --- | --- | --- |
| Cost | $408 | $229 |
| Power Supply Required? | Yes | No |
| Operating System | Windows Only | Windows Only |
| Headphone Input | Yes | Yes |
| XLR Gain | 72db | 72db |
| Optical Connectors | Yes | Yes |
| Faders | 4, Motorized | 4, Not Motorized |
| EQ | 10-band | 6-band |
| Phantom Power | Yes | Yes |
| Noise Gate | Yes | Yes |
| Compressor | Yes | Yes |
| DeEsser | Yes | No |
| Sample Pads | Yes | No |
| Vocal Effects | Yes | No |
| Mute/Censor Button | Yes | Yes |
Main Similarities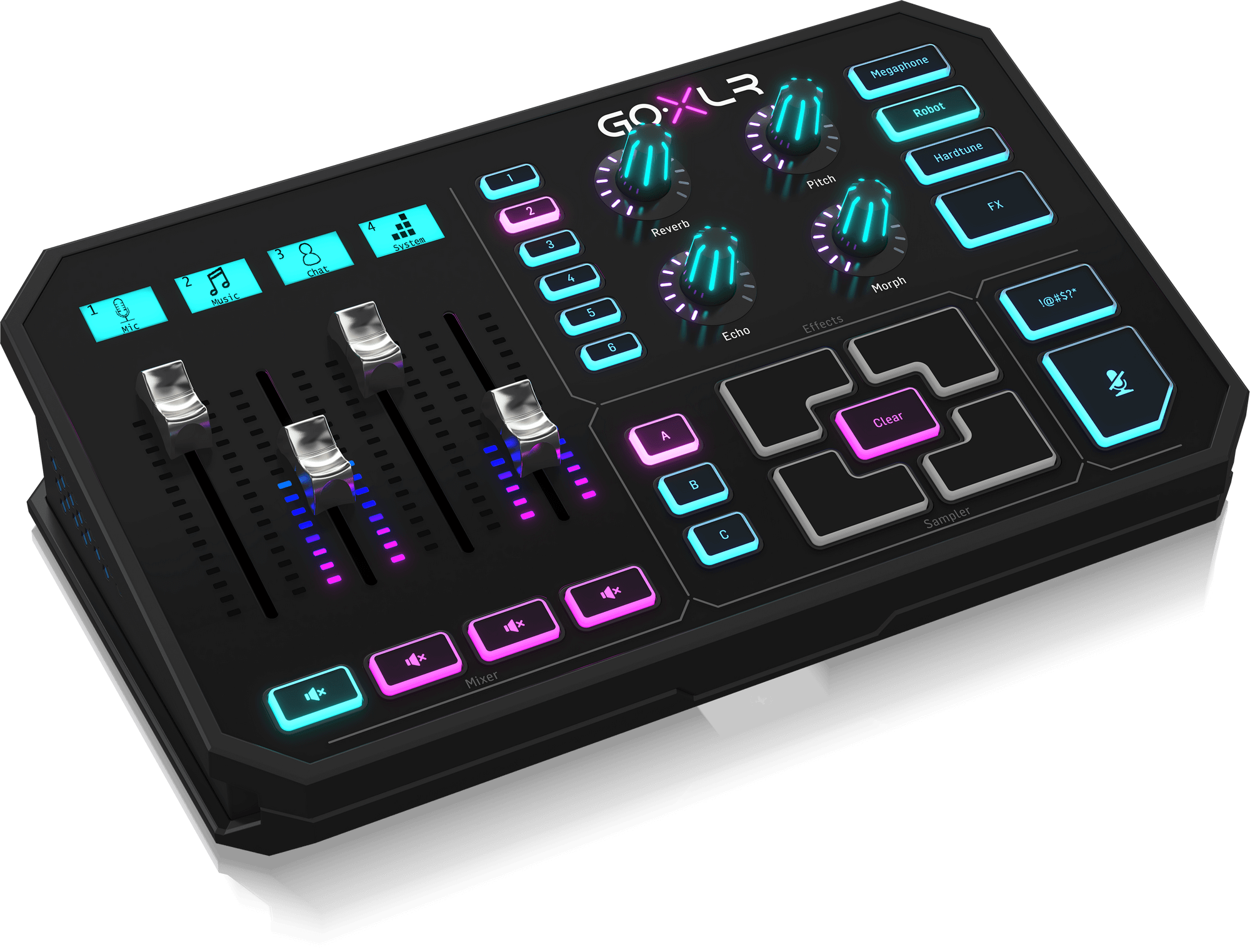 As can be seen from the table above, there are many similarities between the two devices. The main ones are as follows:
Number of Faders

There are four faders on both devices. You need to make the adjustments yourself on the GoXLR Mini, but this may not matter to you depending on your usage.

Customizable Faders

The faders on both devices can be assigned whatever role you want via a soft patch, so the audio mixers can be easily customized to suit your needs.

Inputs and Outputs

Both the GoXLR and GoXLR Mini feature the same number of inputs and outputs. The more budget-friendly GoXLR Mini doesn't lose any connectivity options for being the cheaper device, and it also retains the optical connection for those that need it.

Phantom Power

Both devices provide phantom power to drive condenser microphones. The voltage supplied by both devices is 48V.

Audio Processing – Noise Gate and Compressor

Both devices come with a noise gate and compressor as standard. This means you can offload cleaning up your audio to the hardware and have pristine sound even before you start to produce it.

Multiple USB Audio Devices

Both the GoxLR and the GoxLR Mini support multiple USB audio devices.

Mute Button and Censor / Swear Button

Both devices have mute buttons to cover coughs or accidental noises, and both have swear buttons, should anyone speak out of turn.
GoXLR vs GoXLR Mini: Main Differences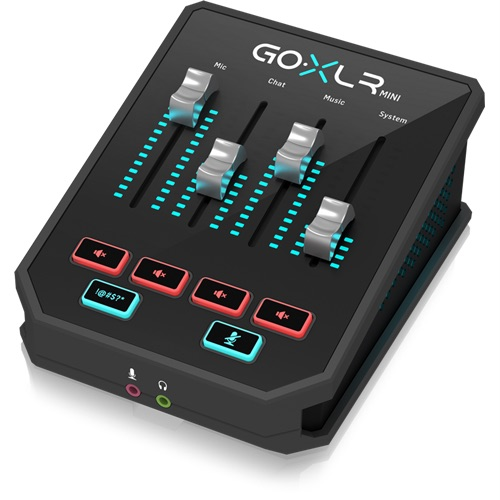 While the similarities between the devices are striking, it's also worth bearing in mind some key differences. These can be crucial when it comes to making your choice between them.
Cost

It seems obvious, but it's still worth mentioning. The GoXLR is considerably more expensive than the GoXLR Mini, at almost twice the price.

Headphone Jack

Both devices have a 3.5mm headphone jack. The only difference for the GoXLR Mini is that it's on the front of the device. Both devices have the XLR input on the rear.

Physical Dimensions

Because of the inclusion of the Sample Pads and Effects, the GoXLR is physically larger than the GoXLR Mini (as you would expect from its name!) The GoXLR is 11 inches across, the GoxLR Mini is 5.5 inches.

Sample Pad and Effects

One of the big differences between the two devices is that the GoXLR includes sample pads and voice effects. The effects available are reverb, pitch, gender, delay, robot, hardline, and megaphones.

These can be called up at the press of a button, and you can sample and recall sounds with ease. The GoxLR Mini, meanwhile, has no sample pad or effects.

DeEsser

The GoXLR comes with a built-in DeEsser to remove sibilance and plosives. The GoXLR Mini does not, but you can always use the software DeEsser in conjunction with the GoXLR Mini if you don't require a hardware version.

Motorized Faders

Although both devices contain four faders, the ones on the GoXLR are motorized rather than manual. This means that they can be controlled by your software at will. On the GoXLR Mini, these are purely manual and must be adjusted by the user.

LED Scribble Strips

In addition to motorized faders, the GoXLR has LED scribble strips located about the faders. This allows you to label the assigned functionality of each fader.

Equalization

The GoXLR features studio-quality 10-band EQ, whereas the Mini has a 6-band EQ. Both produce excellent sound, but you may find that the GoXLR nudges ahead slightly in terms of pure sound quality.
Key Specifications Of GoXLR

Extremely high-quality MIDAS preamp with 72dB gain. Delivers 48V phantom power.
Optical port allows connection to consoles.
Powerful sampler to capture and replay voice or other sound clips.
USB-B data connection.
Separate power cable.
11" x 6.5" in size, 3.5 lbs weight.
Built-in Noise Gate, Compressor, DeEsser.
6-band EQ
Four sample pads with three layers.
Mute button and censor button.
GoXLR Pros and Cons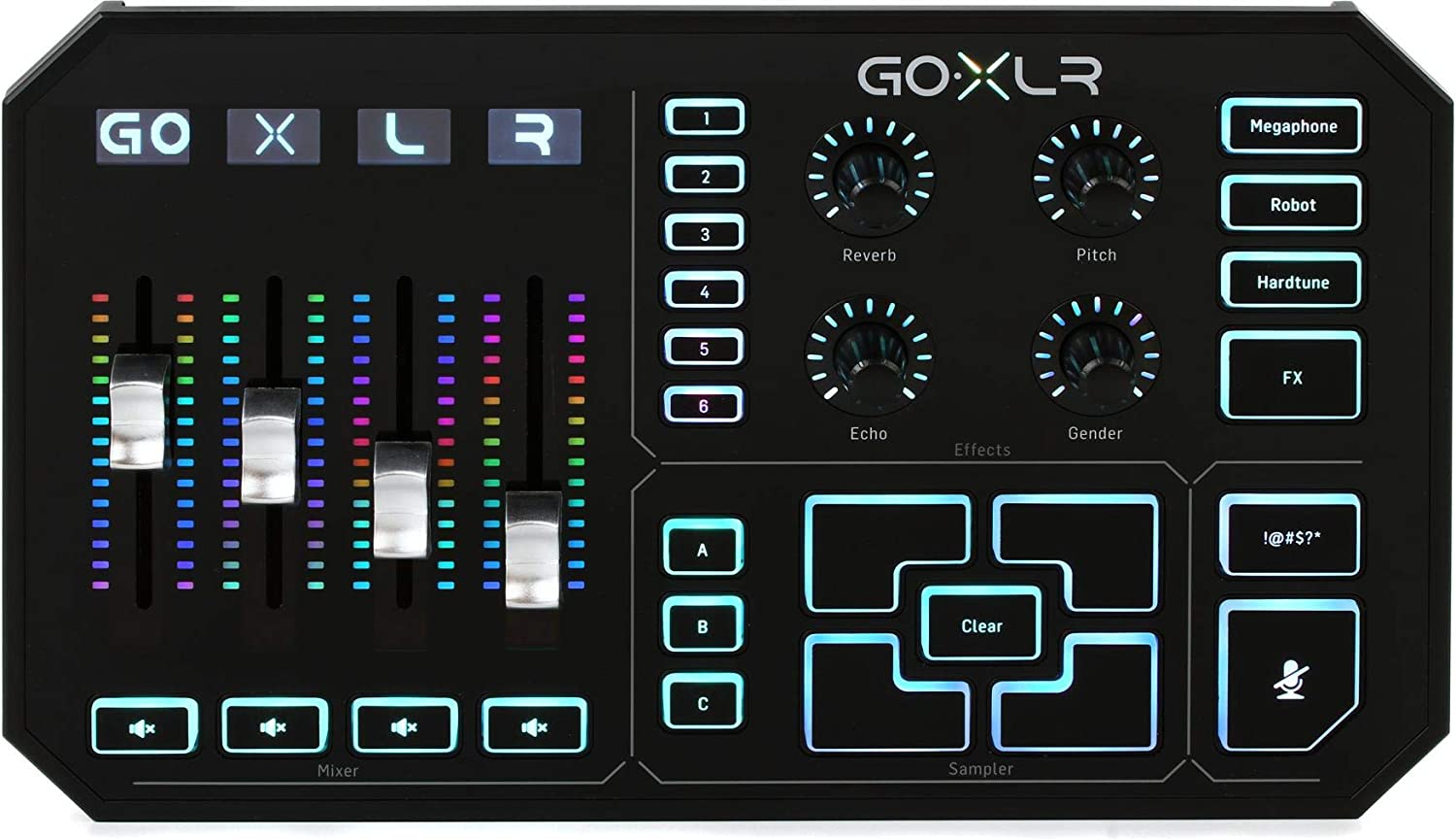 Pros:
Extremely high-quality device.
Excellent design, build, and color scheme.
Simple, easy-to-use controls.
Fantastic piece of kit for live streamers and podcasters alike.
Studio-quality EQ processing.
Good quality software once installed and lets you save your favorite settings.
Motorized faders make controlling functions extremely easy.
Built-in sample pads and voice effects.
LED Scribble strips allow labeling faders by function.
Cons:
Expensive – nearly double the price of the Mini!
The initial set-up can be a bit clumsy.
Requires external power supply – cannot be powered by just USB.
Voice effects are a bit gimmicky.
Key Specifications of GoXLR Mini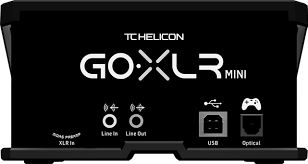 Same MIDAS, high-grade preamp as the GoXLR with 72dB gain.
Optical port for console connection.
6.6" x 5.2" in size, 1.6 lbs weight.
USB-B data connection, which provides device power.
Built-in Noise Gate, Compressor.
6-band EQ
Mute button and censor / swear button.
GoXLR Mini Pros and Cons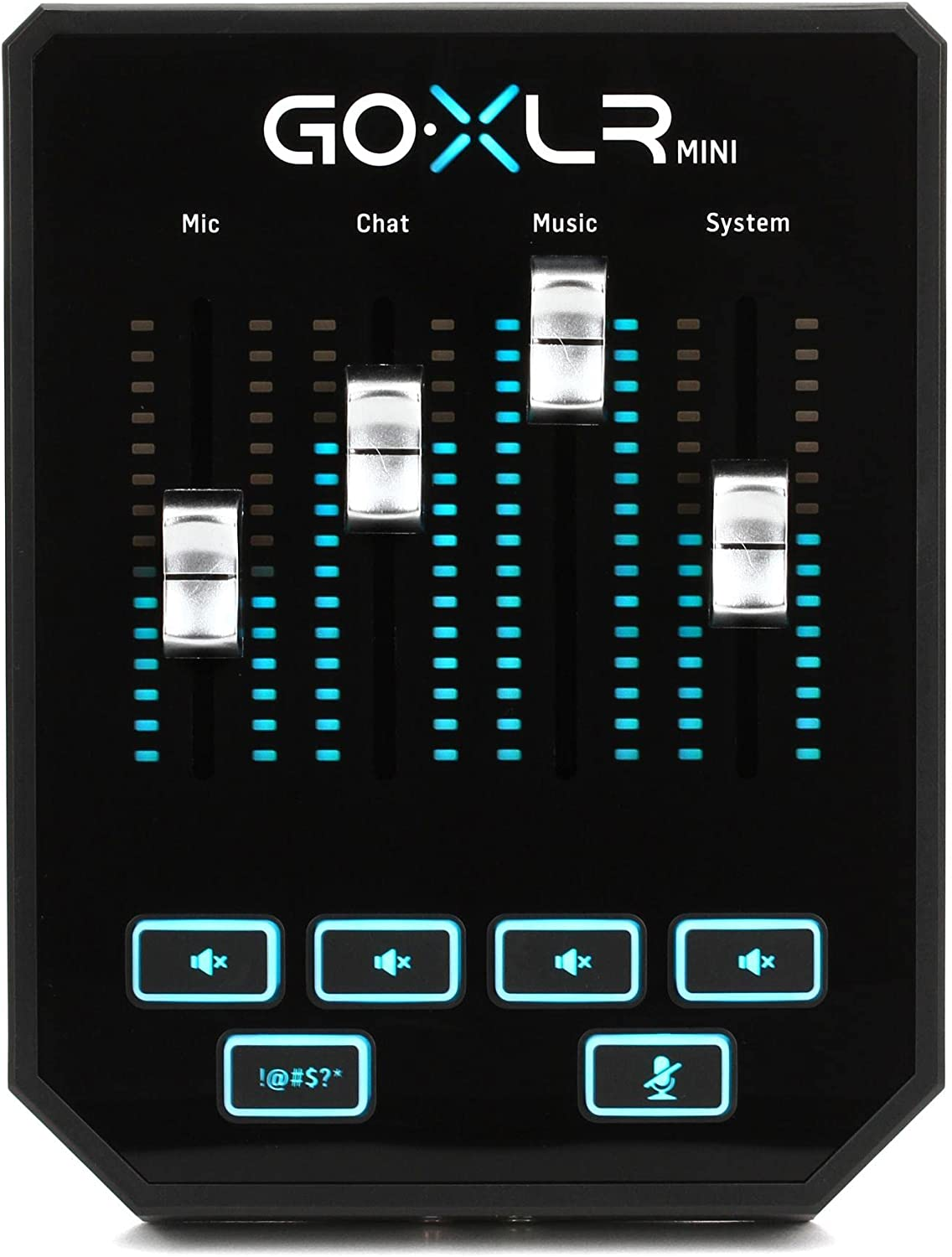 Pros:
Extremely good value for money – the GoXLR Mini is almost half the cost of the GoXLR for very nearly the same functionality.
Small and simple to use.
Same build, quality, and color scheme as the larger version.
The GoXLR Mini doesn't require an external power supply.
Packed with features for an inexpensive device.
Same software as the larger rival – you don't get a "light" version for investing in the budget version.
Same powerful preamp as the full-price version.
Same phantom power as the full-price version.
The GoXLR Mini has the same range of inputs and outputs, including optical support on a budget device.
Cons:
Lacks sample pad or voice effects.
Six-band EQ is a little less high quality that the more expensive version.
The GoXLR Mini lacks a built-in DeEsser.
Non-motorized faders.
GoXLR vs GoXLR Mini: Final Words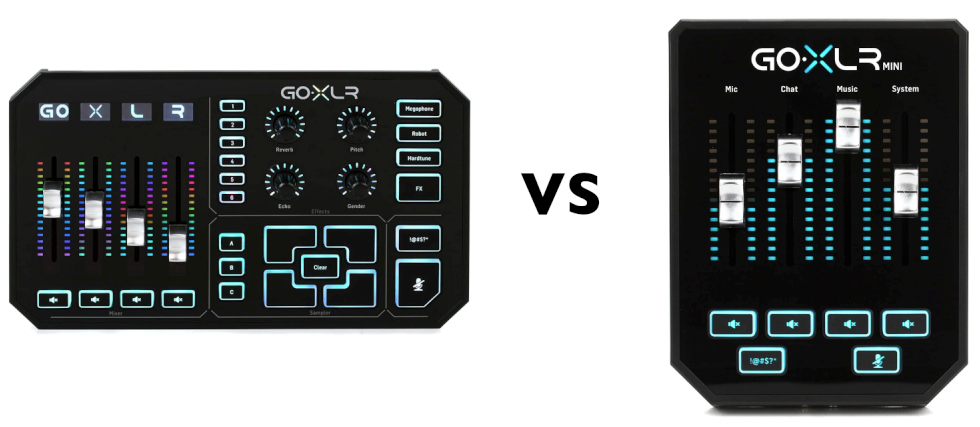 When it comes to the GoXLR vs GoXLR Mini, there's no clear winner. But whichever you do choose, you will be getting an amazing product, as both are excellent pieces of kit that will benefit any live streamer or podcaster.
However, which one you go for is likely to depend on your level of experience and knowledge.
If you are just setting out, the GoXLR Mini is an excellent place to start. The audio processing is great, the quality and build of the device are self-evident, and once the app is installed it is a very simple piece of kit to use.
Additionally, for many people (especially those just starting out or finding their way into live streaming and podcasting) the lack of certain features such as voice effects and sample pads, is unlikely to be much of an issue.
If that's you, then getting the GoXLR Mini will be a great investment.
For more professional or experienced live streamers, online broadcasters, and podcasters, you can't go wrong with the GoXLR.
The studio-quality 10-band EQ means that your audio will always sound crisp and clear, the DeEsser means that even after the longest live streams your voice will still sound great, and being able to sample and process your voice on the fly is a great addition.
Although it's a hefty financial investment, there's no doubt at all that you get what you pay for.
Whichever device you go for, both the GoXLR and GoXLR Mini are excellent investments, and neither should disappoint in fulfilling their respective functions for live streamers, podcasters, or other content creators.
If you are still not convinced, you can always search for GoXLR alternatives, to choose the very best audio mixer for yourself.