Best GoXLR Mixer Alternatives
---
GoXLR is, without a doubt, an excellent choice when it comes to buying an audio mixer.
And whether you are live-streaming or podcasting, a top-quality mixer really is an essential piece of kit. Even if you have the best video quality when streaming, poor sound quality is always undesirable and is bound to affect your popularity.
However, although it's a great piece of kit, GoXLR doesn't support Macs, which is one reason you might want to consider a GoXLR alternative. And with so many mixers on the market, it's easy to become overwhelmed with the sheer amount of choice available.
As we discussed in our article Rodecaster Pro vs GoXLR, there are alternatives available. However, here we will go into more detail and explore ten of the best alternatives, to suit all budgets and uses.
GoXLR Mini Audio Mixer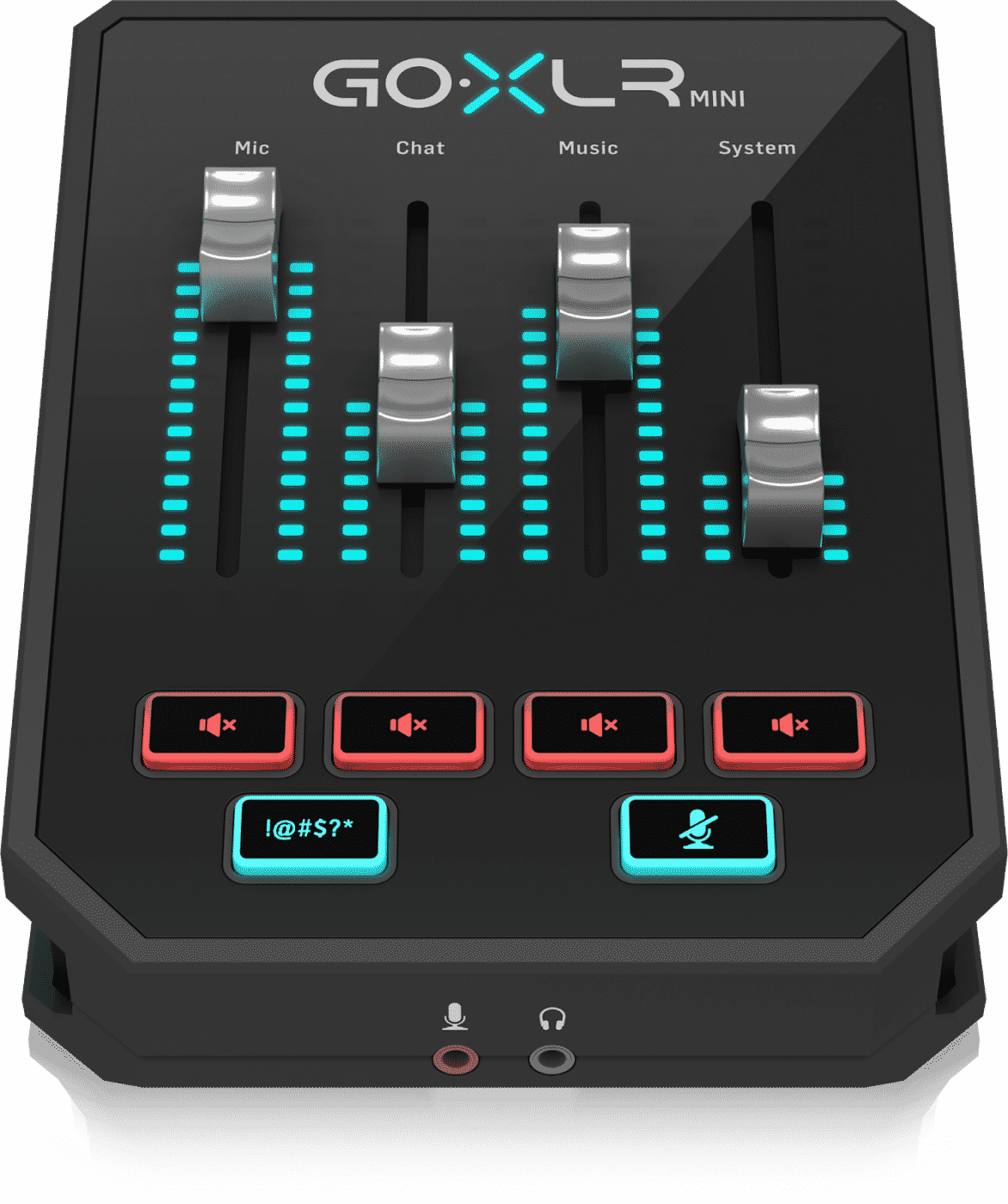 Before starting the list, it's worth mentioning the GoXLR Mini. This is a cut-down version of the full-sized GoXLR. The Mini version loses the motorized faders and sample pads, as well as having a 6-band rather than 10-band EQ. The voice effects and DeEsser also disappear.
However, in almost all other regards, the GoXLR Mini is the same as the full-sized version, and for around half the price. We discuss the differences in more detail with our GoXLR vs GoXLR Mini comparison.
The Mini is definitely a strong audio mixer. However, it is still a GoXLR, so while it's worth being aware of, it's also not really an "alternative" as such — just a cut-down version of what already exists.
10 Best Goxlr Alternatives for any Budget
Instead, we have compiled a list of the best alternative audio mixers on the market. There are a lot of options when it comes to choosing a GoXLR alternative, but there's bound to be something to meet your needs — and wallet!
1. Creative Sound Blaster K3+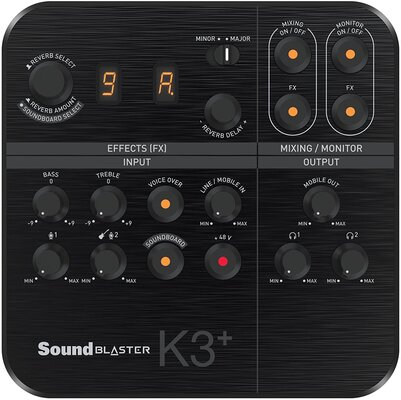 The Creative Sound Blaster K3+ is a great GoXLR alternative if you are either on a tight budget or just setting out on your streaming journey. It's an easy piece of equipment to learn, which makes it ideal for newcomers.
The device represents extremely good value for money and has plenty of options when it comes to connectivity for such a budget device. It contains six presets already installed, and the device has a small footprint, so it's not going to take up too much desk space.
You can apply custom settings so everything can be adjusted to your own preferences. There are also nine adjustable reverb effects, as well as pitch correction effects and two separate headphone-out sockets.
If you are looking for a way into streaming with good audio quality, the Creative Sound Blaster K3+ is a great entry-level audio mixer.
Specs
Connectivity: USB 2.0, USB 3.0, in-line
Phantom Power: Yes, 48V
Sample Rate: 96 kHz
Number of channels: 2
Own Software: No
Pros
Great value for money.
Simple, straightforward plug-and-play set-up.
Great feature-set for such an inexpensive device.
Cons
The layout is not very instinctive and takes a little getting used to.
A bit basic for more professional streamers.
Only two-channel support.
2. Behringer XENYX Q502USB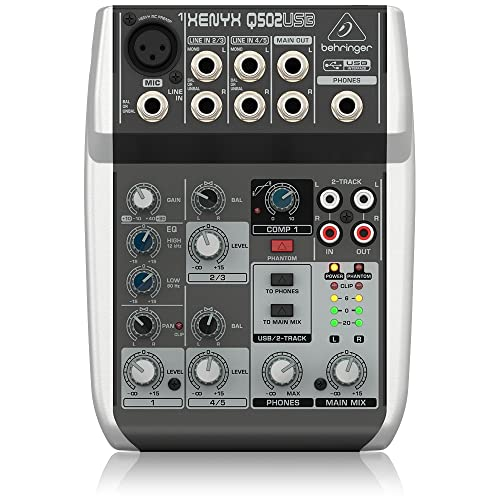 Remaining at the budget end of the spectrum, the Behringer XENYX Q502USB is another mixer that offers great value.
The device supports five inputs and has a 2-bus mixer. As you would expect from the Behringer name, the build quality is great and this is a small, portable device for streamers on the move.
The built-in hardware is impressive, with a compressor that does an amazing job. LED gain meters on a budget device are certainly welcome too.
It also features a 2-band EQ "Neo-classic British" setting for a warm sound, and the mixer works equally well for musical instruments as for streaming.
All-in-all, the XENYX represents a great GoXLR alternative for the money and an excellent entry point for learning mixers.
Specs
Price: $99.99
Connectivity: USB-B, USB-3, Line-in
Phantom Power: Yes, 48V
Sample Rate: 48kHz
Number of Channels: 2
Own Software: Yes
Pros
Great value for money.
Built-in compressor is studio-great and fantastic quality for the price.
Excellent sound quality for a budget device.
LED gain meters on a budget device.
2-band EQ really makes a difference to how you sound.
Cons
Behringer layouts are often confusing and this is no exception.
Takes a bit of getting used to.
3. RODECaster Pro
The RODECaster Pro audio mixer is a step up from the previous two entries, both in quality and price. But Rode, a name synonymous with high-quality audio, has delivered a fantastic mixer.
There are four XLR mic channels available on this mixer for condenser mics and dynamic mics, with eight faders. Each channel has a separate headphone jack as well as a separate volume dial for easy monitoring, and the sound quality is fantastic.
There's also a soundboard with eight pads that can be easily customized, and the touchscreen means accessing audio effects and settings couldn't be easier. You can program sound effects, add and record new sounds on the fly, and record audio files directly to a microSD card.
Overall, the RodeCaster Pro is a real step up from learner mixers into the world of professionals.
Specs
Price: $488.99
Connectivity: USB-C, Bluetooth
Phantom Power: Yes, 48V
Sample Rate: 48kHz
Number of Channels: 4
Own Software: No
Pros
Studio-quality sound.
Extremely versatile and can be adapted for many different uses.
Sound pads are great and can be easily customized.
Despite a lot of controls, the layout is easy to use and clean.
Cons
Expensive!
Despite its flexibility, it can't support dual-PC setups.
4. Razer Audio Mixer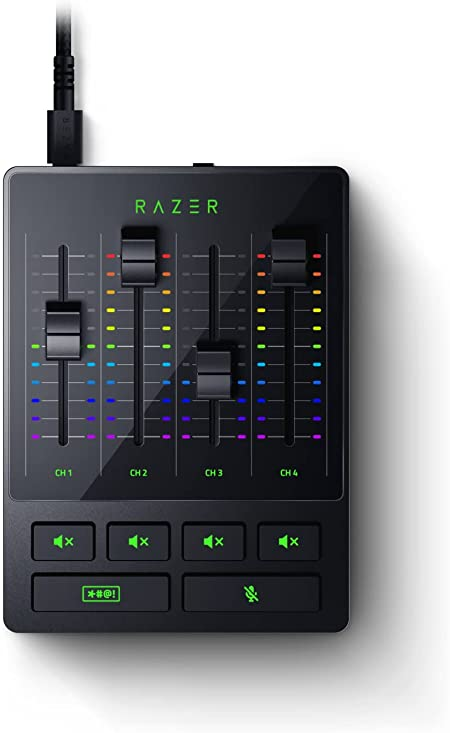 The Razor Audio Mixer is a slim, attractive box.
The device is a four-channel mixer, which uses sliders in a set-up very familiar to anyone who has used a GoXLR. Indeed, the Razer is very similar to the GoXLR Mini, although it's physically a little smaller.
The device comes with a button to control the 48V phantom power for driving condenser microphones. There is a mic mute button below each slider, one for each channel.
However, these buttons also perform an additional function — if they are held down for more than two seconds, the preconfigured voice changer will take effect. While not a critical function, it is still incredibly handy.
Speaking of configuration, the device is easy to customize via software, and even the colors of each fader and mute button can be altered to suit your tastes. The Razor also has built-in audio processing in the form of a compressor, noise gate, and EQ.
Overall, this is an extremely capable GoXLR alternative, represents good value for money, and is a great mixer.
Specs
Price: $249
Connectivity: USB-C
Phantom Power: Yes, 48V
Sample Rate: 48kHz
Number of Channels: 4
Signal-to-noise Ratio: ~110 dB
Own Software: Yes
Pros
Small device with excellent build quality.
Motorized faders.
Excellent preamp and audio processing.
Extremely customizable.
Optical port for console connection
Cons
Windows only — not Mac compatible.
Only one XLR connection for condenser mics.
Good, but expensive.
5. Alto Professional ZMX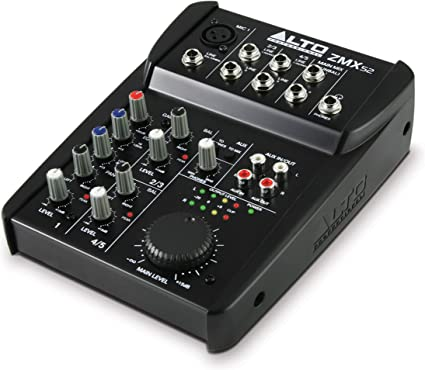 The Alto Professional is a sleek, small audio mixer, but don't let the tiny footprint fool you — this device has it where it counts.
There are six inputs to be had here, as well as one 48V phantom power XLR input.
Alongside the inputs there are loads of output options too, including tape, an AUX port, and headphones, so no matter where your signal needs to go, you will find some way of getting it there.
The device also has built-in LED meters above the level knob, so keeping track of the peaks in your audio couldn't be easier. There is a natural two-band EQ built in, which adds warmth to the voice of whoever is speaking. In addition, there are built-in sound processing tools as well, including a condenser.
However, one thing the device curiously lacks is USB connectivity, so you're going to need an audio interface to connect it directly to your computer.
However, despite this odd omission, the Alto Professional is still a worthy mixer with great audio quality and is a very capable mixing console at an affordable price.
Specs
Price: $60
Connectivity: In-line
Phantom Power: Yes, 48V
Sample Rate: 22kHz
Number of Channels: 5
Signal-to-noise Ratio: ~110 dB
Own Software: No
Pros
Ridiculously good value for money.
Good quality sound.
Compact, light, and easy to travel with.
A plethora of inputs and outputs.
6. Elgato Wave XLR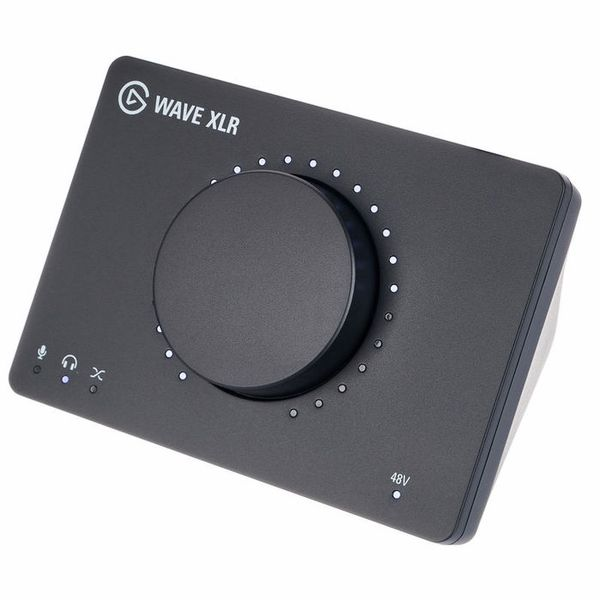 The Elgato Wave XLR is simplicity itself. The device functions best as a preamp and has a nice, clear sound that belies the physical dimensions.
One massive knob takes up the bulk of the slender box which can be used for different functions, including adjusting the mix volume levels and mic gain. You just need to press the knob to cycle between options. You can even use it to turn the phantom power on and off.
There's a ring of LEDs around the control knob so you have an easy visual representation of your levels, and there's a sensor button for muting.
The XLR port and the headphone jack are on the back, so all your cables are tucked away out of sight. The built-in clipguard technology helps to prevent microphone distortion when in use, which is a real plus, and the Wave Link app allows software channels to be added in addition to the physical ones.
The device functions best as a preamp and has a nice, clear sound. Though the Elgato Wave XLR isn't the most sophisticated of the audio mixers in terms of features, it still has superior sound quality and the cost is reasonable too.
Specs
Price: $159.99
Connectivity: USB-C
Phantom Power: Yes, 48V
Sample Rate: 48kHz
Number of Channels: 1
Own Software: Yes
Pros
Small device, big power.
Excellent preamp.
Built-in clipguard to stop distortion.
Multi-function control dial sounds like it could be a gimmick but actually works well.
Wave Link software includes VST plug-in support, greatly increasing its usefulness.
Cons
The single control knob is good, but it's not for everyone.
Can't support dual-PC streaming.
Wave Link app has a learning curve.
7. Pyle Professional Audio Mixer PMXU43BT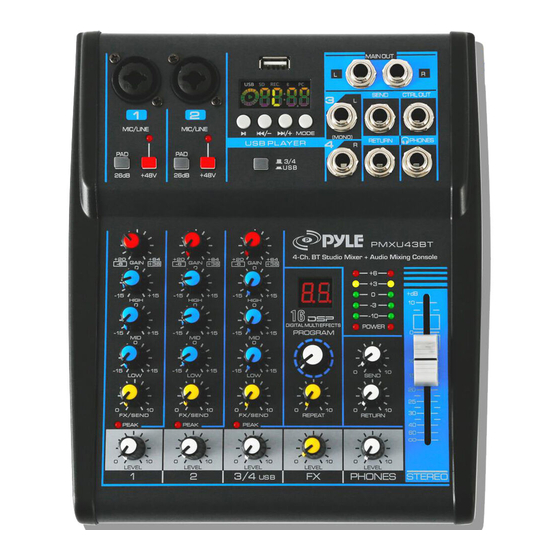 The Pyle Professional is an audio mixer that, while it doesn't necessarily scream its credentials from the rooftop, is nevertheless extremely capable.
It has a rugged exterior which means that it can stand up to any amount of punishment. And the sturdy build means that although it is ideal for streamers and podcasters, it is an equally good boon for musicians who need to haul their gear around.
The Bluetooth receiver means you can wirelessly stream everything to your headphones and is a most welcome addition that more mixers could do to support. There are plenty of built-in effects (sixteen in total), and there's also a built-in three-band EQ. 48V phantom power for your condenser mics is controlled by two buttons for each of the XLR channels, with a red LED to let you know when it's active.
Unusually, the device supports MP3 files, so you can stop, start and shuffle MP3s if you connect your player via a USB port. While not essential, it's another nice-to-have. LED meters make it easy to keep your gain at a good level.
Overall, the Pyle Professional audio mixer is a great little device, and at a cost that won't be beyond most people's reach, whether you're a beginner or more experienced.
Specs
Price: $99.99
Connectivity: USB-C, Bluetooth
Phantom Power: Yes, 48V
Sample Rate: 48kHz
Number of Channels: 4
Own Software: No
Pros
Bluetooth connectivity for wireless headphones.
Great noise level reduction.
MP3 playback control which can be easily accessed via USB-A socket for flash drive reading.
Rugged enough to be taken on the road as well as used at home.
Flexible enough to work for musical instruments as well as streamers and podcasters.
Cons
Not the most configurable device compared to some.
Slightly dated look could do with a refresh.
8. AVerMedia Live Streamer Nexus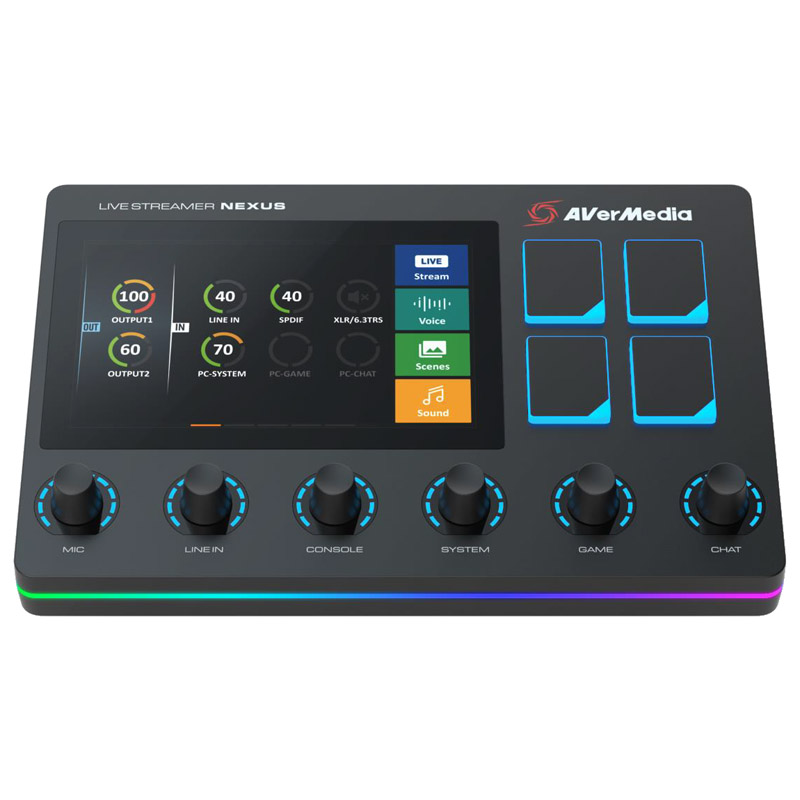 A clean, uncluttered look greets you when the AverMedia Live Streamer is removed from its box. This audio mixer looks like a fusion between the GoXLR and the Elgato Stream Deck.
The IPS screen takes up the largest part of the device and can be fully customized by the software that ships with it. The screen is one of the best features of the mixer, in fact — it adds a huge versatility to the mixer, and makes navigating tasks and functions extremely easy.
And it's a touchscreen, so it's not just for displaying information; it's actually adding to the functionality.
The device integrates easily with other apps, such as Discord, YouTube, and Spotify, which means getting up and running is very speedy. There's also a built-in noise gate, as well as compression, reverb, and an equalizer.
The software lets you add hotkeys and assign uses to any of the function buttons, and the six audio dials allow control over the channels. Each channel can be activated or deactivated simply by pressing the control knob for it, making it very simple to bring in or remove streams from your feed.
If there's a flaw here, it's that the software which controls the device isn't quite up to the same standard as the hardware. It's a bit clunky, it's not very intuitive, and it requires a bit of practice to get right. However, the effort is well worth it, and AVerMedia still easily earns its place on this list.
Specs
Price: $285
Connectivity: USB-C, optical
Phantom Power: Yes, 48V
Sample Rate: 96KHz
Number of Channels: 6
Own Software: Yes
Pros
The screen is brilliant and incredibly useful.
Great design.
App integration is great and works really well.
Excellent sampling rate.
Cons
A pain to set up, so there's a learning curve — be prepared to fiddle with drivers and downloads.
Expensive considering the functionality.
Software is a drag to learn.
9. Roland VT-5 Vocal Transformer
The Roland VT-5 Vocal Transformer is a cleanly-designed mixer, with simple aesthetics that make for an uncluttered device. The layout means that it is simple to use and easy to get to grips with.
As you would expect, given the name, there are buttons dedicated to changing your voice. These include Vocoder, Robot, and Megaphone, all available in real time. And there's a knob to control the key you are in if you feel like getting very creative, so it's an effective voice transformer.
There are plenty of effects as well, with echo, reverb, pitch, and more, all of which are easy to use. The large knob in the middle is for Auto Pitch, and four sliders control each of the four channels. The audio quality is great and very clear.
Unusually, as well as being powered by USB the device can also run from batteries. There's also MIDI support, so you can connect a keyboard directly to the device, or use your DAW.
While the Roland is definitely a good piece of equipment, it angles itself more towards being a voice transformer than a mixer with more advanced features. But everything it does, it does extremely well, and the Roland is an excellently-designed and put-together piece of kit.
Specs
Price: $264.99
Connectivity: USB-B
Phantom Power: Yes, 48V
Sample Rate: 48KHz
Number of Channels: 4
Own Software: No
Pros
Excellent design and layout.
Wide range of voice effects.
MIDI compatibility is built in as standard.
Runs on mains/USB or battery power.
Cons
Expensive for what it is.
Not very configurable.
10. Mackie Mix5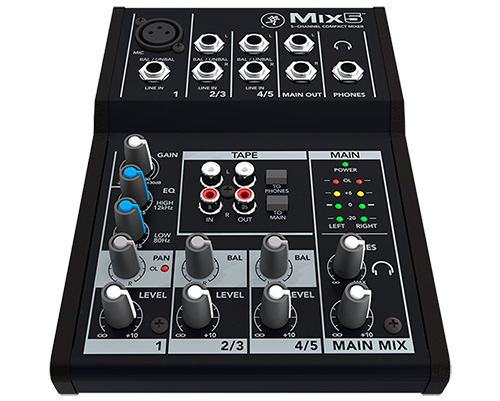 Mackie might not be as well-known a name as some of the other mixers on this list, but they shouldn't be overlooked. For a budget-conscious device, the Mackie Mix5 is a good piece of equipment.
As the name implies, this is a five-channel mixer and each channel has independent controls. The sound is clear, clean, and high-quality. There's a two-band EQ built-in, which adds to audio quality.
There is a red overload LED to let you know when your signal is getting out of control, and LED meters next to the main volume control give you a good overall visual representation of your sound.
There are dedicated RCA jacks for input and output, and they are easily routable thanks to simple buttons next to them. And there is one phantom-powered XLR input. However, there's no USB so an audio interface would be required to connect directly to your computer.
For such an inexpensive device, it also feels rugged, and taking it on the road shouldn't be any more of a problem than using it in a home set-up.
Overall this is a reliable, dependable, and very affordable piece of kit.
Specs
Price: $69.99
Connectivity: In-line
Phantom Power: Yes, 48V
Sample Rate: 48KHz
Number of Channels: 6
Own Software: No
Pros
Very competitively priced.
Well-constructed and dependable.
Wide range of flexible configurations.
Easy to use, and a good piece of kit to learn on.
2-band EQ really does boost the quality of the sound.
Cons
No USB output.
Basic for what it is.
Final Thoughts on the Best GoXLR Alternative Mixers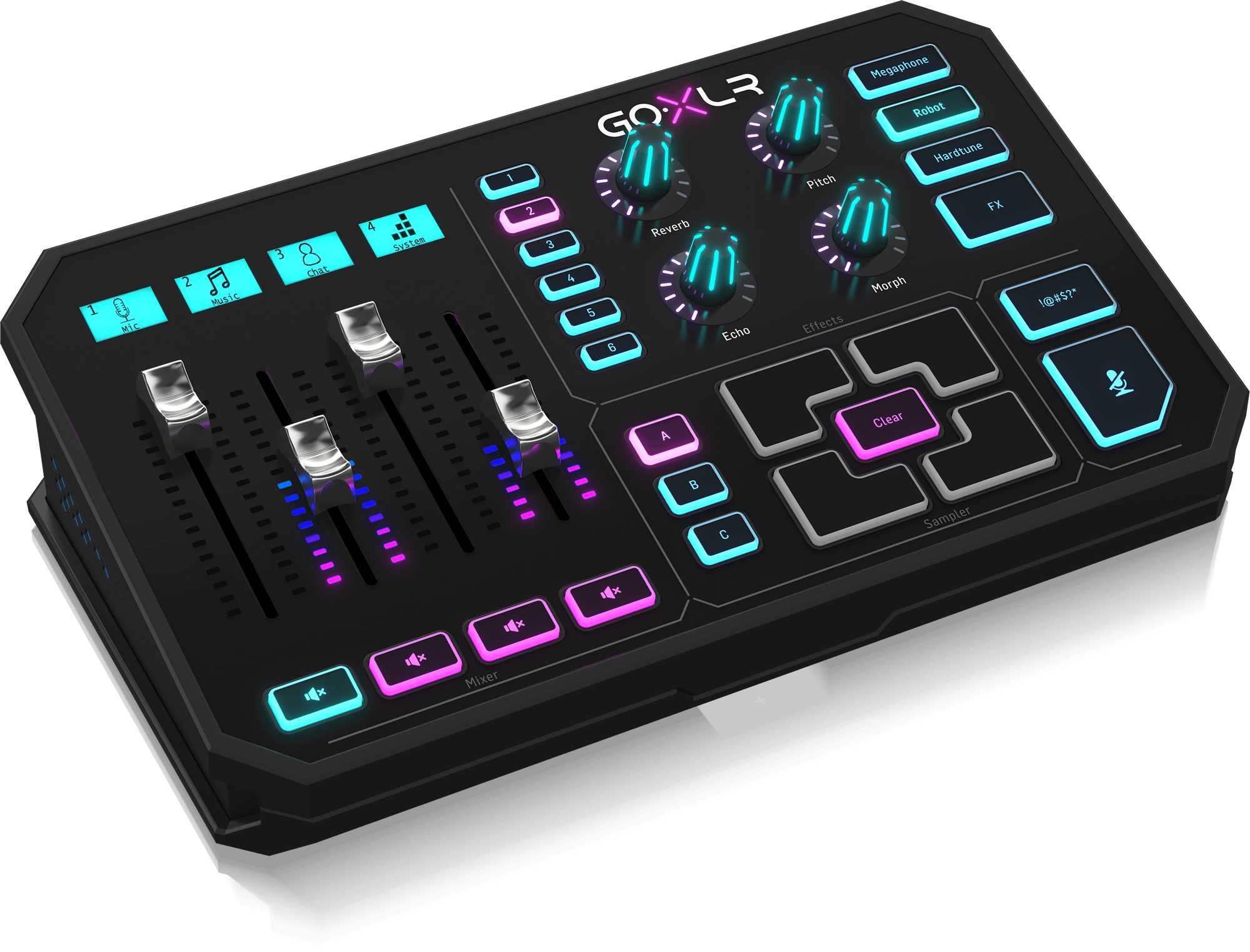 Although there are many audio mixers available, the good news for streamers and podcasters is that the wide range of available hardware means there will be something to suit your budget and requirements.
Whether you're new to live-streaming or more experienced and looking to upgrade your current setup, there are audio mixers out there that will be right for you.
GoXLR remains one of the great standards of the mixer world, but if need a GoXLR alternative because you have a Mac, or are looking for something which doesn't require quite such an outlay then there is an embarrassment of riches these days.
And whichever mixer you choose from our best GoXLR alternatives, you're bound to find something which provides great quality and clear sound. So make your selection and get streaming!
FAQ
Can GoXLR Power 250 ohms?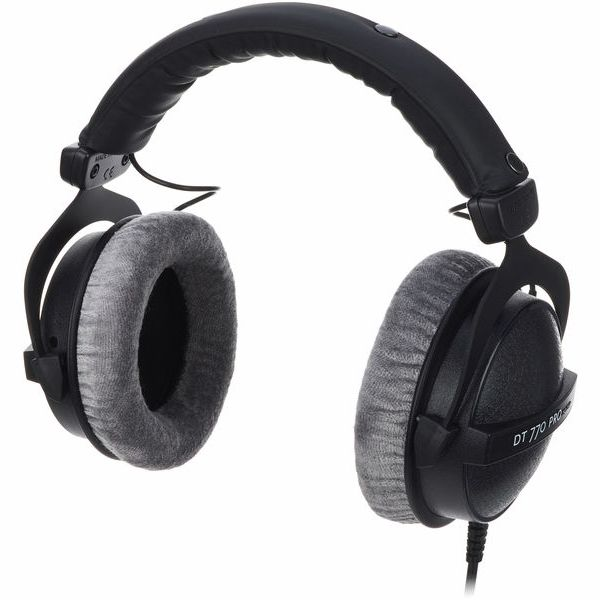 If you have very high-quality headphones, your mixer must support 250 ohms. That way, you know that you will be getting enough volume for all your needs.
Fortunately, GoXLR does indeed support 250 ohms. However, powering headphones with an impedance of 250 ohms is right at the edge of what the device is capable of delivering. Most normal headphones are around 50 ohms impedance, so for the majority of people, this won't make much difference.
However, if you have high-quality, high-impedance headphones, you may require an additional headphone amp between the GoXLR and your headphones.