How to Change Aspect Ratio in Final Cut Pro: Step by Step Guide
---
With the rise of social media and screens of different kinds, videos and images have come to be represented in different ways. To be fair, videos have always had varying dimensions, but as these dimensions change, it is important for creators to know how to work their way around them.
For filmmakers and editors, especially those new to the software, learning how to change a video's aspect ratio in Final Cut Pro may be a bit of a challenge.
What is Aspect Ratio?
What is Aspect Ratio? The aspect ratio of an image or video is the proportional relationship between the width and height of that image or video. To put it simply, it is the parts of a screen occupied by a video or other media types while it is being displayed on said screen.
It is usually depicted by two numbers separated by a colon, with the first number representing the width and the last number representing the length. To learn more about aspect ratio, check out the article linked above.
Common types of aspect ratios used today include:
4:3: Academy video aspect ratio.
16:9: Video on widescreen.
21:9: Anamorphic aspect ratio.
9:16: Vertical video or landscape video.
1:1: Square video.
4:5: Portrait video or horizontal video. Note that this is not at all an exhaustive list of aspect ratios present today. However, these are the options you're most likely to encounter in your work.
Aspect Ratio in Final Cut Pro
Final Cut Pro is Apple's famous professional video editing software. If you work with a Mac and want to change a video's aspect ratio, you can reliably do that using Final Cut Pro. It allows you to repurpose projects that have standard horizontal aspect ratios.
Before we get into the "how?", it is important to have a full grasp of the resolution and aspect ratio options present in the Final Cut Pro. Aspect ratio options available in Final Cut Pro include:
1080p HD

1920 × 1080
1440 × 1080
1280 × 1080
1080i HD

1920 × 1080
1440 × 1080
1280 × 1080

720p HD

PAL SD

720 × 576 DV
720 × 576 DV Anamorphic
720 × 576
720 × 576 Anamorphic

2K

2048 × 1024
2048 × 1080
2048 × 1152
2048 × 1536
2048 × 1556

4K

3840 × 2160
4096 × 2048
4096 × 2160
4096 × 2304
4096 × 3112

5K

5120 × 2160
5120 × 2560
5120 × 2700
5760 × 2880

8K

7680 × 3840
7680 × 4320
8192 × 4320

Vertical

720 × 1280
1080 × 1920
2160 × 3840

1: 1
These options are usually displayed according to their resolution values.
How to Change Aspect Ratio in Final Cut Pro
Here's a step-by-step guide on how to change aspect ratio in final cut pro:
Open Final Cut Pro if you already have it installed. If you don't, you can download and install it from the Mac store.
Import the video from the source location to your Final Cut Pro timeline.
 In the Libraries sidebar, choose the event which contains the project whose aspect ratio you intend to adjust. You can also create a new project here, apply the desired aspect ratio, then add your video to it.
Place the video on the Final Cut timeline and go to the inspector window, which you can open by clicking the right side of the toolbar or pressing Command-4. If the inspector option is not visible, you can open it by clicking Choose Window > Show in Workspace > Inspector 

Select the project. At the top right corner of the property window, click the Modify tab.

Out comes a pop-up window where you have options to edit and resize the aspect ratio, and change video format and resolution values as your work demands.

Also in this pop-up window is a 'Custom' option where you have more freedom to adjust the values based on your preferences.
Save your changes if you're satisfied with the outcome or modify the values as much as you like if you're not.

Final Cut Pro also has a Crop tool for more old-fashioned editing if you're so inclined. You can easily find it by clicking the pop-up menu in the lower-left corner of the viewer.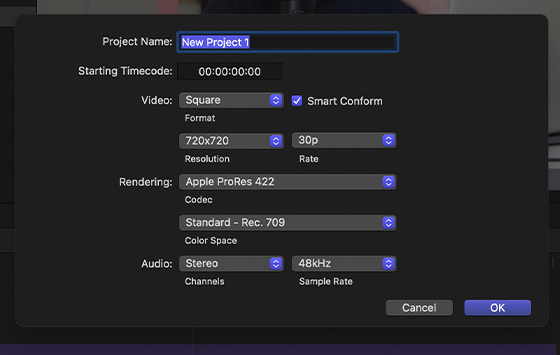 Final Cut Pro offers users the Smart Conform feature. This lets Final Cut scan each of your clips for the details, and preemptively reframes clips that differ from the project in terms of aspect ratio.
This feature also lets you quickly create an orientation (square, vertical, horizontal, or widescreen) for your project, and make manual framing choices later.
Open Final Cut Pro and open a previously created horizontal project.
Click on the project and duplicate it. This can be done by

Click Edit > Duplicate Project As.
Control-click the project and choose Duplicate Project As.


A window should pop up. Select a name to save it as and decide your settings for that duplicate project (Already horizontal, so select Vertical or Square video format.)
Change the aspect ratio. A Smart Conform checkbox appears which you should select.
Click OK.
Once selected, Smart Conform analyzes the clips in your project and "corrects" them. You're allowed to do an overscan of your corrected clips, and manual reframing if needed using the Transform feature.
Why Should We Change Aspect Ratio for Video?
Why is it important to know how to change aspect ratio in Final Cut Pro? Well, aspect ratio is important in all creations with a visual component. For the same content to travel from a Mac to television, YouTube, or TikTok, adjustments need to be made to preserve features and details.
TV sets, mobile phones, computers, and social media platforms have varying aspect ratios for various reasons. As a Final Cut Pro user, being able to change your aspect ratio on a whim is a skill you want to have.
If the aspect ratio of a video is not well adjusted to a television screen, it will be compensated for by letterboxing or pillar boxing.  "Letterboxing" refers to the horizontal black bars at the top and bottom of the screen. They appear when the content has a wider aspect ratio than the screen.
"Pillarboxing" refers to black bars on the sides of the screen. This occurs when the filmed content has a taller aspect ratio than the screen.
For the longest time, most videos have had horizontal dimensions with some minimal variation. However, the ascent of mobile devices and the concurrent social media networks have led to media files being consumed in otherwise unconventional ways.
We are embracing the portrait format more and more every day, so content has to be adapted to every valid platform to boost visibility and cater to users.
This has become an important part of post-production – creating many versions of video content with each one having a different aspect ratio.
Even within a platform, there may be the need for different aspect ratios. A good example of this is seen in two of the more popular social media houses in the world, YouTube and Instagram.
On YouTube, videos are uploaded and consumed mainly in a horizontal format, and viewers access them through smartphones, tablets, laptops, and nowadays directly via television. However, there are also YouTube Shorts, which are usually vertical in a 9:16 ratio.
On Instagram, most content is consumed vertically and in a square format. However, there is the Reels feature where videos are portrayed vertically but on fullscreen.
Therefore, if you want your work to appeal to multiple crowds even within the same social network, being able to change the aspect ratio of your videos is a must.
Final Thoughts
As a beginner video editor, you may find Final Cut Pro a bit difficult to work around. If like many, you're wondering how to change a video's aspect ratio in Final Cut Pro, this guide should help you.
If you don't use a Mac for your video editing, you won't be able to use Final Cut Pro much less change aspect ratio. However, we intend to cover changing aspect ratios in other video editing software.