Logic Pro vs GarageBand: Which Apple DAW is Best
---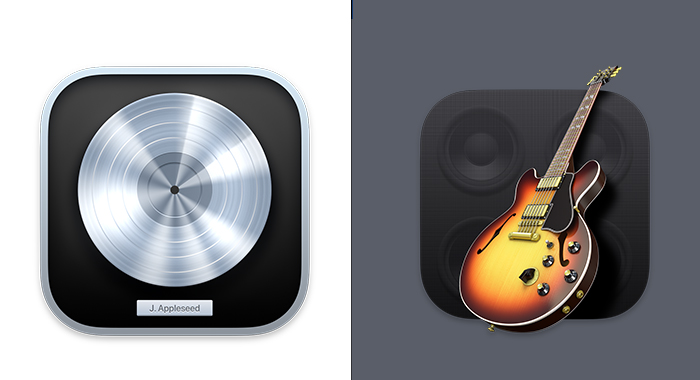 When deciding which DAW (digital audio workstation) we should use, we could easily find ourselves in a never-ending quest, reviewing each music production software based on its popularity, advanced features, price, workflow, support, and more. However, there are two exclusive tools for Apple users that have been the favorites of many: Logic Pro and GarageBand.
You may also like:
Today we'll look into each one to help you with the question every music producer or independent artist needs to answer: Which Apple DAW should I use?
We'll start by describing the two programs separately: what they offer, their best features, why you should choose one instead of the other, and their pros and cons. Then we're going to compare them; what do these music production tools have in common? What do they do differently?
Let's dive in!
GarageBand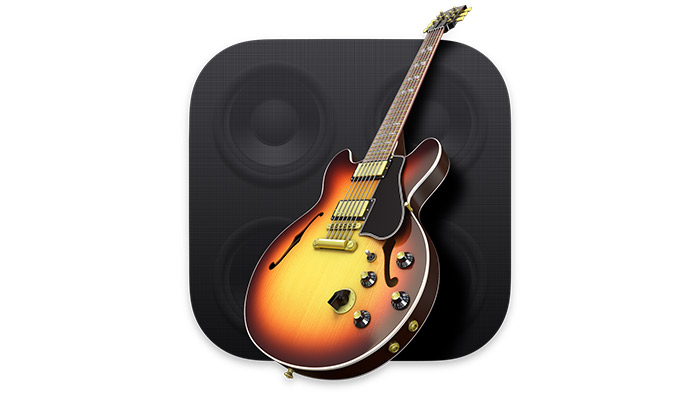 We'll start with GarageBand, which as an Apple user, you've probably seen and maybe tried, even if you're not into music production. Can you produce music at a professional level with this DAW? First, let's talk a little about it for those who don't know anything about it yet.
GarageBand is available exclusively for macOS, iPad, and iPhone, making it a portable DAW solution for artists creating one track on the go. It's easy to start making music thanks to a vast sound library full of digital instruments, presets for your guitar, bass guitar, and voice, as well as a virtual drummer, to play along with your song. All you need is your Mac and GarageBand to hit record and begin creating your music.
What I like about GarageBand is that besides the plethora of sounds you get with this free software, it allows you to add external Audio Unit (AU) plugins in case the built-in instruments and loops are not enough for your GarageBand project. Plus, it has MIDI input support!
GarageBand is fully customizable, allowing you to build your own rigs. Choosing between a variety of amps and speakers, this DAW lets you experiment with the position of the microphones to find your unique sound or emulate the sound of your old Marshall and Fender amps.
The GarageBand mobile app gives you the portability you need when away from your recording studio. You can sketch a new GarageBand project on the go or when creativity strikes at any place. With the right adapters, you can connect your audio interface, instruments, and microphones to your mobile devices and record and mix from your app.
With GarageBand, sharing your songs via email or social media or uploading them to iTunes and SoundCloud is a no brainer. If you're collaborating, you can share projects too.
Why People Choose GarageBand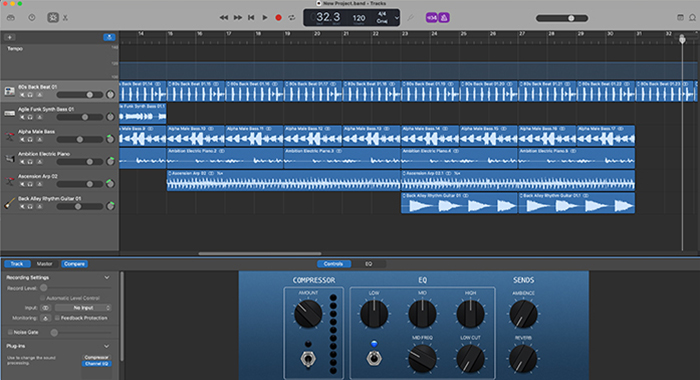 One of the Best Free DAW on the Market
Let's begin with the obvious and first appeal to new users: it's free. No fees or subscriptions are needed. You already have it on your Mac, so you might begin with what you already have. You can get the desktop and mobile apps for free, with the entire sound library available without any subscription required.
User Interface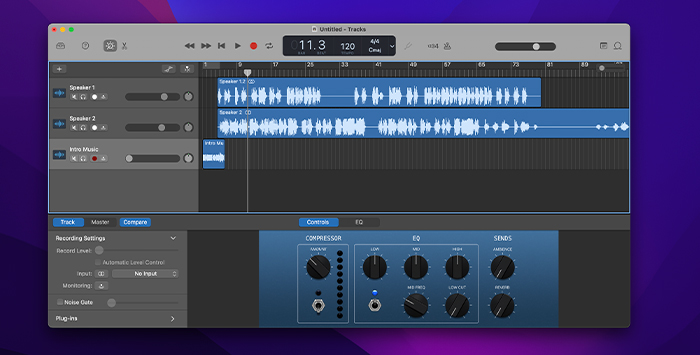 One advantage of GarageBand is its intuitive user interface. The software takes you by hand and helps you get to know its capabilities. It won't take very long before you start creating songs in GarageBand, even if you switched to a Mac just recently and are still getting used to the new OS.
Make Music Smoothly
Beginners prefer GarageBand because you can start songs without worrying too much about the technical stuff. And for advanced users, it's easy to draft quick ideas when creativity strikes. Making music with GarageBand is ideal for both professionals and first-timers.
Virtual Musical Instruments
Eventually, GarageBand stock plugins will feel limiting. Thankfully, you can add any third-party plugins to improve it. Plus, great plugins like the Space Designer can allow very professional post-production finishing.
Pros
Free and pre-installed on your Mac
It supports external AU but does not force you to buy if you don't need to. You can work with the stock plug-ins for a while before deciding to expand your library.
It's beginner-friendly.
The mobile app is the perfect companion for your home studio; besides allowing you to work away from your computer, you can resume what you started on your mobile device on your Mac and vice-versa.
GarageBand has this great feature that helps you learn how to play the guitar and electric piano through related videos, and record your compositions later.
Cons
Even though the library in GarageBand is pretty expansive for a free workstation, eventually, you'll find that what it offers may not be enough for more professional projects.
GarageBand is exclusive to Apple devices, restricting your collaborative projects to only macOS, iOS, and iPadOS users.
GarageBand doesn't have a proper mixing window.
Logic Pro X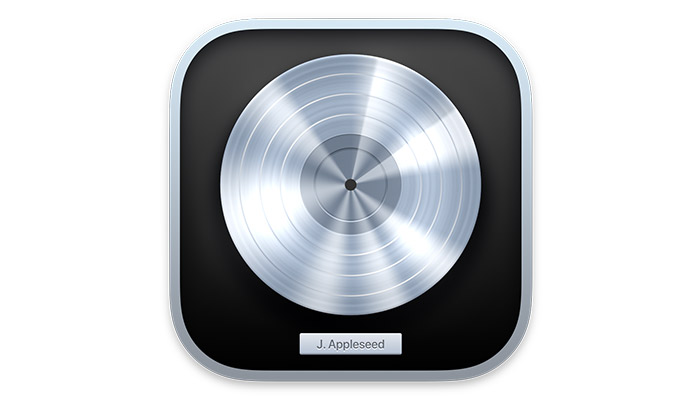 Logic Pro X is another Apple-exclusive DAW, but this one is aimed at music creators who require greater control and more advanced features for their music projects and can pay for what they need.
It is considered by some users comparable to the GarageBand professional upgrade because the interface is just as intuitive and familiar, except you get more mixing, sound engineer features, and tools for more demanding projects. These tools include flex time, flex pitch, channel strips, virtual drummer, smart tempo, and track stack, all of which are just some of the favorite features among many Logic Pro X users.
The MIDI editor of Logic Pro X works fast, making your workflow very fluid. You can work with music notation, guitar tabs, and drum notation within Logic Pro X, as well as many other dedicated built-in plugins to boost your workflow. Working with audio and midi tracks couldn't be easier!
An incredible feature we found is the integrated Dolby Atmos tools for mixing and exporting sound as spatial audio, ready for Apple Music and other streaming platforms that support spatial audio and stereo surround sound.
For people working with sound effects, sound design, or scoring for movies, Logic Pro X allows you to import QuickTime movies and XML to re-create your Final Cut Pro video projects to edit audio with all the tools Logic features.
Those who love having devices and controllers around their home studio will be happy to know about Logic Remote. With this app, you can control the DAW running on your Mac from anywhere with your iPod and iPad, using multi-touch gestures to play virtual musical instruments, mix audio tracks, or remotely control your Live Looping session.
Considering Logic Pro X is a professional DAW, paying $200 makes it one of the best options if you compare it to other full-feature versions from others DAWs. You can start with a 90-day free trial version, long enough to get to know the software and decide whether or not it is for you.
Why Choose Logic Pro X?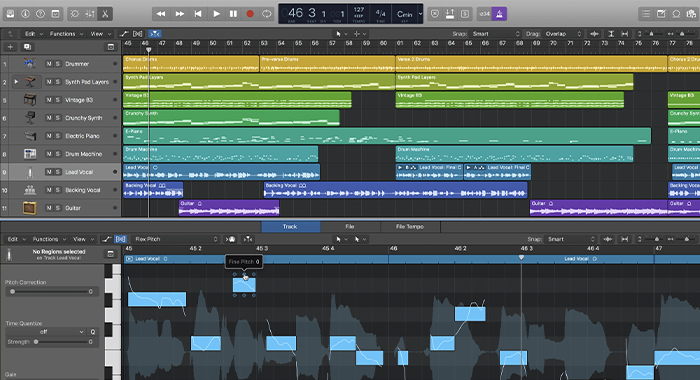 Upgrade from GarageBand
Most users upgrade from GarageBand to Logic Pro X because it's fully compatible with all their previous GarageBand projects. The learning curve is pretty short if you're already familiar with GarageBand, and if you want to take your music production to the next level, this is the easiest way.
Best Price Among Other Professional DAWs
Among professional DAWs, Logic Pro is the cheapest: for only $200, you get all the pro features, while others' full versions range between $400 and $800.
User Interface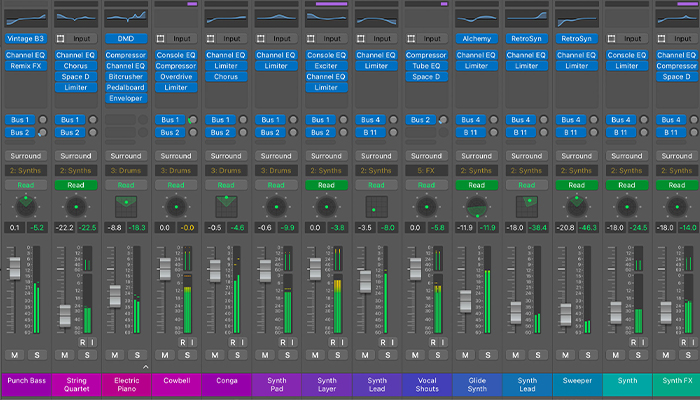 The user interface is very intuitive, even for beginners. Logic Pro explains everything you need to do from the moment you open it. Every button has info on what it does, and it feels like having a tutorial always at your disposal. Logic Pro's user interface is also excellent for visual learners as it looks very aesthetic and organized.
Advanced Tools
Logic Pro offers tools for advanced music producers: pitch correction, live looping, track stack, sequencer, smart quantize, Incredible FX, and track comping for more than one track, among other features.
Community
There's a big online community of Logic Pro users. They create content, tutorials, and online courses available for everyone; if there's something you can't figure out, ask on forums, and someone will be happy to help you or direct you to online tutorials.
Pros
GarageBand compatibility lets you bring all your song and projects to Logic for better mixing, including projects made on the mobile app.
Working with Flex Pitch is a joy. It's a direct competitor of Melodyne, but you have it included with Logic.
It comes with a complete library of virtual instruments and plugins to take your artistry to the next level.
Cons
Like GarageBand, Logic Pro is only available for Mac users, meaning if you work in a team, you won't be able to share projects with other PC users.
Users have complained about Logic being RAM-consuming, making other programs on your Mac run slower, and forcing users to upgrade their gear to work with Logic Pro's full potential.
Comparison Between Logic Pro vs GarageBand: Which One is Better?
It's time to see how GarageBand and Logic Pro are similar and where they diverge. By the end, we'll try to give an honest opinion on which one you should get.
Let's start with the similarities first. These two DAWs are like siblings, having a similar user interface and seamless compatibility from GarageBand with Logic and some user-friendly tools like the drum kit designer. So let's delve deeper into their features.
Live Looping
Logic Pro offers a live looping grid that allows you to create music in real-time. If you're looking for an alternative to Ableton Live for live looping, you can get it from Logic Pro thanks to its Track Stacks, but not within GarageBand.
Loops, Effects, and Virtual Instruments
We've talked about the great library GarageBand has to offer and how it can become limited once you start honing your craft. It's evident that a free workstation won't be as complete as other more sophisticated workstations, so a comparison might be unfair in this case. Still, it's worth noting that GarageBand's instruments are not as good as the ones on Logic Pro.
Pitch Correction
While Logic Pro has the renowned Flex Pitch tool, GarageBand offers more rudimentary pitch correction tools.
Learning Curve
GarageBand is our winner here. You can learn how to use it on your own and in no time, while with Logic Pro, you might need help to understand its advanced features and track stacks, and it can be daunting for someone who's never used any audio editor before. Logic Pro is designed for experienced users and GarageBand for new users.
Mixer Window
Something a lot of GarageBand users have complained about is the nonexistent mixer. In contrast, Logic includes a complete mixer window you can control from your iPad.
Final Thoughts
It's clear both GarageBand and Logic Pro are complete DAWs. They're very compatible with each other, almost complementary if you use GarageBand to produce and Logic Pro to mix and master. We could decide that GarageBand is the best way to start, and Logic Pro is the next step in your music career.
If you're on a budget, go for GarageBand. You can't lose by trying a free workstation and can always spend on some good plugins when you realize you need them for your future projects.
However, if you prefer an all-included package or need the commitment of paying for something to give you the motivation you need, then go for Logic Pro.
Whichever you choose, you'll have at your disposal a high-quality DAW that will help you on your journey in music production.
FAQ
Do professionals use GarageBand?
While some professionals have said they use GarageBand to record audio and produce new songs, the final mix and mastering are usually done in professional studios with other software and hardware.
What can Logic do that GarageBand can't?
Logic Pro offers more advanced tools for pitch corrections, MIDI sequences, and music notations. It gives more control over each plug-in, unlike GarageBand, where most plug-ins are controlled by a single slider and do not offer visual control. The mixing and mastering tools are far superior in Logic Pro.
What's the difference between GarageBand and Logic Pro?
GarageBand is a free DAW available for all Apple devices, so every music producer can use it to record, edit and produce music.
Logic Pro is a DAW aimed at the professional market, with an expanded library and advanced plugins for editing and creating music. It offers more complex mixing and mastering tools and allows more control over digital instruments and plug-ins.