Rode VideoMicro vs VideoMic Go: Which Rode Shotgun Mic is Best?
---

A video microphone can come in all shapes and sizes. Some are better than others, and cost and sound quality are vital to get right to ensure you get the recording you really need.
There are plenty of different factors to consider when buying a microphone. Some are technical and detailed, as we discuss in our article microphone pickup patterns. Others can come down to building strength, component quality, or even design aesthetics.
There's a vast array of microphones on the market, so narrowing them down to make a selection for capturing high-quality audio can be a challenge.
Rode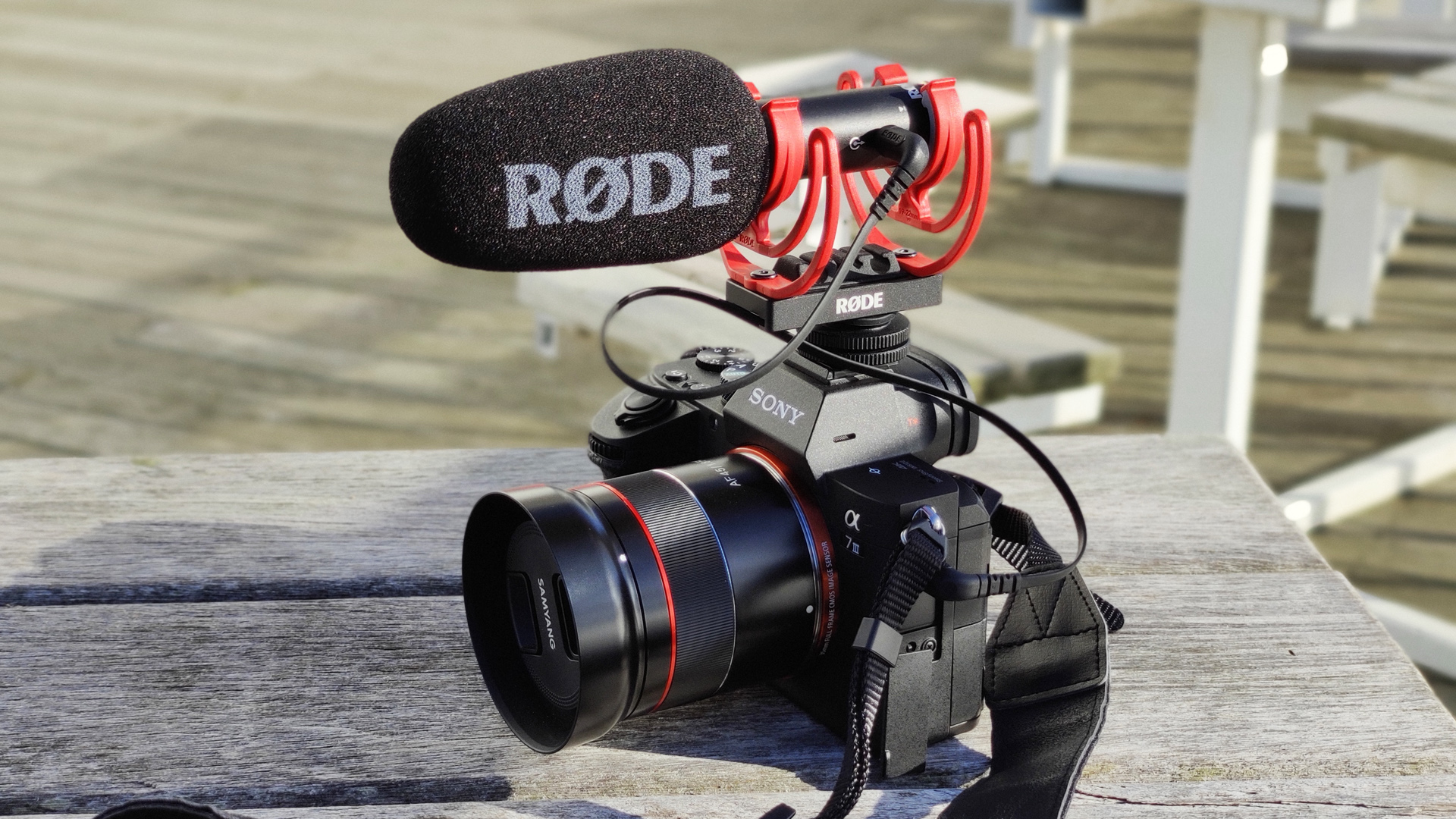 However, one of the best names in the business, Rode, remains a standard-bearer for great-quality equipment that captures high-quality audio. The Rode VideoMicro and the Rode VideoMic Go, both of which are examples of shotgun microphones, are two of their most popular.
Choosing which mics to buy will depend on your needs and requirements.
In this article, we'll put Rode VideoMicro vs VideoMic Go head-to-head to help guide your decision-making process.
Rode VideoMicro vs VideoMic Go: Comparison Table
Below is a comparison table of the basic facts when comparing both devices side-by-side.
| | | |
| --- | --- | --- |
| | VideoMicro | Videomic Go |
| Design Type | Shotgun (condenser mic) | Shotgun (condenser mic) |
| Cost | $44.00 | $68.00 |
| Mount Style | Stand/Boom Mount | Stand/Boom Mount |
| Weight (in Oz) | 1.48 | 2.57 |
| Size (in inches) | 0.83 x 0.83 x 3.15 | 3.11 x 2.87 x 6.57 |
| Construction | Metal | ABS |
| Frequency Range | 100 Hz – 20 kHz | 100 Hz = 16 kHz |
| Equivalent Noise Level (ENL) | 20 dB | 34 dB |
| Operating Principal | Pressure Gradient | Line Gradient |
| Sensitivity | -33 dBV/Pa at 1 kHz | -35 dBV/PA at 1 Khz |
| Output | 3.5mm headphone jack | 3.5mm headphone jack |
Rode VideoMicro
The first entry in our breakdown is the Rode VideoMicro.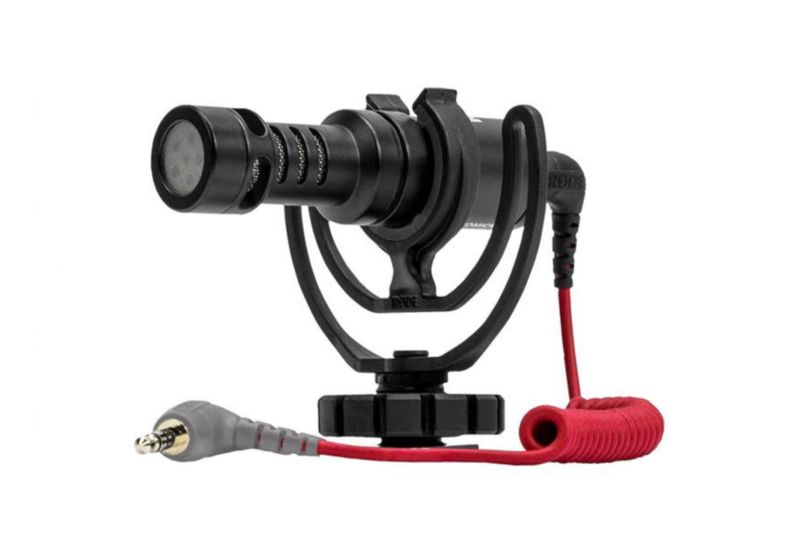 Price
At $44.00 there's no doubt that the Rode VideoMicro represents great value for money. It's a good investment for anyone looking to move beyond their camera's internal microphone and a good first step to understanding the difference having a dedicated microphone can make.
Build
Rode has a reputation for building solid, reliable kits and the Rode VideoMicro is no exception. The main core of the shotgun microphone has been constructed from aluminum. This means it has a solid, durable build and can take the stresses of being taken out on the road. The aluminum body means it has a high rate of RF rejection.
The Rode VideoMicro is also fitted with a Rycote Lyre shock mount to provide stability when it is mounted on the camera. This is an excellent mount. It is extremely durable and is great at preventing any unwanted vibrations when you're shooting.
Dimensions
At 0.83 x 0.83 x 3.15 inches, the Rode VideoMicro is extremely compact. The aluminum frame also means that it is very light, coming in at only 1.48 oz. That means you won't feel like you're lugging around a lot of weight when you're doing a run-and-gun and the small form factor of the mic means it's easy to tuck away and carry with you anywhere you go.
Sensitivity
This is one of the strongest features of the Rode VideoMicro. With a response of -33.0 dB, the VideoMicro is extremely sensitive and can pick up even the quietest of sounds. This is ideal if you are recording in a very quiet environment or can't raise your voice. The sensitivity on the VideoMicro really is excellent.
Noise and SPL Handling
Able to cope with 140dB of sound pressure levels (SPL), the Rode VideoMicro can cope easily with any loud noises and still capture them without distortion. It also has an equivalent noise level of only 20dB. This means that there are very low amounts of device noise to interfere with your recording.
Frequency Response
This has a frequency range of 100Hz to 20 kHz. This is a good range for a microphone at this level, but it's not spectacular. While this range is fine for voice work, the starting range at 100Hz start means lower frequencies won't be captured as well, which is something to bear in mind if you are going to record music as well as voice.
Directionality
The Rode VideoMicro has a cardioid polar pattern. This means that it is unidirectional — that is, it picks up audio from one specific direction. In turn, this means that unwanted background noise is kept to a minimum. The result is clearer, cleaner recorded audio.
Pros
High-quality, durable design.
Extremely cheap, given the quality of the device.
No battery is required — the device can be powered by your camera or smartphone.
Incredibly sensitive when it comes to capturing quiet sounds.
Top-quality shock-mount.
Comes with a windshield.
Cons
Low-frequency sounds are not captured as well as some mics.
Capturing sounds from a distance is not great — this is better for close-up work.
No separate power supply means it will drain your camera's battery quicker when in use.
Rode VideoMic Go
Next up, is the VidoeMic Go.
Price
Of the two units, the Rode VideoMic Go is the more expensive. However, this mic still represents very good value for money and the extra shouldn't be enough to put anyone off investing.
Build
Unlike the VideoMicro, the Rode VideoMic Go has an ABS construction. This is a light, rugged, and hard-wearing thermoplastic. It won't sag or break, and it provides excellent acoustic suspension.
The shock mount is the same as the VideoMicro, and the Rycote Lyre for an on-camera mount. This will prevent stray bumps, knocks, and unwanted vibrations from affecting your recording. Everything feels solid and dependable, and the VideoMicro is a reliable, well-constructed shotgun microphone.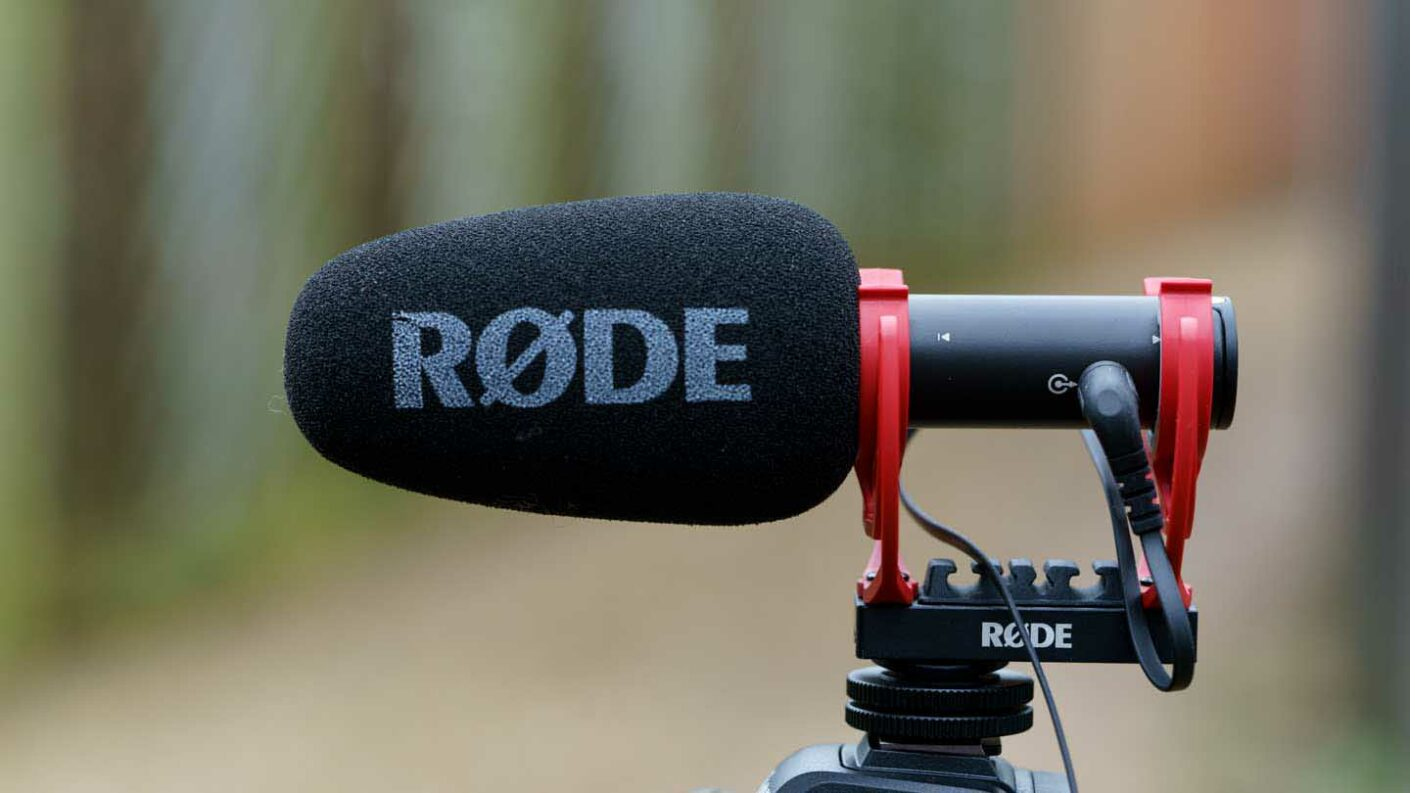 Dimensions
The VideoMic Go is a little larger than the Rode VideoMicro, coming in at 3.11 x 2.87 x 6.57 inches. That's still very compact though, and you shouldn't have any problem with its size once it's been mounted on your camera.
Sensitivity
As you can see from the comparison chart at the top of this article, the VideoMic Go has a slightly lower sensitivity than the VideoMicro. Its -35dB sensitivity is still extremely good, however. For most people, this very small difference is unlikely to make much difference and isn't an important factor when trying to choose between them, and the VideoMic Go still delivers.
Noise and SPL Handling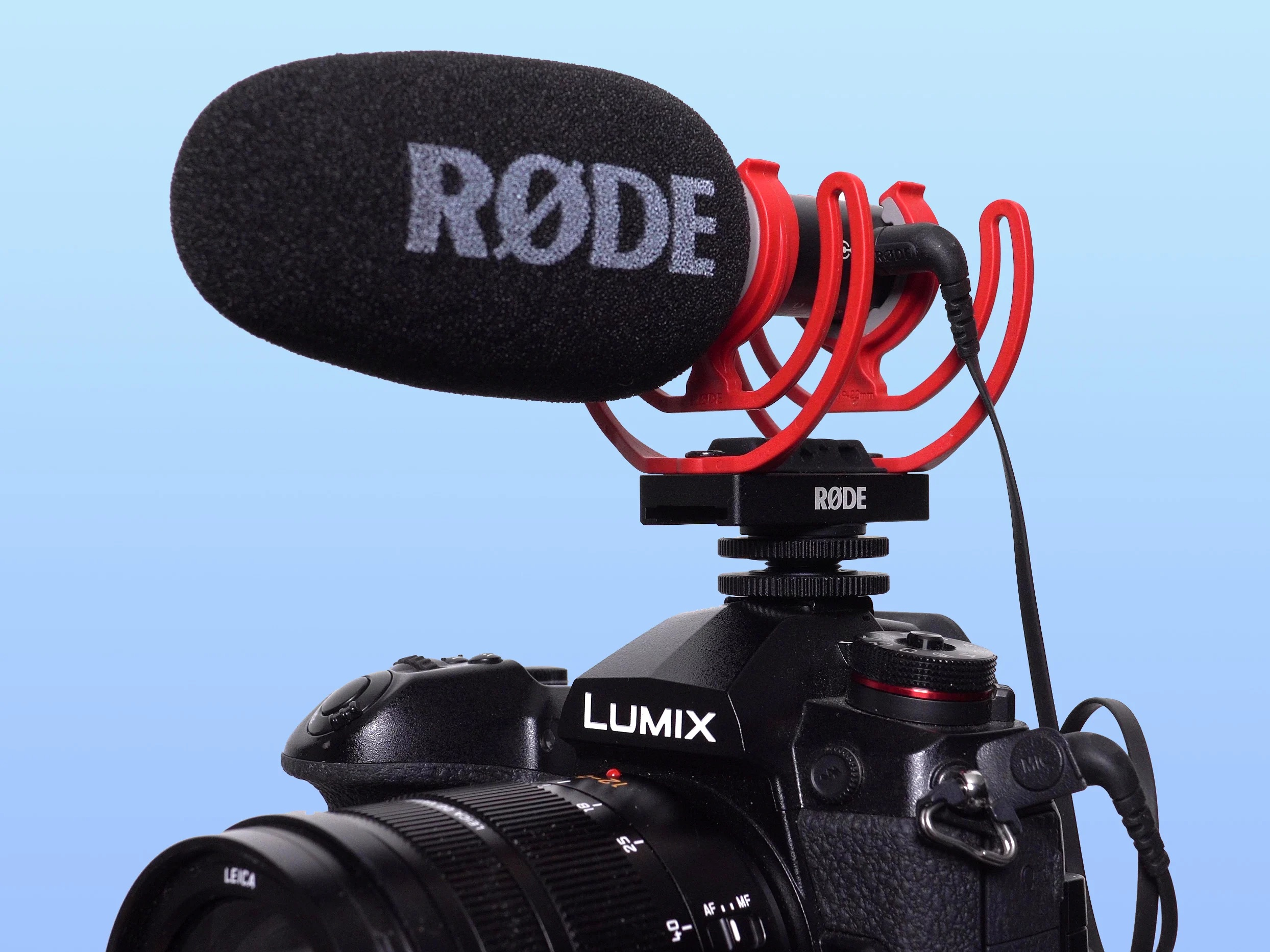 When it comes to noise and SPL Handling, the VideoMic Go is lacking. The SPL is 120dB, less good than VideoMicro's more impressive 140dB. Unfortunately, the self-noise level is higher as well, at 34 dBA. This can have an impact on the quality of sound being recorded and is a noticeable problem.
Frequency Response
In terms of pure numbers, the VideoMic Go again loses out to the Rode VideoMicro. The frequency response for the VideoMic Go is 100Hz to 16kHz. However, this is a relatively small difference. The chances of most users noticing this are small and for all practical purposes, there is little difference between the two microphones.
Directionality
One area the VideoMic Go scores highly is directionality. The mic uses a supercardioid polar pattern. This means that it records sound in a way that is more focused than the VideoMicro. It does a great job of keeping ambient sounds out of your recording and helps cut down on noise and echo if you are recording in a location that has these.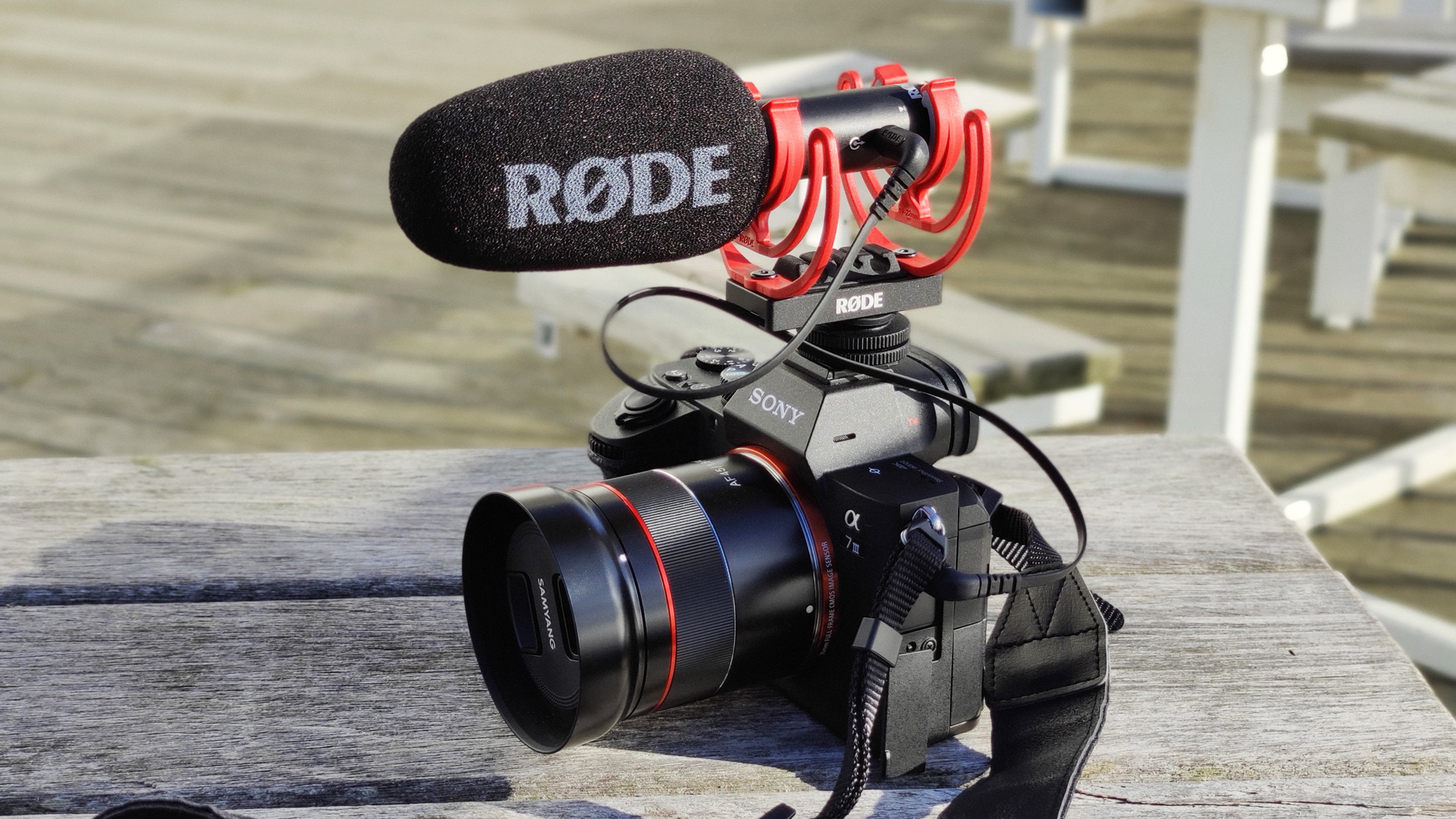 Pros
Though larger than Rode VideoMicro, still very compact.
Still extremely affordable compared to the other model.
Very lightweight.
Excellent at cutting out background noise when recording.
Hard-wearing design.
Cons
Poor noise and SPL handling undermine the unit.
Specs are a step down from the Rode VideoMicro, if not always by much.
Also has no separate power supply, so it will drain the camera's battery when in use.
Conclusion
When it comes to the Rode VideoMicro vs VideoMic Go, both devices are great examples of shotgun microphones for the amount of money they cost. Many of the differences between the two devices are relatively small, so choosing which to buy will very much depend on what your use is going to be.
The VideoMicro is certainly the best in terms of pure numbers, and its price makes it a great buy. But the VideoMic Go is still a worthy contender, even if there are a couple of problems with the mic.
However, whether you get the Rode VideoMicro or the VideoMic Go, both are good quality microphones that will make a big difference to your sound recording.