RODEcaster Pro vs GoXLR vs PodTrak P8: Which is better?
---
Podcasting and live streaming seem to be an uprising trend. What separates a quality podcast or stream from a poorly-executed one is often the equipment at disposal. Nowadays, there are three industry-defining hardware audio interfaces for recording on the go. In this piece, they're going to face off – Rodecaster Pro vs GoXLR vs PodTrak P8.
Despite many people believing content is king, executing your idea is undeniably equally as important. For that, you'll need the right set of tools.
If you live stream or are recording podcasts on the go, it's essential to have a compact device with a mixing board for multi-track recording, sound effects, superior sound quality, and easy-to-use controls. You might not need a professional audio engineer, but you still need to be able to record audio and control audio levels.
In the buyer's guide below, we'll talk about three different products that all share the same purpose, making podcast recordings or live streaming as easy as they can be.
If you're currently in the market for a production console, you've come to the right place, as we're about to help you decide between three of the most sought-after options available on the market.
Let's get started!
Comparison 1 – Purchase Cost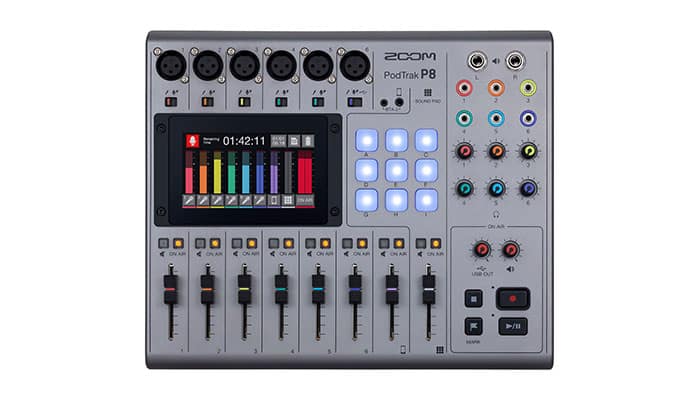 The first thing we determine before purchasing something is our budget. Therefore, it's only logical we begin by comparing the price tags of all three of these products.
RODECaster Pro – $599
PodTrak P8 – $549
GoXLR – $480
Now that we know the prices, it's safe to say there aren't any significant differences that could be a deal-breaker or prevent you from purchasing the most expensive contender, the Rode RODECaster Pro device if you were already planning to search within this price range.
With $599 being the most you could pay, the benefits of owning any of these three products justify the price.
All of these products can come with pre-purchased upgrades and additions, which further increases the final price. These upgrades can vary greatly and are purely personal choices. We cannot include them as a factor in this price comparison.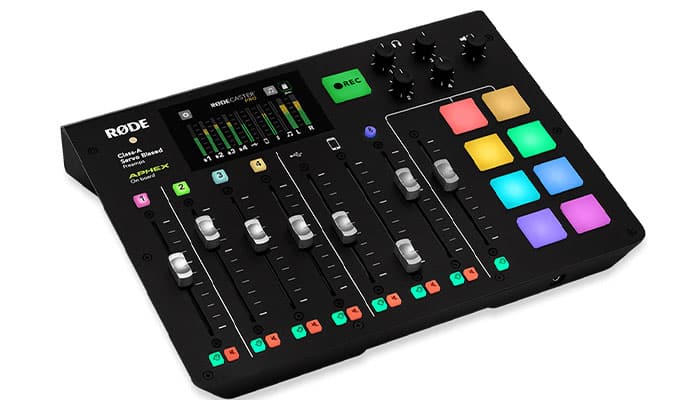 The more you upgrade, the more it's going to cost. For example, ordering the RODECaster Pro with two Procaster microphones plus their stands and a few extra XLR cables will easily set it above the $1000 mark.
Finally, if you can't find a local seller for any of these products you'll have to order it online and wait for the shipment, which can cost more and take an extra bit of time. This means the choice is purely individual and based on your options regarding availability.
So, it doesn't really get competitive in terms of price, but what about features and functionality?
Comparison 2 – Features & Functionality
When it comes to the many features and functionality, all of these products have something unique to offer, but which one is the right device for your needs is up to you to decide, of course, with our help.
Let's begin by comparing the number of XLR microphone inputs. The RODECaster audio mixer has four inputs. The PodTrak P8 audio mixer has six, and the GoXLR audio mixer has only one.
So, for your solo needs, the GoXLR can do just fine. If you're planning to set up multiple audio sources, the P8 and the RODECaster seem to easily be a better choice, in that particular order.

Moving on to sound pads, which are quite important for both streaming and podcasting. The RODECaster has eight sound pads, while the P8 has nine sound pads, and the GoXLR four sound pads.
However, all three products offer a way for you to virtually multiply the number of sounds available on your sound pads. On the GoXLR you can have up to 12 samples. On the RODECaster you can have sixty-four, and thirty-six on the PodTrak P8.
These programmable pads can be used for advertisements, funny (or serious) sound effects, and a lot more.
All three audio mixers have a mute button that you can use if you know something loud is about to happen, such as you or a guest coughing, a dog barking, or simply an object falling to the ground.
This improves your audience's overall experience, and not having this option can have a negative impact on your content creation. These dedicated function buttons give instant control over all your audio recordings.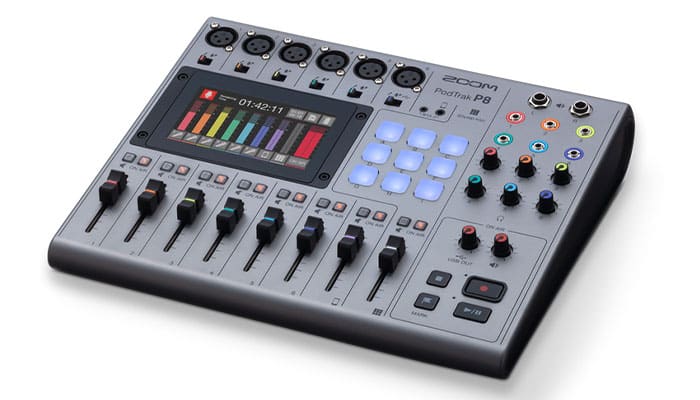 The RODEcaster Pro and PodTrak 8, both have the ability to record audio directly onto the device. No need to haul around a laptop in order to cread. This is extremely useful if you're regularly recording podcasts on the go. The GoXLR needs to connect to a separate device in order to record.
Multiple headphone outputs are incredibly valuable if you're planning on having more than one person recording. The PodTrak 8 offers 6 outputs. The RODEcaster has four headphone outputs in the back and one in the front. The GoXLR only has one headphone output.
Each of these devices offers voice fx controls to help dial in your sound. The RODEcaster features a noise gate, de-esser, high-pass filter, compressor, and the Aural Exciter and Big Bottom processors.
The GoXLR has a few different voice fx options. Some are practical like compression, reverb, and echo. It's also an effective voice transformer with sounds like a robot or megaphone. The Podtrak 8 offers compression controls, limiters, tone adjustments, and a low-cut filter.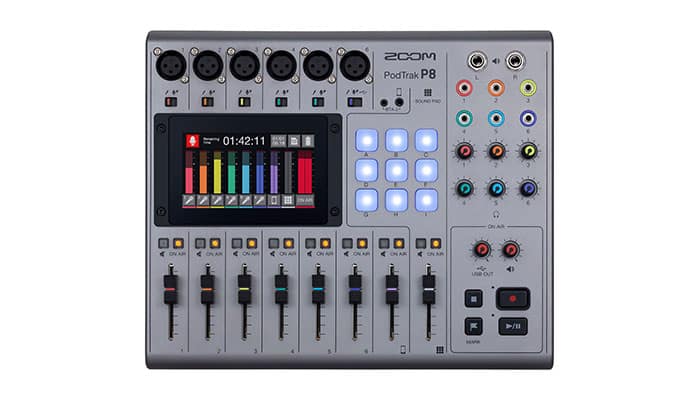 The PodTrak 8 allows you to edit your audio after you've recorded it. While both the RODEcaster pro and GoXLR require you to move your audio files over to a DAW in order to do any complex mixing or editing.
All three devices connect to a computer using a USB connection.
Moving on to the software, it seems that GoXLR app is lacking a bit in this field. Some users were quite unsatisfied with the frequent crashes and the GoXLR software not performing as it should in given moments.
If you are someone who appreciates reliability and ranks it above everything else, you might not be satisfied with what the GoXLR companion app has to offer.
Other
technical
details
are
available
here:
RODECaster Pro specifications page
PodTrak P8 specifications page
Now, let's talk a bit about the overall product/build quality for each one of these three devices.
Comparison 3 – Overall Product Quality
The RODEcaster is the most expensive product on the list. We shouldn't say we're surprised that it also has the best build quality. After all, RODE lives up to its name and never fails to deliver well-built devices.
However, the PodTrak P8 and the GoXLR are not too far behind either.
We carefully observed what reviewers had to say when comparing these three products. Outside of a few minor differences here and there, they're overall of the same quality and all worth the money.
But, if we have to pick a winner, it has to be the Rode RODECaster Pro. It looks best out of all three as well, even though aesthetics are more about personal taste.
Overall, the switches, knobs, and sliders all feel premium on this product. Also, the quality at which the Rode RODECaster Pro records is 48 kHz, which is a professional TV production audio level. Quite impressive.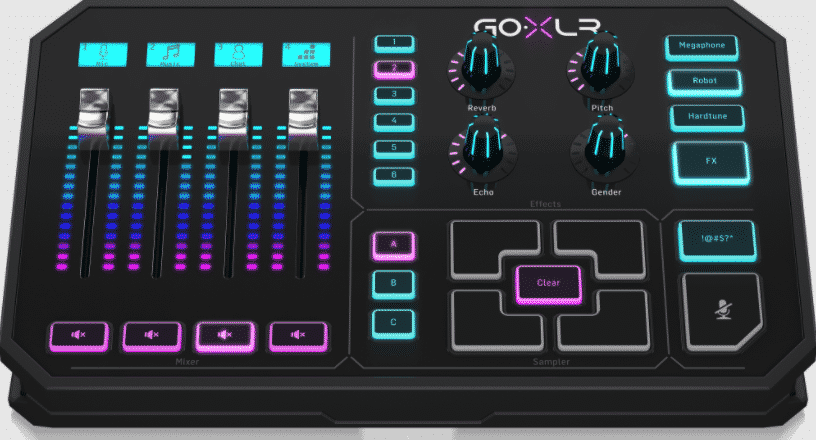 The GoXLR takes second place when it comes to overall product quality. This is simply because the sliders on the PodTrak P8 are simply not designed very well. The distance they can "travel" is quite short. That's not very useful when you need to be precise in your work.
The GoXLR also looks better than the P8 with its neon colors and RGB control. This matches most streamer/gamer aesthetics.
To some people, this is very important. It's especially important if we're talking streamers who show their setups to their audience and try to put together well-matching aesthetics for their branding or style.
The GoXLR is also the smallest device out of all three, which makes it a great pick for those who are looking to save some space on their desks for other devices.
Due to the same reason, carrying it around is also very easy. Those who often find themselves switching workspaces will love this.
The PodTrak P8 has other cool things to offer. The screen audio interface is a lot more useful than we thought, and the many microphone inputs as well. But, we'll still give our second place to the GoXLR in terms of overall product quality, especially when considering the price.
It's a well-built product that doesn't break the bank. It is more than enough for anyone willing to go on a solo podcast or streaming adventure for the first time.
Final Verdict – Which Portable Digital Audio Workstation is Best?
We thought it would be easier to pick a winner of RODEcaster pro vs GoXLR vs Podtrak 8, but it turned out that isn't the case.
With all of the above being said, it's safe to conclude that each one of these three devices comes packed with its pros and cons as none of them have all the features, so which one is the right fit for your setup will depend on your needs.

If you're looking for superb audio-recording quality, excellent build quality, advanced features and budget isn't a problem for you, the Rode RODECaster Pro seems to be the right pick.
If you're planning to start a podcast on which you'll invite multiple guests and you need all of them to have a separate microphone, the PodTrak P8 offers the most options in terms of XLR inputs with an option for phantom power.
Grab this impressive device if you can't afford the RODECaster, and you're slightly above budget for the GoXLR.
Lastly, if you're a streamer or have a solo podcast, the GoXLR will allow you to get everything you need to get started in just one relatively compact device while saving the extra money and buying additional equipment for the best possible content-creation experience.
Based on our research, when each one of these three devices is set up properly, they work flawlessly, and the only limitations afterward would be hardware-related (fewer inputs, not enough sound pads, headphone outputs or channels, etc.), or slight sound quality differences which aren't noticeable unless you're an audio engineer.
Hear it for yourself
CrumplePop removes noise and boosts your vocal quality. Toggle it on/off to hear the difference.
Try CrumplePop Free