Lavalier Microphones for Video Production: 10 Lav Mics Compared
---
Lavalier microphones, or lav mics, are victims of their success. Since they serve their purpose so well while hiding in plain sight, their good work usually goes unnoticed. Lavalier mics are tiny devices worn on a lapel (sometimes referred to as lapel mics) or under a shirt or in your hair to record audio with hands-free operation.
Nowadays, in online interviews, content creation (like youtube videos), or any form of public speaking applications whatsoever a lavalier mic pulls its weight. Lavalier mics let you get close to your work in an inconspicuous way, and that helps get better sound without having a handheld microphone.
Lavalier microphones also free up your hands if your work demands their use, or if you just need to gesture while you talk.
Modern lavalier microphones differ in many ways today. The most notable way in which they differ is their sound pick-up pattern (also known as polar pattern). A few microphones combine both. Lavalier microphones are either:
Omnidirectional lavalier microphone
This lavalier lapel microphone picks up sounds from all directions equally
Directional lavalier microphone
This lavalier lapel microphone focuses on one direction and reject sounds from others
For identification, vocational and commercial purposes, lavalier microphoness are categorized into wired lavalier mics and wireless lavalier mics.
In a previous article, we discussed and contrasted three of the best lavalier mics, each optimized for content creation. But as the need for lav mics has grown, so has the number of worthy products in almost any scenario.
In this guide, we'll take it a step further and discuss ten of the best lavalier microphones currently on the market. Of these ten lavalier mics, five are wired lavs and the other five are wireless lavalier microphones.
Wired Lavalier Microphones
Deity Microphones V.Lav
Polsen OLM-10
JOBY Wavo Lav PRO
Saramonic SR-M1
Rode SmartLav+
Wireless Lavalier Microphones
Rode Lavalier GO
Sennheiser ME 2-II
Senal OLM-2
Shure WL185 Cardioid Lavalier
Sony ECM-V1BMP
Deciding whether you want wired lavaliers or wireless lavalier microphones depends on a few things. How much does your subject intend to move?
Wired lavalier microphones are better for stationary use and are cheaper, but the wiring may be clunky and make your work less dynamic.
While wireless lav mics are more flexible, they tend to limit the sonic range of the mic (the scale on high and low decibels) and compress the sound, which may deliver lesser quality audio than wired lavalier microphones.
However, this has become less of a problem with modern wireless lavalier mic technology bridging the gap.
Wired lavalier microphones don't run on battery power, so you never need to risk running out of power in the middle of a recording. The wire supplies all the plug-in power it needs at all times, making it more convenient.
If you need to move around a lot to capture the voice, a wired lav microphone is going to be detrimental to your production process. Wireless lapel mics are the way forward as they will ease a lot of the frustrations linked with being tethered to your mic.
Wireless lavalier mics also look more professional because no wires are hanging down and following you around. All you need to do is hide the wireless receiver in your pocket and it won't be seen in your videos.
Wireless lavalier microphones are also better for multiple speakers, but often you're counting on the wireless mic technology to capture audio seamlessly, without signal interference.
Learn more about Wireless Lavalier Lapel Microphones in our new article.
Now that we know the differences between the types of lavalier microphones, let's talk about each lav mic.
Deity microphones V.Lav Lavalier Microphone
Price: $40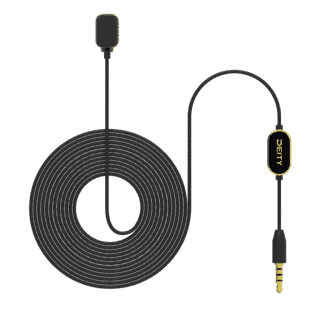 The V.Lav is an omnidirectional lavalier microphone. It is unique amongst the other lavalier mics in that it has a microprocessor that configures its TRRS plug to work with most 3.5mm headset jacks. This makes it work easily with a wider range of gear than many other lavalier mics.
At $40, it is one of the cheaper lapel microphones on our list. However, there seems to be no trade-off in quality as it can capture high-quality audio with a clear, natural sound, picking up the voice even outdoors while staying hidden.
Although it is not a wireless mic, it contains a battery, which is used to power the aforementioned microprocessor but promptly goes off once it's figured out what it's connected to. It's an LR41 battery that lasts more than 800 hours. It is also easily replaceable, so battery failure is not a real risk.
It has a strong output signal and is accompanied by a 5m long cord (16½ feet). The length is pretty useful if you need to move around your settings and adds flexibility to your setup. If you don't need any of these, you may find these wires cumbersome and surplus to your needs.
The head of the microphone is a little large so it's hard to stay hidden from the camera under clothing or to use discreetly.
Specs
Transducer – Polarized condenser
Pick-up pattern – Omnidirectional pickup pattern
Frequency range – 50hz – 20khz
Sensitivity – -40±2dB re 1V/Pa @1KHZ
Connector – 3.5mm TRRS
Cable – 5 meters
Polsen OLM-10 Lavalier Microphone
Price: $33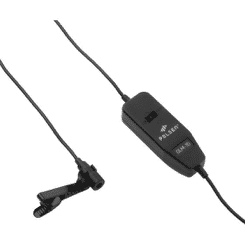 The Polsen OLM-10 is a low price answer to the lavalier microphone question. Featuring a 3.5mm dual-mono TRS output connector, it is compatible with a wide range of gear.
A true lightweight, it allows for the most discrete placement while delivering crisp and intelligible recording. It includes a tie clip and 20-foot long cord that can give you a lot of distance from your camera or audio recorder if you desire. Although, 20 feet of wire is an inconvenience to folks who don't need it.
The OLM-10 lavalier mic can be very sensitive which makes it good for speech and dialogue but bad for recording audio in a windy environment outdoors or one with ambient noise.
It also comes with a limited 1-Year Warranty if you're unhappy with your device.
Specs:
Transducer – Electret condenser
Pick-up pattern – Omnidirectional microphone pickup
Frequency range – 50 Hz to 18 kHz
Sensitivity – -65 dB +/- 3 dB
Connector – 3.5mm TRS Dual-Mono
Cable Length – 20′ (6m)
JOBY Wavo Lav Pro
Price: $80
JOBY recently jumped into the microphone market and has attempted to carve out a name for themselves with the release of new products. Among these is the JOBY Wavo lav pro. It is a compact and simple lavalier microphone that records broadcast quality audio.
While it can be used for a wide range of devices, it's not quite as universal as the Deity V.Lav.
As advertised by JOBY, the best way to get maximum functionality out of this lapel microphone is if it is recording alongside a Wavo PRO shotgun microphone (which has an additional headphone jack for the JOBY Wavo lav mic).
It is a minimally designed, discrete lav microphone that can be used for any event.
Specs
Transducer – Electret condenser
Pick-up pattern – Omnidirectional pickup pattern
Sensitivity – -45dB ±3dB
Frequency response – 20Hz – 20kHz
Connector – 3.5mm TRS
Cable length – 8.2′ (2.5m)
Saramonic SR-M1 Lavalier Mic
Price: $30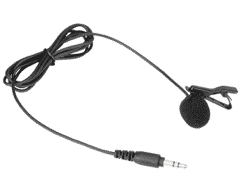 At $30, this is the cheapest microphone in this guide. The Saramonic SR-M1 lavalier is unique in combining the properties of wired and wireless systems. It is compatible with wireless lavalier systems, handheld audio recorders, DSLR cameras, mirrorless cameras, and video cameras.
This microphone is a 3.5mm plug-in-powered lavalier microphone with a 4.1' (1.25m) cord.
Its sound is not the best, but with a many compatible devices makes the cost effective SR-M1 a good choice as a spare or backup mic for video content creators.
Like most lapel microphoness, it comes with a clip that has a foam windscreen that helps reduce breath sounds and light wind noise you might encounter on location.
Its 3.5mm connector is the non-locking type which makes it compatible with many devices but also creates a less reliable and secure connection.
Specs
Transducer – Electret condenser
Pick-up pattern – Omnidirectional polar pattern
Sensitivity – -39dB+/-2dB
Frequency response- 20Hz – 20kHz
Connector – 3.5mm
Cable length – 4.1′ (1.25m)
Rode SmartLav+
$80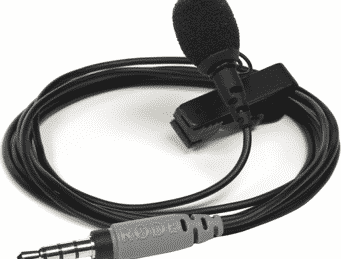 The Rode smartLav+ is an omnidirectional lapel mic designed specifically optimized for a mobile device. Rode is a trusted name in the microphone market, so you can be assured of great sound as long as you use it correctly.
Measuring 4.5mm in length, it is very discrete. Its capsule is a permanently condensed polarised condenser.
It comes with a thin, Kevlar-reinforced cable which is popular among users for its ability to withstand wear and tear. This is important because when lavalier microphone cables gets damaged, it's usually almost impossible to fix. It also includes a small carrying pouch.
There are complaints of a problem with the background noise floor in the smartLav+, and a high hiss on while recording, but otherwise, its sound output is very good. The foam windscreen does less work on wind interference than it claims to, but is still reasonably effective. Overall, this is one of the best lavalier microphones money can buy.
Rode has warned about occurrences of product counterfeiting among its microphones, so always make sure you're not buying a fake.
Specs
Transducer – polarised condenser
Frequency – 20Hz – 20kHz
Sensitivity – -35dB
Pick-up pattern – omnidirectional polar pattern
Connection – TRRS
Cable – 4ft (1.2m)
Rode Lavalier Go
Price: $120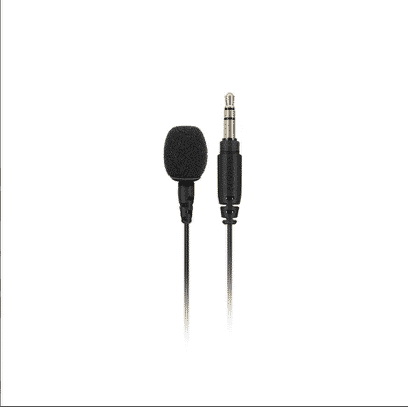 The Rode Lavalier Go sits at the summit of the intersection of quality and pricing.
The 3.5mm TRS connector of the Rode Lavalier Go pairs perfectly with the RØDE Wireless GO and most recording gear with a 3.5mm TRS microphone input.
It's quite a small size, so it's very easy to conceal. It sounds great in handling noise and noisy environments, requiring only a little post-processing.
This high-end Lavalier uses a MiCon connector, which allows it to interface with a range of systems simply by changing the plug on the end. It may be pricey for a lav mic, but it's worth it.
Specs
Transducer – polarised condenser
Frequency – 20Hz – 20kHz
Sensitivity – -35dB )
Pick-up pattern – omnidirectional pickup pattern
Connection – Gold-plated TRS
Sennheiser ME 2-IIl Lavalier Mic
Price: $130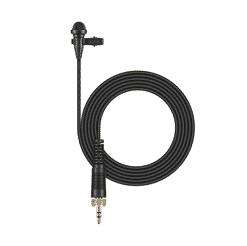 This omnidirectional small clip on microphone provides a well-balanced sound that is easy to work with and is great for speech. It provides good clean tonal balance without distortion. It comes with a metal windscreen which is more resilient than its foam counterparts.
It's suitable for AVX evolution Wireless D1, XS Wireless 1, XS Wireless 2, Evolution Wireless, although to work as an XLR input microphone you'll need to purchase some accessories like a separate XLR connector.
It is very discrete, and when combined with its clarity for speech, makes it a great pick for podcasts, interviews, even TV shows. It's slightly larger than the previous version but more durable with a smoother sound.
Specs
Transducer – Polarized condenser
Pick-up pattern – omnidirectional
Sensitivity – 17mV/Pa
Cable length – 1.6m
Connection – mini-jack
Frequency – 30hz to 20khz
Senal OLM – 2 Lavalier Microphone
Price: $90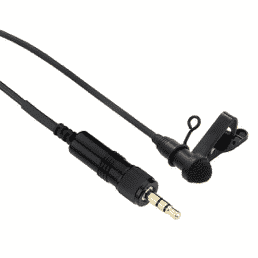 Yet another omnidirectional lavalier microphone, the Senal OLM-2 is a miniature, smooth lapel mic that allows for discrete placement without compromising sound quality. However, it doesn't connect to the same range of gear and transmitters as other lapel mics in the same class, making it a less versatile option.
Designed to connect to a Sennheiser or Senal bodypack wireless transmitter, the OLM-2 can be also be combined with the Senal PS-48B Power Supply (sold separately). It also comes with a metal windscreen and a sturdy tie clip (or alligator clip.)
Specs
Transducer – Electret condenser
Pick-up pattern – Omnidirectional
Frequency – 50 Hz to 20 kHz
Sensitivity – -63 dB ±3 dB
Connector Gold-plated 1/8″ (3.5 mm) locking connector jack
Cable – 5.3′ (1.6 m)
Shure WL185 Cardioid Lavalier
Price: $120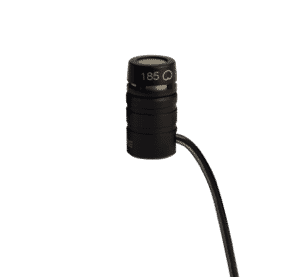 The Shure WL185 Cardioid Lavalier is the first and only non-omnidirectional lav mic in this guide. It is a cardioid mic that picks up sounds with high gain from the front and sides but poorly from the rear.
This lav mic is designed for use in speech applications such as broadcast presentations, speeches, lectures, or for use in houses of worship.
It features modern CommShield® Technology, which guards against interference distortion from cellular RF devices and digital bodypack transmitters.
Running on lithium-ion batteries and weighing only 0.39 pounds is the definition of discrete. It also comes with a conditional one-year warranty.
This Shure lavalier microphone also allows the use of interchangeable cartridges (sold separately) which means you can swap between cardioid, supercardioid, and omnidirectional condenser cartridges simply by screwing them onto the top of the lavalier mic.
Sony ECM-V1BMP Lavalier Mic
Price: $140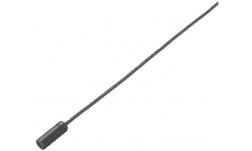 The ECM-V1BMP lavalier electret condenser microphone works in tandem with the Sony UWP and UWP-D bodypack wireless transmitters.
This wireless lav mic is not as small as some of the others featured in this guide, but it's still a small size and easy enough to hide from the camera in your collar (although you'll need to hide wireless transmitter box as well).
With the highest price of all the lavalier microphones we've looked at in this guide, but it comes with superior sound quality that you can hear.
This lavalier mic measures up to movie-grade lavalier microphones and has a very low signal-to-noise ratio. It doesn't connect to the same vast range of wireless transmitters that others do, but if used correctly, this lav mic works great and is worth every penny.
Specs
Transducer – Electret Condenser
Frequency response – 40 Hz to 20 kHz
Pick-up pattern – omnidirectional pickup pattern
Sensitivity – -43.0 ±3 dB
Connector – BMP type. 3.5 mm, 3-pole mini plug.
Cable – 3.9 feet (1.2 m)
Conclusion
In terms of subjective quality, you would be pretty happy with the results of all of these lav microphones as they are some of the best lavalier microphones around. Once again it boils down to what your budget agrees with when looking for the best lavalier microphones.
Whether you're looking for a wired lavalier microphone or wireless lav mic system, all of these quality mics make good cases for their price.
Hear it for yourself
Advanced Audio AI Removes Noise and Boosts Your Vocal Quality
Try CrumplePop Free