Audio Interface for Mac: 9 Best Interfaces Available Today
---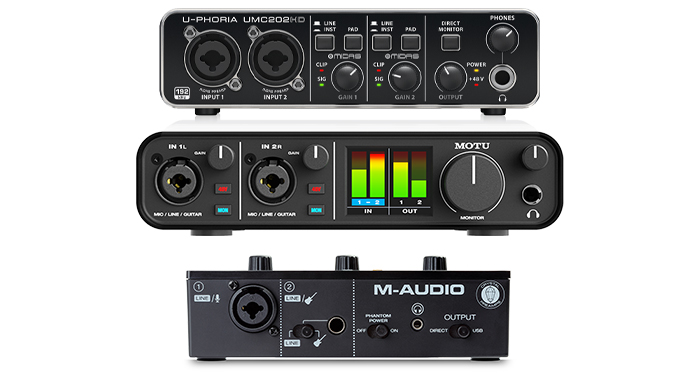 If you're reading this article, you're probably ready to enter the world of music production, whether to record your music or help others bring their albums to life. Or maybe you're into podcasting; you have tons of scripts ready for your new show and want to start recording a professional podcast with your home studio.
You probably already have a Mac and a microphone, but then you realize you need more than just these two items to create a professional home recording studio.
That's when an audio interface comes into play. But before we start listing the best audio interfaces, we need to clarify what is an external audio interface for Mac, how to choose one, and everything you need to know before buying one.
In this article, I'll list the best audio interfaces for Mac and analyze them in every detail. This is your ultimate guide to help you get the best audio interface for Mac.
Let's dive in!
What is an Audio Interface for Mac?
An audio interface is external hardware that allows you to record analog audio from a microphone or musical instrument, and transfer it into your Mac to be edited, mixed, and mastered. Your Mac then sends the audio back through the interface for you to
listen to the music you made.
The same goes for iPad users; however, if you don't want to buy a dedicated audio interface for iPad and want to use just one audio interface for both devices, you'll need a Multiport USB-C Adapter and a Powered USB Hub to make the audio interface work with your iPad.
Simply put, an audio interface is a recording device for your Mac. However, a USB audio interface is more than just a recording tool. The best audio interfaces have multiple inputs and outputs for your musical instruments and monitors, as well as mic preamps and phantom power for condenser microphones. So how do you choose the best audio interface?
How to Choose an Audio Interface for Mac?
When you start looking for audio interfaces for Mac, you'll find out many options are available in the market. It can be daunting at first, but knowing how to choose the right USB audio interface based on your needs is essential and will save you a lot of time and money in the future.
Here are a few things you must consider when buying your first USB audio interface (or upgrading).
Budget
How much are you willing to spend on an audio interface? Once you have an estimated amount, you can narrow your search around that price.
Today you can find audio interfaces for Mac from as low as $50 to several thousand dollars; if you're just starting your home studio, I'd recommend opting for an entry-level audio interface, as many low-budget audio devices offer more than enough to get you started.
If you're a songwriter or an electronic music producer, chances are you won't need a fancy audio interface to record your music. On the other hand, if you're creating a home recording studio for bands, you might need a professional (and more expensive) audio interface.
Computer Connectivity
Aside from all the different interfaces available in the market, you'll also notice there are different types of connections. You'll need to keep an eye on how the audio interfaces connect to your computer, to prevent buying something you won't be able to plug into your Mac.
Some connections are standard with audio interfaces: USB-A or USB-C, Thunderbolt, and FireWire. Apple no longer includes FireWire connection on new computers (and Firewire audio interfaces are no longer produced). USB-C and Thunderbolt are now the standards for most audio interfaces.
Inputs and Outputs
Define how many inputs you will need for your audio projects. If you're recording a podcast, you might only need two mic inputs with or without phantom power, but if you're recording your band's demo, a multi-channel interface would be a better fit.
Ask yourself what you will record and what you want to achieve with your recordings. Even if you're recording several instruments, you can record them separately, to get creative when making the best out of a single-input audio interface.
The standard inputs on audio interfaces are:
Single mic, line, and instruments
Combo XLR for mic, line, and instrument
MIDI
The popular outputs on audio interfaces are:
Stereo ¼ inches jack
Headphone outputs
RCA
MIDI
Sound Quality
Most likely, this is the reason why you want to buy an audio interface. Since built-in sound cards don't deliver good audio quality, you want to upgrade your equipment and record music that sounds professional. So let's talk about what to look for regarding audio quality.
First, we need to define two important concepts: the audio sample rate and the bit depth.
The audio sample rate determines the range of frequencies captured in digital audio, and the standard for commercial audio is 44.1 kHz. Some audio interfaces offer sample rates up to 192 kHz, which means they can record frequencies outside of the human range.
The bit depth determines the number of possible amplitude values we can record for that sample; the most common audio bit depths are 16-bit, 24-bit, and 32-bit.
Together, the audio sample rate and bit depth give you an overview of the sound quality the audio interface can capture. Given the standard sound quality of a CD is 16-bit, 44.1kHz, you should look for an audio interface that provides, at the very least, this level of recording features.
However, many audio interfaces today offer much higher sample rate and bit depth options, which is a great thing as long as your laptop can sustain the draining CPU usage these settings require.
Portability
There will be situations where you need to move your home studio around. Maybe your drummer can't carry his equipment to your studio, or you want to do a live recording in your local park. Having a compact and rugged audio interface you can toss on your backpack and go can be a crucial factor for many.
Software
Most audio interfaces come bundled with software such as virtual instruments, a digital audio workstation (DAW), or plug-ins.
Extra plug-ins are always a good addition if you already know how to use a specific DAW. But for those new to the music production world, having a brand-new DAW to use and start recording right away is a fantastic option.
9 Best Audio Interfaces for Mac
Now that you know how to identify a professional audio interface for your Mac, let's take a look at the best audio interfaces in the market.
PreSonus Studio 24c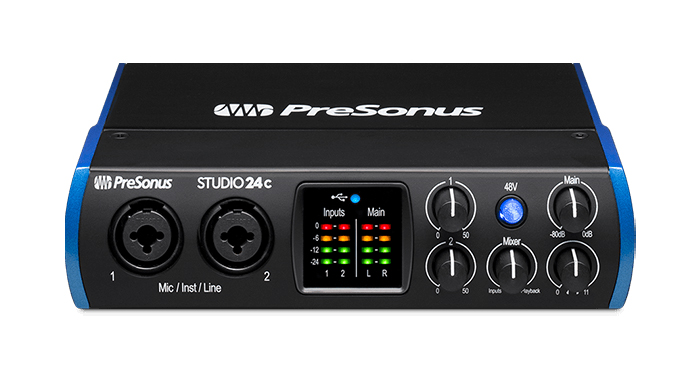 The Studio 24c offers a lot of flexibility for all kinds of creators, which is why it is the first one I recommend.
This reliable audio interface is made of metal and features a very professional look. It's a rugged, compact interface with a bus-powered USB-C type connection, which makes it easy to carry around. You can take it with you anywhere you need to record, carrying it in your backpack without worrying about it getting damaged.
On the front, it has a ladder-style LED metering to monitor input and output levels; all knobs are here, which some find difficult to adjust on the go as they are quite close to each other.
It comes with two PreSonus XMAX-L mic preamps, two XLR and line combo inputs for microphones, musical instruments, or line level inputs, two balanced TRS main outputs for monitors, one stereo output for headphones, MIDI in and out for sound modules or drum machines, and 48v ph. power for condenser microphones.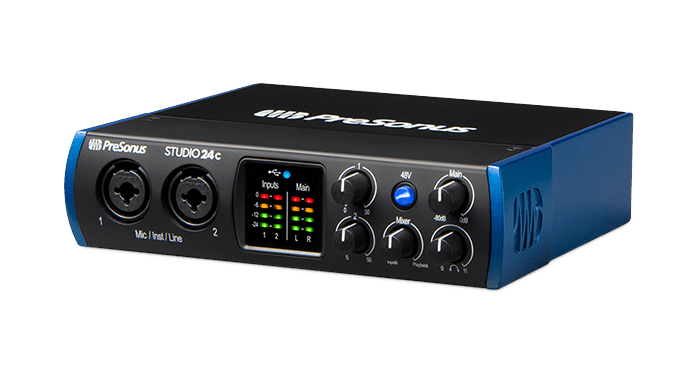 One thing to consider is the headphone output is on the back of the interface. This may come in handy for people who don't like to have all cables on the front, but for others, it might be uncomfortable if you plug in and unplug the same headphones all the time.
The Studio 24c comes with all you need to start with any audio work. It includes two top-notch DAWs: Studio One Artist and Ableton Live Lite, as well as the Studio Magic Suite with tutorials, virtual instruments, and VST plug-ins.
This powerful interface operates at 192 kHz and 24-bit depth for ultra-high-definition recording and mixing.
You can find the Studio 24c for around $170, an excellent price for an entry-level audio interface with all these features. This little device offers so much it's impossible not to love it.
Pros
USB-C audio interface
Software bundle
Portability
Steinberg UR22C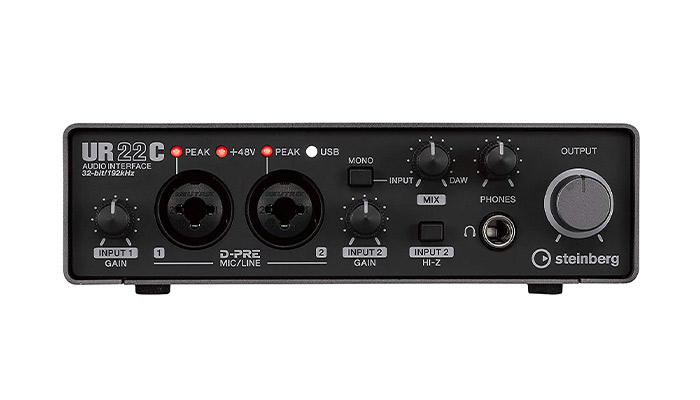 The Steinberg UR22C is a remarkably compact, rugged, versatile audio interface for composing and recording from anywhere.
The two combo inputs include D-PRE mics preamps for high-quality recording, which is incredible for this price range ($190). Furthermore, the UR22C provides a 48v ph. power for your condenser mics.
This excellent audio interface features two power supplies: one USB-C 3.0 and a micro-USB 5v DC port for extra power when your Mac doesn't provide enough. I appreciate the 3.0 USB port because it's fast, reliable, and has seamless connectivity to Mac devices.
We find the two combo jacks with gain volumes on the front of the interface. There is also a handy mono switch to change the output routing from mono to stereo (for monitoring only, not recording), a mix volume knob, a Hi-Z switch for high and low impedance instruments, and the headphone output.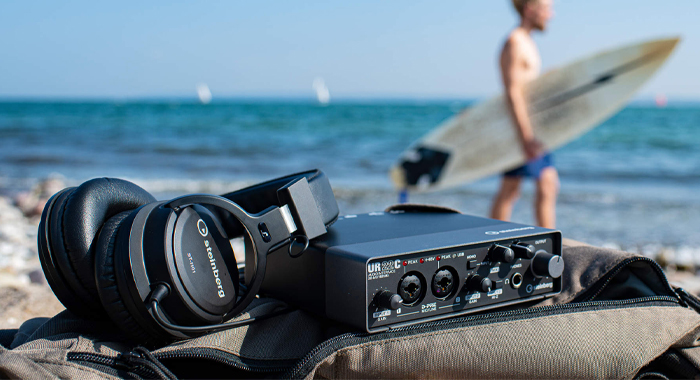 On the back are the USB-C port, 48v switch, MIDI controller in and out, and the two main outputs jacks for monitors. With a 32-bit and 192 kHz audio resolution, the UR22C delivers exceptional sound quality, ensuring even the tiniest sonic details get captured.
The built-in digital signal processing (DSP) provides zero-latency effects for every DAW. These effects are processed in your interface, making it an excellent choice for streamers and podcasters.
Speaking of DAWs, being a Steinberg device, the UR22C comes with a license for Cubase AI, Cubasis LE, dspMixFx mixing application, and Steinberg Plus: a collection of VST instruments and sound loops for free.
Pros
A professional audio device at an entry-level cost
Bundled DAWs and plug-ins
Internal DSP
Cons
Needs extra power supply with iOS devices
MOTU M2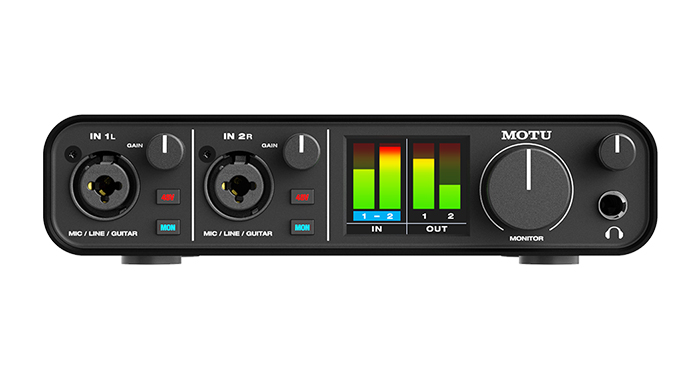 According to the MOTU website, the M2 has the same ESS Sabre32 Ultra DAC technology found in way more expensive audio interfaces for Mac. It delivers an incredible 120dB dynamic range on its main outputs, allowing you to record with a sample rate of up to 192 kHz and 32-bit floating point.
On the front, we have our usual combo input jacks with gain knobs, 48v phantom power, and a monitoring button. With the M2, you can turn on-off the latency-free monitoring for each channel individually.
The full-color LCD screen is what really stands out in the M2, and it displays your recording and outputs levels in high resolution. You can keep an eye on levels directly from the interface without looking at your DAW.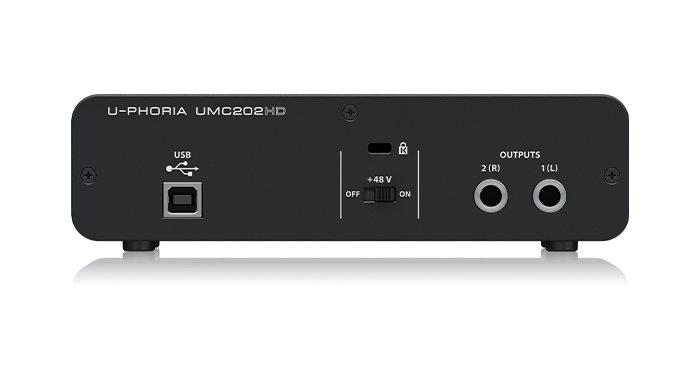 On the back of the M2, we find two types of outputs: an unbalanced connection via RCA and a balanced connection via TRS outputs. There are also a MIDI input and outputs for controllers or keyboards and a 2.0 USB-C port where the M2 gets its power.
Sometimes when you're not recording, you still have your interface plugged into your Mac. The M2 offers a switch to turn it on/off to completely shut it down and save your computer's battery power, something not many manufacturers add to their audio interfaces, but I highly appreciate it.
It comes with a package of software that will help you get started as soon as you take the M2 out of the box. The software included are MOTU Performer Lite, Ableton Live, more than 100 virtual instruments, and 6GB of free loops and sample packs.
What surprises me the most about the M2 are all the plug-ins and pieces of software it comes with, which you usually don't find on a $200 audio interface.
Pros
LCD level meters
Individual phantom power and monitoring controls
Power switch
Loop-back
Cons
No Mix dial knob
2.0 USB connectivity
Universal Audio Apollo Twin X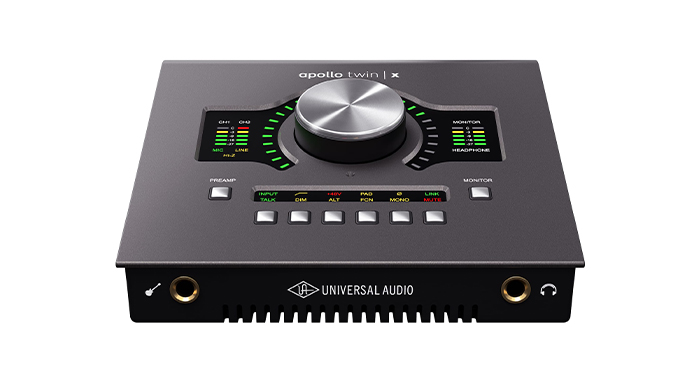 Now we're getting serious. The Apollo Twin X by Universal Audio is a professional tool for ambitious producers and audio engineers. Compared to the previous audio interfaces, we're talking about a completely different price range; however, this is a device you won't need to upgrade anytime soon and is undoubtedly one of the best audio interfaces for Mac users on the market.
The main feature of the Universal Audio Apollo Twin X is the Digital Signal Processing (DSP): this helps reduce the latency to nearly zero, which is possible because the signal from your audio source is processed directly from the Universal Audio Apollo Twin X and not from your computer.
By buying the Apollo Twin X, you get access to selected Universal Audio plug-ins, which are some of the best plug-ins in the market. These include vintage and analog emulations like the Teletronix LA-2A, classic EQs, and guitar and bass amps, all at your disposal.
All the plug-ins run on the Universal Audio Apollo Twin X to reduce your computer's processing consumption; you can use them with the LUNAR recording system, the Universal Audio DAW, or on any of your favorite DAWs.
You can find the Apollo Twin X in two versions: the Dual core processor and the Quad-core. The difference between the two is the more cores, the more plug-ins you'll be able to run on your audio interface simultaneously.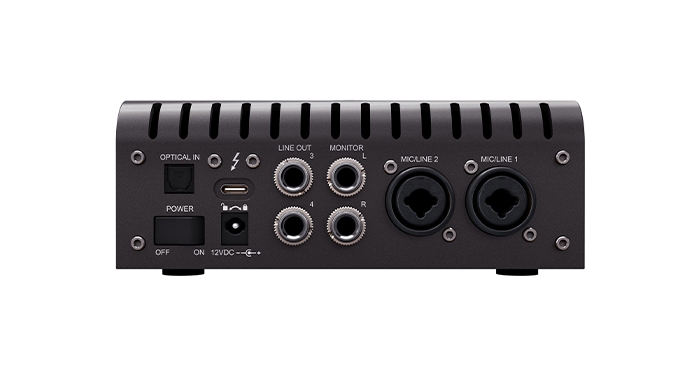 The Apollo Twin X comes with two Unison preamps in combo XLR inputs for mic and line level that you can choose from a switch on your interface. There are also four ¼ outputs for speakers and a third instrument input on the front of the interface. However, using this front input will override input one, as you can't use both inputs simultaneously.
The built-in talkback mic allows you to communicate with the artists while they're in the recording room, while the link button will allow you to connect the two audio inputs into a single stereo track.
The Apollo Twin X is a Thunderbolt 3 interface; it records up to 24-bits 192 kHz with a 127 dB dynamic range. The preamps on this interface have a maximum gain of 65 dB.
The Apollo Twin X has been used to record music of artists such as Kendrick Lamar, Chris Stapleton, Arcade Fire, and Post Malone.
If you can afford this interface, you won't regret it. It is expensive ($1200), but the quality of the preamps plus the plug-ins included are incredible.
Pros
Thunderbolt connection
UAD Plugins
Cons
Price
No thunderbolt cable included
Focusrite Scarlett 2i2 3rd Gen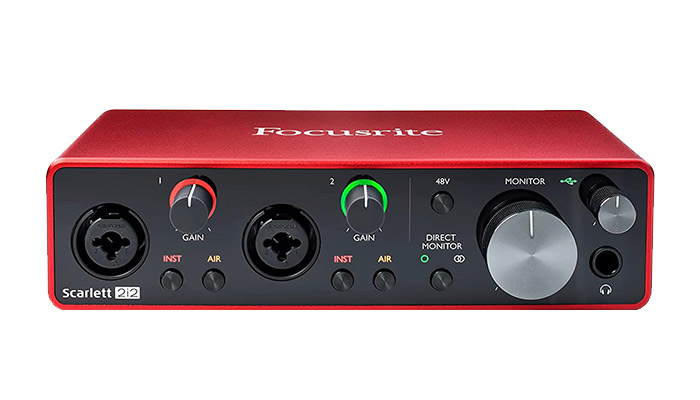 Opting for a Focusrite as your first audio interface is the safest choice you can make. Focusrite has been designing preamps for 30 years, and this 3rd Gen audio interface is affordable, versatile, and portable.
The Focusrite Scarlett 2i2 is one of the most popular audio interfaces among artists and audio engineers; it comes with a metal frame in a beautiful scarlet red painting that's hard to forget.
The Scarlett 2i2 features two combo jacks with preamps for mics, with their corresponding gain knob. There is also a useful led ring around the knob to monitor your input signal: green meaning the input signal is good, yellow that it is close to clipping, and red when the signal clips.
As for the buttons on the front: one to control instruments or line input, one for the switchable Air mode, which emulates the Focusrite original ISA preamps, and the 48v phantom power on both inputs.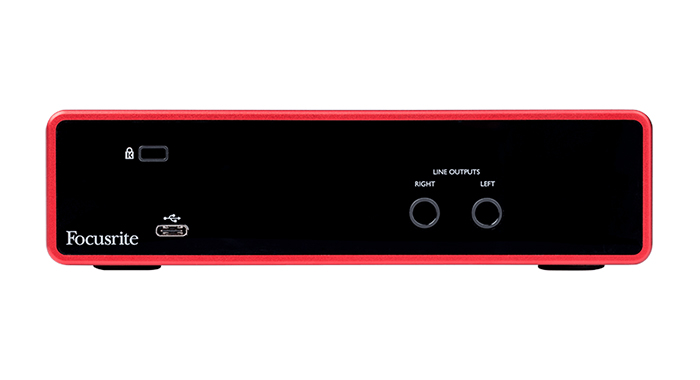 Something to mention about the phantom power is that it will automatically turn off when you disconnect your condenser microphone. It can help you protect devices like ribbon microphones but can also compromise your recordings if you're in a hurry and forget to turn them on again.
The direct monitoring on the Focusrite 3rd Gen offers a new feature for stereo monitoring, splitting the source from input one to your left ear and input two to your right ear on your headphones.
The maximum sample rate of the Scarlett 2i2 is 192 kHz and 24-bit, which allows recording frequencies way above the human range.
The Scarlett 2i2 includes Ableton Live Lite, a 3-month Avid Pro Tools subscription, a 3-month Splice sounds subscription, and exclusive content from Antares, Brainworx, XLN Audio, Relab, and Softube. The Focusrite plug-in collective grants you access to free plug-ins and regular, exclusive offers.
The Scarlett 2i2 is a USB-C type bus-powered interface, meaning you don't need an additional power source to supply it. It's a very light and small audio interface to fit your home studio, and you can get it for $180.
Pros
Portable
Plug-in collective
Software
Cons
Is USB-C to USB-A
No MIDI I/O
No input + loopback monitoring.
Behringer UMC202HD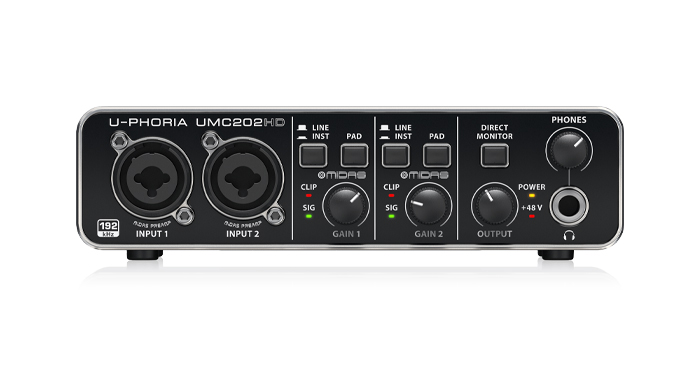 The U-PHORIA UMC202HD is one of the best USB audio interfaces, featuring authentic Midas-designed mic preamps; it's affordable and easy to use even if you're a beginner.
The two combo XLR inputs allow us to connect dynamic or condenser microphones and instruments like keyboards, guitar, or bass. On each channel, we find a line/instrument button to select whether we are recording an instrument or a line-level audio source.
I particularly appreciate the easy access to the headphone output: in the UMC202, the headphone jack is located on the front with its volume knob and the direct monitoring button.
On the rear, we find the USB 2.0, two output jacks for studio monitors, and the 48v phantom power switch (it would be great to have it on the front for easier access like most of the other audio interfaces, but having it included at this price is already enough).
The UMC202HD provides an exceptional sample rate of 192 kHz and 24-bit depth resolution for the most demanding audio tasks and high accuracy.
The interface is covered by a metal chassis except for the knobs, buttons, and the XLR port, which are made of plastic. Its size is perfect for small home studios or for traveling.
Many say that the UMC202HD is the best audio interface under $100 that you can get for audio recordings or even for YouTube videos, live streaming, and podcasts. It's straightforward to use and a perfect example of a plug-and-play audio interface.
Pros
Price
Preamps
Easy to use
Cons
Built quality
No MIDI I/O
No software included
Native Instruments Komplete Audio 2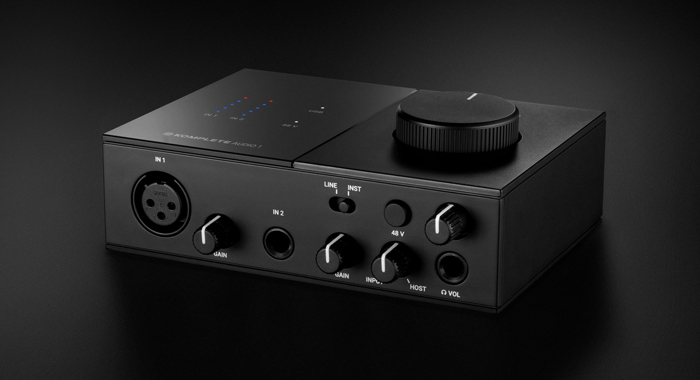 The Komplete Audio 2 has a stunning minimalist black design; the chassis is all plastic, making it very light and portable (only 360 g). Although the plastic gives it a cheap look and collects dust and fingerprints, this audio interface can do wonders.
On the top, it has metering and status LEDs that show input levels, USB connection, and phantom power indicator.
The Komplete Audio 2 comes with two combo XLR jack inputs and switches to select between line or instrument.
It also includes dual balanced jack outputs for monitors, dual headphone outputs with volume control, phantom power for condenser microphones, and a 2.0 USB connection which is the power supply.
The knobs on the Komplete Audio 2 turn very smoothly, giving the feel of total control over your volumes.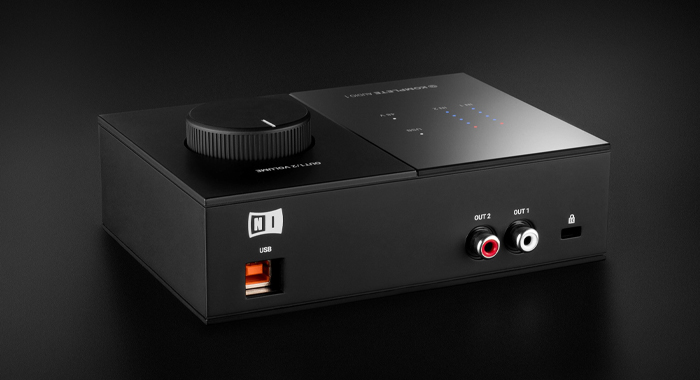 Direct monitoring lets you blend the audio playback from your computer while monitoring your recordings. You can select between 50/50 volumes or play around with what you need to hear.
This audio interface can deliver premium sound quality with a maximum sample rate of 192 kHz and a bit depth of 24-bit with a flat frequency response for transparent reproduction.
Native instruments include excellent software with all their devices: the Komplete Audio 2 gives you access to Ableton Live 11 Lite, MASCHINE Essentials, MONARK, REPLIKA, PHASIS, SOLID BUS COMP, and KOMPLETE START. That's all you need to start producing music.
Pros
Small and portable
Included software
Audient iD4 MKII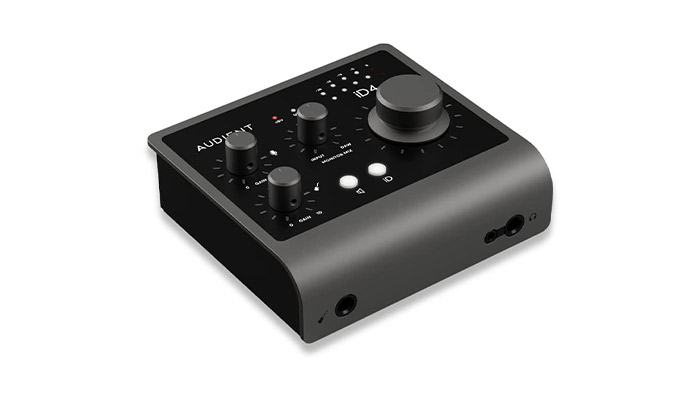 The Audient iD4 is a 2-in, 2-out audio interface in an all-metal design.
On the front, we can find a DI input for your instruments and a dual headphones input, one ¼ in and another 3.5. Both inputs offer zero-latency monitoring, but only one volume control.
On the back, we have the 3.0 USB-C port (which also powers the interface), two output jacks for studio monitors, an XLR combo for mic and line level input, and the +48v phantom power switch for your microphones.
On the top side rest all the knobs: a mic gain for the microphone input, DI gain for your DI input, a monitor mix where you can blend the mix between your input audio and your DAW audio, mute and DI buttons, and a set of meters for your inputs.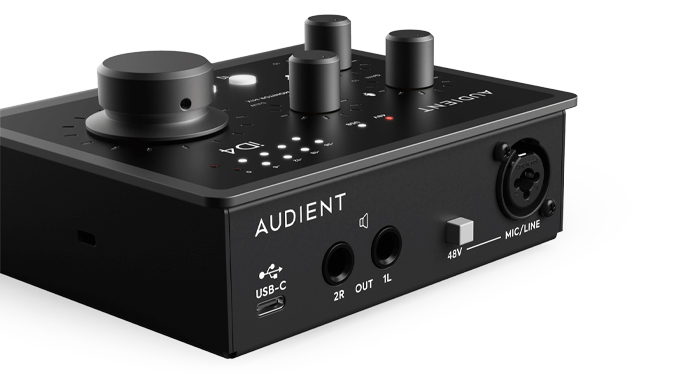 The knobs feel solid and professional, and the volume knob can turn freely without limitations; it can also work as a virtual scroll wheel and take control of various compatible onscreen parameters on your DAW.
The iD4 features an Audient Console Mic Preamp; the same discrete circuit design found in the renowned recording console, the ASP8024-HE. These are extremely clean, high-quality audio preamps.
One thing to consider in this audio interface is the audio Loop-back feature, which enables you to capture playback from applications on your computer simultaneously with your microphones. This feature is ideal for content creators, podcasters, and streamers.
The iD4 is bundled with a free suite of creative software, including Cubase LE and Cubasis LE for iOS, alongside professional plug-ins and virtual instruments, all for just $200.
Pros
Portable
USB 3.0
Build quality
Cons
Single mic input
Input level monitoring
M-Audio M-Track Solo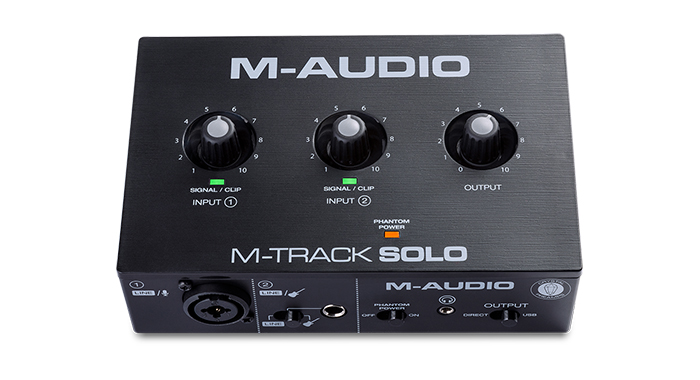 The last device on our list is for those on a really tight budget. The M-Track Solo is a $50, two-input interface. For the price, you probably think this is a cheap interface, and it does look that way because it's entirely built in plastic, but the truth is it does offer some very good features, especially to beginners.
On the top of the audio interface, we have two gains control for each input with a signal indicator for your input levels and a volume knob that controls your headphones and the RCA outputs.
On the front, we have our XLR combo input with Crystal preamp and 48v phantom power, a second line/instrument input, and the headphones 3.5 output jack with zero latency monitoring.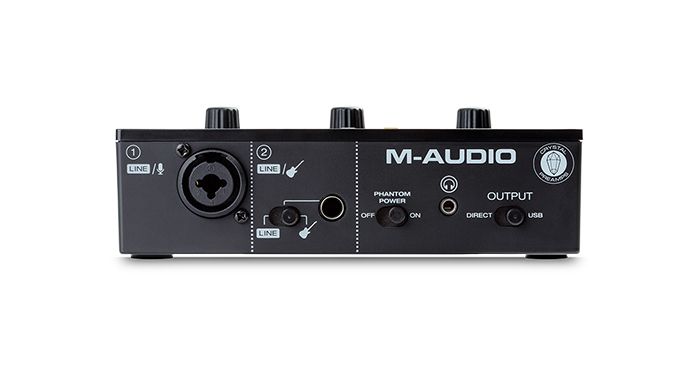 On the rear, we only have the USB ports to connect it to our Mac (which also powers the interface) and the main RCA output for speakers.
In terms of specs, M-Track Solo offers 16-bit depth and a sample rate of up to 48 kHz. You can't really ask for more for this price.
Surprisingly, this affordable audio interface includes software like MPC Beats, AIR Music Tech Electric, Bassline, TubeSynth, ReValver guitar amp plug-in, and 80 AIR plug-in effects.
I decided to include the M-Track Solo because it's hard to find a good interface that's so cheap, so if you really can't afford any of the other audio interfaces mentioned on this list, then go for the M-Track Solo: you won't be disappointed.
Cons
RCA main outputs
Build quality
Final Words
Picking your first audio interface is not a simple decision. There are too many things to consider, and sometimes, we don't even know what we actually need!
I hope this article helped you understand the main features and specs you need to look for the best audio interfaces for your needs. Remember that everything starts with your budget: start with something that won't break the bank, as you can upgrade later when you start finding your audio interface limiting.
Now you're all set to get your audio interface. It's time to start recording, producing, and sharing your music with the world!
FAQ
Do I need an audio interface for Mac?
If you're serious about becoming a music producer or a musician, it's highly recommended to get an audio interface because it'll dramatically improve the audio quality of your recordings.
Publishing audio content with bad sound quality will inevitably compromise your creative endeavor, so before recording your music or podcast, make sure you have an audio interface that can deliver high-quality audio.
Why are some audio interfaces so expensive?
The price depends on the components of that specific audio interface: the building material, the preamps mic included, the number of inputs and outputs, the brand, or if it comes with a software bundle and plug-ins.
How many inputs and outputs do I need?
If you're a solo producer, musician, or podcaster, a 2×2 interface to record microphones and musical instruments will do the job for you.
If you're doing live recordings with multiple musicians, musical instruments, and singers, then you'll need something with as many inputs as possible.
Do I need an audio interface if I have a mixer?
First, you need to verify if you have a USB mixer, which means it can connect to your computer and record from any audio editor or DAW.
If you do, you don't need an audio interface unless you want to record individual tracks since most mixers only record a single stereo mix in your DAW. For more info, check out our audio interface vs mixer article.
Hear it for yourself
CrumplePop removes noise and boosts your vocal quality. Toggle it on/off to hear the difference.
Try CrumplePop Free