Best Wireless Microphone for iPhone: 7 Mics Reviewed
---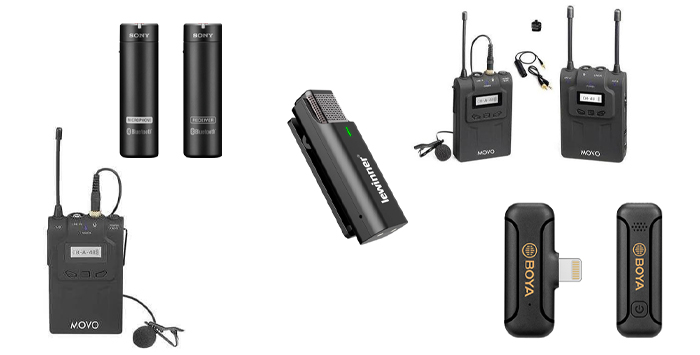 We all know the built-in iPhone microphones are just enough for basic activities like phone calls and recording voice notes. When we need good audio quality for a professional video call, an interview, or a live stream on social media, we must look for an upgrade for our iPhone that would guarantee pristine results.
Today, we can do everything with an iPhone; do you want to create a podcast? You can do it with a mobile app from your iPhone. Are you recording content for your YouTube channel? iPhone's camera got you covered. Recording a demo for your next song? The iPhone has many mobile DAWs in the App Store ready for you. The only drawback? The built-in iPhone mic.
If you plan to succeed, you will need to buy the best microphone for iPhone. There's a wide array of models and brands to choose from, so today, we'll take a look at one of the most popular choices among audio professionals: wireless microphones. Let's talk about how the best wireless lapel microphones for iPhone can enhance your audio projects, their cons, and pros, and of course, we'll feature a list of the most performing mics for those looking for the best wireless microphone for iPhone.
What's a Wireless Microphone for iPhone?
A wireless microphone for iPhone is an extremely common audio gear these days. Artists use them in live talk shows, on-location recordings, and even at their local restaurants. A wireless mic does not have a cable from the mic to the amplifier or sound recording device. Instead, it transmits the audio signal through radio waves.
How Does a Wireless Microphone for iPhone Work?
A wireless microphone for iPhone works with a transmitter and a receiver that can transport the audio signal in the form of radio waves. In handheld wireless microphones, the transmitter is built into the microphone's body. In a headset or a wireless lavalier microphone for iPhone, the transmitter is a separate small device with a clip that usually the person wearing it attaches to the belt or is hidden in a pocket or other parts of the body.
The transmitter picks the audio signal from the microphone and sends it in radio waves to the receiver. The receiver is connected to an audio interface or amplifier and processes the audio signal to be played back.
Band Frequency
Today's wireless microphones use VHF (very high frequency) and UHF (ultra-high frequency). The main differences between VHF and UHF are:
The VHF band allows the audio signal to travel longer distances with a wavelength range of 10 to 1M and a frequency range of 30 to 300 MHz.
The UHF band has a wavelength range of 1m to 1 decimeter and a frequency range of 300 MHz to 3GHz and more channels.
Pros and Cons of a Wireless Microphone for iPhone
One of the reasons the wireless microphone for iPhones is so popular is that mobile iPhones are already wireless devices.
However, there are advantages and disadvantages that come with even the best wireless microphone. Let's look at the pros and cons of using a wireless microphone for iPhone.
Pros
Portability.
Forget about disconnecting your microphone by accident.
Reduce the issue of stumbling on the cable cord while moving.
Forget about untangling headphone cords.
Cons
Radio interference from other wireless devices.
Signal loss due to the long distance between transmitter and receiver, resulting in bad audio quality.
The use of batteries limits the duration of the microphone's operation.
What You Need to Know about Wireless Microphones for iPhone
These microphones are used in various devices such as audio systems, smartphones, and DSLR cameras, but each device has different connections. Most smartphones use a TRRS 3.5 mm plug, but later models of iPhone don't have a 3.5 mm headphone jack, so we'll need a Lightning connector.
Type of Connections
Now, let's talk about audio connectivity. You will find some microphones have a TS, TRS, and TRRS connection. A TS connection only delivers a mono signal; TRS provides a stereo signal, with sound coming through the left and right channels. TRRS means that besides the stereo channel, it also includes a microphone channel. A TRRS input will be compatible with iPhone if it has a 3.5 mm jack. For the most recent models, you will need a Lightning connector.
Adaptors
There are many adaptors available today for iPhones. Most wireless systems come with a TRS connector and include a TRS to TRRS connector for mobile devices. If your iPhone has a Lightning port and not a 3.5 headphone jack, then you'll also need a 3.5mm to Lightning converter. You can buy these adapters in most electronic stores.
Wireless Microphone for iPhone: 7 Best Mics Reviewed
Rode Wireless GO II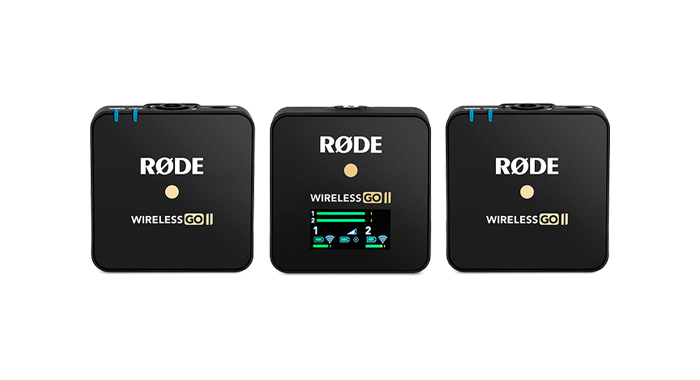 The Rode Wireless GO II is the world's smallest wireless microphone and might well be the best wireless microphone. It's extremely easy to use and has a built-in mic on the transmitter, which makes it ready to use as soon as it's out of the box. You can connect a lapel microphone through the 3.5 mm TRS input, but it's not required. To plug the Wireless GO II into your iPhone, you can do it via the Rode SC15 cable or a similar USB-C to Lightning adapter.
One of the best features of the Rode Wireless GO II is its dual-channel system, which can record two sources simultaneously or switch between dual mono and stereo recording.
The Rode Wireless GO II is a simple plug-and-play device, and the LCD screen shows all the necessary information. You can use the Rode Central companion app to customize more advanced settings.
Price: $299.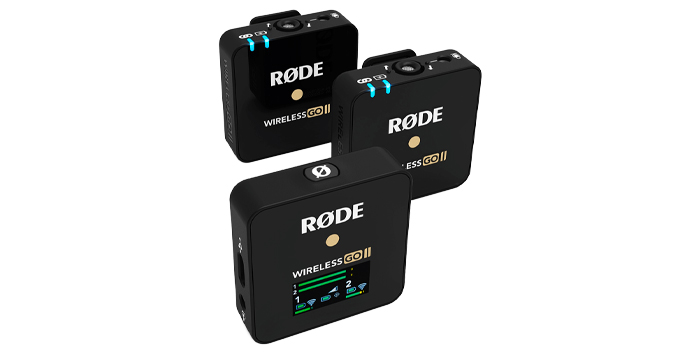 Specifications
Mic polar pattern: Omnidirectional
Latency: 3.5 to 4 ms
Wireless range: 656.2′ / 200 m
Frequency range: 50 Hz to 20 kHz
Wireless technology: 2.4 GHz
Battery life: 7 hours
Battery charging time: 2 hours
Resolution: 24-Bit/48 kHz
Pros
Different recording modes.
Dual-channel system.
Easy to attach to clothes.
Mobile app.
Cons
It's not the best option for live events.
No gain control on the transmitters.
No 32-bit float recording.
Sony ECM-AW4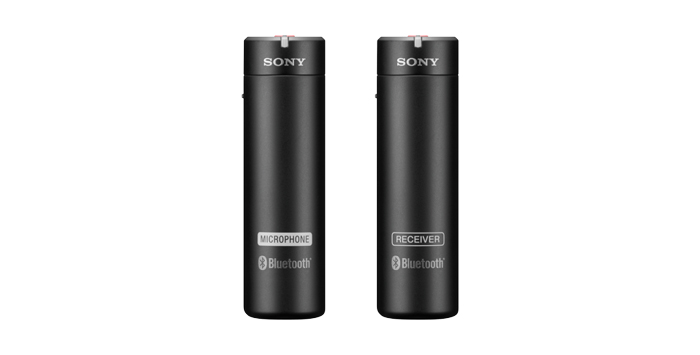 The ECM-AW4 Bluetooth Wireless Microphone is a complete audio system compatible with almost any video device, DSLR camera, field recorder, or smartphone with a 3.5 mini-jack mic input. You can use it by connecting an external 3.5mm lav mic or using the built-in microphone in the transmitter.
The kit includes a belt clip and armband to attach the transmitter to the body, a carrying pouch, and a pair of headphones. It will require a Lightning adapter for specific iPhone models.
Price: 229.99.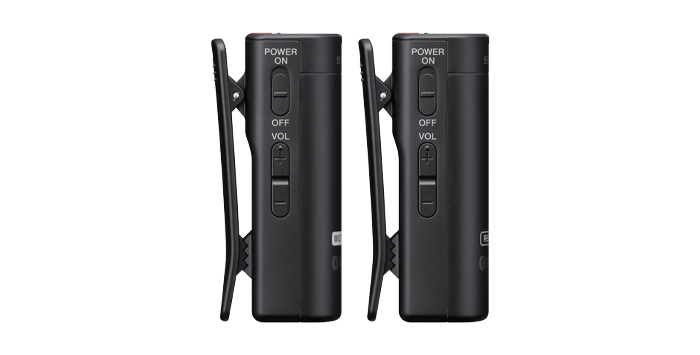 Specifications
Mic polar pattern: non-directional
Wireless range: 150′ (46 m)
Wireless technology: Bluetooth
Battery life: 3 hours
Battery: AAA battery (Alkaline and Ni-MH)
Transmitter and receiver support plug-in power.
Pros
Light and compact, ideal for any filming or recording situation.
It supports Talk-Back Communication with the headphones included.
Accessories included.
Cons
Due to its Bluetooth technology, little interference might be heard.
Movo WMIC80TR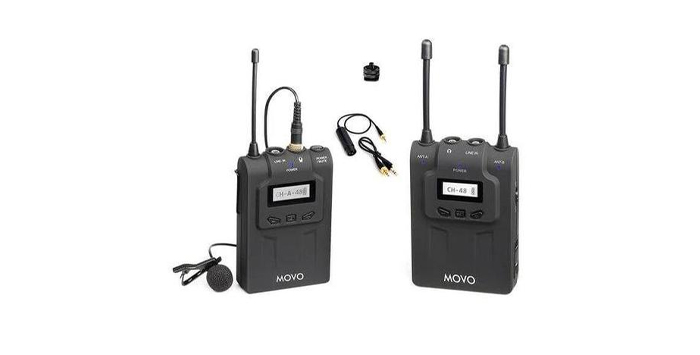 The Movo WMIC80TR is a professional wireless lavalier microphone system that offers top audio quality. It's undoubtedly an affordable, professional UHF wireless microphone for iPhone.
Its transmitter features locking jacks on inputs and outputs to avoid unintentional disconnecting, and the power button has a mute function too. The receiver has a clip and shoe mount adapter to attach to your cameras easily.
This lapel microphone includes 3.5mm to XLR cables, belt clips, a pouch, and a windscreen. To use this wireless lavalier microphone, you will need TRS to TRRS and Lightning adapters for iPhone.
Price: $139.95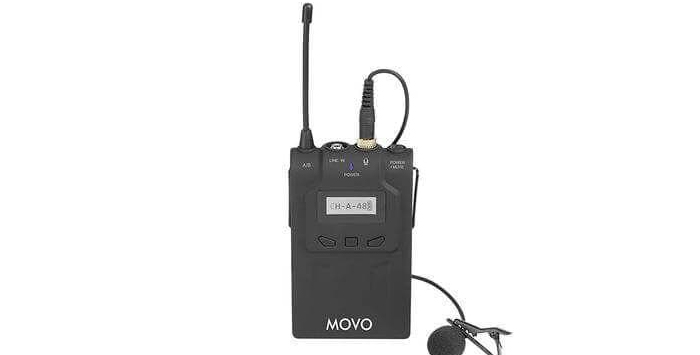 Specifications
Mic polar pattern: Omnidirectional
Wireless range: 328′ / 100 m
Frequency range: 60 Hz to 15 kHz
Wireless technology: Analog UHF
Battery life: 8 hours
Battery: AA batteries
Pros
UHF technology.
48 selectable channels.
Locking 3.5mm inputs and outputs.
Accessories.
Reasonable price for a lavalier microphone for iPhone.
Cons
Trouble recording in windy situations.
Lewinner Wireless Lavalier Microphone for iPhone
The Lewinner lavalier microphone for iPhone is the perfect solution for video bloggers, podcasters, live streamers, and other content creators because of its portable size and easy wireless connection to smartphones.
The lapel microphone features four-level noise cancellation with the supplementary SmartMike+ app to effortlessly improve the clarity of your voice.
It's easy to connect on any smartphone and mobile device, such as iPhone, iPad, Android, or tablet, and clip it to your collar, belt, or pocket with its mini metal clip.
The Lewinner wireless lavalier microphone includes a monitor headset, charging cables, a leather bag, and a carabiner.
Price: $109.90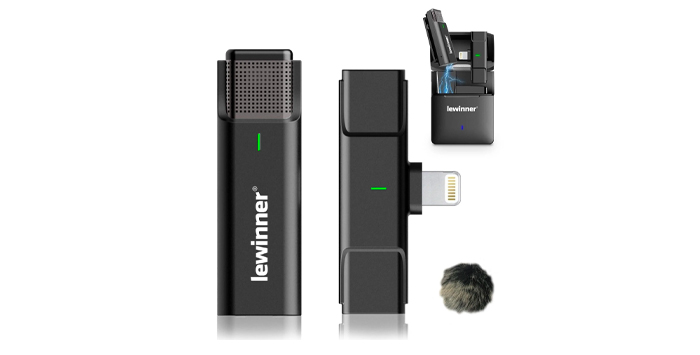 Specifications
Mic polar pattern: Omnidirectional
Wireless range: 50 feet
Wireless technology: Bluetooth/2.4G
Bluetooth Qualcomm Chipset
Battery life: 6 hours
Battery charging time: 1 hour
Micro USB charger
48kHz Stereo CD quality
Pros
Easy-to-use lapel microphone.
Portability.
Noise cancellation.
Reasonable price.
Cons
It only works with the SmartMike+ APP.
Facebook, YouTube, and Instagram are not supported.
Boya BY-WM3T2-D1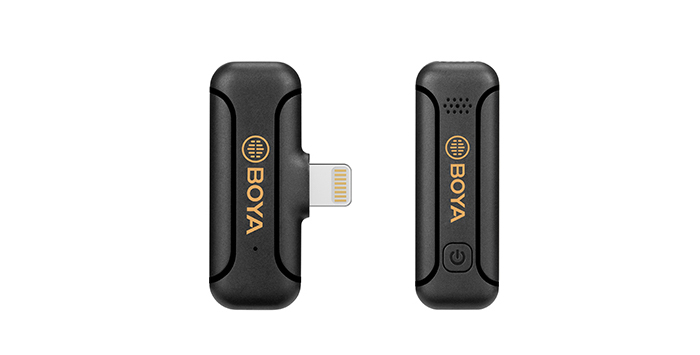 The BY-WM3T2 is a 2.4GHz wireless microphone designed for Apple devices. It includes one ultra-light transmitter and receiver and provides excellent sound quality for live streaming, vlogging, and other audio recordings.
Thanks to its lightweight size, the BY-WM3T2 is easy to place and hide in your clothes. The receiver plugs directly into the lightning port, allowing the device to be charged while you're using this wireless microphone for iPhone, avoiding ending recordings abruptly due to the iPhone running out of battery.
The BY-WM3T2 features noise cancellation in a secondary power button function, which is especially helpful for outside recordings with many ambient noises. For $50, you really can't expect more than this.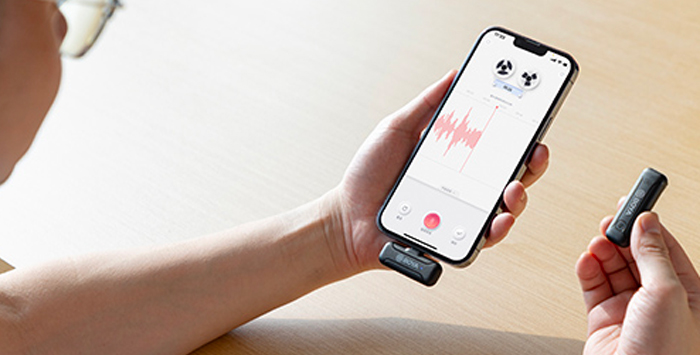 Specifications
Mic polar pattern: Omnidirectional
Wireless range: 50 m
Frequency range: 20Hz-16kHz
Wireless technology: 2.4GHz
Battery life: 10 hours
USB-C charger
Resolution: 16-bit/48kHz
Pros
Ultracompact and portable. The transmitter and receiver combined weigh less than 15g.
The receiver's Lightning port supports charging for external devices during use.
Automatic pairing.
Plug and play.
Cons
It does not support 3.5 devices.
The signal can be interrupted by other 2.4GHz devices.
Final Words
I hope you have a clearer understanding of how a wireless microphone for an iPhone works and how it might be a better option than a wired microphone.
I'm sure the quality of wireless microphones will increase dramatically in the future, but even now, the best wireless microphone for iPhone will provide you with the audio clarity you need to create your projects.