Cloudlifter vs Dynamite: Which Mic Activator is Best?
---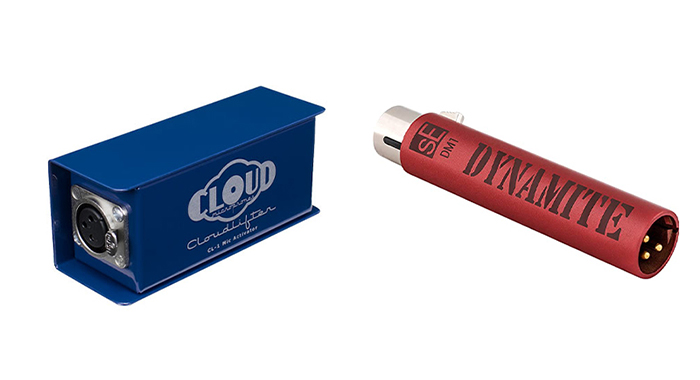 Issues with low-sensitive microphones are not uncommon, especially when recording quiet instruments. These microphones won't capture the sound accurately, forcing you to max the gain knob on your interface. But then, the noise floor will also be amplified when exceeding 80% of your volume gain, causing lousy quality recordings.
Reducing the noise level is not always easy during post-production, and sometimes the only solution you can think about is getting a new microphone or audio interface.
The truth is sometimes buying new gear doesn't solve the issue: first, you need to know what equipment you should buy! In this case, what you need is a mic activator or inline preamp for your low-sensitive mics.
Mic activators or inline preamps are used to boost low-output microphones. They can provide up to +20 to +28dB to your interface, mixer, or preamp; it's a sort of additional preamp.
These preamps will help increase your low-output dynamic mic gain without raising the noise floor from your mixer, and overall, you'll have better and noise-free recordings.
In one of our previous posts, we discussed in detail the Best Cloudlifter Alternatives on the market right now, so today I'm going to focus exclusively on two of the most popular inline preamps among producers and audio engineers: the Cloudlifter CL-1 and the sE DM1 Dynamite.
I'll analyze their features as well as the pros and cons. By the end of the article, you'll be ready to decide which one is better for your mic.
Cloudlifter vs Dynamite: A Side-by-Side Comparison table:
Cloudlifter CL-1
sE DM1 Dynamite
Price
$179.00 MSRP
$129.00 MSRP
Gain
+25dB
+28dB
Device Type
Mic level booster/inline preamp
Inline preamp
Channels
1
1
Inputs
1 XLR
1 XLR
Outputs
1 XLR
1 XLR
Input impedance
3kOhms
>1kOhms
Power supply
Phantom power
Phantom power
Manufactured by
Cloud's Microphones
sE Electronics
Construction
Ultra-compact design, gold plated XLR connectors
Solid construction in a box metal housing.
Main features
Clear and noiseless gain boost for quiet sources. Suitable for vocal recordings and quiet instruments.
Clear and noiseless gain boost with the direct-to-mic connection. Best for vocal recording.
Uses
Low-output dynamic microphones, ribbon microphones
Low-output dynamic microphones, ribbon microphones
Commonly paired with
Shure SM7B, Rode Procaster, Cloud 44 Passive Ribbon Microphone
Shure SM57, Rode PodMic, Royer R-121
Ease-of-use
Plug and play
Plug and play
Weight
0.85 lbs5
0.17 lbs
Dimensions
2" x 2" x 4.5"
3.76" x 0.75" x 0.75"

 
Cloudlifter CL-1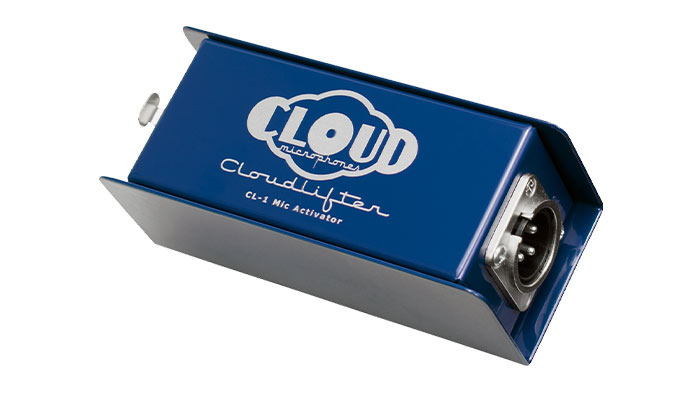 The Cloudlifter CL-1 is an inline preamp made by Cloud Microphones as a solution for their own microphones and other dynamic low-output microphones. It adds microphones up to +25dB of additional gain, improving the signal-to-noise ratio and the performance of passive microphones, even with long cable runs.
This is a plug-and-play device that you place between your low-output dynamic and your audio interface. The Cloudlifter uses the phantom power from your audio interface to add power to your microphones without transferring the phantom through, so your ribbon mics are safe.
If suddenly you don't know everything about this wonderful device, we recommend you to read about What Does a Cloudlifter Do to learn a bit more on this topic.
This inline preamp by Cloud Microphones is available in different formats:
Cloudlifter CL-1: It comes with one channel.
Cloudlifter CL-2: This is the two-channel Cloudlifter version.
Cloudlifter CL-4: Offers four channels.
Cloudlifter CL-Z: It includes one channel with impedance control.
Cloudlifter CL-Zi: It's a combo 1/4″ Hi-Z instrument and XLR Lo-Z microphones input with impedance control.
Let's take a closer look at the specs of the CL-1.
Specs
Channels: 1
Extra Gain: +25dB
Inputs: 1 XLR
Outputs: 1 XLR
Connectivity: Plug and play
Input impedance: 3kOhms
Phantom powered
JFET circuitry
Build Quality
The Cloudlifter comes in a beautiful blue finish, and the housing is in very resistant rugged steel. It has some rubber feet on the bottom to keep it steady. It's a small, portable device, making it the perfect companion to carry around the recording studios.
It only has XLR inputs and outputs and no other buttons or switches. You plug in your microphone and connect it to your interface, and it's ready to use. Depending on the version, it can have from one channel up to four, with each channel needing its phantom power supply.
Performance
Cloud Microphones made an amazing job here. Adding a Cloudlifter to your signal path can put your low-output microphones to the best performance and boost your audio levels, as confirmed by the Audio Precision test set. It can turn any mixer or audio interface into a safe preamp for your passive microphones with a professional frequency response and audio clarity.
The Cloudlifter CL-1 is ready to use as soon as it's plugged in and does not require any drivers to work on your computer. It works only through the 48v extra power from your mixer or audio interface.
It works perfectly with microphones to record quiet musical instruments, percussions, and vocals. Voice is usually lower than most instruments; that's why many low-output microphones like the Shure SM7B + Cloudlifter combo are the favorites among podcast producers.
Many artists use Cloudlifters during live shows, big recording studios, broadcast facilities, and all circumstances when long cables are commonly used, as they're more susceptible to interference and noise floor.
Verdict
Getting a Cloudlifter CL-1 can be an economical way to improve your microphone gain, especially if you don't own a high-end audio interface or preamps, which would be ideal. However, not everyone can get high-end equipment; therefore, the Cloudlifter is an excellent device to have in your studio. Even if you upgrade your audio interface or microphones later, you can still rely on this portable inline mic preamp.
Pros
Transparent gain for dynamic microphones.
It works with dynamic mics and passive ribbon mics.
For use with noisy preamps.
Easy to use with low-end equipment.
Cons
You'll need phantom power (not included).
Price.
sE Electronics DM1 Dynamite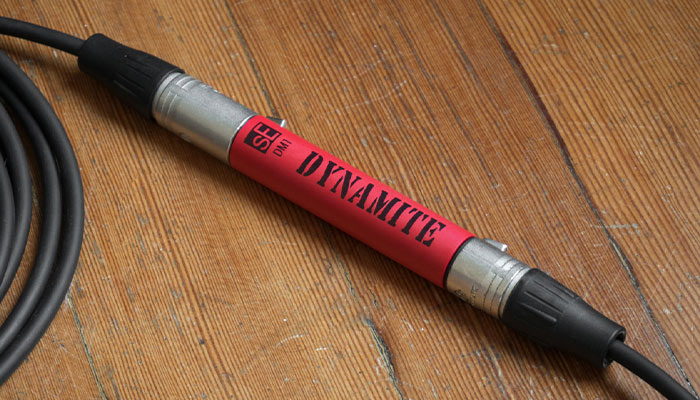 DM1 Dynamite is an ultra-slim active inline preamp that fits perfectly between your microphone and mic preamp on your signal path. The DM1 Dynamite can provide up to +28dB of clean, additional gain for dynamic and passive ribbon mics without bringing up the noise floor from your preamps.
This inline preamp requires phantom power but does not work with microphones that need it, such as active ribbon and condenser microphones.
Specs
Channels: 1
Gain: +28dB
Inputs: 1 XLR
Outputs: 1 XLR
Connectivity: Plug and play
Impedance: >1k Ohms
Phantom powered
Frequency response: 10 Hz – 120 kHz (-0.3 dB)
Build Quality
The DM1 Dynamite comes in a slim, rugged metal housing. Its robust construction will handle drops, falls, kicks, and heavy touring life, with gold-plated XLR connectors ensuring a loss-free and reliable signal connection for all dynamic and ribbon microphones.
The Dynamite has one input XLR and one output on each side of the tube, making it super light and portable with no switches or buttons. You can keep it attached to your microphone without extra cables, and no one will notice it.
Performance
For such a small device, the sE Electronics DM1 Dynamite has the most significant clean gain on the market with its +28dB of clean boost, confirmed through the Audio Precision test set.
The way it plugs directly into your microphone eliminates the need for extra XLR cables in your studio. Its size and portability make the Dynamite the best choice for out-of-studio recordings, live shows, and podcasting.
It works great when you need to record quiet sound sources or when the mic preamps do not have sufficient gain for your microphones. The frequency response provided ensures you'll be able to record any audio professionally and with enough gain.
Verdict
You can't go wrong with its +28dB clean gain. The sE Electronics Dynamite is the best option in the market for the price and with the most transparent gain: its portability and ultra-lightweight will make it your best companion if you're constantly on the move.
Pros
Portability.
Compact design.
Gain boost consistency.
Price.
Cons
Not for phantom-powered microphones.
The amount of dB may be too much for some instruments.
It performs best when attached directly to the microphone.
Comparison Between Cloudlifter vs Dynamite
Both of these inline preamps are great at what they do. In terms of noise performance, they provide enough noise-free gain to your dynamic or passive ribbon mic. They can even bring to life old models of ribbon mics without the need to get those expensive mic preamps they used to work with.
In terms of gain boost, both will provide you with sufficient gain for your low-output mics. However, the DM1 Dynamite provides a more powerful +28dB gain boost. That means you'll cover more demanding low-output microphones with the Dynamite than with the Cloudlifter.
Portability and size are the other things that, depending on your needs, you should take into account. If you like to record on-location, travel a lot, or have a portable home studio with you at all times, the DM1 Dynamite would satisfy your needs.
However, if you have enough room in your studio or work with touring companies and big studios, you may want to rely on Cloud's Microphones inline preamp due to its superior construction and heavier housing.
Sometimes it all comes down to budget. The Cloudfilter is slightly more expensive, but you can easily find it online for $200 or even less, while the Dynamite costs between $100 and $150.
Final Thoughts
Keep in mind your current gear and what your needs are. Maybe you don't need the 28dB gain from the Dynamite. Perhaps you prefer the Cloudlifter to easily replace microphones or the Dynamite because it's always ready on your main microphone.
The ideal option would be to buy a high-end audio interface with +60dB or more gain, but we know that won't be cheap. That's when these two famous inline preamps come into play. Overall, the DM1 Dynamite is more suitable for vocals and easier to carry around.
On the other hand, the Cloudlifter will work on vocal recordings and quiet instruments in big studios and auditoriums.
Whichever you choose, you'll upgrade your audio content!
FAQ
How much gain does the Cloudlifter give?
The Cloudlifter provides +25dB of ultra-clean gain, enough for most ribbon and low-output dynamic microphones.
Is Cloudlifter a good preamp?
The Cloudlifter is a great preamp. It is built in a sturdy steel box, small, easy to use, and affordable. One, two, or four channels are available to cover all needs.