What is the Best Cloudlifter Alternative Available Today?
---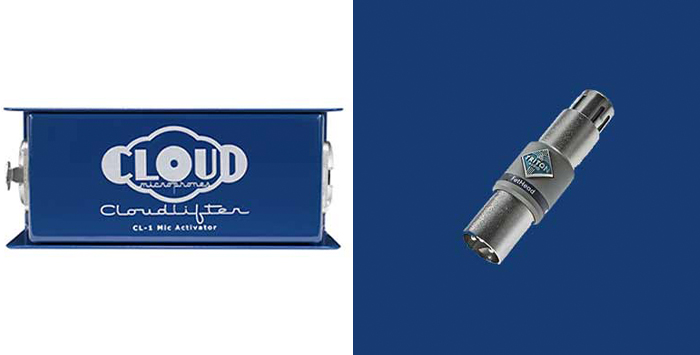 If you work with audio, even on an amateur level, it's easy to run into problems with your gain. If you're new to the field, it is easy to buy the wrong equipment or use your tools in the wrong way. The resulting gain problems eventually turn many towards a Cloudlifter or a Cloudlifter alternative.
Here Are Some Things to Know about Cloudlifter
If you're looking for an alternative to a Cloudlifter, chances are you already know what it does and how it works. We cover this extensively in our What Does a Cloudlifter Do article, but we'll discuss it a little here.
Cloudlifters Give a Clean Gain Boost to Low Output Mics

Since its 2010 release, the Cloudlifter has become the go-to device for boosting low sensitivity dynamic or ribbon microphones. It is a device that acts like an amplifier and boosts your mic signal before it reaches the preamp.

It also provides some impedance loading for dynamic and ribbon mics. The net effect of this is a 25dB increase in the gain of your microphone.

Couldlifters Require Phantom Power

A Cloudlifter is powered by drawing phantom power from a preamp, external phantom power unit, or other devices via an XLR cable. It needs 48v of phantom power.

Cloudlifters Became Popular Due to the Rise of Mics like the SM7b

Cloudlifter gained popularity in the market because of the emergence of excellent but low signal microphones such as the Shure SM-7B.
Is a Cloudlifter Necessary?
Is the Cloudlifter necessary? Many users buy a Cloudlifter before they're sure they even need one and end up spending a lot of money for a marginal increase in gain levels. There are a few things to consider before getting a Cloudlifter or a Cloudlifter alternative.
A Cloudliter Generally Won't Work with a Condenser Microphone

First, you have to make sure the microphone you use is compatible with a Cloudlifter. Cloudlifters don't work with condenser microphones as they require phantom power.

Condenser microphones are usually very loud and don't require a Cloudlifter anyway. If you're having gain problems with a condenser, you should perhaps look elsewhere along your audio chain.

Do You Already Have Enough Gain?

You need to make sure you're using the microphone correctly and you've turned up the gain knob high enough. If you use a preamplifier, you want to check on the settings or connection.

Your budget also matters. The Cloudlifter CL-1 costs $150, so it's a relatively low-cost option for some extra gain, but still a significant amount of money for beginners and might not be entry-level gear.

If you are using a low output mic that's hard to power and you need an inexpensive workaround, chances are that you need the help of a Cloudlifter or a Cloudlifter alternative.
The Best Cloudlifter Alternative: 6 Preamps to Look At
Triton Audio Fethead
Cathedral Pipes Durham MKII
sE Electronics Dynamite DM-1
Radial McBoost
Subzero Single Channel Microphone Booster
Klark Teknik CT 1
Why Use a Cloudlifter Alternative?
There are many reasons why users may want an alternative to the Cloudlifter. Since 2010, many companies have emulated and improved upon Cloudlifter's technology. Some alternatives are faster, cheaper, and have additional features that users find useful.
The Cloudlifter might come off as too pricey for newcomers. Others find it a little old-fashioned for modern audio sensibilities. Some users like to use their devices in the field, and may find the Cloudlifter a bit too heavy.
Now, let's talk about the popular Cloudlifter alternatives.
Spec Comparison Table
| | | | | | |
| --- | --- | --- | --- | --- | --- |
| | Gain Boost | Number of Channels | Inputs/Outputs | Weight | Dimensions (H/D/W) |
| Triton Audio FetHead | +27db | 1 | 1 XLR in, 1 XLR out | 0.55lb | 4.7″/1.1″/1.1″ |
| Cathedral Pipes Durham MKii | +20db | 1 | 1 XLR in, 1 XLR out | 0.6lb | 4.6″/1.8″/1.8″ |
| sE Electronics Dynamite DM-1 | +28db | 1 | 1 XLR in, 1 XLR out | 0.176lbs | 3.76″/0.75″/0.75″ |
| Radial McBoost | +25db | 1 | 1 XLR in, 1 XLR out | 1.25lbs | 4.25″/1.75″/2.75″ |
| SubZero Single Channel Microphone Booster | +30db | 1 | 1 XLR in, 1 XLR out | – | 4.72″/1.85″/1.88″ |
| Klark Teknik CT 1 | +25db | 1 | 1 XLR in, 1 XLR out | 0.22lbs | 3.10″/1.0″/0.9″ |
Conclusion
When looking for a portable device to maximize a low output microphone, many turn to a Cloudlifter. But, as we've discussed above, there are a lot of useful alternatives.
Some of these devices offer extra features and perhaps more gain than the Cloudlifter, but the most popular reason people look for alternatives is pricing.
A lot of the devices featured above are comparatively cheaper than the Cloudlifter. That said, in choosing the best alternative for your work, you have to take into consideration what you want out of the device.
The Cloudlifter Remains the Most Trusted Device
If you can afford it, an actual Cloudlifter is still the trusted device for most, so you should probably get that. If you are just starting out and don't want to shell out a lot of cash, you should make sure a Cloudlifter is what you need first, then choose from the guide above.