sE Electronics DM1 Dynamite Active Inline Microphone Review
---
Dynamic microphones and passive ribbon microphones are fantastic devices that are not always easy to use, as they have a very low output and can struggle to record quiet sounds.
These mics need plenty of gain that some of our home studio audio interfaces simply cannot provide.
Cranking the gain knob on your preamp, mixer, or audio interface seems like the only solution, but it only adds a lot of self-noise from our audio interface, and that's even worst because it leads to more troublesome post-production sessions.
Years ago, while looking for a solution for my home studio, I discovered inline mic preamps, which turned out to be exactly what I needed.
Back then, I focused on the two most popular devices in the market, and although the Cloudlifter vs Dynamite battle is still raging, in this article I decided to focus on the one I think is best for my needs.
Today I'll tell you everything about the sE Electronics DM1 Dynamite, an active inline preamp that you'll love, especially if you're looking for a gain boost for your dynamic and passive ribbon mics.
Let's dive in!
What is the DM1 Dynamite?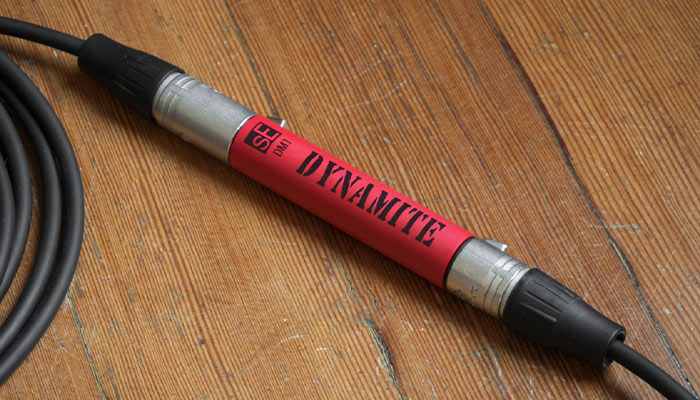 The sE Electronics DM1 Dynamite is an active inline mic preamp that provides 28dB of gain. It works great with passive and active ribbon mics and dynamic microphones with insufficient output for low-level sources.
The DM1 provides a great boost of clean and transparent gain, so you're not just getting good levels with your low output mics, but you'll also have clean recordings with little to zero residual noise floor.
If you've worked with a Shure SM7B, you know how difficult it can be to get good volume levels with it due to its low output levels. This dynamic microphone requires at least +60dB of gain, and most entry-level interfaces do not provide that much boost gain. That's when the DM1 comes into play.
How Does the DM1 Dynamite Work?
Boosting your microphone gain is as simple as connecting your microphone to one side of the DM1 and the other end to your audio interface or regular mic preamp.
You can also insert the DM1 directly into your microphone XLR end or your preamps; this makes it look like part of the microphone, and it's a good practice for live shows or live streaming where you want fewer cables and gear all around.
Once it is all set, ensure your audio interface can provide 48V. The DM1 requires phantom power to work and add the 28dB of gain.
If your audio interface does not have one or uses a standalone mic preamp, you can add phantom power to your mic chain. Instead of connecting the DM1 to your preamps, connect it to the phantom power, and then the phantom power to your mic preamps.
Don't worry about your phantom power affecting your passive mic: the DM1 won't let the 48V transfer to your mics.
Now you're ready to start using your DM1. You don't need to set up anything else after your connections are made. Just turn on your preamps and phantom power and start recording; it will make the incoming signal louder, clean, and truly transparent gain with no extra coloration, allowing you to lower the max gain from your preamps.
Recommended Use: When Do I Need One?
If you work with audio, you'll eventually come across microphones with weak microphone signals. Having a DM1 will get you covered whenever you need to use a microphone that requires that extra gain.
Reducing residual noise floor is another scenario. Maxing the gain on our preamps to increase the volume will also raise self-noise, and we don't want that in our audio projects. No one wants to hear a podcast or a song with background noise and overall low quality.
Another scenario could be if you have an old passive ribbon microphone that doesn't have enough preamp gain.
These are the most common reasons you would need an active inline preamp.
You won't need one if:
You have a phantom power microphone. The DM1 will consume the power and not transfer to your condenser or active ribbons mic, which won't work without it.
You already own an audio interface with enough gain to power your microphones.
Your preamps or audio interfaces have low self-noise and don't introduce any undesired hiss to your recordings.
I can't stress enough: inline preamps are not compatible with condenser microphones.
Technical Specs for DM1 Dynamite
Electrical impedance: 135 Ohms
Load impedance: >1k Ohms
Connectivity: Three-pin female/male XLR connector
Power supply: 48V Phantom Power
Frequency range: 10Hz to 120kHz
Current consumption: 3.0 mA
Gain: 28dB
Max output level: 8.3 dbV
Output noise level: 9 µV
Dimensions: Diameter of 19 mm (0.75 in), length 96 mm (3.76 in)
Weight: 80 g (2.82 oz)
Main Features of the DM1 Dynamite
Compact and Robust Design

The sE Electronics DM1 Dynamite comes in a slim but rugged all-metal housing with a deluxe finish and a stunning red color. It has a robust construction that makes it proficient in the most demanding situations on-stage and off-stage.

Its small design allows for portability, and it requires very little space within your audio toolbox. It only weighs about 85 grams, so you can even carry it in your backpack or pocket for an effortless installation on the road.

Truly Transparent Gain Boost

The DM1's dedicated output buffer amplifier ensures +28dB of constant gain regardless of the connected load. It provides neutral and balanced sound quality, turning the DM1 into the ideal way to increase the signal of any dynamic or passive ribbon microphone.

Gold-Plated XLR Connector

Its XLR pins in the DM1 are gold-plated, guaranteeing a stable connection with your passive ribbon microphones and dynamic mics. It also offers loss-free connectivity with most devices.

Protection for Your Passive Ribbon Mics

Passive ribbons microphones are not to be used with 48V phantom power, so it's natural that when you see the DM1 feeds on phantom power, you'll be reluctant to connect your beloved passive ribbon mic.

However, like most active inline preamps, the DM1 can safely boost your passive ribbon microphones, as it won't transfer the phantom power and damage them.

Low Self-Noise

The DM1 features the lowest self-noise in its class, thanks to its superior class-A design and carefully chosen high-grade FETs.

Its lowest output impedance can drive long cable runs, lessening the possibility of RF interference, buzzing, and humming sounds and delivering an incredible noise performance and a pristine sound quality to your mix.

Ease of Use

The DM1 is a plug-and-play device without turn-on switches or knobs: you can connect it directly to your microphone seamlessly, making you forget you even have it with you.

Clean Design

The simplicity and high-quality manufacturing standards of the DM1 are also reasons why it's so appealing. It's ultra-slim, lightweight, yet powerful, with no buttons, switches, or knobs.

It only features two XLR sockets on each end of the DM1. The red color adds a nice touch to it, and it can easily hide behind your microphone or be inserted in your mic preamp if you don't want it to be seen.
Pros and Cons: What to Expect From the DM1 Dynamite
Pros
The most important and relevant thing we recommend the DM1 for is the 28dB boost it can offer to your microphones. Some users were trying to prove and have found results of up to 29dB. That's really astonishing for this tiny inline preamp.
There is consistency in gain regardless of the load.
It can turn your favorite passive ribbons or dynamic mics into very versatile microphones for your studio.
Turns even your oldest audio interface into a ribbon microphone preamp.
Its compact and robust design allows you to take it anywhere without worrying about breaking it in the middle of a performance.
Offers great noise performance, with low output impedance to drive long cable runs without RF interference, missed signal, or other unwanted noises.
It has a wide frequency range (10Hz to 120kHz) to capture sound beyond the human hearing range.
It has a low 3.0 mA of current consumption.
The manufacturer's suggested retail price is $129, according to Sweetwater. However, we found its price varies a lot between retailers, so I'd recommend looking around; with luck, you may find it for less than $99.
Cons
The biggest downside with the DM1 is that it does not work with phantom-powered microphones.
Some users may find it too small and fear losing it.
Users claim it can be too loud when recording bass guitar, electric guitar, or drum overheads. A solution that users found helpful is adding a pad on your preamp.
Some reviewers claim the DM1 introduces distortion when having their mobiles near them or other electronics.
Alternatives to the DM1 Dynamite
Triton Audio FetHead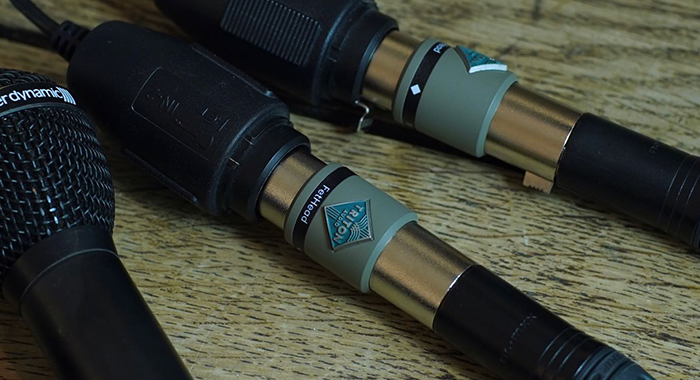 The FetHead from Triton Audio is a high-quality and ultra-low active inline mic preamp that provides enhanced sound for dynamic and ribbon mics thanks to its proper FET technology, providing 27dB of actual clean gain.
Its 27dB is more than enough to power low output mics and have your regular mic preamp at a proper gain level to avoid adding background noise to your recordings.
The FetHead comes in a compact, robust construction, a slim all-metal design, and a high-quality finish. It only has two XLR sockets; one to connect to your preamps and a male XLR connector to place directly into your microphone.
This miniature device will do the rest as long as it is powered with phantom power from your interface.
It works incredibly well in challenging environments with quiet sources, and ribbon microphones benefit the most because the FetHead diminishes the load on the microphone, improving the ribbon mic response.
Thanks to the FetHead noise-free amplification, the ribbon mic also extends its use to capture a broader range of softer sounds.
The FetHead is smaller and lighter than the DM1 (76mm x 22mm and 55g), which makes it even a better option for taking it on the road with you for outside recordings and on-stage live shows.
The FetHead is at $70 on its official website, but its price can vary depending on the store.
Cloudlifter CL-1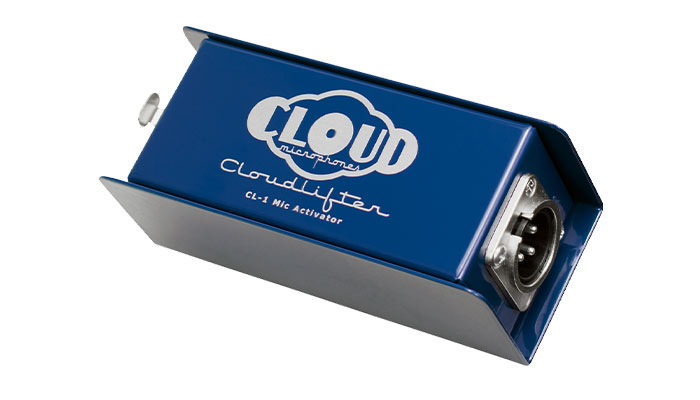 The Cloudlifter CL-1 developed by Cloud Microphones is an active inline preamp with 25dB of clean gain boost for your ribbon microphones. Initially built for Cloud ribbon microphones, it eventually extended the market to all dynamic mics. It's one of the most popular, and some people use "Cloudlifter" to refer to inline preamps in general.
The CL-1 is not as small as the DM1 but still compact. It comes in a rugged metal box housing with XLR input and output on each end. It does not insert directly into the bottom of your microphone, so you will need two XLR cables to connect it between your microphone and your preamps. The small box-shaped of CL-1 fits on most studio desktops, and it's still easy to transport.
The Cloudlifter CL-1 needs 48V phantom power, either from your audio interface or an external phantom, to provide the 25dB to your dynamic or passive ribbon mics.
It features JFET technology to preserve the best sound quality without interference, especially for running long cables on studios and live shows.
This preamp is often paired with the Shure SM7B dynamic microphone, which is very popular among streamers, YouTubers, podcasters, and other content creators.
The Cloudlifter CL-1 is around $180.
BeesNeez Angus Preamplifier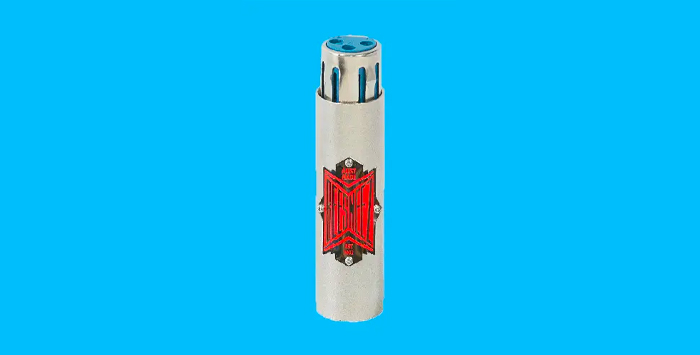 The Angus is an inline preamp to push your dynamic, tube, or ribbon mics with noise-free 18dB of gain. It plugs directly to your microphone and then to your preamp from the other end of the  Angus. It also requires phantom power but does not transfer it to your microphones.
BeesNeez has been developing the Angus since 2010 to produce noise-free results in such a compact and user-friendly device.
18dB might seem nothing compared to another offering above 20dB, but Ben from BeesNeez claims that volume isn't everything and that they have aimed at a quality above quantity.
You can get the BeesNeez Angus preamplifier on their website for around $100.
Klark Teknik CT1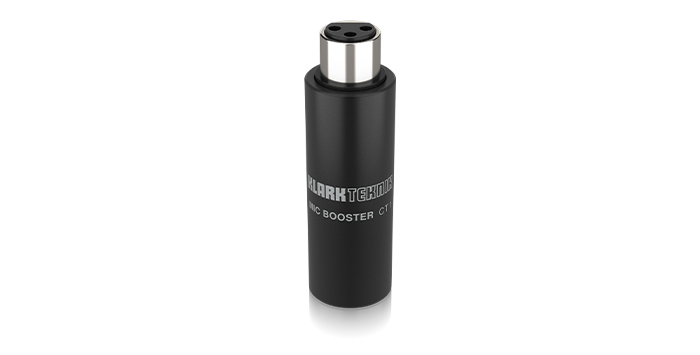 Designed and engineered in the UK, the mic booster CT1 can aid when you require more headroom for your recordings. It provides almost every dynamic and ribbon mic with 25dB of extra gain, a clear and crisp signal, and optimum performance.
It has a compact design, built to resist demanding live sound operations and busy recording studios.
The CT1 smoothly attaches to the bottom of your microphone and your preamp, reducing any residual noise floor picked up by running long cables. It does not require external power, but it does need phantom power that the preamp can supply.
The price of the CT1 starts at $45.
Final Words on the sE Electronics DM1 Dynamite
The sE Electronics DM1 Dynamite is a powerful device to use when dealing with weak microphone signals: a reasonable and affordable solution that will open many new creative possibilities you haven't thought of before.