Davinci Resolve vs Premiere Pro: Which NLE Should I Use?
---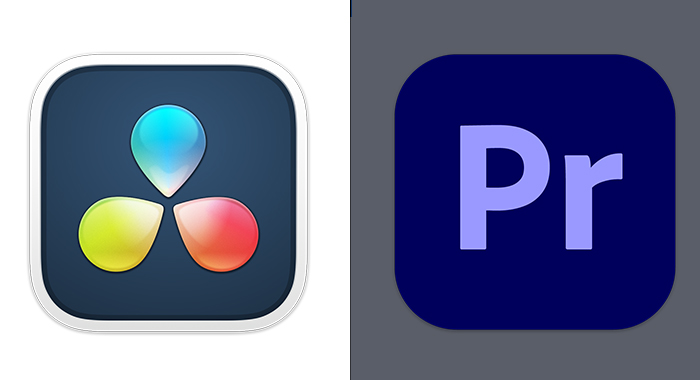 Videos are cooler every year thanks to the host of useful software available to editors today. DaVinci Resolve and Adobe Premiere Pro are considered the industry standard for video editing software. These NLEs are commonly used by content creators, video marketers, filmmakers, wedding videographers, and hobbyists.
These are both top-rank professional editors, so naturally, there's some comparison as to which is better. There are many similarities between both, which can make picking one a bit difficult for beginner editors and filmmakers. But there are also key differences that may influence your video editing choice and that are worth discussing.
DaVinci Resolve vs Premiere Pro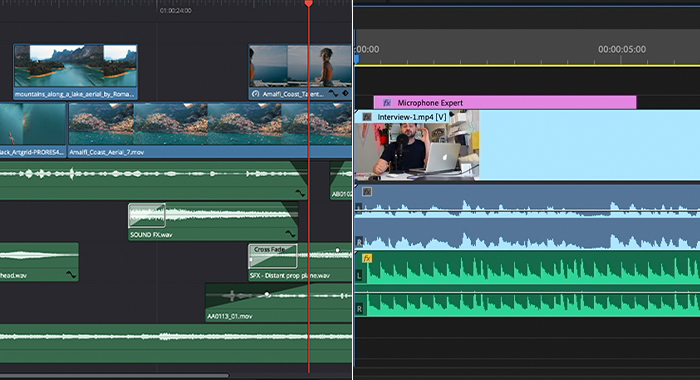 DaVinci Resolve and Premiere Pro are both popular NLE programs commonly used for professional video editing today. NLE (non-linear editing) programs allow you to manipulate different video clips and their parts until you get the outcome you want. This is achieved through visual effects, color correction, and audio tools.
Adobe Premiere launched in 1991, initially exclusive to Mac users. Its successor, Premiere Pro was released a few years after with more professional features. It immediately became widely adopted and is a component of the Adobe Creative Cloud (CC) bundle.
DaVinci Resolve was released in 2004 by Da Vinci Systems and was acquired by Blackmagic Design in 2009.
Blackmagic Design's DaVinci Resolve and Premiere Pro are two household names for video editing for a reason. They provide an extensive armory of features and tools that most video editors across the world will find surplus to their requirements.
No matter how large your project is, you can get it quickly done with DaVinci Resolve or Premiere Pro. For smaller, easier projects, you may be interested in our Davinci Resolve vs iMovie comparison guide.
If you're a beginner or hobbyist creating your own content, these video editing software may seem heavy at first. However, learning to edit your videos with these will give you an edge no matter the project. So which is the right software for you?
DaVinci Resolve vs Premiere Pro: Quick Comparison Table
| | | |
| --- | --- | --- |
| | Adobe Premiere Pro | DaVinci Resolve |
| Price | $20.99 USD per month (Subscription model) + no free version | $295 USD + Free Version |
| Cross-Platform Editing | Yes, works on Mac and Windows | Yes, works on Mac or Windows |
| User Interface | Beginner-friendly and easy to use | Can be complicated for beginners |
| Timeline | Freeform editing | Freeform editing on a stacked timeline |
| 4K support | Yes | Yes |
| Color Correction | Color grading tools in a dedicated workspace with Lumetri color tools | Extensive and advanced color grading tools for colorists |
| Audio | Good audio mixing settings. Better if used with Audition. | Good audio mixing capabilities, but better control with Fairlight. |
| Plugins | A wide range of third-party plugins | A comfortable range of plugins are available, with more being developed each day. |
| Multicam | Yes | Yes |
You may also like:
User Interface
Premiere Pro possesses a simple and characteristic NLE interface. It works by the use of sequences that can harbor an audio or video track, pictures, or any supported media. These sequence tracks allow for a well-adjusted and streamlined timeline.
It is customizable, so you can move around the panels as preferred and save your workspace layout. This flexibility and smooth editing workflow help with accessibility and productivity.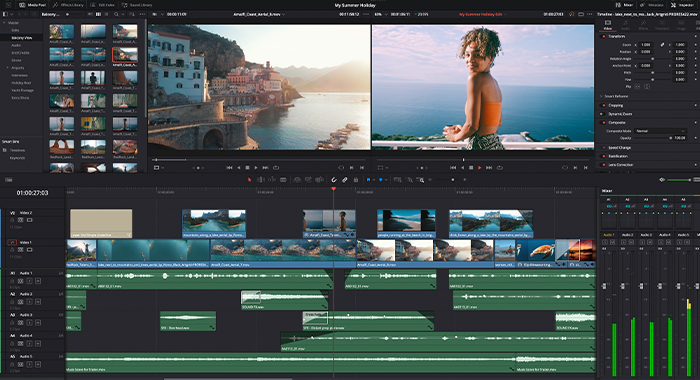 DaVinci Resolve uses a similar Freeform Timeline Editor that features 5 divisions:
Cut and Edit
Fusion
Color
Fairlight
Deliver
Each of these sections performs as named Fusion – a motion graphics tool, and Fairlight – an audio tool.
DaVinci Resolve is by no means cryptic software and it's easy to work around with some time and learning. However, it is less beginner-oriented than Adobe Premiere Pro.
If you've never used an NLE before, Premiere Pro may appeal to you the most. It comes with stepwise tutorials and a neat interface that make it easy to get used to. Adobe also provides remarkable customer support when users run into problems.
Audio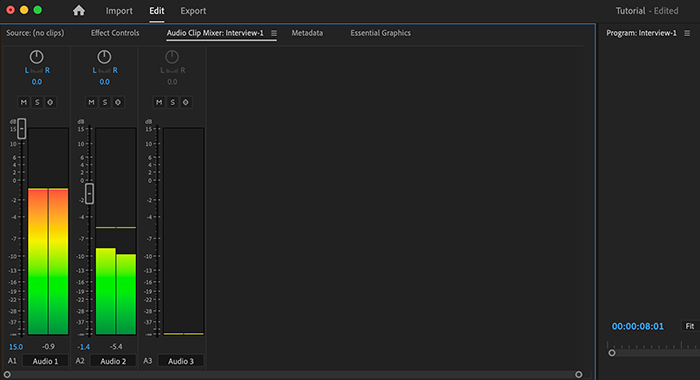 Premiere Pro comes with a simple Audio Mixer tool to edit your audio tracks. It's a familiar audio editor with little complexity and options. However, Premiere Pro is a part of the Creative Cloud bundle that contains other software like Photoshop and Audition.
So, you can always edit your audio via Audition if you have access to that program. Here you can make fine adjustments, add effects and additional sounds, mix and edit tracks, and seamlessly move them between Premiere Pro and Audition.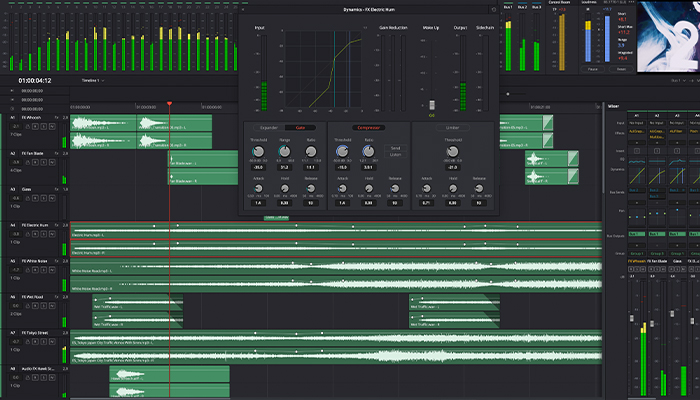 DaVinci Resolve takes a different approach to audio editing. It comes with a separate tab for that called Fairlight. It's an app within an app that offers near-professional audio editing tools to accentuate your recordings and clips.
If you don't plan to do professional-level stuff, you can simply switch to the edit tab as it has some basic audio editing options. However, Fairlight is a complete digital audio workstation that gives you access to much more.
Color Grading and Correction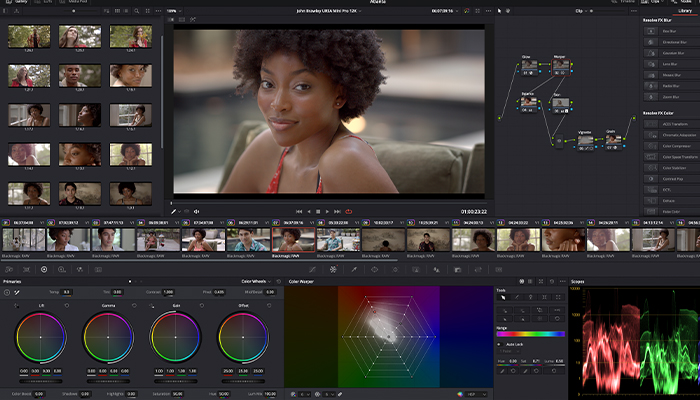 DaVinci Resolve is popular mostly for its color grading and correction capabilities as it started off as a color correction software. If your video editing work involves a lot of color grading, then DaVinci Resolve is a much better option. It comes fully prepared with a wide variety of options for advanced effects and careful color work.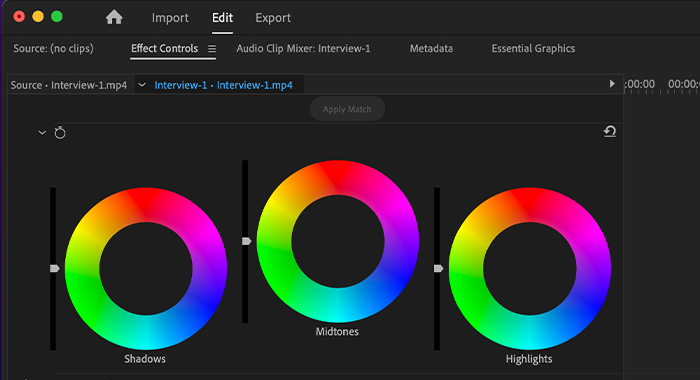 Premiere Pro, on the other hand, is less of a color grading whiz. It possesses fewer tools in comparison to DaVinci Resolve. However, this is not to say that it is terrible at color correction. It is as good as most other programs.
In fact, if your footage doesn't demand careful and extensive color grading and correction, Premiere Pro should be more than enough. It possesses a fair amount of tools with a focus on color, with which you can set up a color workspace to ease your process.
Motion Graphics
Premiere Pro does not offer a lot in terms of motion graphics, but it allows you to install and use a wide range of motion graphics templates. It comes with a few sample motion graphics templates from the adobe stock, and lets you create new titles and graphics with Type and Shape tools. These can then be exported as a template for future access or reference for other visual effects.
The sample motion templates in Premiere Pro are created with the software Adobe After Effects, and a lot of professional motion graphics designers use After Effects for their work. So, if you have the Adobe Creative Cloud Suite, you can get much better motion effects from that. You also get proper synchronization for a seamless experience. Premiere Pro alone, however, can't do a lot.
DaVinci Resolve on the other hand comes with a ready-to-use built-in effects tool for motion graphics called Fusion. It's a proper motion tool and might take a little while to get used to, especially if you're a beginner. Quality-wise, it's almost as good as Adobe After Effects.
Pricing and Availability
As mentioned earlier, Premiere Pro comes in a Creative Cloud package alongside other pro Adobe apps. Adobe employs a subscription-based service, so you'll need to work around a plan that best suits you. Adobe Premiere Pro costs $31.49 per month if you opt for the monthly plan, or $20.99 per month if you choose the annual plan.
(This is for Premiere Pro alone. A subscription for the entire Creative Cloud costs about $53 monthly.)
In sharp contrast is DaVinci Resolve which is basically free to use. There's a pro version (or studio version) of the video editor available which may cost up to $295 (a one-time fee). This pro version supports exclusive features such as multiple GPUs. However, the free program has all the tools you need to turn your raw footage into the final product.
Compatibility
Both DaVinci Resolve and Premiere Pro are available for and fully compatible with Windows and macOS. So, you don't have to worry about the platform as long as you have the editing skills and your hardware is up to the minimum acceptable capabilities.
Which is the Best Video Editor?
So which of these is the better program? They're both excellent and perhaps equal in footing. DaVinci Resolve is better in terms of raw editing ability, but if you need something fast and simple then Premiere Pro has a competitive edge.
Final Thoughts
Whichever program you decide to use, you're pretty much covered if you go with either of these. Davinci Resolve and Premiere Pro are both stacked with enough tools to turn your creative energy into artistic video edits.
FAQ
Premiere Pro vs Resolve, which is easier to learn?
Both programs have a steep learning curve, but Premiere Pro is easier to adapt to for beginners.
What is DaVinci Resolve best suited for?
Editors:
As a full-time or part-time editor, DaVinci Resolve is a great program to have in your arsenal. Resolve possesses tools that are important to any professional editor. With free access to presets and templates, you can automate your editing process and improve your work at no cost.
Filmmakers:
DaVinci Resolve is commonly used by filmmakers for its color grading abilities. Its free version is also very popular among amateur filmmakers. Once you've gotten the hang of the program, you can edit your footage from the opening scene to the end credits.Storytellers tend to find its workflow appealing. Popular movies like Star Wars: The Last Jedi, and X-Men: Apocalypse was produced using Davinci Resolve.
Advanced Color Correction:
DaVinci Resolve is excellent for any color correction project. It offers more options than most other NLEs and works seamlessly with color hardware to portray your creative vision as well as possible.
Who is Adobe Premiere Pro best suited for?
Editors:
Premiere Pro is optimized for video editors. Amateur filmmakers and professional editing houses alike can benefit from its capabilities without hassle. It is also very convenient for quick editing jobs with little need for post-production.
Content Creators:
Content creators like Youtubers and TikTok users find value in near-professional editing software. Being able to churn high-quality videos at a high clip is an advantage Premiere Pro provides its users. If you're making a few YouTube videos with basic effects, it's safer to go with Premiere Pro vs other options.