DaVinci Resolve vs Final Cut Pro: Which Editing Platform Is Right For You?
---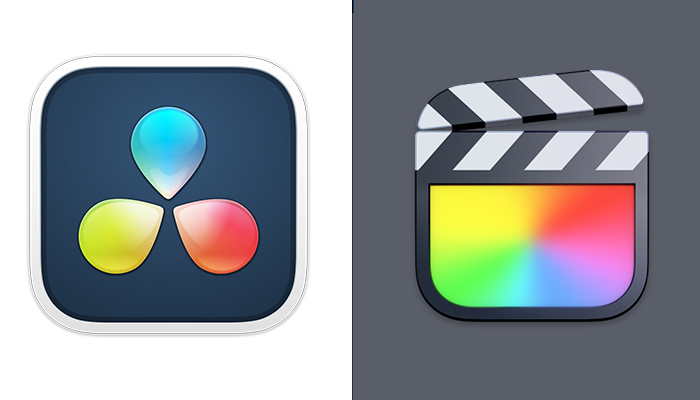 Many editors find themselves caught in the DaVinci Resolve vs Final Cut Pro debate. Choosing the right editing platform can feel like a process involving exhaustive research and comparison. However, many newcomers to podcasting and video creation alike can benefit from starting with a popular platform.
Blackmagic Design's DaVinci Resolve and Apple software, Final Cut Pro, are two of the most popular tools for video editing for a reason. They provide a variety of essential and unique features that users across the world find beneficial. Regardless of what type of project you're working on, both of these professional editing platforms offer a great point to start.
Today, we'll go over the features, pros, and cons of both DaVinci Resolve and Final Cut Pro to help make deciding between the two much easier. Let's get started!
Why Use Professional Video Editing Software?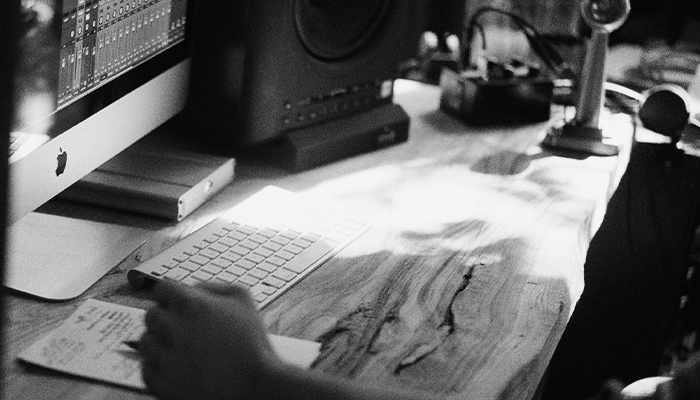 If you are just starting out with creating your own video content or just beginning your editing journey, it may seem unnecessary to start working with professional software right away. However, learning to edit your videos from the start will give you an edge in any market. It takes time to become familiar with any editing software, so the sooner you start, the better.
Because many of the popular editing apps have free versions available, you can dive right in without paying a single penny. This is one area where there's no DaVinci Resolve vs Final Cut Pro argument.
Not only does using basic video editing programs help you save time and money, but it also helps you create high-quality videos. With just a few simple tricks, a video professional video editor can help turn even the most boring raw footage into something memorable.
Features Of Editing Applications
There are hundreds of platforms available to edit your videos on, but not all are created equal. Both DaVinci Resolve and Final Cut Pro hold an edge in their industry because these software applications have many of the features that have become standard.
Non-linear timeline editing for easy use
Color grading tools
Multiple visual effects
Wide support for plug-ins
Keyframing for motion graphics
4K video editing and exporting
Davinci Resolve vs Final Cut Pro: Overview
Features
Final Cut Pro
DaVinci Resolve
Price
$299.99 USD
+ Free Trial
$295 USD
+ Free Version
Cross-Platform Editing
No, Mac only
Yes, works on Mac or Windows
User Interface
Intuitive and easy to use
Can be complicated for beginners
Timeline
Multiple tracks on a magnetic timeline
Freeform editing on a stacked timeline
4K Editing
Yes
Yes
Color Correction
Color grading tools: a color board, wheel, curves, and customizable color filter presets
Extensive and advanced color grading tools for colorists
Audio
Full audio mixing settings: surround sound control, keyframing, customizable filters, and presets.
Good audio editing and mixing capabilities, but better control with Fairlight.
Plugins
A vast array of third-party plugins for all technical and creative aspects.
Some third-party plugins are available, with more being developed each day.
Multicam
Yes
Yes
You May Also Like:
Comparison at a Glance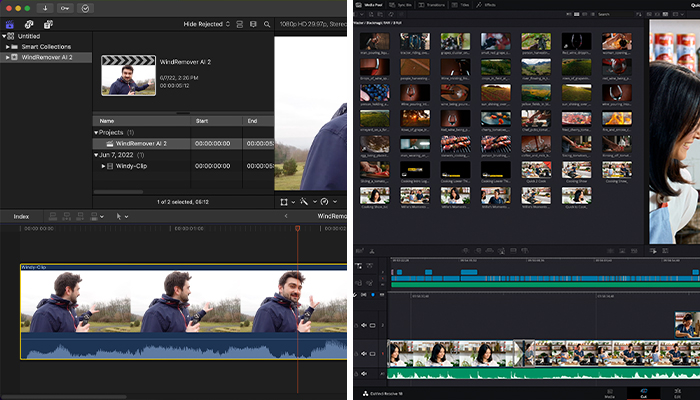 Both DaVinci Resolve and Final Cut Pro offer tremendous value for those who need professional video editing software. Each program comes with features that have become industry standards. Therefore, many of the main differences between the two applications are niche.
For example, Final Cut Pro has a user interface that feels much more phone app-like compared to DaVinci's traditional desktop feel. Further marking this difference is Final Cut Pro's magnetic timeline. Many newer users love the simplicity of organization offered by this type of timeline style, whereas many experienced users prefer the free-form timeline that DaVinci defaults to.
User Interface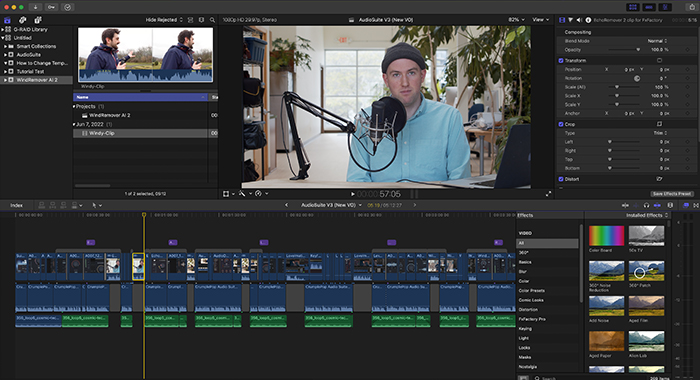 When it comes to design choices, the user interfaces offered by DaVinci Resolve and Final Cut Pro couldn't be more different. As stated earlier, they have two distinct "feels" which can define how long it takes to learn how to use each software. In the end, many of the differences between the two are less about quality and more about personal preference.
Final Cut Pro's magnetic timeline offers the simplicity that many beginning video editors are looking for. However, this comes at the cost of being able to customize the user interface extensively. If you work in a linear fashion, the drag-and-drop interface makes it extremely easy to edit your clips together for a full video.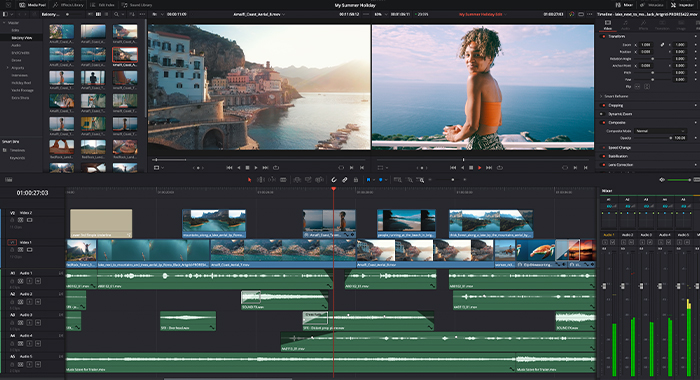 DaVinci Resolve offers a more traditional, non-linear approach to its user interface. If you feel the need to customize your editor to fit your own needs, this is where DaVinci Resolve shines. However, its compartmentalized interface can cause a steeper learning curve.
Magnetic Timeline vs. Non-Linear Timeline: What's the Difference?
The timeline refers to the space in a video editor where you'll arrange clips, audio, and assets to create your finished video. How the timeline functions have a huge impact on how an editing application feels to use.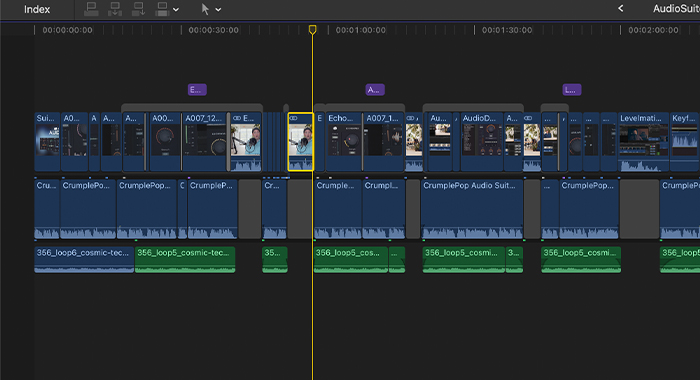 Final Cut Pro uses its own style, commonly dubbed "magnetic timeline", that automatically adjusts to your editing. This means that moving a clip or asset on the timeline dynamically moves those around them. This makes rearranging your raw footage extremely easy, as there's no need to manually close gaps between clips.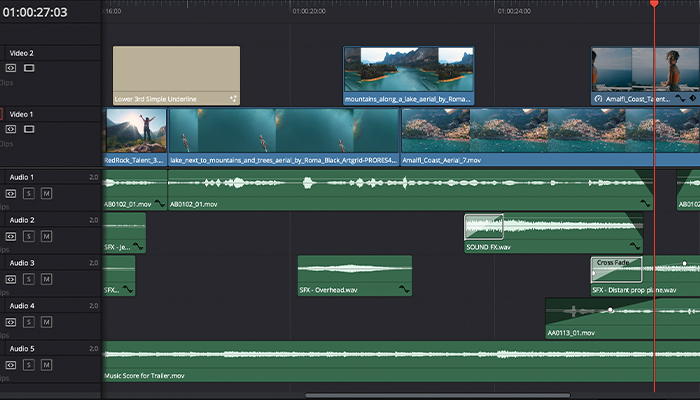 DaVinci Resolve's non-linear style is an industry standard
. In this style of timeline, users can work on their clips in any order regardless of where it falls on the timeline. However, gaps must be closed manually, unlike with Final Cut Pro. This style is extremely strong for users who will return to a project, again and again, perfecting chunks of the video at a time rather than attacking the editing as one whole hours-long task.
Learning Curve
As far as the learning curve of each platform goes, they are very similar. While Final Cut Pro's app-style design may make your initial first few edits easier, the features provided by each video editor will take a similar amount of time to learn.
This should only matter if you have a pressing project you need to edit in a short amount of time. In any case, both of these video editing applications can only work as well as your skill level allows. Take a moment to download and play around with the free version of each if this matters to you.
There is also a wide array of video tutorials available for each platform, making these editors an ideal starting place for any rookie editor. While Final Cut Pro may be more popular and therefore have more resources for beginners, there are plenty of written and visual guides to help you master DaVinci Resolve as well.
Color Grading & Correction
Color correction tools are where differences begin to show up between our two editors. While both programs offer the basic tools you'd expect, DaVinci Resolve handles color grading significantly better than Final Cut Pro. If your work will require frequent use of color grading and other color correction tools or plug-ins, DaVinci Resolve should be your top choice.
In fact, because DaVinci was originally created to be color correction software before becoming a fully-fledged video editor, this shouldn't come as a surprise.
This doesn't mean that Final Cut Pro is without its own suite of tools to correct a video's coloration. White balance, exposure, and overall color balance can be easily tweaked with built-in tools. It excels in balancing contrast, helping achieve true skin tone colors, and adding in special color effects exactly where you need them.
Advanced Color Grading Tools
Color grading is an extremely easy way to increase the quality of your work. This essential skill takes time to master, but thankfully both Final Cut Pro and DaVinci Resolve offer built-in tools to help you in this regard. Additionally, a wide variety of color grading plug-ins are compatible with both video editors.
While DaVinci Resolve has a wide pool of advanced features, including the ability to create high dynamic range images with crisp, life-like color, Final Cut Pro has stepped up its game.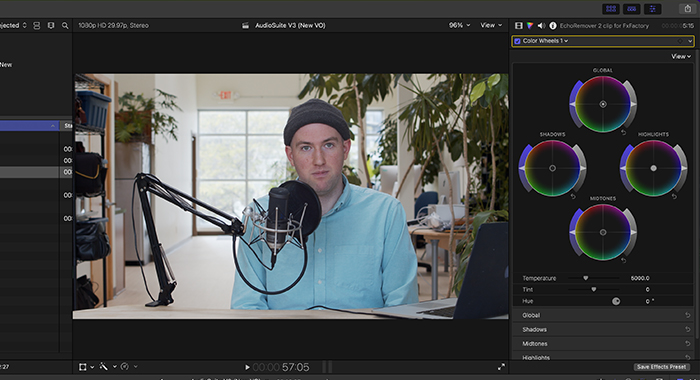 As of the 1.14 Final Cut Pro update, there are a wide variety of new features including color wheels, color curves, and a "color board" to simplify your workflow when color grading.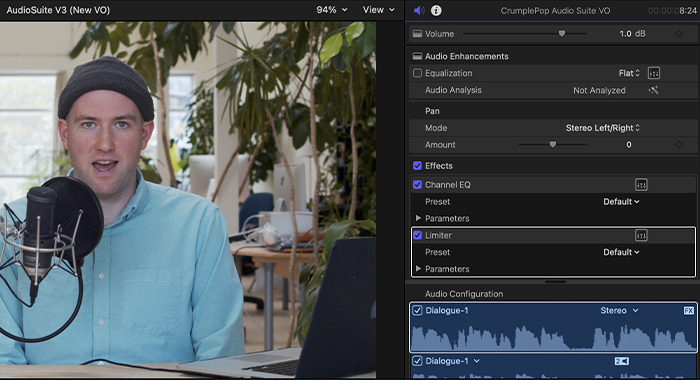 Both platforms bring plenty of audio editing capabilities to the table. Final Cut Pro offers a wide variety of basic and advanced audio tools. You can work with individual audio channels or use multichannel editing to achieve your goals.
DaVinci Resolve offers a built-in digital audio workstation (DAW) known as Fairlight. This allows you to get in-depth with your audio editing without needing to export/import files multiple times between programs. If you only need basic audio tweaking, you can do this without needing to access Fairlight via the audio edit tab.
DaVinci Resolve vs Final Cut Pro: Which is Best For Audio?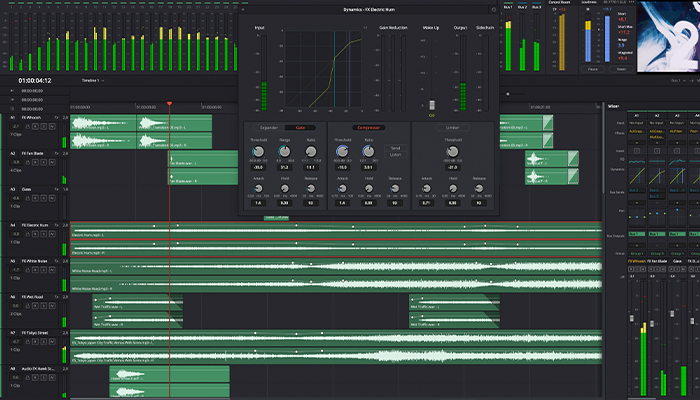 DaVinci Resolve has a slight advantage over Final Cut Pro when it comes to overall audio editing, but not significant enough to sway many producers. In today's do-it-yourself world of content creation, many of those who turn to basic video editing already have a DAW they are comfortable with such as Audacity.
If you're confident that you can solve most audio issues elsewhere, this may lessen the impact of Fairlight audio editing on your decision. However, if you've never worked with a standalone DAW before, this could be your first chance to dive into the power of in-depth audio editing.
Pricing
Both editing platforms come with a price tag that may seem steep to the novice but remember: you'll be using this software for countless projects spanning hundreds of hours. If you are serious about editing high-quality video, you'll want to move beyond the basic free programs.
Thankfully, both DaVinci Resolve and Final Cut Pro allow you to try before you buy. Final Cut Pro offers a 90-day free trial, while DaVinci offers a slightly watered-down (no GPU acceleration, less effects available, can export up to 4k 60fps, instead of 32k 120fps HDR), but fully useable free version of their editor.
In final price, both standard versions make the DaVinci Resolve vs Final Cut Pro debate come incredibly close.
Pricing: Final Cut Pro vs DaVinci Resolve
Final Cut Pro: $299
DaVinci Resolve: Free
DaVinci Resolve Studio: $295
Keep in mind, however, that your specific needs may not be met by these programs alone. Carefully compare the standard features offered by each software. The last thing you need is to discover that one of the features you'll need to use the most requires a pricey plug-in for DaVinci Resolve whereas it comes standard with Final Cut Pro.
The Main Difference Between DaVinci Resolve and Final Cut Pro
Overall, the main difference between DaVinci Resolve and Final Cut Pro is which operating system each editor supports. Unfortunately, Final Cut Pro is part of the Apple ecosystem, which means that is only available on Mac computers. DaVinci, however, can be used on Windows as well as Mac operating systems.
The reality of the matter is that the biggest difference in day-to-day use between these two professional video editing software choices is an editor's preference. Many editors prefer the simplicity offered by Final Cut Pro and the rest of the Apple line of products. However, other editors would not be satisfied with a platform that they cannot customize.
Which platform is right for you will depend on the type of video you'll edit, which other features you'll use most, and what your workflow looks like.
Determine Your Needs to Decide DaVinci Resolve vs Final Cut Pro
Ask yourself this series of questions to help determine what you need to look for in each platform:
What genre video will I be working with the most? (Podcasts, vlogs, music videos, etc.)
How often will I use this editor? Does the learning time matter?
What are the limitations of my current recording gear that can be fixed post-production?
What, if any, after-effects and post-production extra tools do my peers use?
The more you know about your specific needs, the more confidently you can identify where the differences that spawned the Final Cut Pro vs. DaVinci Resolve debate really matter.
Not All Video Editors Are Created Equal
While many editors prefer the simplicity offered by the all-in-one style of Final Cut Pro, DaVinci Resolve has a unique place in any video editor's toolkit due to the depth of its features. In the end, which platform is better is not an easy question to answer.
For one filmmaker, the difference between Final Cut Pro and DaVinci can simply come down to the amount of time they have on hand to learn a new platform. For others, such as podcast makers, audio quality may mean everything. Because we each have our own unique needs when it comes to video editing, no one size fits all approach can work.
Overall, by deciding between DaVinci Resolve vs Final Cut Pro, you can rest assured that you are choosing between two fantastic options at reasonable price points. The value provided by both of these platforms will allow you to take your production to the next level. Whether you need simple visual tweaks or a complete overhaul of your video material, these editing platforms can handle the job as long as you're willing to learn.
FAQ
Is DaVinci Resolve good for beginners?
For beginners, having everything you need available in one place is essential. DaVinci Resolve has a user-friendly interface with a noticeable, but not difficult learning curve.
Another advantage that Resolve has for beginners is the sheer amount of reading material, video tutorials, and forums available for beginners to have their questions answered
Do professionals use Final Cut Pro?
Professionals across the world use Final Cut Pro and Final Cut Pro plugins due to their compatibility with the Apple ecosystem, budget-friendly pricing, and powerful capabilities. For many, this editing platform provides all the tools they need to produce professional-quality results.
Additionally, many users remain loyal to the programs they started with, as there's often little point in learning a new platform if your needs are already met.
Is Final Cut Pro for beginners?
If you are a beginner working with a Mac or iPhone in your setup, you'll want to become acquainted with Final Cut Pro. The user interface feels very Apple, which makes it perfect for beginners, even if they are new to video editing.
There are also a wealth of tutorials, courses, and learning documents to help users become more confident with the software.
Which is better: DaVinci Resolve 15 or 16?
Between DaVinci Resolve 15 or 16, you'll want to use 16 due to its support for more plug-ins and the inclusion of the Cut Page feature. However, those with older, less powerful computers may find that DaVinci Resolve 15 runs much more smoothly on their system.
When in doubt, you'll want to update to the latest release of DaVinci unless you know that certain plug-ins, tools, or techniques you need only work within a certain version.