DJI Pocket 2 vs GoPro Hero 9: Detailed Comparison Guide
---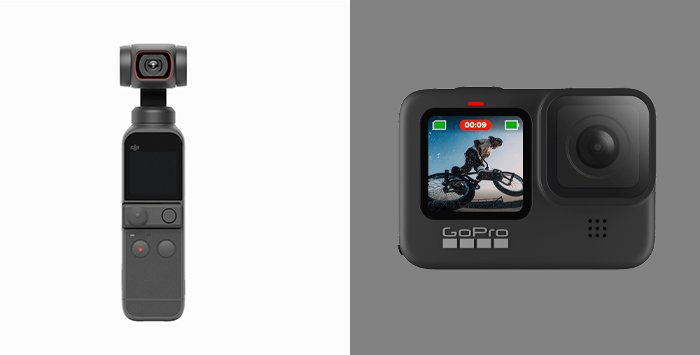 For anyone who is serious about video production, a great camera is a must-have. You want a device that's going to be able to capture everything quickly, sharply, and in the best possible quality.
And you want a device that can be used straight away. There's nothing more frustrating than hoping to catch some great footage but being prevented by fiddly settings or unintuitive interfaces that stop you from capturing a perfect moment.
Which is why we turn to these two cameras.
Both the DJI Pocket 2 and GoPro Hero 9 are compact devices designed to grab and go. Lightweight, versatile, and ready for action at a moment's notice.
DJI Pocket 2 vs GoPro Hero 9: Which One To Choose?
On the surface, both devices look quite different. One is a square box, the other a more slender cylinder. However, appearances don't always tell the whole story.
So which of these two devices is better? DJI Pocket 2 vs GoPro Hero 9 — it's time to see which comes out on top.
DJI Pocket 2 vs GoPro Hero 9: Main Specifications
Below is a side-by-side comparison table for both devices.
DJI Pocket 2
GoPro Hero 9

Cost

$346.99

$349.98

Weight (oz)

4.13

5.57

Size (inches)

4.91 x 1.5 x 1.18

2.76 x 2.17 x 1.18

Battery Life

140 mins

131 mins

Battery Removable

No

Yes

Charge Time

73 mins

110 mins

Ports

USB-C, Type C, Lightning

USB-C, WiFi, Bluetooth

Interface

Joystick, Touchscreen

2 x Touchscreens

Screens

Rear only

w

Features

Tripod mount

3-Axis Gimbal

Carry Case

Power Cable

Wrist Strap

USB-C Cable

Curved Mounting Plate

Mounting Buckle and screw

Carry Case

Water Drain Mic

Field Of View

93°

122°

Lens

20mm f1.80 Prime Lens

15mm f2.80 Prime Lens

Photo Resolution

64 megapixels

23.6 megapixels

Video Resolution

4K, 60 FPS

5K, 30 FPS

Image Stabilization

Gimbal, Software

Software

Water Depth

N/A

10m
DJI Pocket 2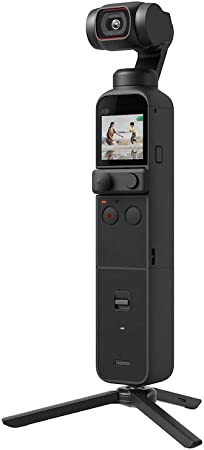 First up, we have the DJI Pocket 2
Main Features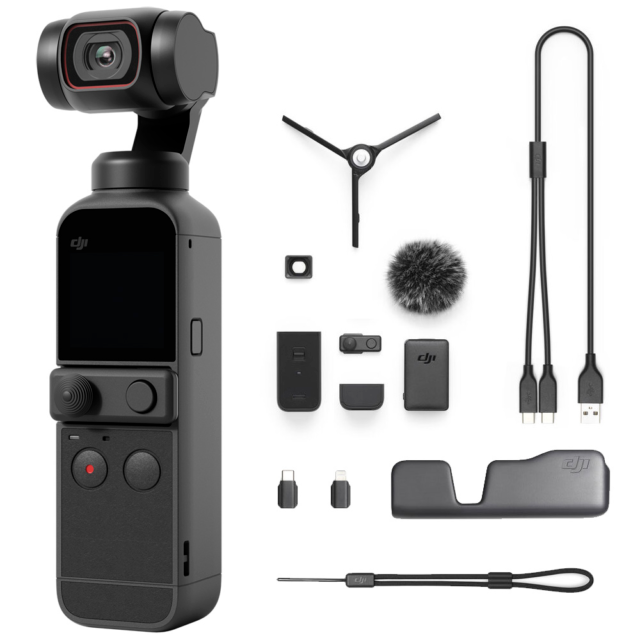 The DJI Pocket 2 has its camera mounted on a gimbal on top of the device, so it can be used in two modes. The first is forward-facing, which records whatever you are pointing it at. The second is a tracking camera that can follow you while you record. For vloggers, this is of course perfect.
The camera has three modes. Tilt locked prevents the camera from moving up and down. Follow keeps the camera horizontal and follows you if you pan right or left. And FPV allows the camera its full range.
The DJI Pocket 2 also comes with a Creator Combo pack. This consists of a wireless microphone, tripod, strap, and other accessories which help any content creators or vloggers get the most from their device.
Having them included in the price certainly adds bang for your buck, with no need to go out and buy separate accessories.
Boot Up Time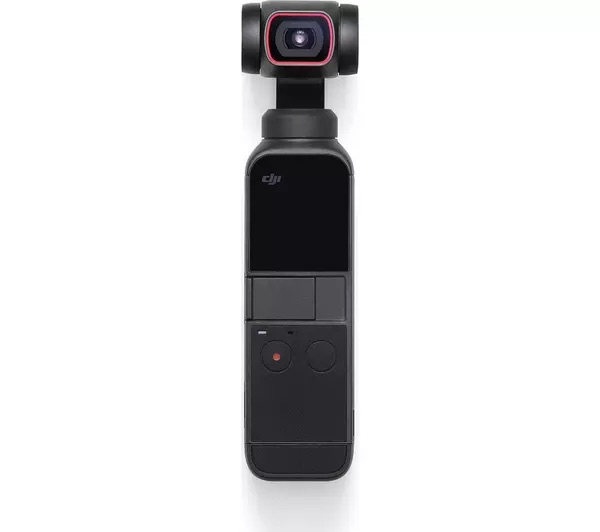 It takes literally one second for the DJI Pocket 2 to boot up and be ready for action. So you know that with this camera there's no danger of ever missing anything. Given how quickly it starts up it's hard to imagine any device bettering it.
It also helps to save battery, since you can easily power the device down when not in use and know that you can be up and running again almost instantly.
Size and Weight
At a tiny 4.91 x 1.5 x 1.18, the DJI Pocket 2 is a small device designed to be taken anywhere. It's not going to occupy a huge amount of space in your bag, and the grab-and-go nature of the DJI Pocket 2 is reinforced by the inclusion of a wrist strap.
And at very light 4.13oz, the Pocket 2 isn't going to feel like you're dragging around a heavy piece of equipment. Indeed, at that weight it's effortless to take it anywhere you need to go and this is a pocket-friendly camera.
Battery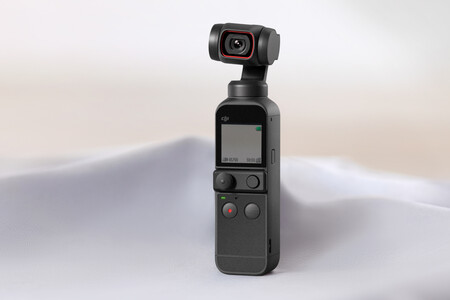 The DJI Pocket 2 has a battery life of 2 hours and 20 minutes. This is a good battery capacity, considering the size of the device, and should be more than enough time to capture everything you need. With a recharge time of 73 minutes, it won't take you too long to get back up and running again once you have exhausted the battery capacity.
However, the battery cannot be swapped out, so it isn't possible to have a spare one standing by. When the battery has been fully used, it needs to be recharged before you can carry on shooting.
Screen
The camera has one rear-facing LCD touchscreen which allows access to all the device's features. While the LCD screen size is not large, and not the most responsive, it is functional enough.
Image Quality and Stability
The DJI Pocket 2 can capture video in full 4K which, although a little lower in quality than the GoPro 9, should still be more than enough for most people.
For taking pictures, the Pocket 2 has a max sensor resolution of 64 megapixels from the CMOS sensor. This should similarly be more than good enough for most people. Images are saved as jpegs.
Stabilized video quality on the DJI Pocket 2 benefits hugely from the gimbal system. Software stability is fine, but hardware stability makes all the difference. The recorded video is smooth, fluid, and lacks any juddering or instability as you move around. And with 60FPS everything looks pretty much perfect.
The unstabilized image quality is also fine, and there's very little to complain about.
Sound
Featuring four internal mics designed to capture audio from any direction, the DJI Pocket 2 can record in full stereo. It also has Audio Zoom and SoundTrack, which are designed to enhance audio based on where the camera is pointing and what it is you have it focussed on.
The Creator Combo that comes with the DJI Pocket 2 includes a wireless microphone and wireless microphone transmitter. There's no doubt that this gives the DJI Pocket 2 superior sound quality when it comes to recording speech.
But even without that, the quality of the native audio pickup captured by the in-camera mics is very high.
Ruggedness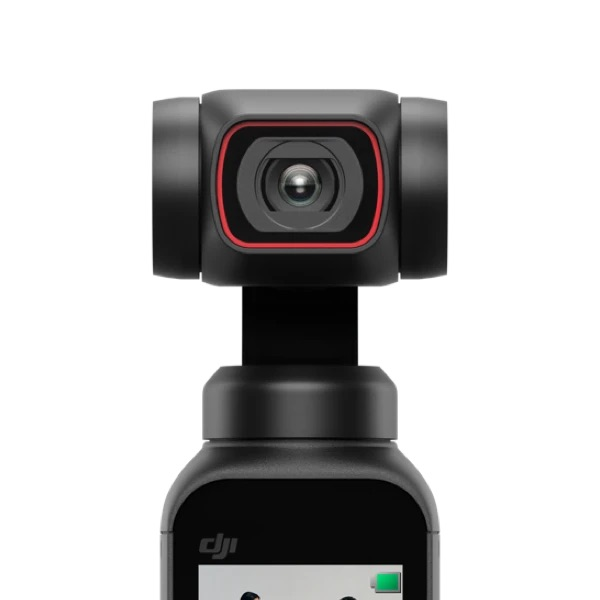 For day-to-day use, the DJI Pocket 2 is fine, and the build quality is solid. However, as with any gimbal system, you need to be careful because it is more fragile than the main body of the device.
The gimbal on the DJI Pocket 2 is a great feature but paying attention to it is important. The carry case that comes with the DJI Pocket 2 will help keep it safe when it's tucked away, but it is something to bear in mind.
And unlike the GoPro Hero 9, the DJI Pocket 2 is not waterproof, so although it can stand up to a little rain or the occasional splash it certainly doesn't have the same ruggedness as its competitor.
GoPro Hero 9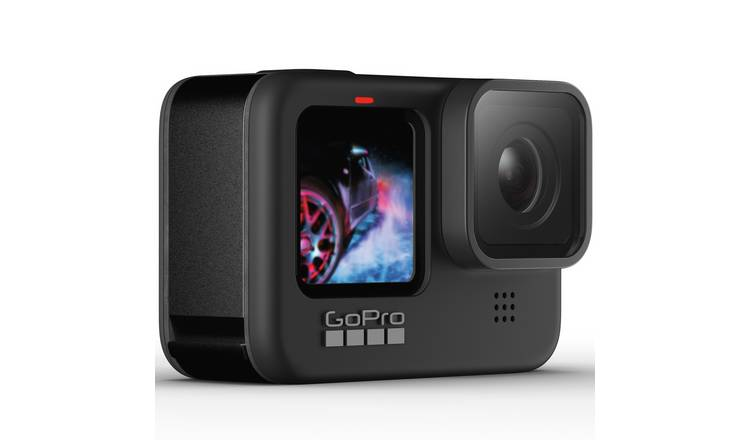 Next, we have the GoPro Hero 9
Main Features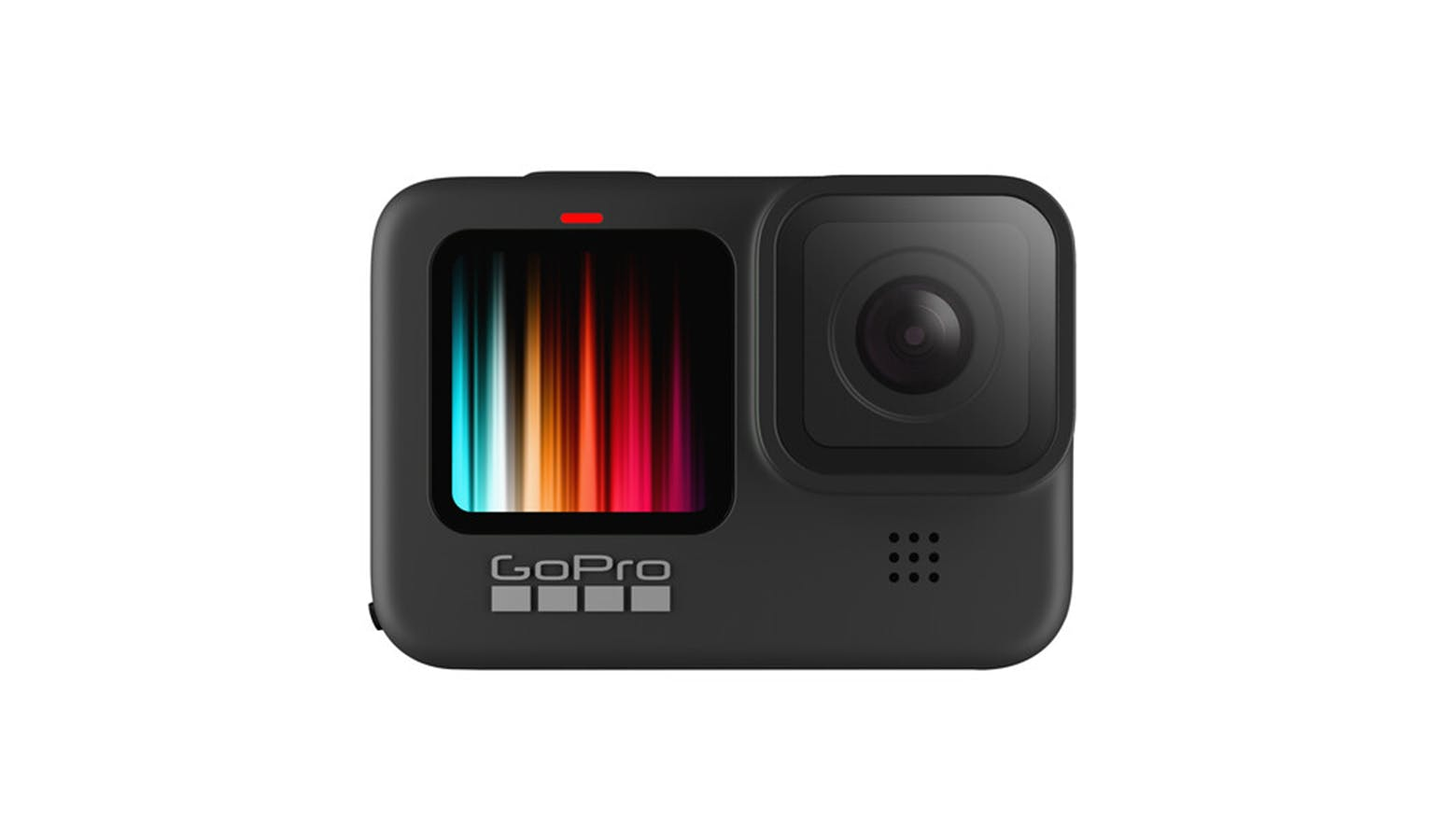 The GoPro Hero 9 is a solid, rugged little camera. It features two screens, one on the rear for traditional shooting and one on the front for vlogging. This makes it a versatile device, and using it is straightforward.
The device includes a feature called HyperSmooth, which allows you to blend software and electronic stabilization to create the smoothest-looking footage possible.
It also has a Horizon Leveling mode, which means that your footage will not only remain stable but level as well. As with HyperSmooth, this is entirely software-based.
There are also LiveBurst and HindSight modes, which allow you to start taking photos and videos before you've even pressed the shutter button.
Boot Up Time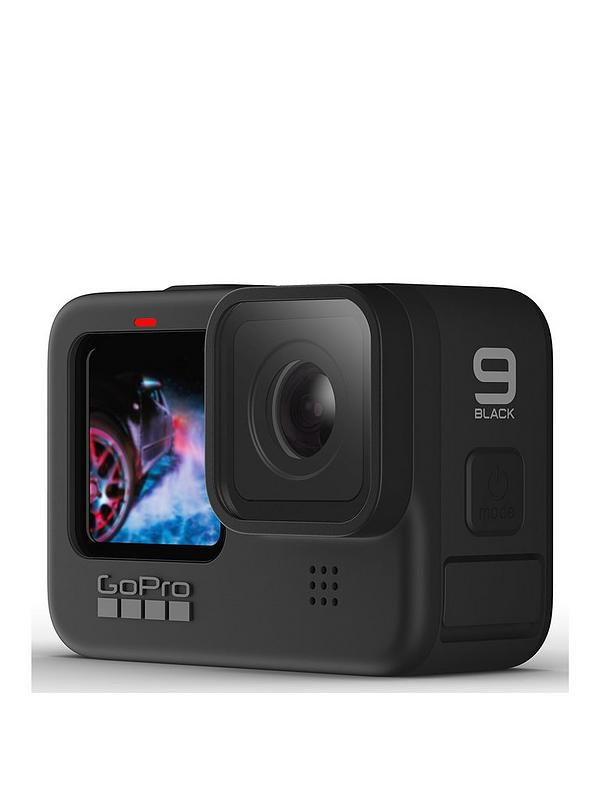 It takes around 5 seconds for the GoPro Hero 9 to boot up. That's not very long, but it is noticeably slower than the one second that the DJI Pocket 2 offers. In most circumstances, this is perfectly acceptable, but if you need instant access then the GoPro Hero 9 definitely lags behind its competitor.
Size and Weight
The GoPro Hero 9 is a compact device and at 2.76 x 2.17 x 1.18 it's certainly not going to take up much in the way of luggage space. That makes it an ideal device to simply pick up and run with.
At 5.57oz, it is slightly heavier than the DJI Pocket 2, but the difference isn't all that much and for practical purposes, there isn't a great deal between the two devices. It's still an easy camera to have without feeling like you are carrying around a great weight.
Battery Life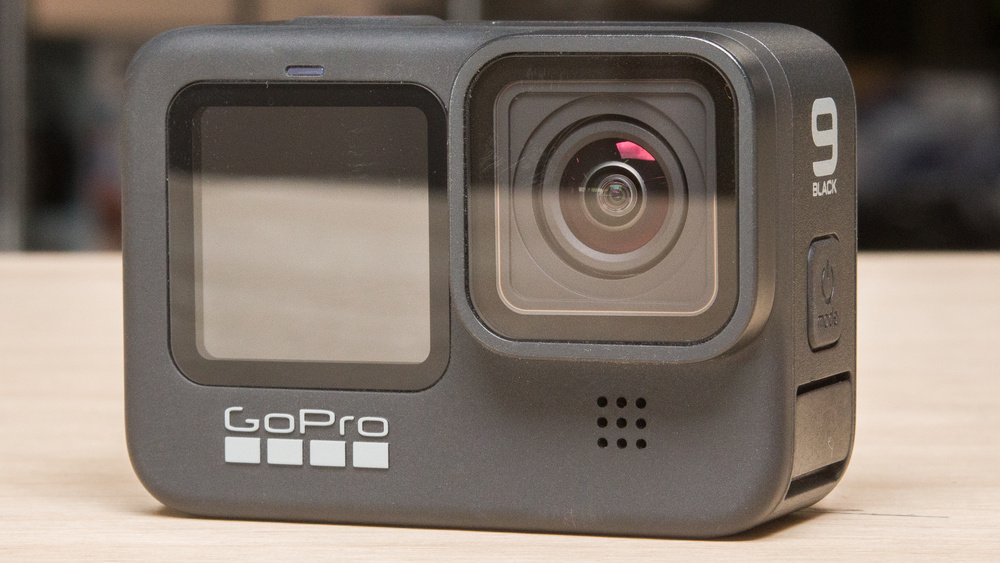 At 1 hour 50 minutes, the GoPro's battery life is slightly shorter than the DJI Pocket 2. However, it's still a good length of time and should allow anyone to shoot what they need to.
One significant advantage the GoPro Hero 9 has over the DJI Pocket 2 is that the battery is removable. Rather than having to wait for it to recharge before you can continue shooting, you can have a second battery standing by ready to go when the first one runs out.
So although the GoPro's battery life is shorter, the device itself is more flexible to make up for it.
Screen
There are two LCD screens on the GoPro Hero 9. One is on the rear of the device for when the camera is being used to shoot traditional POV footage. The other is on the front, to allow vloggers to capture themselves. Although both of them are fixed screens, having front and back screens is a significant advantage.
The rear LCD screen size is slightly larger than the one on the DJI Pocket 2. It is also customizable, so you can configure it any way you need to. It is easy to use and intuitive, and setting up shooting modes is convenient and stress-free.
The front LCD screen size is a little smaller, but it works just as well. However, despite the GoPro's having screens on the front and back, the front screen is not a touchscreen — it only displays video. Control still needs to be done from the rear screen.
Image Quality and Stability
Thanks to high-quality sensor technology, the GoPro Hero 9 can shoot in 5K, a noticeable improvement over the 4K that the DJI Pocket 2 can capture. The optical elements are very strong here.
However, in a sensor comparison, DJI Pocket 2 is a little larger, so the depth of field is a little bit less on the Go Pro Hero 9. This means less control over depth of field or dealing with a blurry background. However, other factors such as pixel size and the low pass filter also contribute to the final resolution.
The 23.6 megapixel CMOS sensor is less than the DJI Pocket 2 but still produces sharp, clear images and a side-by-side comparison of pictures shows very little difference. These are also saved as jpegs, as with the DJI Pocket 2.
Stabilized video quality on the GoPro Hero 9 is entirely software-based, done via the HyperSmooth feature. The quality of this is fine, but it is never going to be able to match the image stabilization that the DJI Pocket 2 has because of its gimbal.
Having said that, there have been improvements to the stabilization software, and GoPro is continuing to refine it.
When it comes to unstabilized images, the 5K resolution is the real winner here. If image stabilization isn't important to you, then on this front there can only be one winner. It's the GoPro Hero 9 and its higher resolution.
Sound
The quality of sound recording on the GoPro Hero 9 is great for an on-camera mic. You can choose to have sound recorded as a RAW audio track, and there's an option to toggle wind reduction if you're in a breezy environment. The recorded sound is clear and easy to hear.
There's also a "drain microphone" setting, which allows any additional water which might get near the camera via the microphone to be drained out of the device.
While an external microphone will always provide better quality sound than an on-camera one, the GoPro Hero 9 nevertheless sounds great with the hardware provided.
Ruggedness
When it comes to being sturdy, the GoPro Hero 9 really stands out. It's a tough little device, designed to take bangs and knocks and keep on working. It has a chunky physical design, which is why it weighs a little more than the DJI Pocket 2, but it provides excellent protection for your camera.
The other big advantage that the GoPro Hero 9 has is that it is waterproof to a depth of 33 feet (10 meters). This means that as well as being able to stand up to any weather conditions the outside can throw at it, you can also shoot underwater. Or if you simply drop it into a river or puddle while out and about, you can be confident that your camera will be absolutely fine afterward.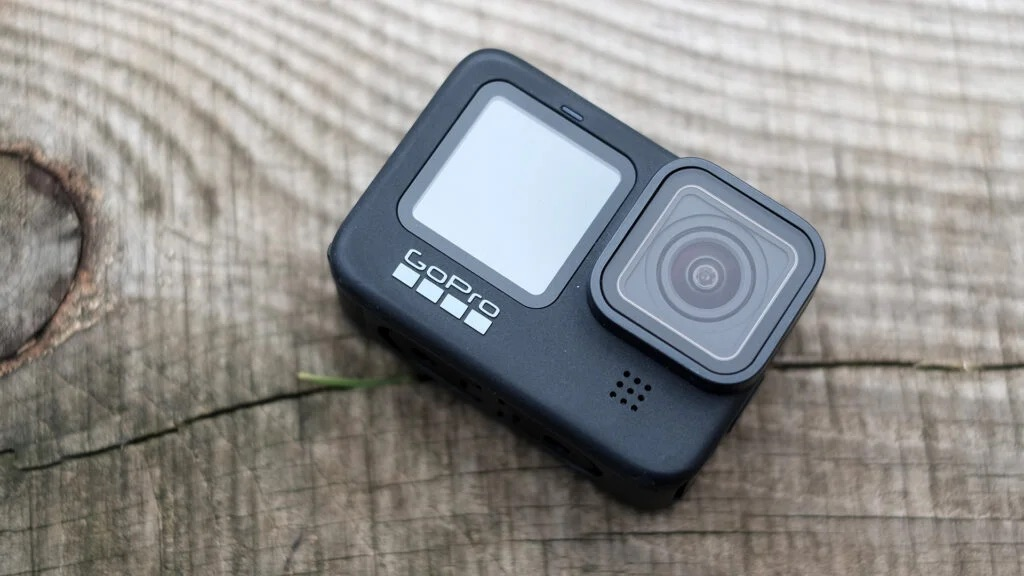 Conclusion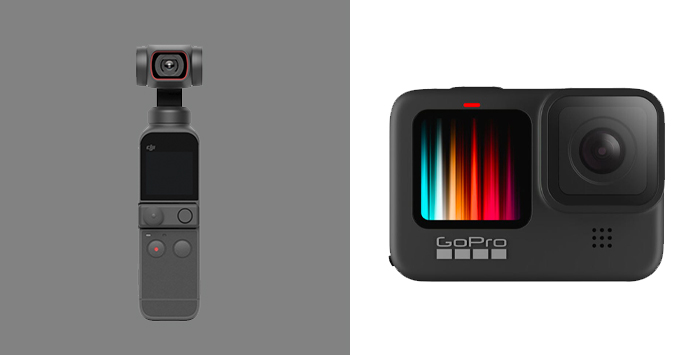 Which camera you decide to buy very much depends on what you are going to do with it. And with DJI Pocket 2 vs GoPro Hero 9, there's no clear winner.
Both cameras are priced very similarly, so cost alone won't be a deciding factor. However, the DJI Pocket 2 comes with accessories that certainly give more value for your money, which is something to keep in mind.
If you need something rugged, sturdy, and can stand up to anything the world can throw at it, then the GoPro Hero 9 is the choice to make. It is the heavier of the two devices, but what it gains in weight it makes up for in protection. The swappable batteries are also a real win, as is the waterproofing.
The better image stabilization and three-axis gimbal give the DJI Pocket 2 a different kind of advantage. The gimbal is a huge plus for vloggers, and the image stabilization afforded by it is easily superior to the software equivalent. It's also a small, light device, so its portability is also a major feature.
Whichever camera you decide to buy, you will be getting a quality piece of equipment, and both devices make for an excellent purchase. Now all you need to do is make your choice and get shooting.