Recording Video Podcasts: What is the Best Podcast Camera?
---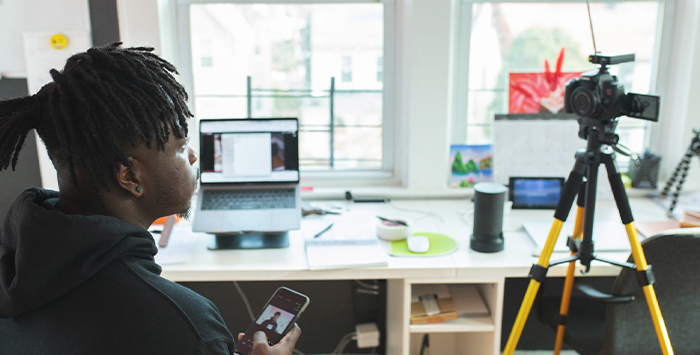 If you're a fan of popular podcasts, you may have found yourself watching them instead of listening. Podcasting has evolved over the years, and one of the ways it has done so is through the introduction of video podcasts.
Video podcasting is exactly what it sounds like: a podcast that's done in the form of a video. Some people call it live podcasting. There are many benefits to this type of podcasting. Huge podcasts like The Joe Rogan Experience and Serial can attest to this.
If you're already into video podcasting 0r have your own podcast, then you probably understand why you need a podcast video camera. If you aren't, here's how your podcast can benefit from it. Let me explain briefly.
What Are The Benefits of Video Podcasting?
Some of the benefits of video podcasting are:
Helps You Build Trust Among Your Audience and Show Authenticity
It is well known that videos help brands gain trust with their customers. In this case, your customers would be your audience.
People are able to connect more with others when they can see them. Everything from a smile to little hand gestures helps build a deeper connection to your audience and makes them inclined to continue watching your podcasts.
Increases Discoverability and SEO Ranking
Video podcasts can be shared on YouTube, and YouTube just so happens to be the second largest search engine worldwide and the largest video-sharing platform.
If you create a video podcast that gets attention on video-sharing platforms, viewers will want to check out your podcasts on places like Spotify, Soundcloud, and any other online listening platform your podcast is listed on.
Video podcasting also helps make your advertisements and call-to-actions stand out more.
Gives You Access to More Possibilities
If you think about it, all social media platforms have a spot for videos, even when they don't need to.
Many of these platforms try to steer their users toward these spots. Take Instagram, for example. There is a spot for reels and another one for IGTV. Each of these two was tailored to meet the user's specific requirements.
As a podcaster, this means you can cut up your videos into bite-sized chunks and insert them at multiple parts of the same platform for more visibility and at no extra cost to you.
The benefits of video podcasting are sort of obvious in retrospect. The next step is to get a camera, right? You're right, but unless you're a camera expert or a keen monitor of the industry, you don't know which to get. That's where we come in. When buying a podcast camera, there are a few things to consider.
What Should You Consider Before Buying A Podcast Video Camera?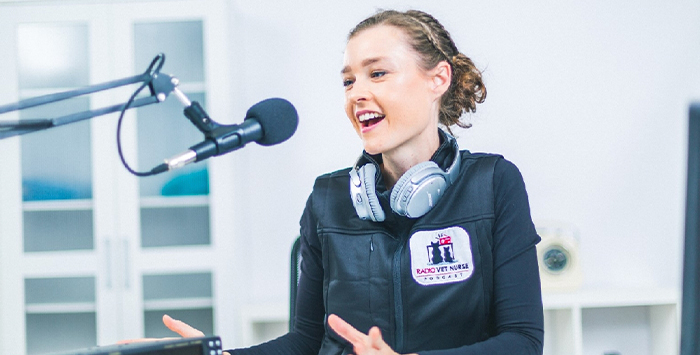 If you already have experience buying podcast cameras, you can skip this if you like. Newcomers usually find the most good-looking and compact camera they can find, but buying a camera is a decision that requires a little more thought.
Here are some of the things you need to consider before buying:
Your Budget

It always comes down to budget, doesn't it? If you're a trust fund kid, look away. For the rest of us, the price always matters.

The good thing is if you're just starting out then you don't need to spend a lot of money on a high-end or high-performance camera. An inexpensive yet compact camera that is light and easy to set up will suffice.

Professional video cameras can provide you with a wide range of capabilities, high-quality videos, and much better features, but they can also eat into your wallet. The good news is that the video requirements for podcasting aren't very high, so you don't have to worry too much about exorbitant prices. You should be able to find an affordable camera capable of recording high-quality videos.

However, if money isn't really a problem, then feel free to go all out. It'll be worth it.

The Resolution and Video Quality

The resolution of a camera refers to the number of pixels that may be displayed on a screen. Digital images are made up of pixels, which are little squares. The width x height format is commonly used to express resolution. The higher the resolution, the great the image quality.

For podcasting, a 1920×1080 (1080p) high definition resolution is recommended.

A higher resolution means bigger files, perhaps bigger files than preferred by the video-sharing platforms. Larger-sized videos take longer to load and play, and that may reduce your visibility. 1920×1080 seems to be the optimal resolution for most platforms.

The Frame Rate

Your camera's frame rate is the number of individual still photographs or frames it takes each second. The amount of frames collected per second is measured in frames per second (FPS).

Most videos are shot at 24 or 30 frames per second, although many cameras have quicker frame rates that can be used in various ways. 24, 25, 30, 48, 50, and 60 are the most prevalent.

If you're making podcasts for social media or YouTube, you can film at 30 frames per second, which is the most commonly used and viewed format for shared videos and live streaming.

The Audio Quality

Aside from image quality or video resolution, you need to consider audio quality before buying a podcast camera.

Yes, you likely already have dedicated equipment for audio recording like a podcast microphone (if you don't, check out our list of the best budget podcast microphones), but you may not have it on you all the time.

Before getting a podcast camera, do a few tests where you record audio with your camera first or look for buyer's guides like this one to give you a rough idea of its sound quality.

The Recording Limit

One of the most common problems with podcast cameras is the recording limit. The recording limit is the maximum amount of time a video camera can record videos without need to stop recording.

The industry standard is 30 minutes, and since many podcasts are LONG, you can see why this poses a problem. Many video cameras have no recording restrictions, and we'll cover some of those.

You can also bypass a camera's short memory by linking it to an external storage device.

The Autofocus

If you're recording, you'll probably move a lot. There will be a lot more motion if you have a guest or multiple guests. Your camera must be able to focus on you and your movement decisively.

You'll need a camera with great autofocus for this. Good autofocus or auto mode helps the audience to focus too. Most of the cameras in this guide handle autofocus at around the same level.

The Image Stabilization

When recording a video, image stabilization helps too, of course, stabilize your image. The true outcome is the elimination of blurring.

By compensating for camera angularity and continuous shakiness, the blurring caused by camera movement can be reduced.

One advantage of having the best image stabilization is that you can shoot podcast videos with a slower shutter speed if you want. In-body stabilization cameras provide you with more freedom of movement, allowing more dynamism.

Battery Life

As stated earlier, podcasts and live streaming can go very long. You want to make sure you capture the entire video recording without running out of battery. A long battery life is a must filming podcasts.

If you buy a camera for podcasting without investigating battery performance, you might find yourself in a situation where you've only captured part of the show.

Continuous shooting can use an entire battery fairly quick. So make sure to double check battery life and test shooting video throught-out your podcast or live stream to make sure your video camera can make it.
What Kind Of Camera Can You Use For A Podcast?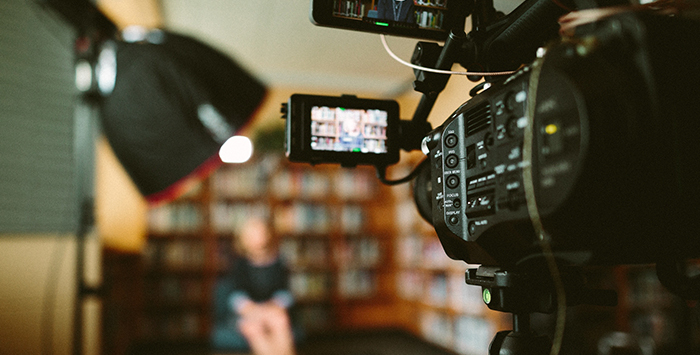 The kind of video camera you use depends on you and the goals of your podcast. Three types of cameras are great for podcasting: still cameras, camcorders, and external webcams.
Still Cameras for Podcasting

A still video camera captures still images and saves them as video frames. It can be a DSLR camera a point-and-shoot camera, or a mirrorless camera.

These cameras typically have great resolution and video quality. They also come with a wide range of lenses, so you can choose the one that best suits your podcast.

Camcorders for Podcasting

Camcorders are known for having better built-in microphones than other types of video cameras. They also have better preamps, and some might come with XLR inputs letting you choose a higher quality XLR microphone.

If you need camera for podcasting that has great video quality and is portable, you should definitely try out camcorders.

External Webcams for Podcasting

External webcams are small cameras that normally sit on a desk, are attached to a laptop, or are mounted on a stand or tripod and must be manually set up. They typically include specialized video recording components and produce good video quality.

If you're going to be hd live-streaming your podcast, they are the best for it. The downside to using webcams for podcasting is that they're not very suitable for co-hosted episodes unless the co-host is using recording with their own camera remotely.
Can You Use A Webcam For Video Podcasting?
Yes, you can.
Webcams, especially modern ones, are pretty good at recording video content. They're more restrictive and of inferior quality to other types of cameras, but if you don't need anything special, a webcam is good enough.
Webcams can be built-in or external. Built-in webcams are alright if you have a laptop with a quality camera and you're working on a tight budget. If it's good enough, you won't have to shell out extra cash for another camera.
Also, if you plan to edit your video podcast in your computer's editing software, using your built-in computer webcam is a quick way to speed up your process.
Unfortunately, the cameras are rarely good enough, even with the best computers. Built-in computer webcams often have lesser resolutions than dedicated webcams, still cameras, and video cameras.
Most external webcams require very little initial configuration or come with installation drivers and work immediately after being plugged in.
Now that you know what to look for in a suitable camera for podcasting, it's time to get into the best podcast cameras you can find in the market today.
What is the Best Podcast Camera to Use in 2022: 9 cameras reviewed
These are some of the best cameras to use for podcasting:
Conclusion
If you're trying to expand your podcast and build it commercially, you should try out video podcasting. You'll need at least a semi-professional camera for this, but the market is large and ever-changing, so most buyers need some sort of guide.
If you're really serious about your podcast and you want to take it all the way, you'll have to shell out some cash for one of the best cameras for podcasting. Above we've discussed a few of the best cameras that should be able to cover all the bases.
We hope this serves as a useful guide on what you need for a successful video podcast and helps you pick out the best video camera for your podcast. Good luck.
Hear it for yourself
CrumplePop removes noise and boosts your vocal quality. Toggle it on/off to hear the difference.
Try CrumplePop Free