How to Record A Podcast on iPhone: Tips to Get Started
---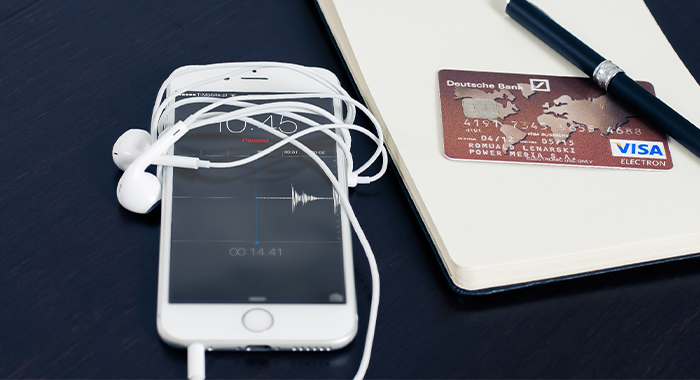 Podcasting has become increasingly popular over the last decade. For many, it's the best way to absorb content daily, as you can find a podcast about any topic you can imagine.
Many content creators and bloggers are looking at podcasting as a new way to maximize their audience. If you are considering starting your own podcast but are wondering how to do it, today we'll look into how you can create a show immediately. You don't need expensive studio equipment or experience in audio mixing: all you need is your iPhone and a desire to bring to life a high-quality podcast.
Let's dive in!
Can You Use a Phone to Record a Podcast?
Recording podcasts in a fancy studio is a thing of the past. Today, people want things fast, and a mobile phone is something we carry with us all the time and can wear many hats. Since it can be our digital wallet, camera, or notepad, why should it not become our recording studio?
A good thing about iPhones is that their camera and audio recording capabilities have improved dramatically and will undoubtedly continue to do so, making them the best devices for audio recording on the go.
What You'll Need to Start
External Microphone
Besides your iPhone, the next thing you want to have in mind is an external microphone. You can start with the iPhone's built-in mic, but podcasts require good audio quality these days. I'm not saying you should run now and buy one, but if you're serious about podcasting, investing in a good mic should be one of your priorities.
Below you'll find some external microphones recommended by podcast creators which deliver incredible sound quality for the price. If you'd like to learn more check out our post on the Best Budget Podcast Microphones.
Accessories
Some accessories are not essential to your podcast but can make the recording easier and more professional. If you're on a budget, you can get creative and build your own DIY stabilizers, tripods, and pop filters.
Tripod or stabilizer stand

For indoor use, a tripod stand will keep your iPhone steady, preventing your mic from capturing background noise from movements or bumps. Additionally, if you're video recording, it will add a more professional look to your video podcast instead of holding the phone in your hands.

The iPhone X or above has a built-in stabilizer that would do fine on slow walk shots. Or you can tweak a standard tripod and transform it into a stabilizer.

Pop filter

Pop filters help to reduce the plosive sounds from natural speaking. Most microphones don't include a built-in pop filter, so you may consider it when buying a new mic. Pop filters are not expensive, but if money is an issue and time is not, you can build one yourself.

Headphones

I could go on forever about high-quality podcast headphones, but to be honest, you're only going to need them for monitoring your recordings. You don't need studio headphones or anything too expensive to start your show, as your AirPods or any headphones you already have would work great and help you evaluate the audio quality of your podcast. Be aware of the input as you may need an adapter for more recent iPhones.
Recording, Podcast Hosting, and Distributing
I've already mentioned some apps designed for external microphones that are great for recording, but now I want to focus on the most popular apps that podcasters have been using to record a podcast from their iPhones.
What App Should I Use to Record a Podcast?
I'm going to start with the more basic apps, just for recording and editing, and then give an overview of the all-in-one iPhone podcasting recording software, which lets you record audio, and also host and distribute your podcast to popular platforms like Apple Podcast and Spotify.
Final Thoughts
Now you know all you need to start! I would suggest starting with your iPhone model and Anchor and focusing on creating content. Later, you can add a microphone and upgrade your gear, maybe even switching to PodBean or other podcast hosting platforms if you need more than what Anchor offers.
Good luck, and stay creative!
Hear it for yourself
CrumplePop removes noise and boosts your vocal quality. Toggle it on/off to hear the difference.
Try CrumplePop Free